Porsche aficionado Hartmut de Witt takes a spin in a 2017 911 C4 GTS and discovers some things never change
By Derek McNaughton
Hartmut de Witt, the only owner of this Porsche since it rolled off the factory floor in Stuttgart, Germany in 1969, doesn't mind the mess. He is, after all, 88 years old, and still driving his beloved little car. Small things, like cleanliness and neatness, are far less important than keeping old parts functioning — both on his body, and his car — although he seems to place higher emphasis on the 911. A former electrical engineer and flight lieutenant with the Royal Canadian Air Force who came to Canada from Germany in 1951, he is known by everyone as "Red." Having moved to Ottawa in 1965 with his wife, Leonor, Red de Witt bought his 911 new from Porsche Auto Hammer in Montreal, trading in a Porsche 356 C. There was no Porsche dealership in Ottawa then, although Louis Mrak was fixing Porsches and would later open the current day Mark Motors of Ottawa. Prior to the 356 C, de Witt owned a Porsche 356 A; before that a Volkswagen Beetle. His daughter Aura owns a Porsche 911, he says, the car epitomizing excellence in engineering and driving pleasure. His son Fabio is a car guy, too.is Porsche 911 E sits under an ungainly oak in his driveway, the wheels covered by plastic realtor signs to prevent rain from splashing onto the brake rotors and rusting them. By midday, the sun angles past the tree and beats on the car, day by day, all through summer, the interior's once-vibrant tan interior now a bleached husk of corn fused with food crumbs and a lifetime of pleasure.
Unlike a Ferrari, Lamborghini or McLaren, Porsches have always been known for being somewhat attainable — less exotic jewelry, more like expensive machines — a sports car for the working professional class. The 2017 Porsche 911 C4 GTS I have driven over to de Witt's house on this flawless fall day fits that philosophy handsomely — expensive, but not outrageously so at $143,900 to start. As stickered with options, including the beautiful shade of Carmine Red and rich-smelling Alcantara interior, this brand-new Carrera 4 GTS totals $168,550.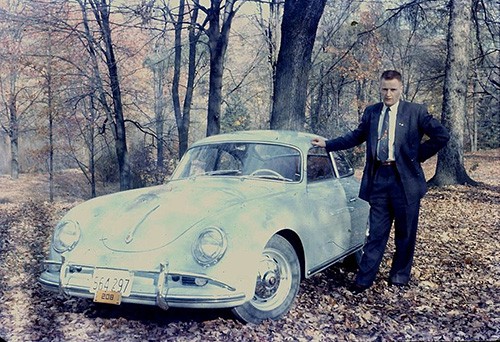 Red's car cost him approximately $10,000 new, he recalls; yet today its value climbs every year as older Porsches continue to command attention, like a GIC with an unbeatable rate of return.
The dividends that come from owning and driving a 911, however, whether it's from 1969 or 2017, appear to appreciate equally, too. On a leisurely drive in de Witt's red 911 E, he suddenly flattens the throttle on a stretch of straight, country road. As the sound from the rear-mounted, 2.0-litre flat-six builds in divine, throaty notes, de Witt becomes totally alert, hands at three and nine, speed limit be damned. This car, with 265,000 kilometres under its wheels, may be what is keeping him so sharp. His 911 E has more horsepower than the base 911 of that year and more than a 1969 911 T or 911 L. Only the 911 S had more at 160 hp. When we slow, a faint smell of gasoline enters the cabin, mixing with the cocktail of a really old car. A wheel bearing is beginning to protest. But there is something joyful about the drive all the same. Like children after a carnival ride, we are giddy with excitement.
Seated inside the red 2017 GTS, de Witt is slowly taking Porsche's new car in. So much is different despite the long and fabled lineage, yet some things remain the same. The key is still on the left. Three pedals poke out below. The tach is centrally mounted. The front fenders still arc as reference points. The new 3.0-litre sounds just as brilliant as the flat sixes of before, despite being fitted with a turbocharger that lifts peak horsepower to 450, about 300 more than de Witt is used to. At the first stop light, he nearly locks the powerful brakes that require so little effort, a far cry from the unboosted calipers on his 1969.
And then the light turns green. If the GTS did not have AWD, de Witt might have spun the rear tires on takeoff. But he launches quickly, deftly, in control like the pilot he once was. Approaching redline, he grabs second gear before backing off the throttle, the speed limit long behind us. The turbocharger pulls with an alarmingly high degree of grunt, allowing the GTS to hit 98 km/h in four seconds, and 160 km/h in just over eight. "That's just, oh, so awesome," he beams. "What a dream. You know, I could be young again. It feels wonderful."
Indeed, driving a 911, old or new, is to drive a car unlike any other. The new GTS is especially sharp in part because of the extra horsepower, but because it has all the hallmarks of a great 911, beautifully proportioned, highly capable, a track car and a street car in one, able to temper its mood, elegantly going from furiously fast to calmly serene, suitable for young or old.
"What can you say? It's so fantastic," says de Witt. "Everything is tight. Porsche did it again — or, I should say, done it still."
A former flight lieutenant in the Canadian Air Force, de Witt, affectionately called Red, began his Porsche journey with a 356. His children, Aura and Fabio, began their love affair with cars at a young age.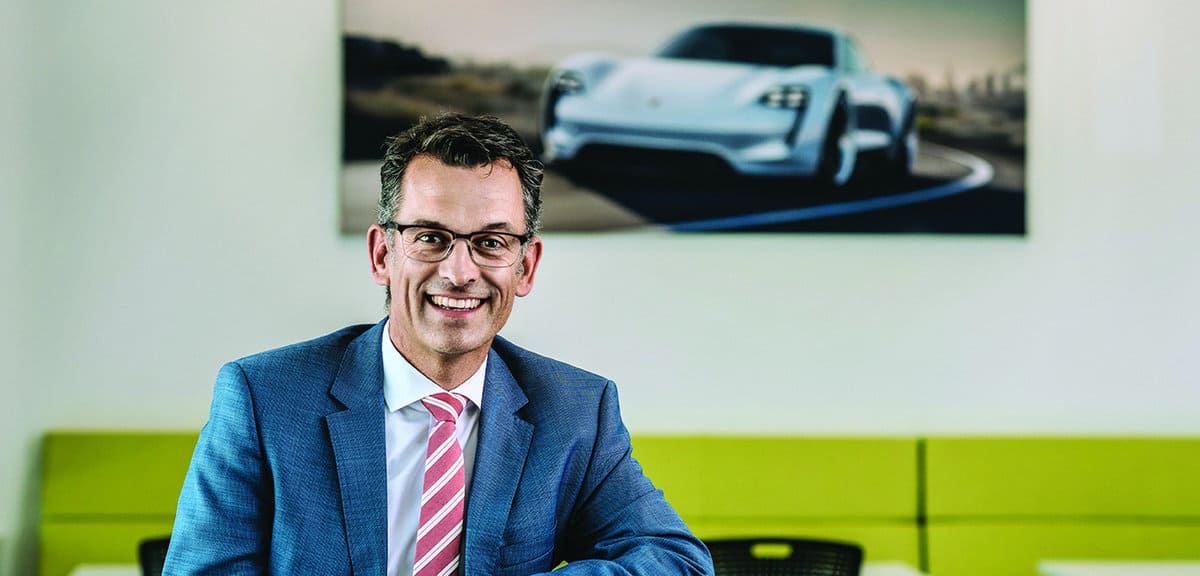 In the fast lane
Six questions with Alexander Pollich, president and CEO of Porsche Canada
Tesla, the electric car company, leads the popularity contest for electric luxury cars in North America. Where is Porsche in this race?
By the end of the decade, Porsche will bring the brand's first purely battery-powered sports car to the market with "Mission E," a vehicle based on the concept shown at the Frankfurt Auto Show in 2015. The "Mission E" will be the sportiest and most technologically advanced vehicle in its segment. It will be able to accelerate and brake repeatedly without loss of performance, with a range of more than 500 kilometres in the New European Driving Cycle (NEDC). The charging time will be very short: via its 800-volt port, it will take just over 15 minutes to achieve a range of 400 kilometres when using a DC Fast Charger.
With the rush to electric cars, does Porsche see a day when the internal combustion engine will be a thing of the past?
The development of e-mobility depends greatly on whether it is accepted by customers. In the first instance, this involves the products, their ranges and charging times. But the size of the network of charging pedestals will also play a crucial role. Here, rapid charging networks with high performance are particularly important. We think it makes sense for government policy to support the expansion of the charging infrastructure. Subsidies for the purchase of individual vehicles are also sensible, but in designing these governments need to ensure that there is a level playing field between all manufacturers that offer Plug-In Hybrids and Electric Vehicles.
In terms of Diesel, will we see a future for this type of engine at Porsche?
We are currently analyzing different options with regard to a future Diesel offering in North America, but a final decision has not yet been made. Today's modern diesel engine technology makes a valuable contribution to reducing CO2 emissions. At Porsche, however, the diesel has traditionally played a subordinate role, meaning it wasn't a volume offering for us.
Driving a car and the thrill of driving are at the core of Porsche's principles. How do self-driving cars or autonomous technology fit into Porsche's long-term strategy? Will Porsche ever have a fully autonomous vehicle?
We are working on expanding the portfolio of functions toward autonomous driving to the benefit of our customers. However, our vehicles will always have a steering wheel and offer the driver the option of taking control. We will also continue to make vehicles with a manual transmission. The intention is for customers to be able to decide for themselves what they want to have in their car. Some drivers like minimalist cars, others value assistance systems."
How are Porsche buyers today different from Porsche buyers of, say, 20 or 30 years ago?
I believe Porsche owners do look for the same individualistic, everyday practicality and driveability, efficient, technically advanced, as well as uncompromised driving experience as they did back then. Of course, other aspects have come into play over the years: connectivity, digital elements and new shopping experiences. For example, a customer in 2017 may expect the car to have a more robust and advanced data connection for such conveniences as real-time traffic info and POI search.
What is the biggest hurdle for Porsche for doing business in Canada, and conversely, the single biggest strength?
Porsche in Canada is enjoying a passionate base of customers and enthusiasts, a strong brand perception, as well as an engaged and committed network of dealers that will have grown to a total of 19 at the end of the third quarter in 2017. It is virtually impossible to single out one of these elements as they all contributed to our success story just as our amazing product lineup. There are future challenges we need to and will address, such as electrification and changing customer demands. A big concern for Porsche are legislative hurdles such as the ZEV (Zero Emission Vehicle) mandate in Quebec, which we believe is not the best avenue to achieve the widely supported goal of reducing the environmental impact of individual mobility.