By Derek McNaughton
The gasoline-powered Audi R8 — the mid-engine knife that would carve out a special place in the world of high-performance sports cars and Le Mans racing — will soon be no more. While no one is officially declaring the end of production for the coveted coupe, all the hallmarks of departure are here in the limited run of a special-edition, V10-powered, rear-wheel-drive R8 GT. Only 333 will be built — 150 of which will come to North America — and only nine to Canada. This will be the last time we see a V10 in an R8. Insert sad face here.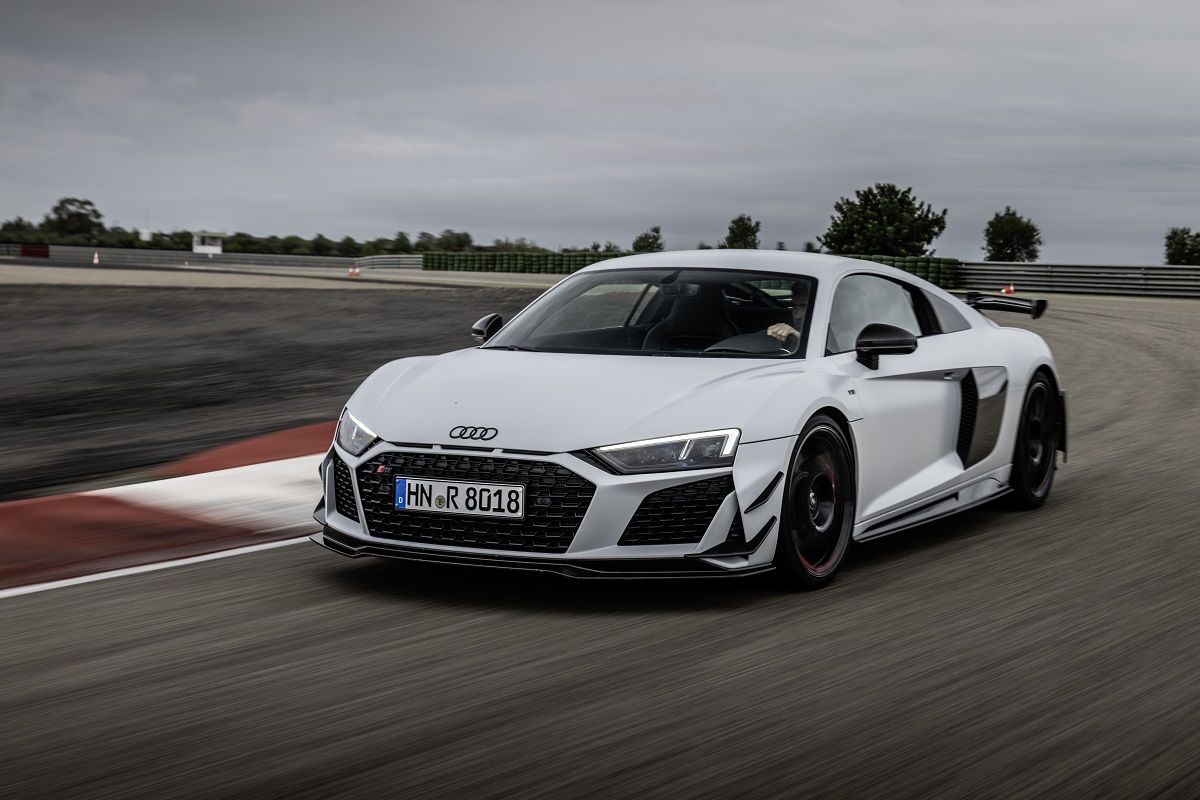 The special-edition GT takes Audi's 5.2-litre V10 and mixes it with a healthy dose of dried habaneros: Producing 610 horsepower and 417 lb.-ft. of torque channeled exclusively to the rear wheels, the GT will reach 100 km/h in 3.4 seconds—every meter of that distance obtained without turbo chargers. The result is an intoxication of sound and propulsion that is as ferocious as it is serene — a little like the smoothness after the initial bite of fine scotch. While Quattro R8s got high power V10s in the past, this V10 in this GT makes this car the most powerful RWD Audi production car ever. What a sendoff.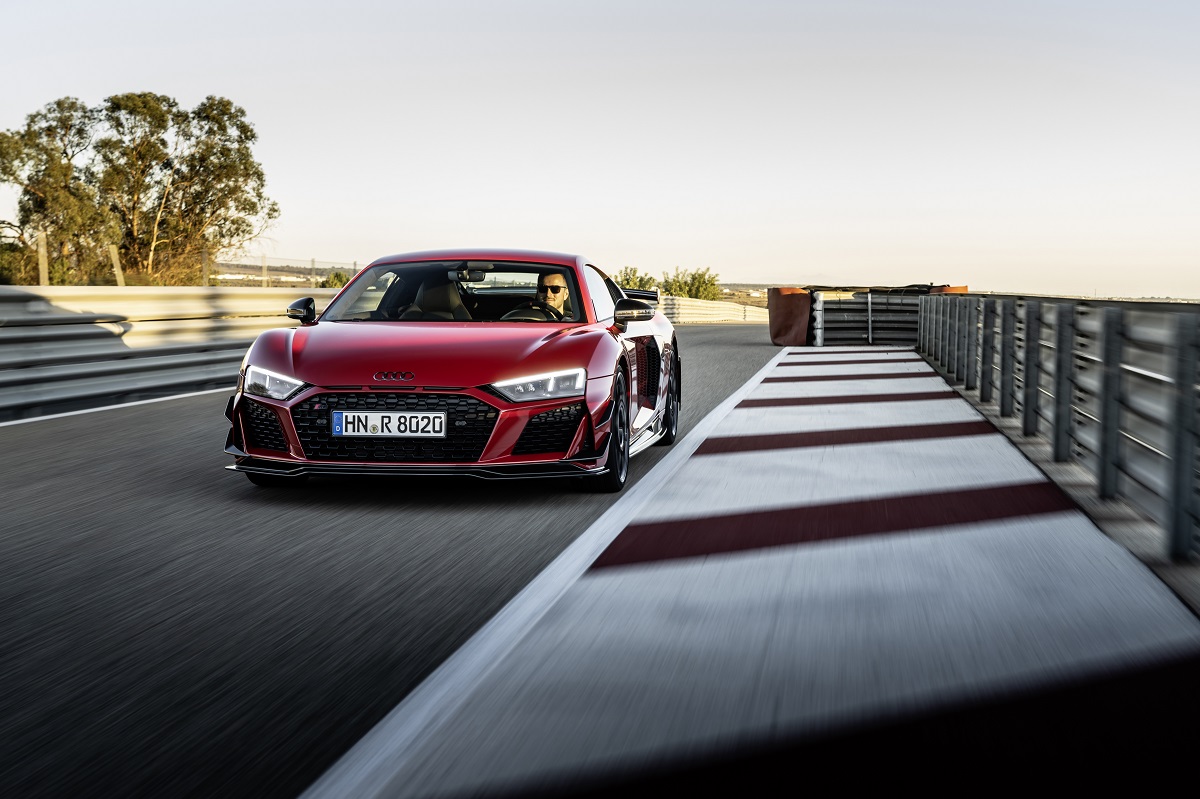 Hammer the throttle and the eruption from the mid-mounted engine equates to an instantaneous rotation of the 305/20R20 rear tires, the disengagement of traction control enough to immediately eliminate layers of Michelin Pilot Cup 2 rubber. Stay in the throttle around a corner for just a second more and the car will immediately drift, sometimes with little to no warning. Now, however, that level of drift can be moderated via the rear axle through a new "Torque Rear Mode." Controlled by a knob on the steering wheel, TRM allows the driver to set the traction- and stability-control system to one of seven different programmed curves, from "just a little" in setting one, to full-blown hoonigan on setting seven. It's ideal for different track conditions, different drivers or different levels of confidence. I chose seven.
With such freedom, the R8 drifted easily and with so little throttle it almost felt too easy. Be careful, though, because throttle response is so sharp and immediate that just a little gas goes a long way, and suddenly, like angling over ice, the R8 will be facing the wrong direction despite ample correction. On the track, however, when dialed back to allow for some stability control, the adjustability equates to an arousing partner, able to slide the tail wide at the apex without losing control or confidence.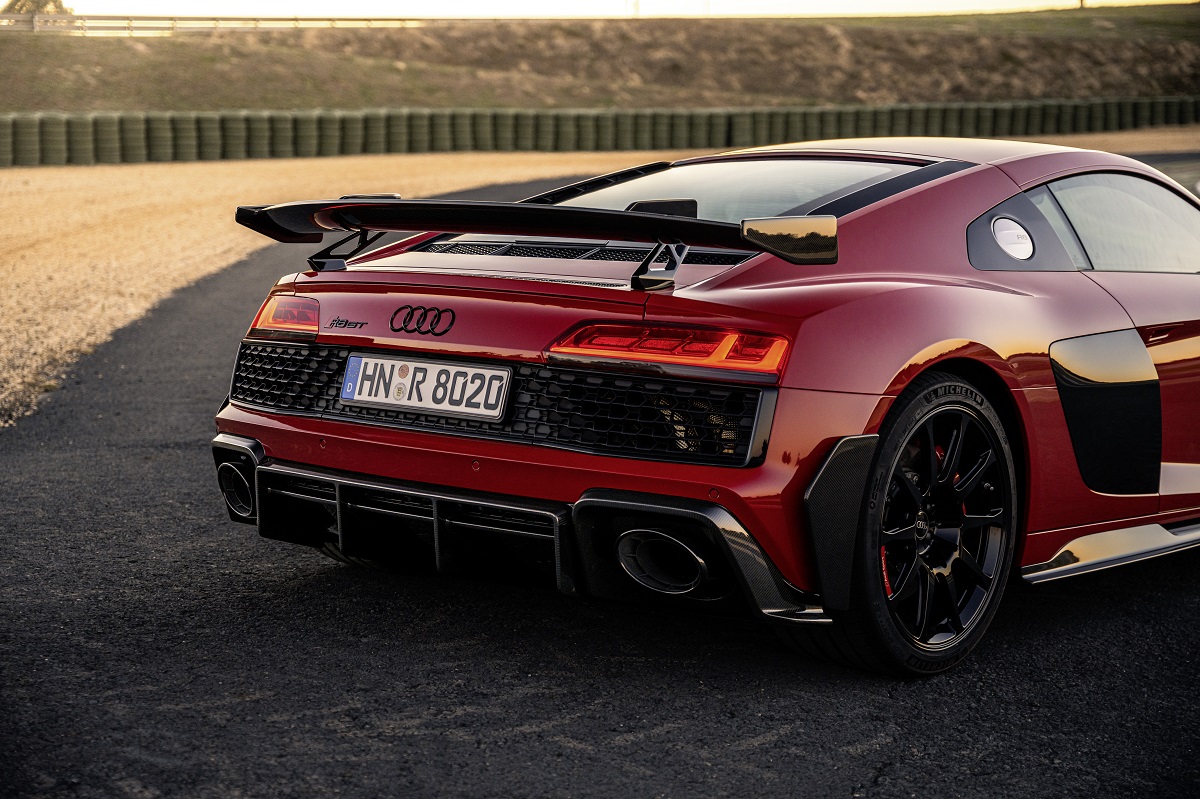 Wearing a glossy carbon-fiber gooseneck rear wing, carbon fibre front splitter, carbon side blades and carbon fins and scoops and mirror caps, plus a big rear diffuser flanked with massive pipes, the GT is further distinguished by black badging and lightweight, 20-inch black wheels that help to shed 20 kgs from a basic RWD R8s. The GT carries an angry, intimidating but classic presence developed in the wind tunnel. In Canada, it comes in two colours, Daytona grey pearl or Mythos black metallic. Pricing is set at $302,600.
The list of standard equipment for Canada is impressive too: Darkened LED laser headlights, a glossy carbon engine cover, sport exhaust, multifunction leather-wrapped steering wheel with four control satellites, illuminated carbon door sills, racing shell seats in alcantara and leather, extended leather interior, alcantara headliner, a 550-watt Bang & Olufsen sound system with speakers integrated into the head restraint, and, most importantly, carbon ceramic brakes. Stand on these brakes at 200 km/h and velocity vanishes faster than the speed of sound. Nor do these spectacular brakes ever complain about the task of reigning in, corner after corner, 1,570 kilograms from any ridiculous speed.
The seven-speed, dual clutch S Ttronic transmission is tweaked for quicker gear changes and an increased top speed of 320 km/hr, the first 200 attainable in 10.1 seconds. Override the DSG's Sport Mode via the paddle shifters and gear changes are instantaneous. Electromechanical power steering, freed from the burden of AWD, is light and precise, though less communicative than a 911 GT3. The flat bottom steering wheel with a red marker at 12 o'clock feels wonderful in the hands.
Inside, a black interior with red stitching complements red seat belts, giving nod to the first R8 GT in 2012. From the 333 cars built for the world, owners of these hand-assembled cars will know where they land in the order line with a special edition build number etched in the carbon-fiber centre console at the factory in Heilbronn, Germany. Sport seats are as supportive wearing a helmet as they are comfortable in jeans, proving that the R8 GT remains one of the rare coupes that will accommodate long distance drives as well as serious track days, though we did not test the suspension on hard roads off the track. A unique carbon fiber ceramic roll bar helps with cornering and road holding.
While tracking the car at Spain's Circuito Monteblanco, the V10 sang its heart out with a cascade of the sweetest notes, a pure and enthralling melody of mechanical menace — as if the R8 GT knew its gasoline-powered, naturally-aspirated days were coming to an end.