Houry Avedissian has transformed an old industrial building at 450 Preston Street into a modern furniture destination and her own Ha2 Architectural Design office. In doing so, she has brought cutting-edge style and possibilities to Little Italy.
By Hattie Klotz
Photos by Paul Couvrette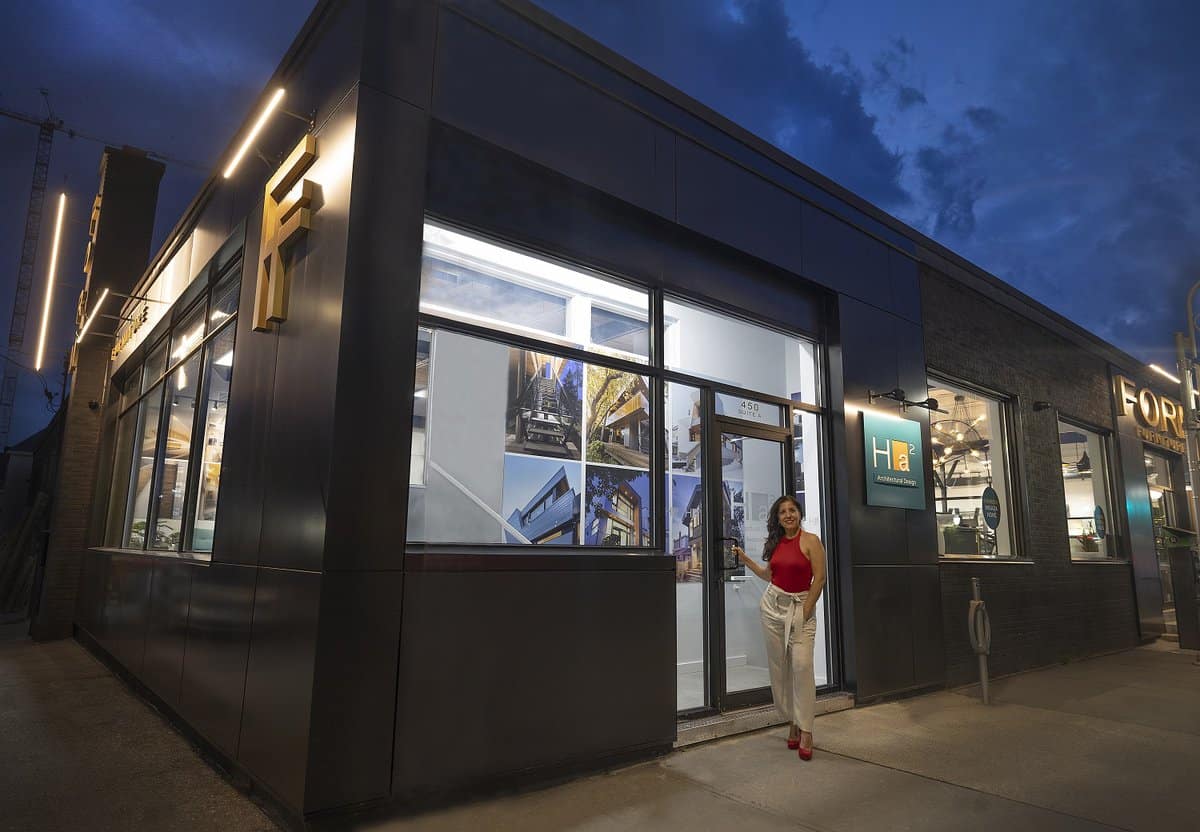 There's a first time for everything. For Houry Avedissian that first time came just recently after more than 20 years in the architecture and building business, when she project-managed a job from start to finish; from bare boards and gutted interiors to the December 2021 opening of contemporary furniture store Form, and the office-showroom for Ha2 Architecture Design.
"I wanted to highlight and illustrate all of the custom features I could to show my clients how creatively I could transform a space and make it work both functionally and aesthetically," Houry says of her stunning office space"The building had every problem under the sun," says Houry of the low-rise, red brick, former industrial kitchen-supply store on Preston Street. "There was lead, asbestos, mould, structural damage, leaky foundations, no floor in the basement and more. Then we had to basically tear off the whole corner, put in new windows and do a complete re-model." Houry knows the true meaning of stress.
Once the clean-up was finished, supply chain shortages began across the construction industry. Houry and her collaborator, Haig Khachadourian— owner of Form Furniture (formerly Mikasa), were forced to call the project to a halt while they waited for their steel supplier to come up with the beams needed to create a staircase to the basement furniture showroom.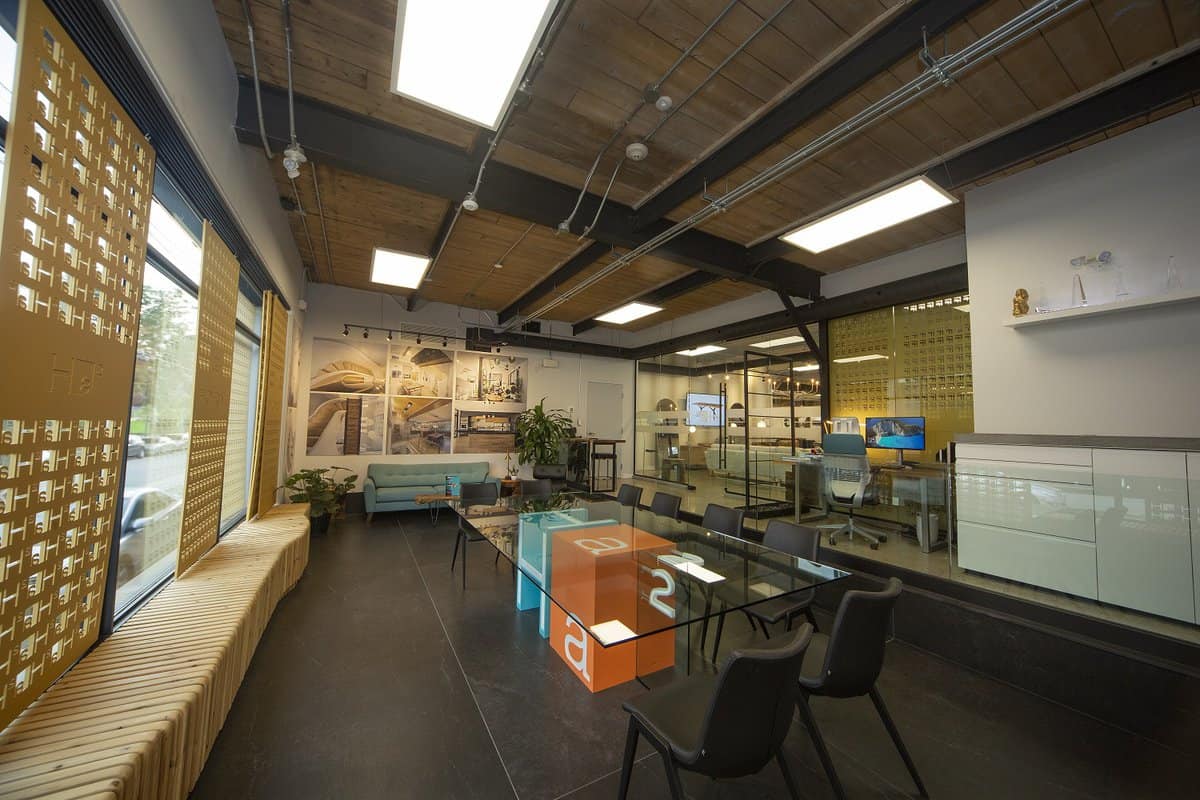 But it was worth the wait. Houry has created an open, light and airy showroom for Form Furniture, spread across two floors. It showcases contemporary, Canadian-made furniture that can be customized to suit individual needs.
There's also an easy-access warehouse for furniture deliveries and pick-up off to the side and back of the property. Haig, a childhood friend of Houry's from Montreal—they went to school together from age 11—has an on-site office to handle orders for custom furniture. He studied industrial design at a top school in Europe—IED Istituto europeo di design in Milan—and now he has his own design lines in the store. Wait times for orders are about four to six weeks.
To one side of the 16,000-square-foot space sits Houry's own office. It's the spot where she consults with clients and comes up with her creative visions for cutting-edge, contemporary architectural design. (Her Galleria house in the Hampton Park neighbourhood was the recent winner of several architectural awards.)
This 730-square-foot compact office space is part calling card, part studio and designed to inspire her creativity. "I wanted to highlight and illustrate all of the custom features I could to show my clients how creatively I could transform a space and make it work both functionally and aesthetically," she explains. "I didn't want it to be reminiscent of any other space they had ever walked into."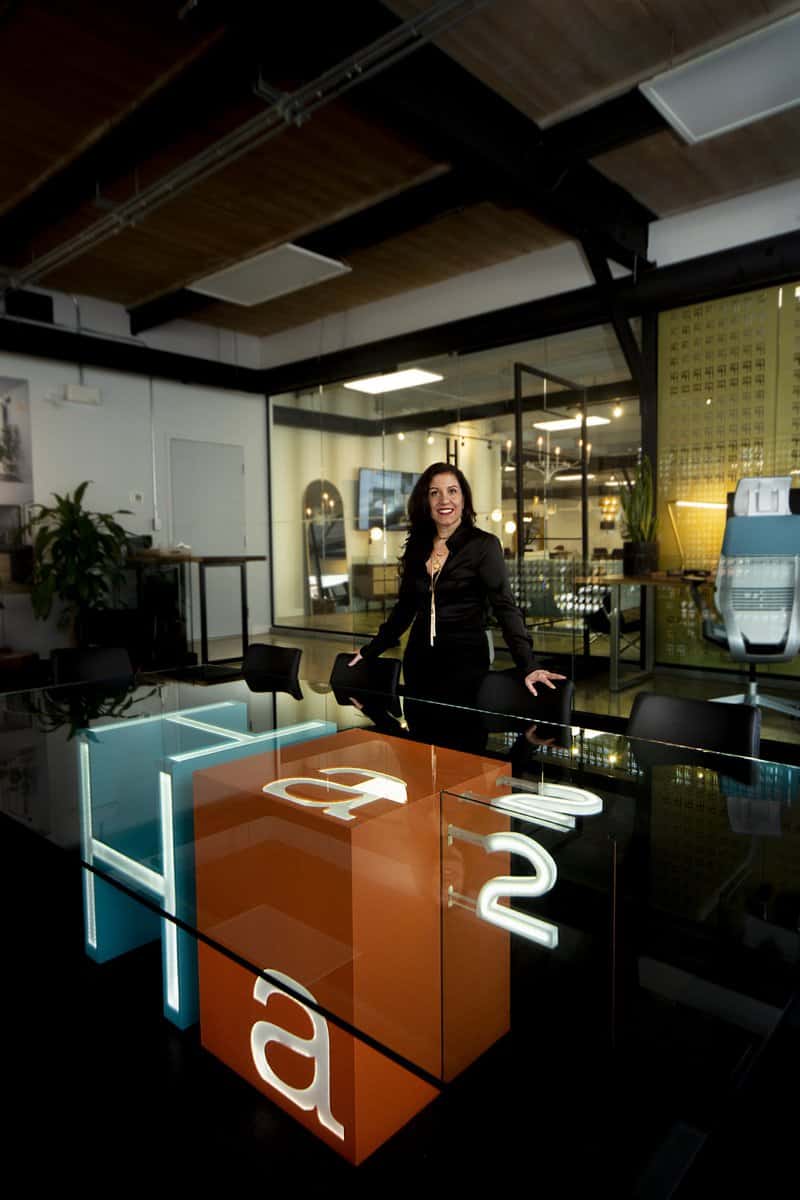 Attention to detail is everything: the large glass table is supported by a central sculptural rendition of her Ha2 logo, backlit so that it is visible to surrounding apartments at night. "Hopefully," she says, for "the future prospective clients from the new ICON, SOHO or future buildings to see daily."
HVAC pipes are hidden at ground and knee level rather than cluttering the ceiling, and they are covered by a sinuous, S-bend bench, made in cedar, that's perfect for seating lots of people. Above it, laser-cut plywood panels with the Form Furniture and Ha2 logos are painted with Italian gold paint. They serve as sliding sunshades across the giant windows that look out on Little Italy. "They create a playful shading device that projects the reversed logos right-side-up when they land on the black tile. It really does get a lot of exciting feedback."
It's an interactive space, both clean lined and Zen. "The center of the room where my logo desk sits was a huge core concept and driving force behind the layout of the space. It is the heart of the room and my favorite piece," she says. It's also thoughtful, with access panels hidden in the table support to allow presentations to show on a giant television screen.
As for the neighborhood: "It chose me. After working on the design and construction of the store … I fell in love with the entire area. The location, and the exact spot. It was an instant connection, and the minute I stepped foot in it, I visualized my place in it and made it happen."
—————————————–
Trades and Vendors:
Don Orsini, Dreamliving Design Build, dreamlivingdesignbuild.com, did the tile work, installing Dekton tile from Cosentino.
Jasmin, Vitrerie Glass & Mirror, glassmirror.ca
Derrick Smiley, The Woodsource, wood-source.com
Ernesto Portillo built the bench and the entry desk and installed custom cabinetry in Houry's office.
Sega Electric, segaelectric.ca