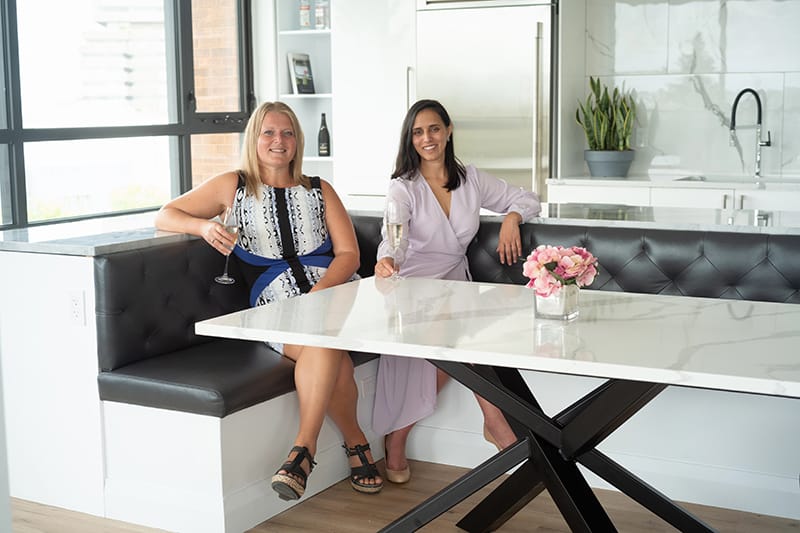 The dynamic young partners behind A Couple of Alexes are bringing high-end pizzazz to Ottawa's condo market.
Photos by Kathi Robertson & Michael Lucy
Looking for an upscale, on-trend condo in just the right part of town? Check out Unit 402 at The Sussex, 40 Boteler Street. The setting is divine: on the Ottawa River off Sussex, and within walking distance of the ByWard Market, Stanley Park and downtown amenities.
Really, though, it's the modern, five-star condo that's remarkable.
So is the story behind it.
*
One of the first things you notice about Alex Harden and Alex Brunette-D'Souza is their joy.
They laugh often, and the combination of enthusiasm and positive energy is disarming. These two attractive, dynamic 32-year-olds are behind A Couple of Alexes, an Ottawa company that purchases dated properties—specifically condos in excellent locations—and transforms them into fashionable, upmarket homes geared to active, modern downsizers.
This latest project, at 40 Boteler, is their fifth. A bright, open-concept unit with two bedrooms, two baths, luxury appliances and a gourmet kitchen, it's on the market for $1,499,900.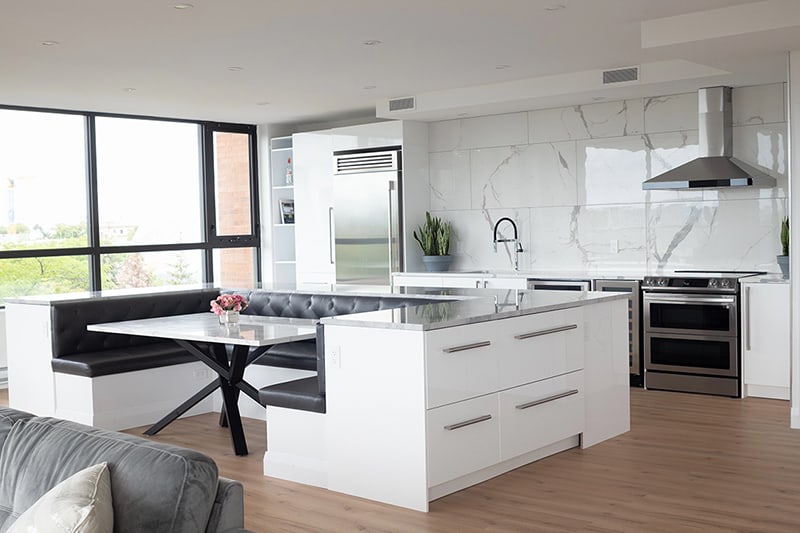 The "wow" feature is a striking banquette with leather-covered seating that's built into the U-shaped kitchen island. "It's different. It's unique. It's something you might see in a big city or new builds," notes Brunette-D'Souza. "This is one of a kind, for sure," Harden chimes in. "And I look at a lot of condos."
Alex Harden is a licensed realtor. She and her dark-haired business partner met at a Tony Robbins seminar in the fall of 2018. Already, Harden had a notion to transform outmoded condos into well-appointed new ones, so when the two Alexes got chatting, Harden broached the idea. Brunette-D'Souza was receptive. She liked that Harden had pinpointed an untapped niche in the market. "People transform houses to sell, but not as many people do condos."
Pretty soon, they were in business. In Harden's words, "We were incorporated as A Couple of Alexes Inc. in February of 2019, and we closed on our first condo in March of 2019." Then they really got down to work.
"We don't flip. We transform," she explains. Each project is a transformation. "We got that term from my dad. And he's so right.
"We don't do the typical builder's grade [materials]. We go for high end finishes." When you walk into a condo transformed by A Couple of Alexes, you can see, touch and appreciate the quality. "We go above and beyond, so I think that's what differentiates us. You'll come in here and find a higher end product."
The Alexes are also precise about their target market. "Our ideal client is the modern downsizer," Brunette-D'Souza says. "Active. Likes to live in the city, get out and about."
"They're looking for something different," Harden adds. "They want to be on trend, maybe even a little ahead of the curve, because this modern downsizer isn't buying the condo to live in for 30 years. This is something they might potentially sell in a few years. It's an investment. Being on trend or ahead of the curve leaves it desirable to a future buyer."
It's worth noting that service from A Couple of Alexes doesn't end on the move-in date. "We're here for them, specifically through their first year living in their place. We keep in touch with our buyers."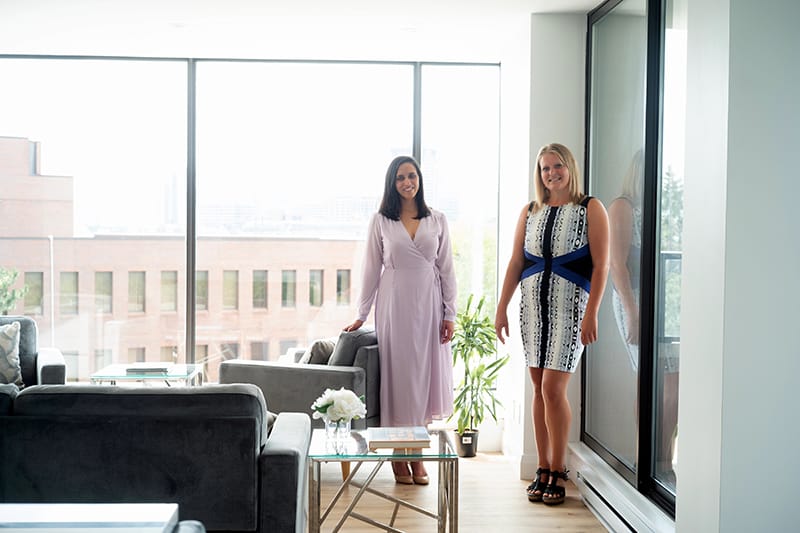 With five condos completed, the two young women have no hesitation in identifying the highlight of their work: "After all the sweat and tears we go through on a project, the final product by far is our favourite part," Brunette-D'Souza says. They also enjoy the partnership, and the many compliments they get when people walk through and see what they've accomplished.
It's an eye-opener. Though they're asked frequently if they're designers (and if they're available to help people update their own properties), these two have—make that had—no experience. They jumped in with no training in interior design and no background in the male-dominated realm of construction. When asked if there have been surprises or life lessons along the way, they respond with more laughter and observations. Champagne glasses in hand, as they lounge comfortably in the latest bright, sophisticated condo they've created, Harden and Brunette-D'Souza assure the rest of us: "Anything is possible." acoupleofalexes.ca