Mandy Gosewich's Stunning style reigns over Ottawa's ByWard Market
By Julie Beun
Photographs by Ashley Fraser
Makeup: www.meredithlyman.com
Of all the surprises one finds in walking into Mandy Gosewich's world, the biggest is the size of her empire.
It's tiny. Like 329 square feet of tiny.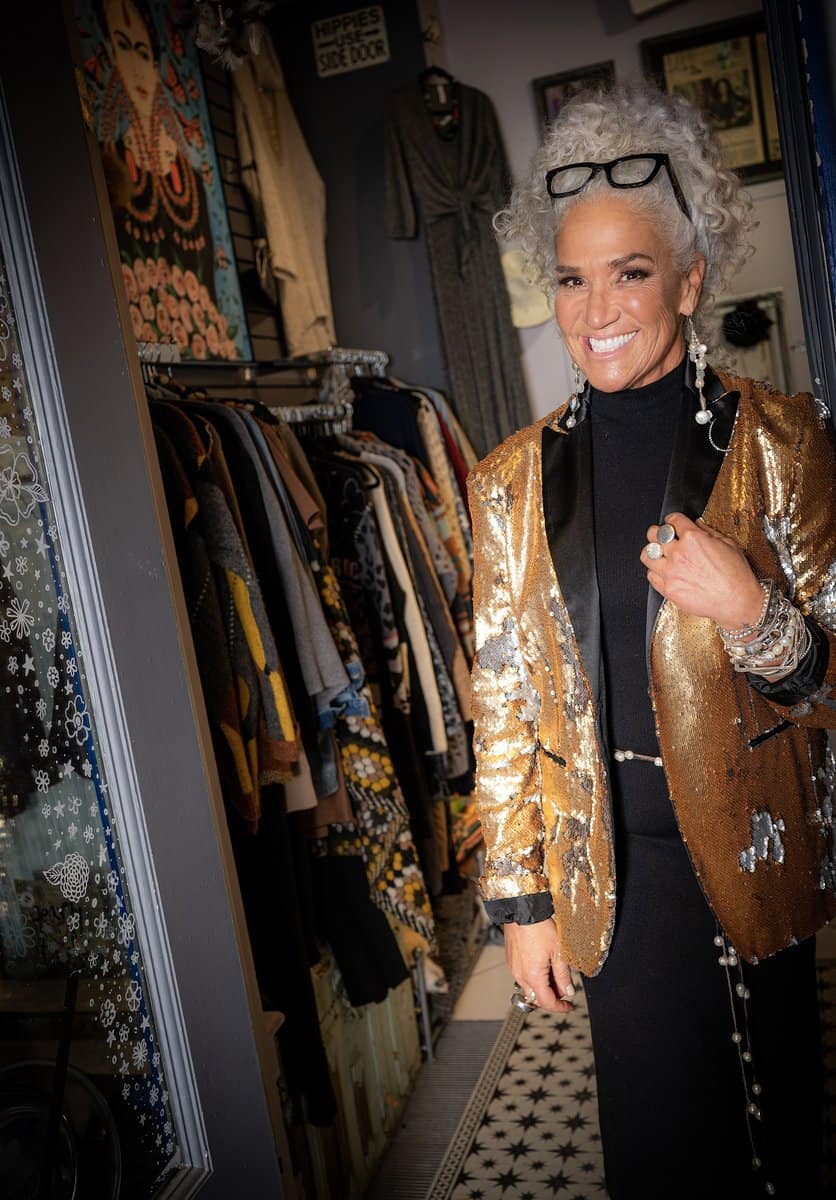 Not that tiny is a bad thing. Stunning!, her pocket-sized store at 6 York Street—you can't miss the big silver gates or the mesmerizing purple lights—is hard to walk past. As are the jewels, clothes and adornments it contains, each thoughtfully chosen on buying trips to Toronto, Montreal and on winter sojourns in Mexico. In every corner of the store (except for the one occupied by her beloved and always-right-there cockapoo, Pearl) items are cleverly displayed in a mishmash of objets d'art, knickknacks and kitsch. Mexican artist Frida Kahlo is everywhere, like the patron saint of tiny excess, on colourful pillows, doodads, and as the subject of a giant vibrant portrait by Mexican street artist Rudy Diaz.
As the sole owner, stockist, bookkeeper, marketer and stylist of Stunning! since 2013, Mandy is also her own shop model. On any given day, she might pair motorcycle boots with fringed boho-chic shorts and stacked bracelets or cowboy boots with a one-of-a-kind dress and a waterfall of knotted pearl-and-leather necklaces. It's an eclectic, rocker-chick-at-the-beach vibe and she has a knack for buying stock to suit it, but she also somehow helps customers imagine themselves in her artfully torn jeans, quite literally. On a recent visit, a customer and old friend who'd popped by to say hello emerged at closing toting her own clothes in a bag but with a newly purchased pair of turned up denims on her person.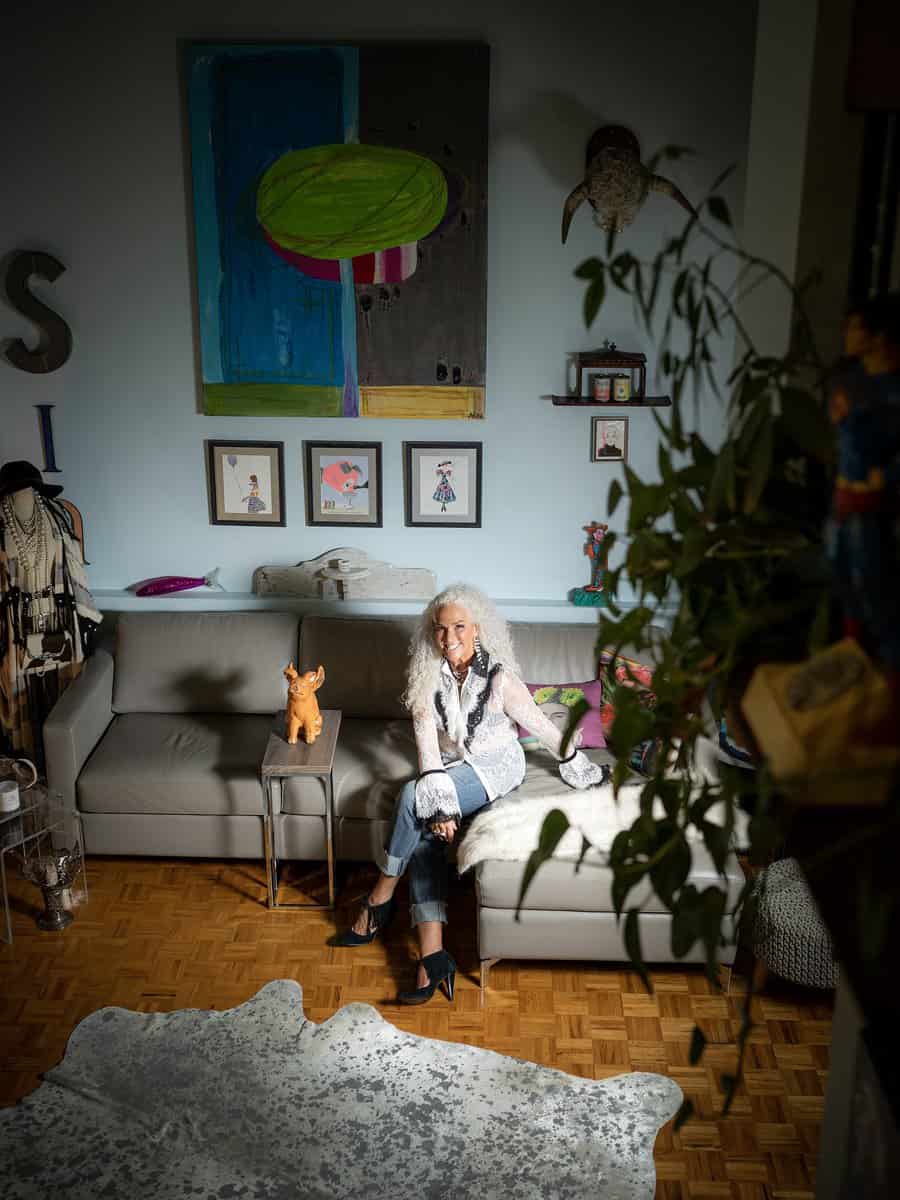 Jewelry is everywhere, too, though not as much as Mandy had in the past, "pre-C" as she calls the years prior to COVID-19. Then, Stunning! was a jewelry store that sometimes sold other accessories, but in her pandemic pivot, Mandy created a whole new approach to business online and with clothes.
"One of the first items I brought in were tank dresses I gave to a Mexican graffiti artist in Puerto Vallarta, and he painted on about a dozen of them. They were works of art. I swore when I opened the store I'd never sell clothing again—and now I sell clothing!" she chuckles, her laugh husky.
"I want to believe in my products so just because, oh I don't know, pink hot pants are in, I won't wear them, so I won't sell them."
So, tiny is good. What is also surprising about the tiny empire is how the space manages to contain Mandy's big personality and, it has to be said, her hair.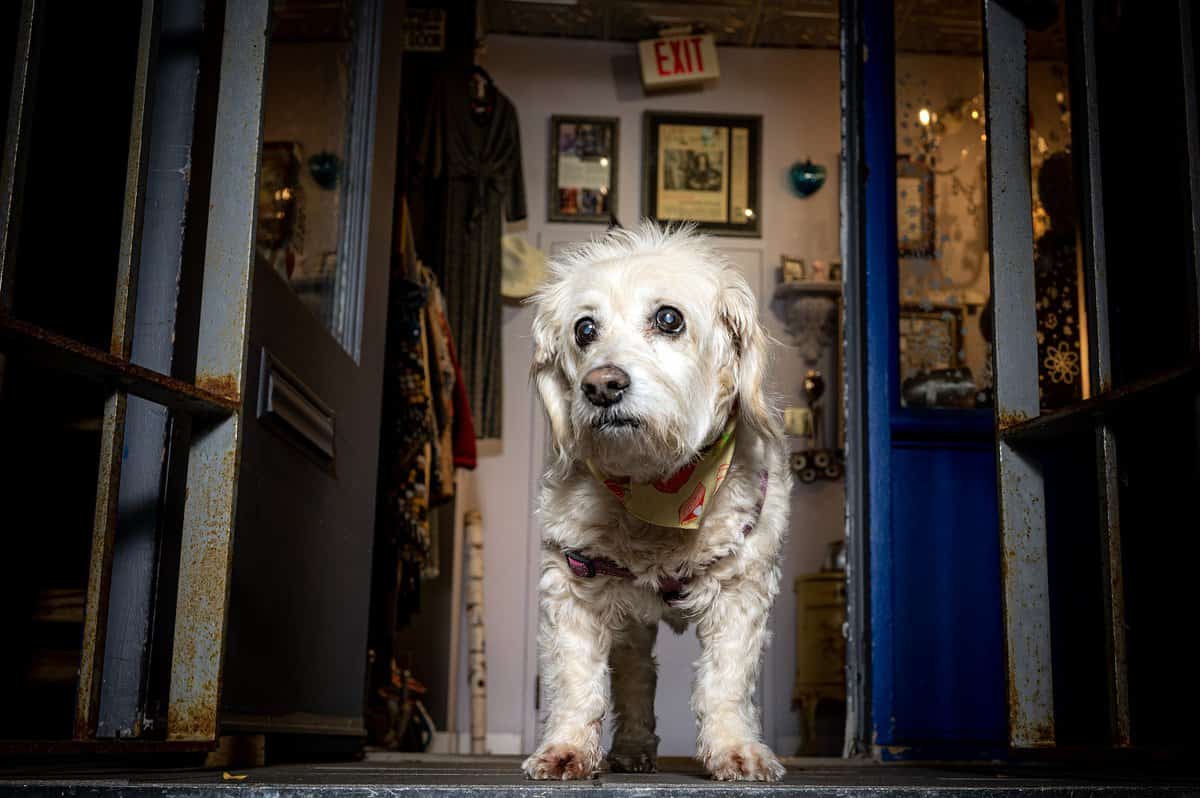 The hair is abundant. It's riotous, Rubenesque, playful, abandoned, chaotic. It's a lot, but on Mandy, with her megawatt smiled and her raspy "How ARE you?" greeting to every person who walks over her threshold, it works. And it works well.
Fitting into the space and making it feel both spacious and intimate is a neat trick. Perhaps "skill" is the better word because it is, after all, her family's four-generation retail legacy.
Mandy's late father, Herb Gosewich, was a larger-than-life personality who owned Ritchie's Sport Shop on Bank Street for 45 years, while her Scottish mother, Dena, owned Next to Nothing Lingerie at 240 Sparks, along with three other hosiery kiosks. Before that, her grandfather, Sam, owned Ottawa's Imperial Cap Company from the '40s to the '70s.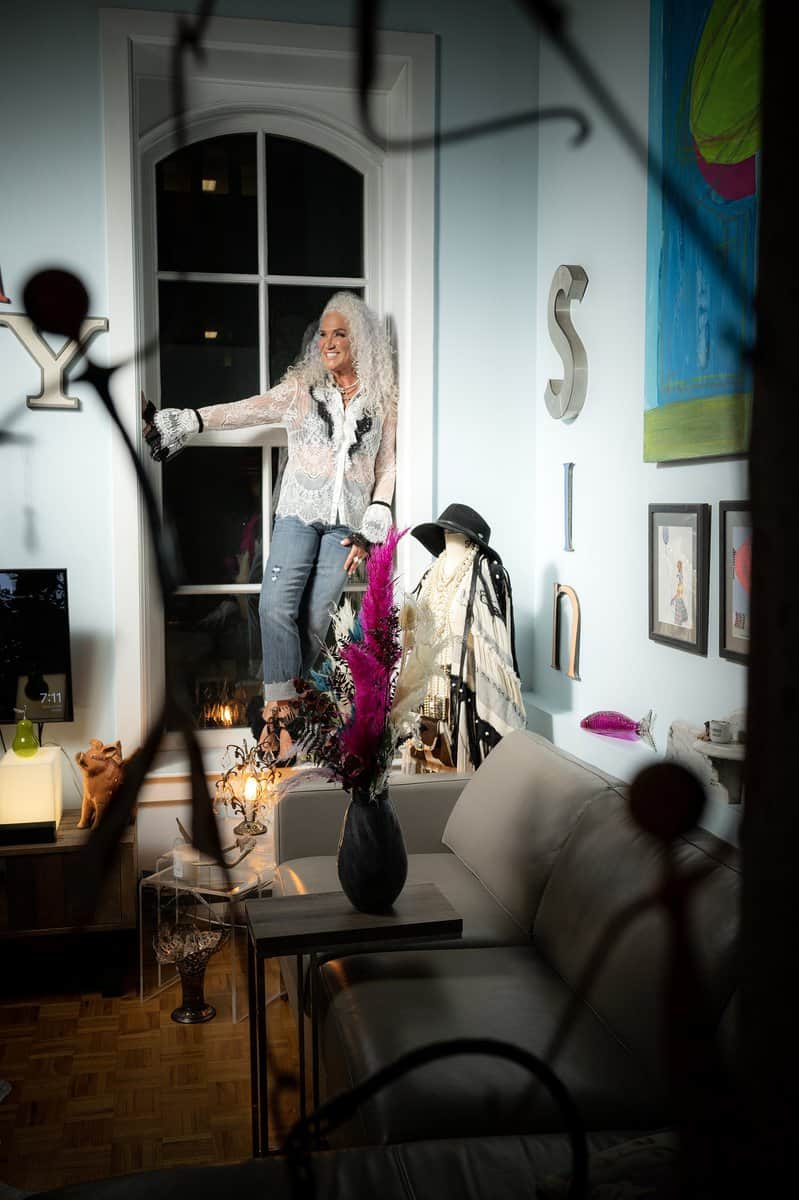 "Two things I got from my dad were his business acumen and his legs," she laughs. "My mum gave me her sense of style and sense of humour. I don't know how she did it, growing up very poor in a third-floor tenement in Glasgow, but I can recall outfits she wore right down to her Lucite earrings with the gold strips. I was always amazed at her style."
Retail was part and parcel of her childhood, she says, starting with her father pushing her out of the family business to "work for someone other than your family." She worked first in waitressing, then at Holt Renfrew, Fusion Beauty in New York City, Armani, Escada and Phantom Industries, as a corporate account executive doing private label collections.
"At Holt Renfrew, I had a navy blue suit with a mini-skirt kilt, black patent high-heeled penny loafers and burgundy tights," she recalls of her early fashion expression. "Or I'd wear red tights with black fishnets over them, but always paired with a classic piece of clothing. I played with accessories; they're the easiest way to change any outfit. I had to work with what I had."
Some of what she had now resides in her apartment, around the corner and up a flight of stairs from her shop. Like her store, it's a compact, 900-square-foot (with a loft) ode to style on a micro level.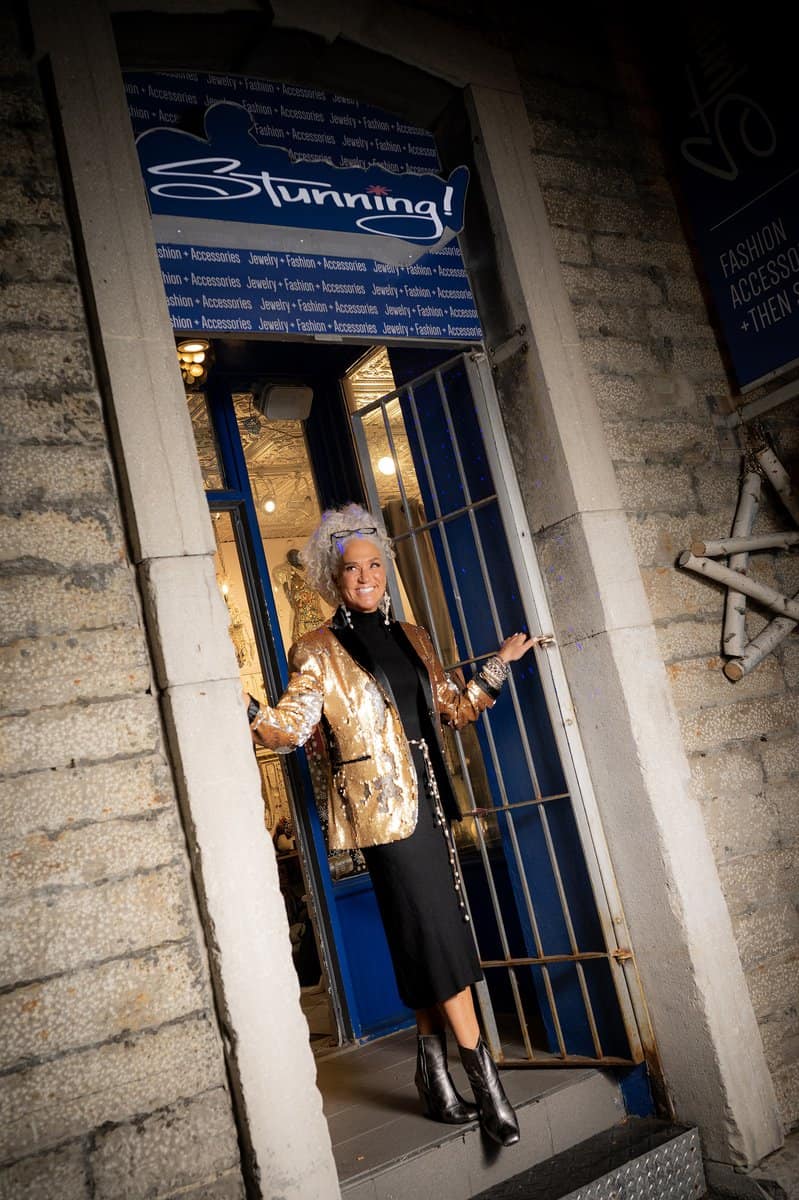 Here, her personality and strongly defined sense of what works flourish. A horned gargoyle draped in pearls peers down on the lounge room, which is decorated with modern art and antique furniture, most of it relics from her parents and grandparents. In a window overlooking Sussex Drive is a large stained-glass window from a building her grandfather once owned on Rideau Street. A mirror and table near the entry were put on layaway at the Salvation Army by her parents for a year before they could pay it off. Other pieces belonged to her paternal grandmother, Rae Gosewich, a Russian Jewish Holocaust survivor. A bright, 1970s pop art painting by Ottawa artist Joyce Francis Devlin is surrounded by four naïve symbolist paintings by an unknown Russian debutante. Each piece of furniture or work of art has a story and is clearly cherished.
"I grew up with very classic pieces, but there was a very contemporary, eclectic style that went with them. The family came from nothing and put things together, so as urban as I am, I'm very drawn to pieces of my family's history," she says.
She opens an antique cupboard and pulls out a string of her grandmother's glass beads and a silver buckle with a chunk of lapis lazuli.
"Uniqueness never goes out of style," she says, turning them over in her hands before replacing the items. "If you conform to what's out there, it changes, and you're stuck trying to keep up. You have to find your groove and look in the mirror and have the courage to say, 'I look great.'"
Her mission, if she has one, is to welcome women into that tiny space and surround them with style, hers and theirs.
"If you can deal with someone who has great style and can help you put it together, it's a godsend. To me, everyone who comes into the store is a Tiffany box. I just want to put the white ribbon on them, so they feel as beautiful as they are." stunningottawa.com