FOUR RESTAURANTS WITH BUZZ
By Janet Wilson
seven questions
matthew carmichael
What is the secret to your successful partnership with
fellow chef/restaurant co-owner, Jordan Holley?
Our partnership is based on our great friendship. Jordan is also extremely strong in areas that I'm not and I'm better at areas that Jordan is weaker at. This tag team makes us effective. The food program at the restaurants is a strong reflection of what Jordan and I like to eat and how it should be delivered in terms of atmosphere and presentation. All this combines with the fact that he is probably my favourite person to cook with.
Why did you pursue a career in the restaurant business?
It kind of found me, I didn't really seek it out. I liked the fast pace and sense of daily accomplishments. And I picked it up and retained it naturally. The people who work in this industry are by far my favourite people. People who love good food and wine and cooking it, growing it and harvesting it are the salt of the earth.
What's been your greatest professional success?
My greatest sense of accomplishment is El Camino, my first restaurant. Its success let me open Datsun and then Riviera. When we opened El Camino, I literally thought no one would come and then it exploded. I bought a 1970 El Camino. I love this car. It feels great when I drive it with my partner, Kelly, on a warm summer night with her in the passenger seat.
What is the most essential item in your kitchen?
Hands-down, Three Crabs Brand Fish Sauce.
What is your favourite dish at Riviera and why?
Tuna crudo with argan oil, chili and crispy quinoa — it's a great ocean-wise Albacore tuna from British Columbia. I love the combination of the argan oil and chili, the texture and acidity from the quinoa lemon juice and the great grassy extra virgin olive oil finish.
What is your greatest extravagance?
Oyster raw clams, uni raw scallop crab lobster on our seafood towers at the Riviera. Maybe Acadian surgeon caviar and a magnum of Chablis is my greatest extravagance.
How have the tastes of customers changed during your career?
People are more aware now of providence than ever before.
---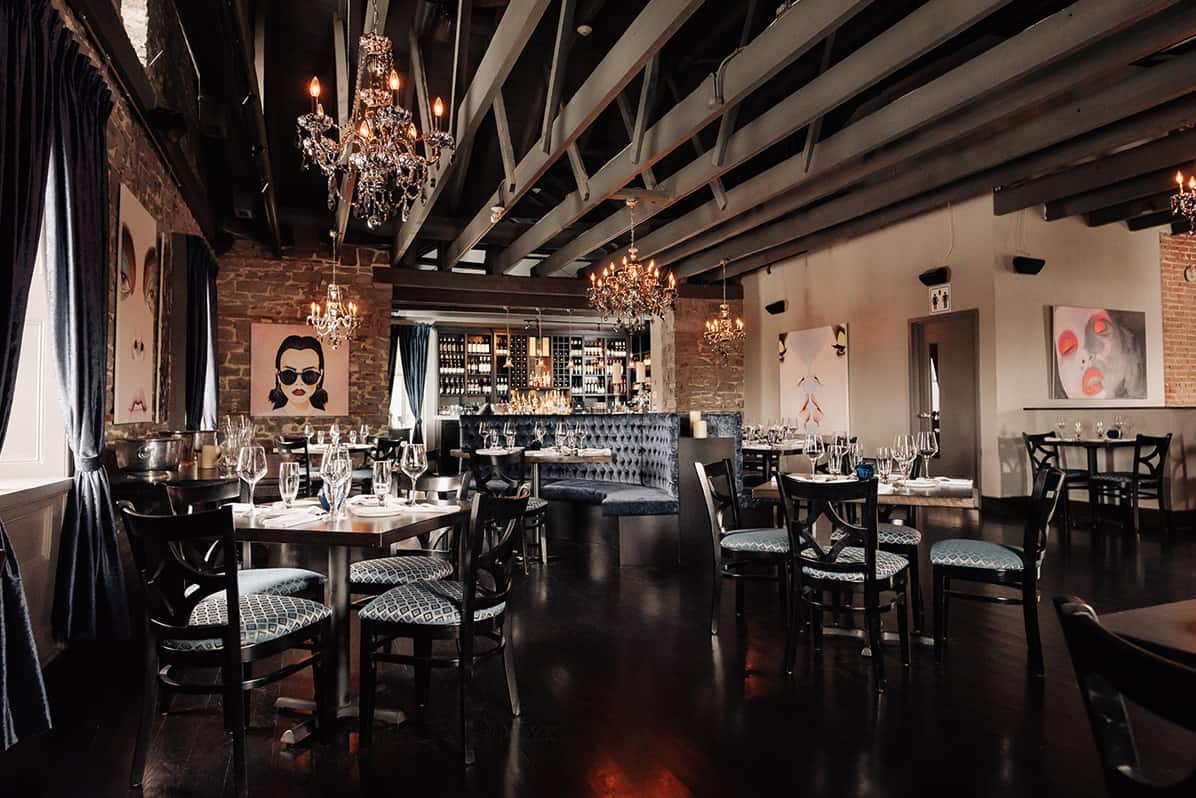 La Maison Conroy
Address: 61 rue Principale, Aylmer, Que.
Opening date: Dec. 9, 2016
Owner: Rod Scribner
Chef: Kyle Mortimer-Proulx, formerly of Brookstreet Hotel, ZenKitchen and Lowertown Brewery.
Decor/vibe: Housed in a mid-1800s stone mansion, the upscale second-floor space, decorated by Shannon Gay, exudes a welcoming atmosphere and features midnight blue velvet drapes, plush banquette seating, twinkling chandeliers, eye-catching original artwork by Meredith Lyman and a stunning bar topped in marble.
Type of cuisine: Mortimer-Proulx says his cooking philosophy is to let nature help develop the menu by incorporating a strong vegetable presence, while respecting nose-to-tail cooking. "I've created an ever-changing small-to-medium plate menu, tied to the seasons and supported by local farmers throughout Quebec. We feature a raw bar serving sustainable Canadian oysters, house-made charcuterie and fine Quebec cheeses paired with seasonal preserves and in-house bread."
Price range: Personal plates, $15 to $35; sharing platters, $9 to $70.
Sample dishes: Confused Bivalve features sustainable scallops poached lightly in beef fat, served with celeriac purée, pickled and stewed mushrooms, grilled radicchio, marinated mussels, pickled shallots, and crisp chicken skin. Colourful Carrots is a vegetarian dish of spiced and roasted heirloom carrots served with dill yogurt, torched house-made ricotta, fennel confit, toasted barley, a maple-carrot caramel, toasted seeds, pickled carrot shavings and burnt scallion powder. Local lamb is purchased from Gatineau's Rock's End Farm and was recently showcased as a lamb crépinette wrapped in grilled savoy cabbage brushed with spiced maple syrup and perched on a piece of grilled house-made sourdough bread. It was then blanketed with warmed fermented sauerkraut and surrounded by a mushroom and lamb jus. The dish is garnished with shaved button mushrooms, sunflower seed gremolata, pickled shallots, and a 64-degree egg on top.
---
Riviera
Address: 62 Sparks St.
Opening date: Spring 2016
Chef/owners: Matthew Carmichael and Jordan Holley, who have a thing for cars, are behind Riviera, El Camino (two locations) and Datsun. Formerly of Social and E18hteen.
Decor/vibe: You'd be forgiven for thinking you were in New York City when stepping inside this gorgeous art deco room. Built in 1869, Riviera, once home to a bank and jewelry store, oozes Old World charm with soaring ceilings, marble flooring, a gleaming 70-foot brass bar with stools, shallow banquettes, a private glass-walled dining room and a stainless-steel open kitchen. The duo teamed up with pal Andrew Reeves of Ottawa's Linebox Studio Inc. for the interior design.
Type of cuisine: "New Canadian" food, featuring raw-bar appetizers and dressed-up comfort foods. Start with a cocktail prepared by the dapper bar manager, Stephen Flood. Riviera was named 71 on the list of top
100 Canadian restaurants for 2017.
Price range: Starters, $9 to $22; pastas,
$18 to $55; mains, $28 to $44.
Sample dishes: Prawn cocktail, spot prawn and scallop chowder with corn and bacon, hanger steak with frites, braised beef short ribs, lobster pappardelle, Cornish hen with mushrooms and sunchoke purée. Better leave room for dessert. (Hint: chocolate peanut butter tart drizzled in salted caramel)
---
Fairouz
Address: 343 Somerset St. W.
Opening date: April 13, 2016
Owners: Dr. Hussain Rahal and Tony Garcia
Chef: Walid El-Tawel, formerly of Restaurant E18hteen and Toronto's Montecito Restaurant and the Aga Khan Museum restaurant.
Decor/vibe: Modern, bright with several cosy dining spaces complemented by Moorish design elements, carved black dividers, an evocative mural by designer Kayla Pongrac, banquettes and a soothing colour palette of turquoise, gold, white and grey.
Type of cuisine: Sophisticated Middle Eastern flavours and creative, colourfully plated dishes. Fairouz was recently named No. 46 of the top 100 restaurants in Canada in 2017.
Price range: Small plates, $6 to $18; larger plates, $26 to $35.
Sample dishes: Appetizers and sharing plates, including Kushbashi beef kebab with smoked gouda and eggplant sauce, sumac onion and red pepper marinade; salmon pastourma with white anchovy kataifi, pickled shallots and olives; and house-made pita served with mouth-watering dips, including the delicious Muhammara made with roasted peppers, cashews and pomegranate molasses. Mains include sous
vide lamb sirloin and sumac-glazed chicken.
---

Zak's Cantina
Address: 10 ByWard Market Square
Opening date: Late spring 2017
Owners: John Borsten, founding owner of Zak's Diner ByWard Market, and co-owner of The Grand Pizzeria, Metropolitain Brasserie, Zak's Kanata and formerly of Empire Restaurant. Kate Rutledge, who has been with Zak's for 18 years, is also head chef and co-owner of Zak's Diner Kanata. Nabil Soueidan, the head chef of Zak's ByWard Market, has worked at Zak's for 26 years. Lou Greco, a contractor, has worked with the restaurant group for nine years.
Chef: Kate Rutledge
Decor/vibe: Located in the former Phillip Van Leeuwen furniture store, the two-floor space is decorated in an eclectic Mexican vibe by Sofia Santiso Borsten, a graphic designer by trade. The centrepiece is a "chicken" bus with seating inside for diners. The colourful, decorated bus is a replica of one common throughout Latin America, which transports goods and people.
Type of cuisine: Traditional Mexican street food.
Price range: $5 tacos to
$13 for burrito platter.
Sample dishes: Margaritas, sangria, micheladas, nachos, tacos, burritos, enchiladas, chimichangas and flautas. Diners will also enjoy traditional Mexican street corn: fire-roasted corn with chipotle mayo, cotija cheese and fresh lime. Street dog: jumbo hotdog wrapped in bacon topped with fresh salsa, shredded lettuce, refried beans, avocado ranch and tortilla straws. The banana split dessert taco features bananas, strawberry sauce, pineapple chunks, chocolate sauce, vanilla ice cream and whipped cream in a crunchy chocolate-dipped taco shell.