Top of the line –and one seriously fast SUV
By Derek McNaughton
Sergio Pininfarina, the Italian designer whose artistry gave shape to the Giulietta Spider, the first mass-produced Alfa Romeo, was no doubt wincing in his grave at hearing about the plans for the first-ever Alfa SUV. In the car world, Pininfarina evokes almost as much emotion as Enzo Ferrari, the two men linked by history, business and a passion for exquisite automobile design. How could a fat four-door Alfa SUV possibly fit in with a long tradition of building some of the most beautiful cars on the planet?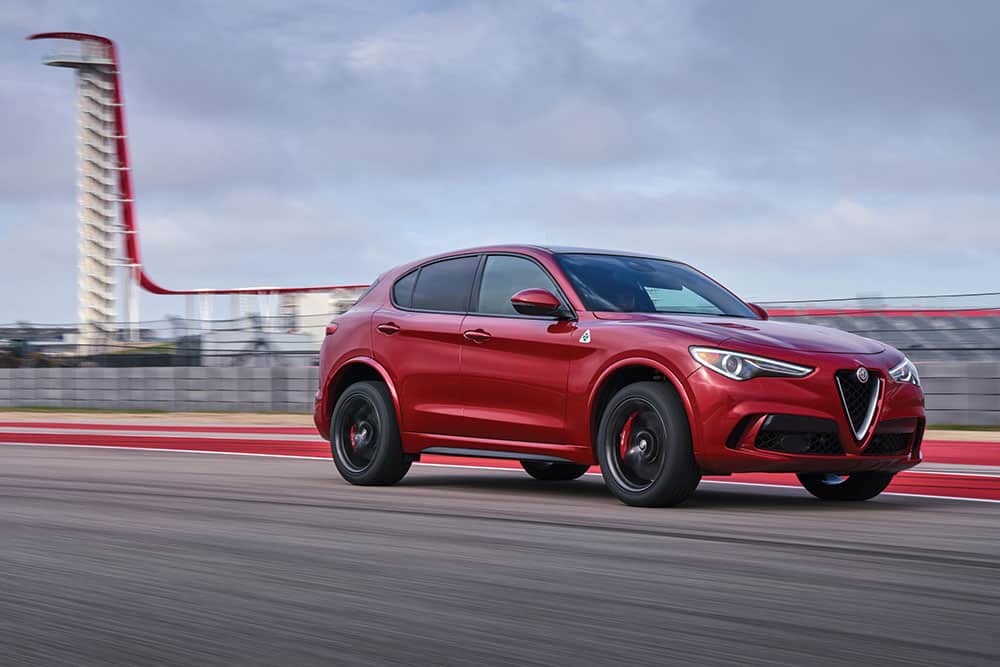 What might have seemed impossible turned out to be spectacular. The Stelvio—a name derived from the Stelvio Pass, the Italian mountain road blessed with 48 ridiculous switchbacks—was introduced to near universal applause at the L.A. Auto Show in 2016, immediately raising the SUV stakes. Suddenly, here was a five-passenger utility vehicle that was not only drop-dead gorgeous, but it could haul some serious ass, too.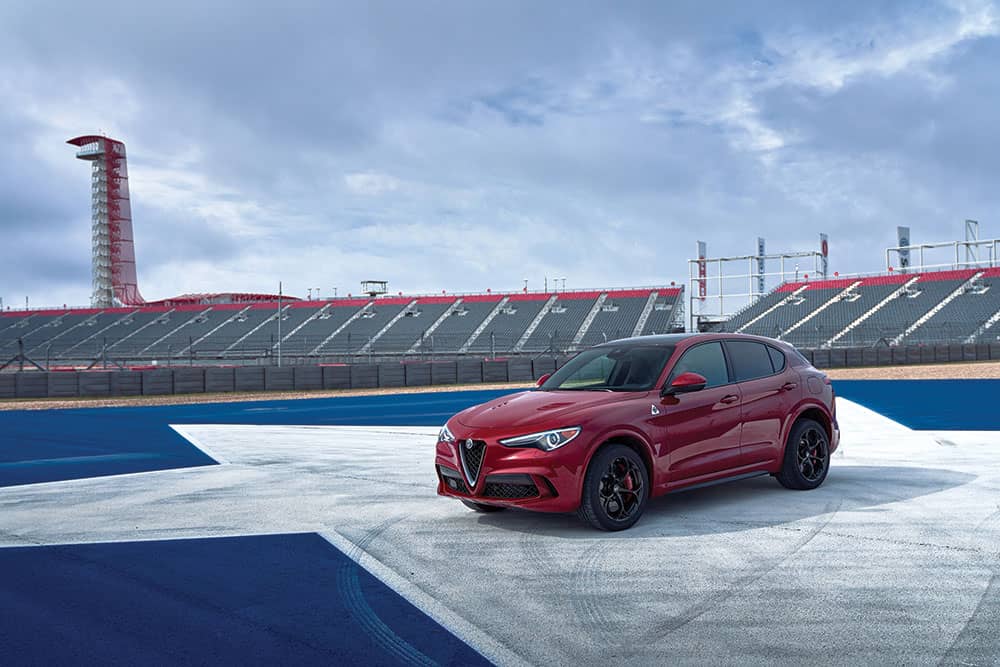 Able to hit 100 km/h from rest in 3.8 seconds, on its way to a top speed of 283 km/h, the most powerful of three Stelvio models is the Quadrifoglio, identified by a badge on the fender adorned with a four-leaf clover. Even this badge arcs to the company's racing roots, going back to 1923 when Alfa Romeo race-car driver Ugo Sivocci stickered his car with a clover to give him racing luck after a series of losses. The sticker worked: He won his race. Today, this white and green badge rides along with the current, highest-performing Alfas in the fleet.
It also feels like this badge is bringing me luck, too: As the Stelvio Quadrifoglio I am commanding approaches the apex of a long, uphill sweeper, its fat Pirellis begin to squeal in protest—ready to slide off the asphalt because the speed we have gathered eclipses the tires' ability to keep the SUV framed to the road. Remarkably, with a slight easing of throttle, the Stelvio finds its footing without swinging wide of the solid double-yellow line, without getting all flustered as lesser SUVs do. Lightweight steering, which could use more feedback, quickly corrects the Stelvio's trajectory, and, with a dose of throttle past the apex, the big beast pulls straight with a thrust that belies its 1,977-kilogram curb weight.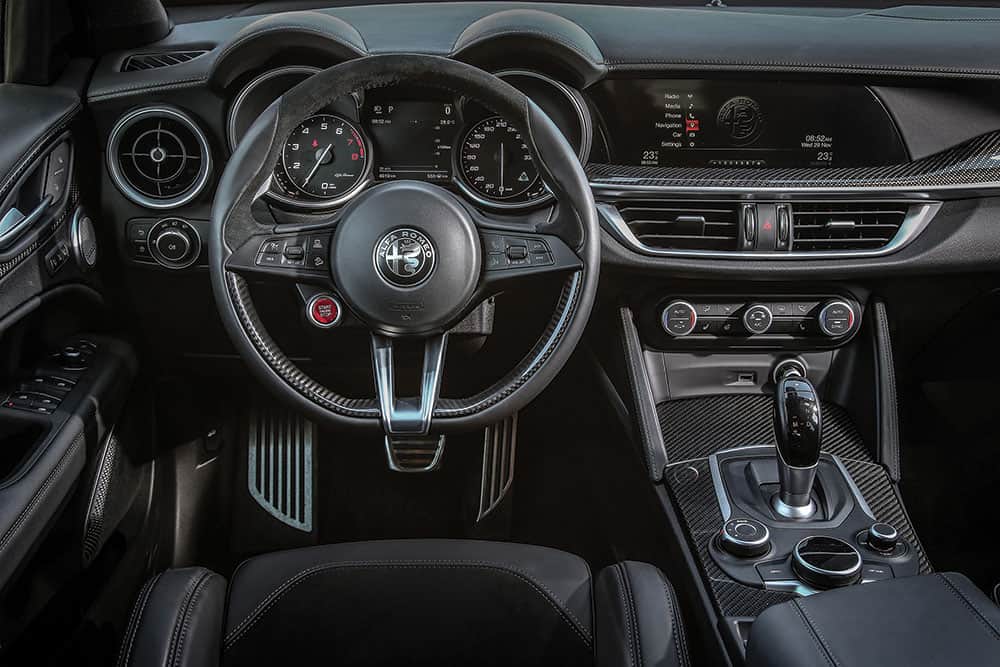 Indeed, as lateral G forces build, and with a perfect 50/50 balance between the axles, the Stelvio defies the age-old equation of radius being a matter of speed and grip. How we are able to negotiate corners at speeds that would give pause to many a Porsche 911 driver is testament to the engineering invested into this vehicle's suspension and drivetrain, one it shares with the Giulia Quadrifoglio sedan. The Stelvio's Q4 all-wheel-drive system transfers 100 per cent of the torque to the rear axle most of the time for the superior feel of rear-wheel drive; but as the wheels approach their limit of grip, the system transfers, via an active transfer case, up to 50 per cent of power to the front axle. It will literally fling you through corners.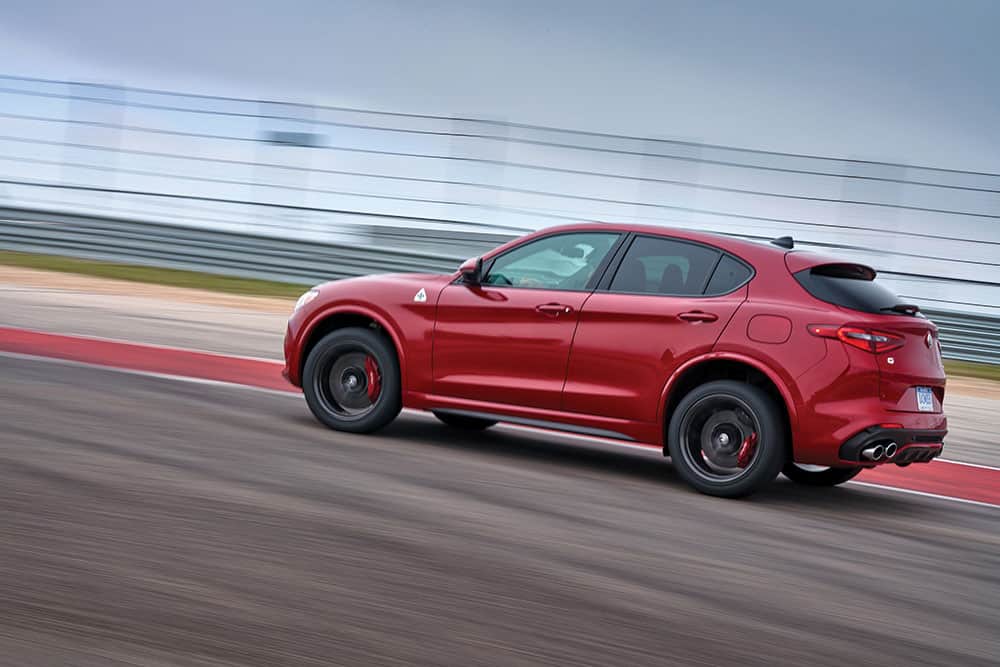 And the speed at which corners can be reached is alarming, coming on strong at the low end, tapering near its 6,500 rpm redline when the Quadrifoglio's 505 horsepower tops out, although the max torque of 443 lb.-ft. arrives at 2,500 rpm. All that from what, at first blush, looks like a small engine, a 2.9-litre V6. This, however, happens to be a Ferrari-derived powerplant wearing two turbos to bring not only instantaneous acceleration, but a smoothness that befits some of the finest sports cars, not something you'd expect in a hauler of hockey kids.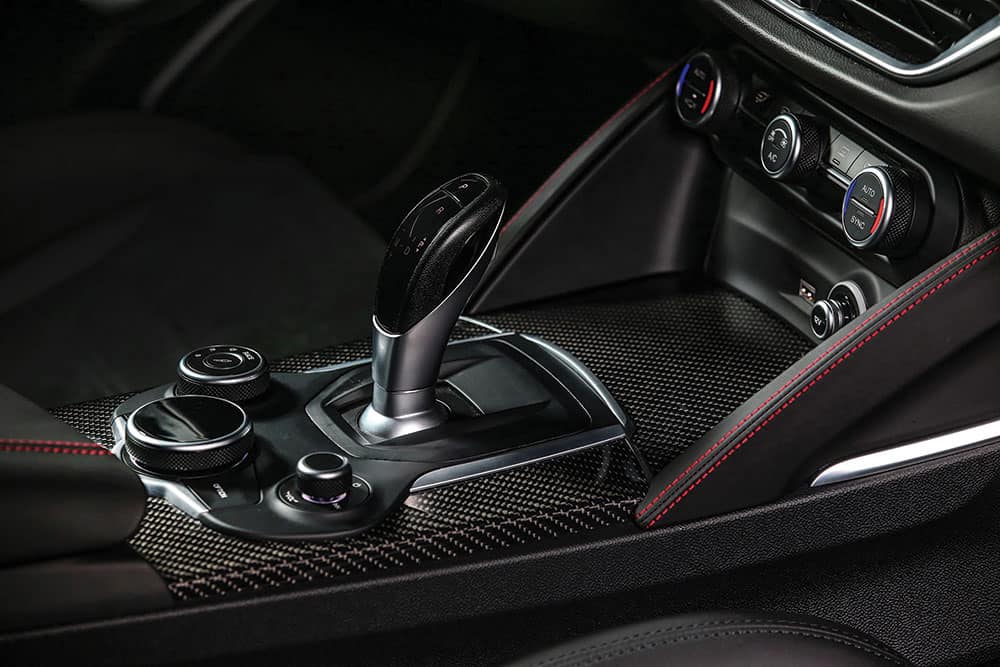 While the exhaust flowing from those four beautiful pipes may not be as mellifluous as a Ferrari, exuding a peculiar mix of turbo rush and engine roar as the turbines force tons of air through a small block, there's no denying the plain truth: This is one seriously fast SUV. A torque-vectoring differential, plus four-mode Alfa "DNA selector" with RACE mode and adaptive suspension, along with six-piston Brembo front brakes truly make this SUV stand head and shoulders above most every other sporty SUV.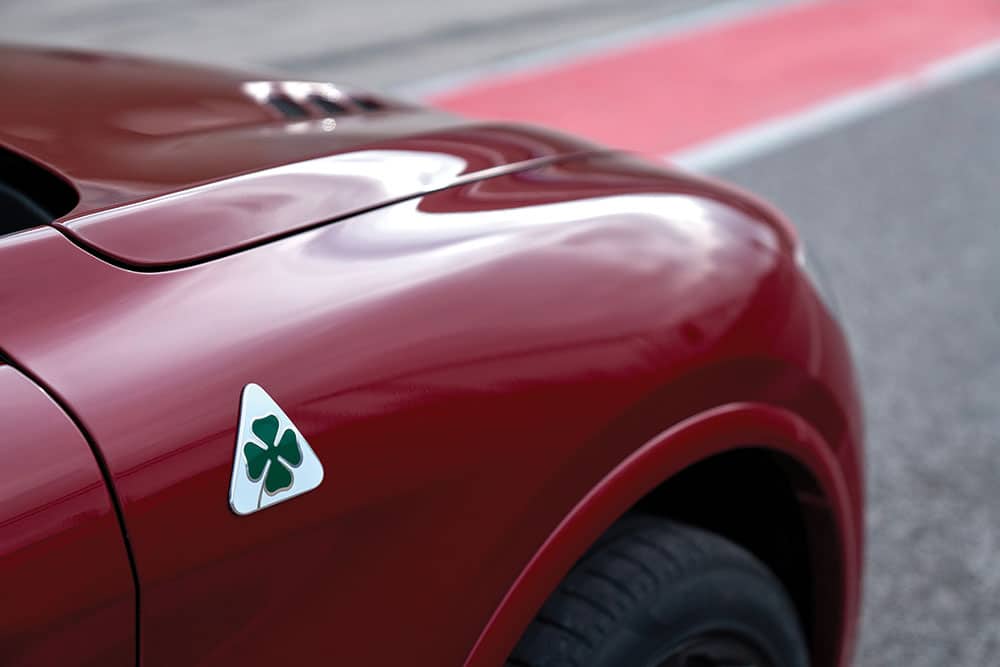 It is, of course, also an Alfa Romeo, which means the Stelvio comes with a mix of oddities, like the occasional interior noise even when outside noise is so well-contained. Or the ride that, even in comfort mode, feels wound too tight. Or the peculiar navigation system across a narrow screen. Same goes for the low-rent shifter surrounded by carbon fibre, the odd infotainment controller and its, sometimes, lazy response, the absence of a heads-up display in a vehicle that starts at $95,000. The steel brakes, while absolutely incredible at stopping the car and excellent at resisting fade, are so super-sensitive due to their electronic control, it's hard to modulate them smoothly in everyday driving, as though Alfa engineers never imagined people could drive a Stelvio slowly.
It is easy, however, to look past such minor quirks when the Stelvio rewards with so much pleasure, performance and grip. Every drive is a thrilling outing. Along with a sense of design that respects proportion and simplicity, the Stelvio steals your heart at the same time that it enriches the soul. Pininfarina would be proud.