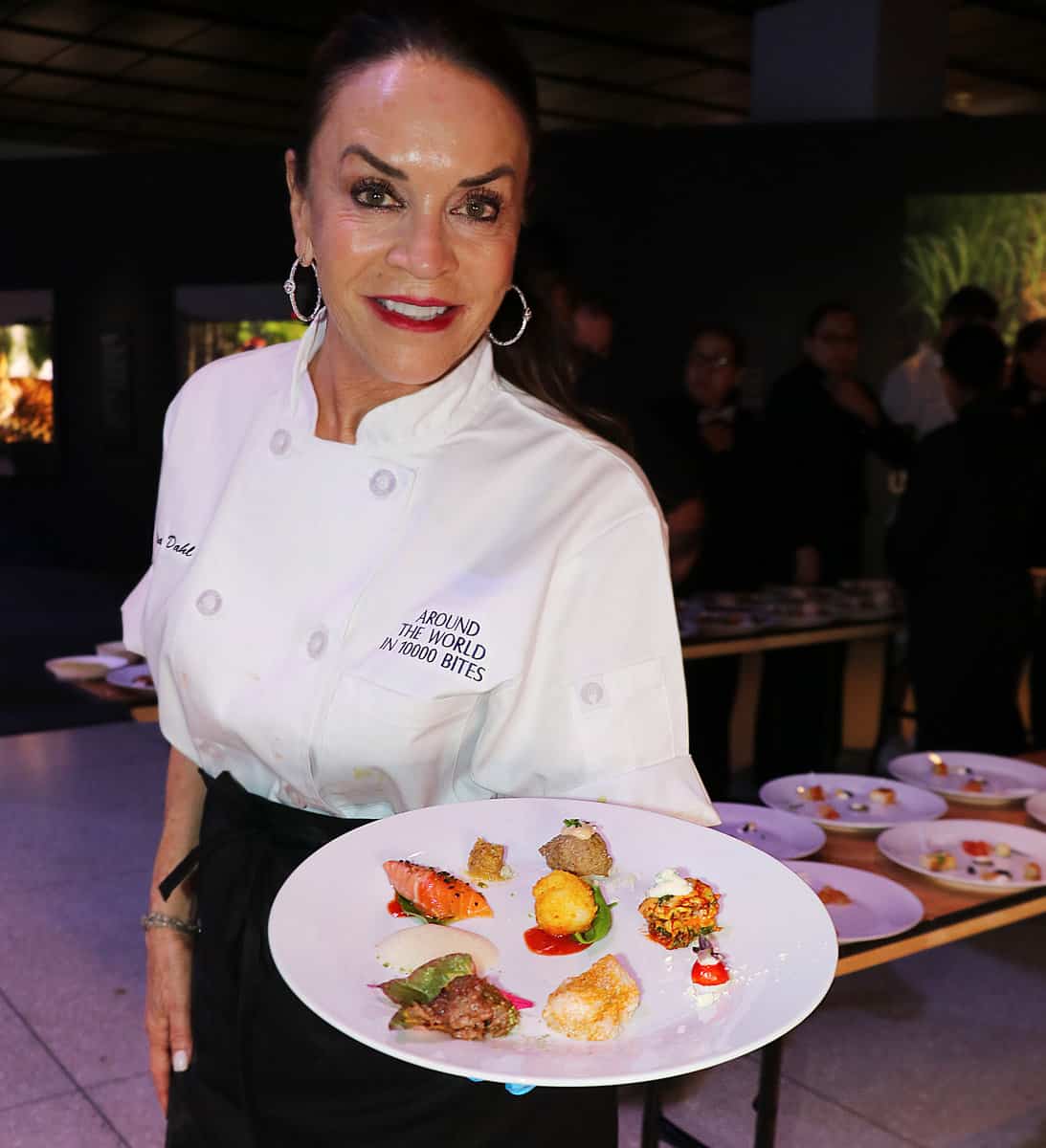 Your Taste Buds' Passport to the World
By Brigitte Hasbron
There are food lovers and then there are FOOD LOVERS! As I landed in Houston, Texas to be a guest at the first-ever Around the World in 10,000 Bites Dinner, little did I know that I'd be embarking on a gourmet experience of a lifetime!
The mastermind behind this epicurean dream is Chef David Skinner, owner of Eculent, a multi-sensory restaurant in Kemah, Texas. His establishment takes pride in its gastronomic laboratory and test kitchen which focuses on many modernizations, including culinary innovations and taste craftsmanship.
Just thinking about this unique, mind-blowing and perfectly orchestrated event still evokes the most pleasant of memories. The highlight of my culinary voyage was having the honour to witness the raw excitement and organized chaos that lies deep within the kitchen…exactly where I wanted to be!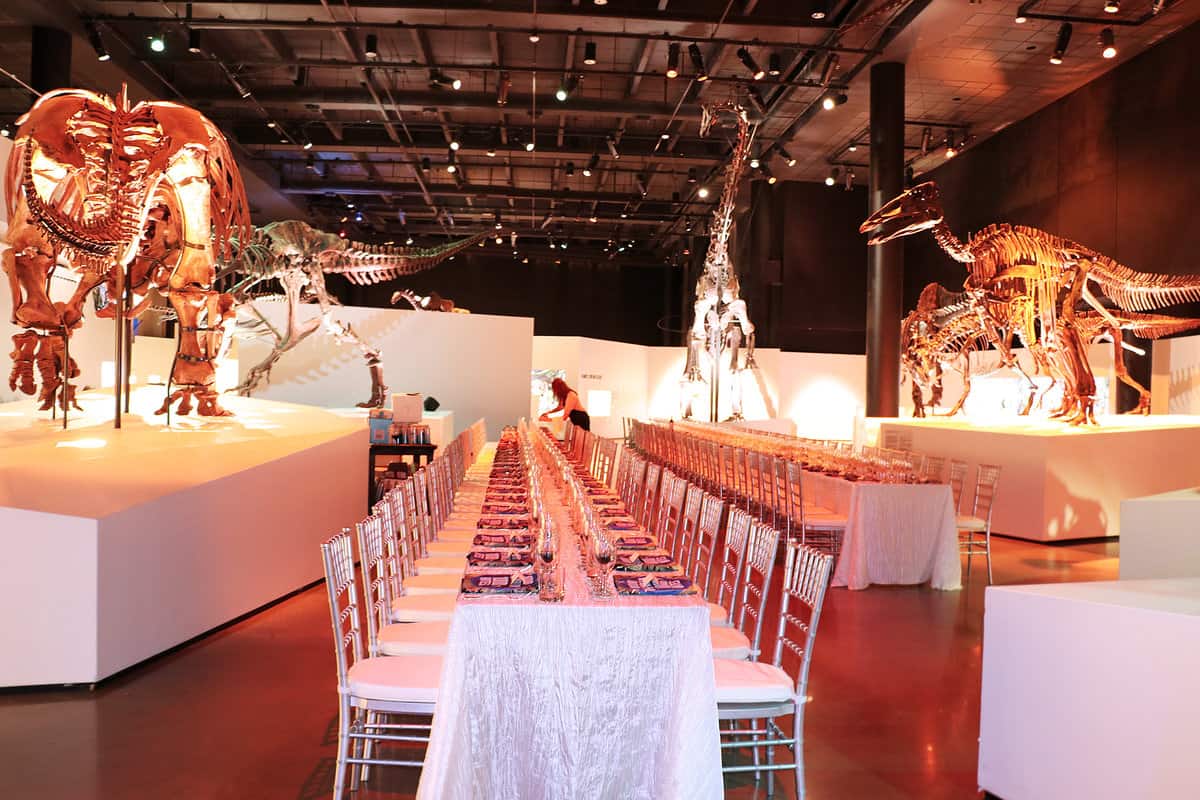 Foodie Foreshadowing
In the Zaza Hotel kitchen is where chefs from all parts of the world prepared the dishes that would be served mere steps away at the unique venue set in The Houston Museum of Natural Science. Seeing that this incredible event had never been attempted before and that for many of the chefs this would be the first time they would be working so closely together, I could sense that there was a certain pressure to succeed. Nonetheless, the vibe and camaraderie amongst the chefs was purely infectious. I was taken in by their friendly demeanor even though I was invading their environment with questions and endless photos…it was heartwarming to say the least.
If that wasn't enough, I was invited to attend their chef's dinner prior to the main event which for me was the icing on the cake! Everything from sharing caviar bumps (picture a Champagne toast but with caviar) to breaking bread with these extraordinary and insanely talented culinary magicians were all part of the communal celebration leading to the main event.
The exclusive 10,000 Bites Dinner which catered to only 100 lucky guests and 20 VIPs was the headliner. However, the ultra-glitzy Bubbles and Baubles soirée, held the night before in the McFerrin Fabergé Collection at The Houston Museum of Natural Science, accommodated more guests. It was an incredible evening of champagne and caviar where the ever-so-eager guests were served mini bottles of champagne paired with Sterling Caviar scooped out of a Fabergé egg replica. I think I ate my weight in caviar that evening! Not only was it an evening of swanky opulence, this soirée gave guests the opportunity to meet all the participating chefs of the 10,000 Bites Dinner and sample some of the dishes that would be showcased the following evening.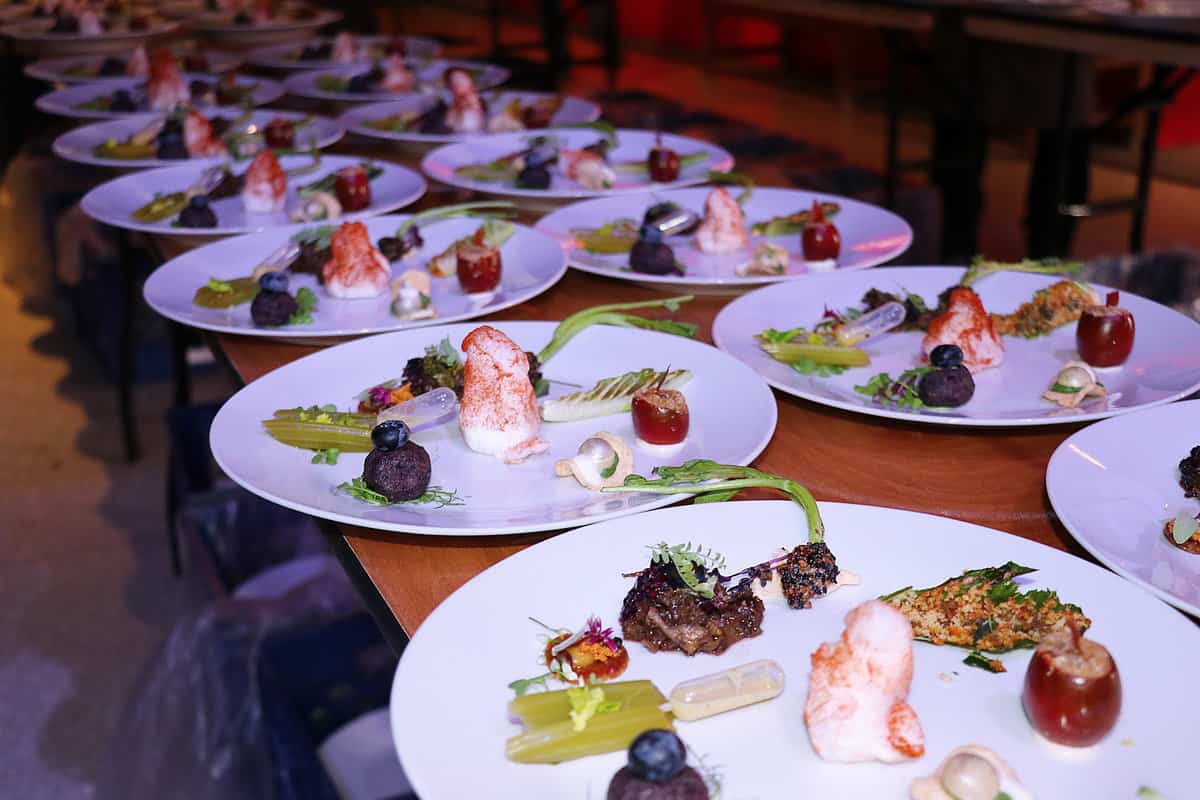 10,000 Bites to Happiness
Extreme epicureans, including myself, dressed to the nines made their way to the paleontology wing of the museum where they would eat amongst the dinosaurs in grand style!
To fully understand and appreciate this one-of-a-kind dinner is to value numbers. In fact, it was all about the math…10 plates each consisting of 9 delectable courses, each representing 1 country served over a period of 6 hours! Add to that, another 11 courses for the ever so creative and imaginative desserts. Now multiply that by 100 guests and that brings us to a grand total of 101 courses and just over 10,000 bites! Oh, and let's not forget to mention that for each country, a glass of wine or spirit native to that specific nation was also provided. All aspects of the total food and liquid intake had been meticulously calculated and planned into the preparation of this gastronome feast. This was an epic, larger-than-life dinner on EVERY level!
Over the six hour dinner you will journey through different cultures and cuisines learning about what makes us different and yet all the same.
– David Skinner, owner and chef of Eculent and mastermind behind the 10,000 Bites Dinner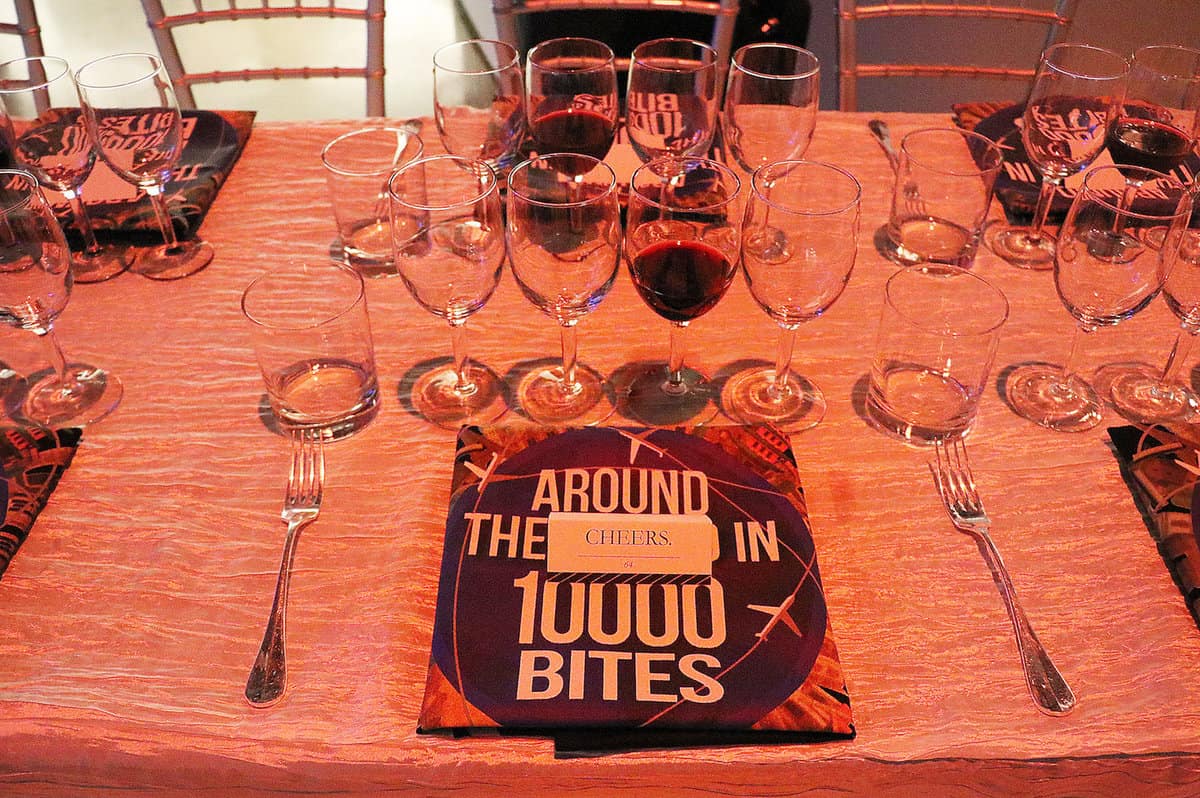 With synchronized precision, the red carpet affair took us on a culinary voyage to some of the most sought after foodie countries.
Our journey started in the Americas with the United States focusing on molecular creativity and locally foraged ingredients. From one dish to the next, they kicked off our excitement with a variety of attention-grabbing presentations and flavours such as BBQ-flavoured cotton candy and a BLT enhanced tomato. Nicaragua and Mexico spoiled us with the likes of ceviche, chicharron, mole negro, and my all-time favourite, adobo pork belly. Before pausing for the intermission, we had the pleasure of eating several exquisite Brazilian dishes including banana tartar and raw fish, prawn Bobo with shrimp crumble and palm heart spaghetti butter and mushroom, all executed by Chef Manu Buffara, owner of Manu, one of the world's 50 best restaurants.
The intermission enabled us to move around, stretch our legs, digest a bit and take in all the culinary magic. Before I knew it, we travelled east to Pakistan, the Philippines and Japan for the start of the second leg of the journey. We then toured France, Spain and Italy for some European favourites. And lastly, our expedition took us to the "Land of Imagination" for the dessert finale.
Our senses were seduced by the exotic aromas and flavours that were presented before us by Pakistan. Guests couldn't get enough of this plate…everything from the authentic lamb samosa, beef karahi to the chicken Hara Masala were happily consumed! The Philippines and Japan took contrasting viewpoints to display their dishes. The Philippines showcased popular Filipino dishes like Sisig head cheese (pig head and chicken liver), lamb loin Kinilaw (an acidic cooking process similar to ceviche) and Embutido pork (Filipino-style meatloaf). Whereas Japan introduced some lesser-known traditional Japanese dishes such as Dashimaki Tamago (rolled pan-fried eggs), Wagyu Katsu (breaded prized Japanese beef) and Goma tofu (sesame tofu).
With foie gras terrine, A5 Wagyu Steak Tartar and a hearty cassoulet, we basked in the rich flavours that only the French can perfectly execute. Spain presented us with a Polbo a Feira (traditional Galician octopus dish), a flavourful potato pave and an explosive olive treat that left many speechless. Italy brought us timeless favourites like arancini, bison ad venison bolognese and polpette di porcini (mushroom meatballs). They also teased our senses with a unique take on another classic, chicken parmesan cotton candy. Yes, cotton candy that tasted like chicken parmesan…simply mind-blowing.
You wouldn't think that after all that food we could even think of eating more, but we all know that when it comes to desserts, we all miraculously find the room to indulge some more. The final destination had us traveling to the "Land of Imagination", a perfectly shaped chocolate globe accented with gold leaf representing the continents and filled with delectable sweets from all the countries we had visited. With hammer in hand, I was instructed to smash it open to uncover our treats. I was then persuaded to overindulge when I saw the assortment of decadence that was waiting to be savoured. Everything from French macarons and Indian gulab jamun to Japanese matcha mochi left us all in total bliss!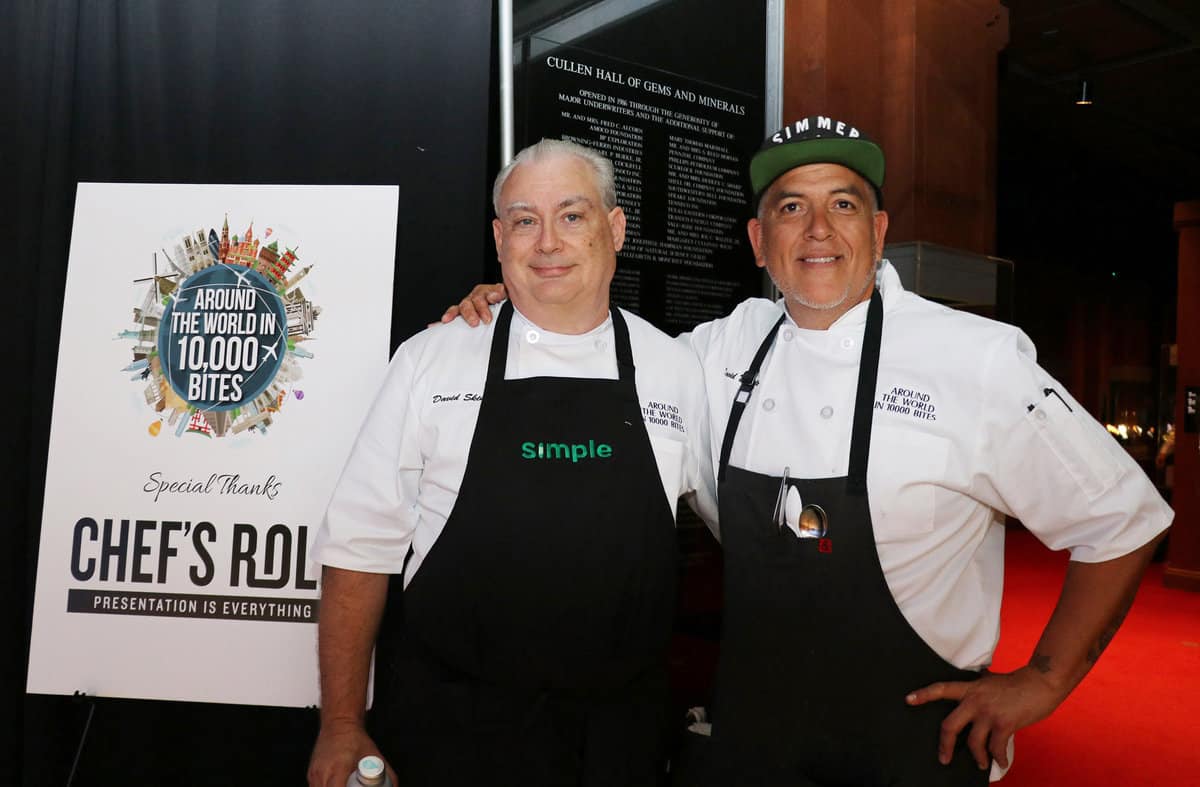 The Culinary Dream Teams
Each plated country was successfully executed by a team of extraordinary chefs from around the world. As Chef Skinner explained, the chefs were chosen for the passion they have for their represented country and the ability they possess to tell their story through food.
Chefs of America: David Skinner, Stacey Mullen, Nancy Manlove and Tamara Stanger
Chefs of Nicaragua: David Cordua and Michael Cordua
Chefs of Mexico: Emmanuel Chavez and Felipe Raul
Chefs of Brazil: Manu Buffara and Debora Cristina Teixeira
Chef of Pakistan: Kaiser Lashkari
Chefs of Philippines: DJ Tangalin and Roy Villacrusis
Chefs of Japan: Daisuke Itagaki and Medwin Pang
Chefs of France: Aaron Bludorn, Jason Niederkorn and Luc McCabe
Chefs of Spain: Javier Becerra and Brandon Silva
Chefs of Italy: David Duarte, Brett Vibber and Lisa Dahl
Chefs of Imagination: Karla Espinosa and Leanne Akers
Contributing Chefs: James Canter and Vanguelis Pablopulos
My hope is that you emerge from this journey with a much richer understanding of different cultures and cuisines and a greater appreciation for what makes us all unique and wonderful.
– David Skinner, owner and chef of Eculent and mastermind behind the 10,000 Bites Dinner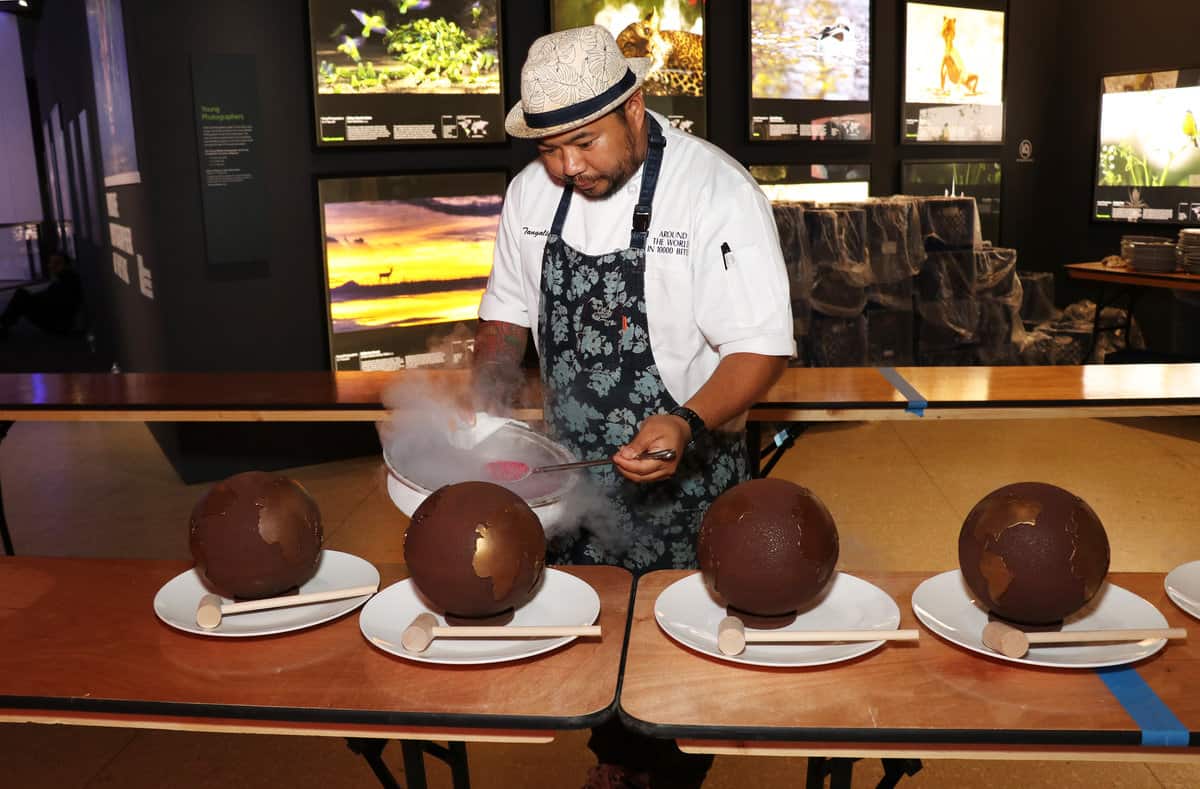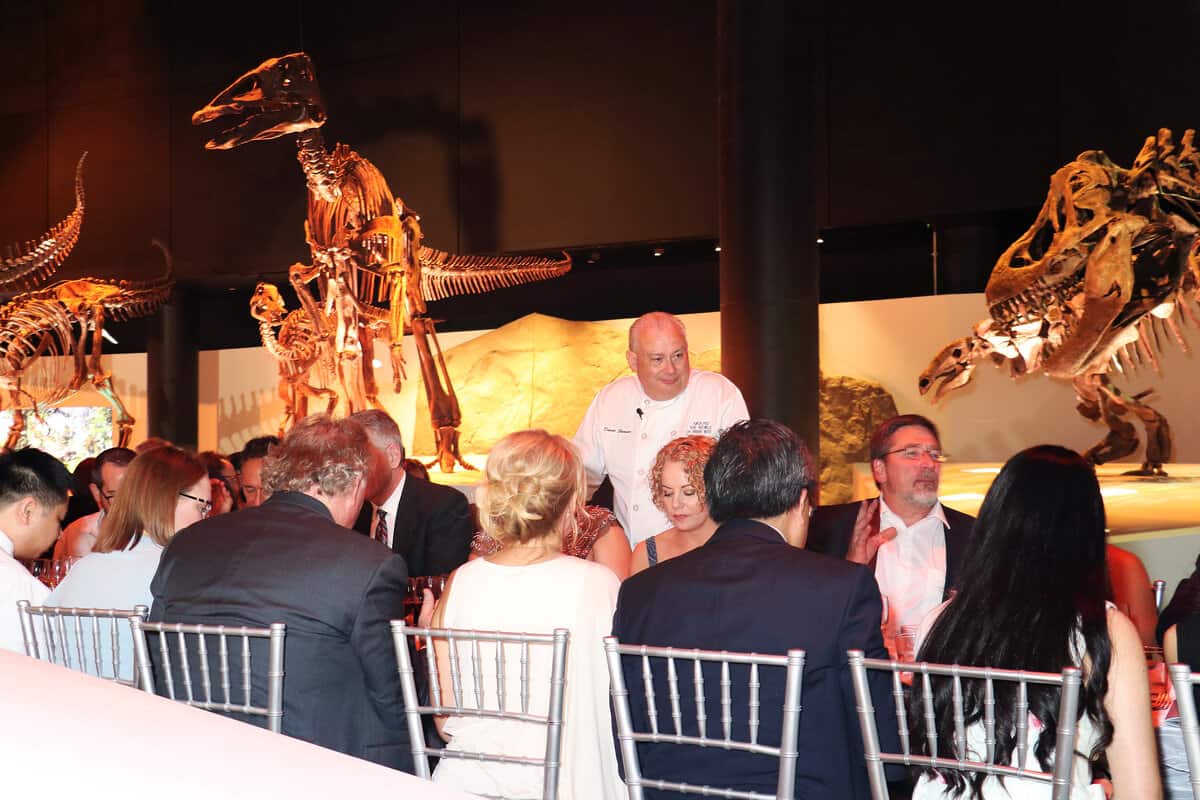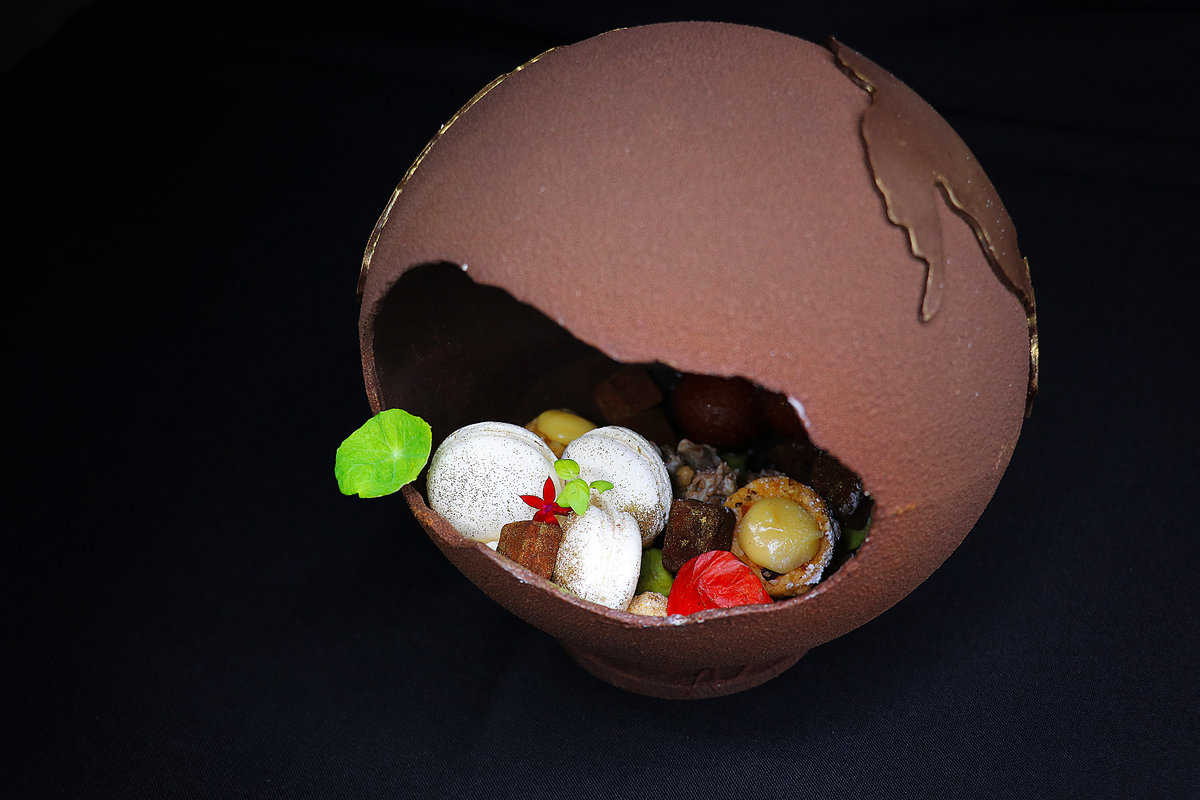 Upcoming Dinner
I am beyond pleased to share with you that ANOTHER epic dinner is in the making! The dinner is slated for August 8, 2020. However, this time it will be bigger with the involvement of 20 countries! Stay informed by visiting https://www.aroundtheworldin10000bites.com/.
There are not enough words to properly describe this event, other than to say it was nothing short of mind-blowing for a gourmand to experience and be a part of. I've always said that the love of food brings people together and the 10,000 Bites Dinner proved it. No politics, no religion just people from around the world relishing the creation and enjoyment of great tasting food. This epic event is categorically an affair to mark on your calendars as your appreciation for the culinary arts will no doubt be taken to another level!
Brigitte Hasbron is owner of The Food Tease, a combined culinary and travel blog that highlights the best that food, wine, and travel have to offer.