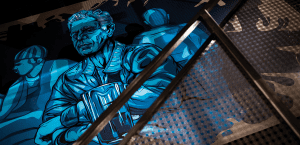 By Hattie Klotz
Does our northern climate have something to do with the exponential growth of the craft beer industry in Ottawa, or are there just a huge number of passionate beer drinkers in this small city?
Maybe it's the fact that beer is a drink for all seasons; it's conducive to hygge in chillier months, that Scandinavian notion of cozy conviviality, and thirst quenching during our hot summers, perfect for enjoying on a patio. Or maybe it's simply that the residents of Ottawa-Gatineau are extremely discerning in their taste for fine beer. Whatever the reason, there are close to 40 small-scale craft brewers in the region and at least eight festivals dedicated to showcasing their brews.
Long before backyard brewing spilled over to become a continent-wide industry, the Clocktower Brew Pubs were producing fresh, small-batch brewed beer, starting in 1996. Now there are microbreweries with tasting rooms scattered across the city.
Dominion City Brewery
Hidden in a warehouse space in a mixed-use industrial park in the east end of Ottawa, you'll discover Dominion City Brewery at 15-5510 Canotek Road. Founded in 2014 by Josh McJannet, Alex Monk and Andrew Kent, it's now one of the local industry success stories. Quite apart from producing "very good beer" according to its tagline, Dominion City can be found on pub and restaurant menus across Ottawa, and has its own taproom with between 10 and 15 beers available seven days a week. It also serves a menu of simple bar food such as grilled cheese and roast beef sandwiches, in a space with barn-board walls and wooden tables, views of the brewing room and out over playing fields. Regular restaurant pop-ups also add to the fun.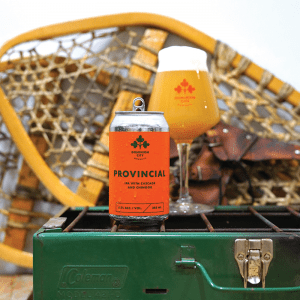 Dominion City does not sell beer through the LCBO, "because we're making something to be proud of here," says Josh. The danger with selling through larger partners, he adds, is that the beer sits about in less-than-ideal conditions, and since "we are making fresh beer, the more direct relationship we have with our consumers, the better. We simply won't let something that's not good out of the door." To that end, Dominion City delivers all over the city, using its cheery blue and red electric Nissan Leaf, powered by wind and sunshine.
What started as a backyard passion for Josh and Andrew quickly turned serious. "We were going through a late 20s existential crisis," Josh explains, "and then we saw that we could make a business from beer." They also realized they could create community through beer, "and that's been a big part of this journey," he adds. "Bringing people together and creating community."
The five brewers at Dominion City cook up a batch of beer three times weekly. They are careful to make sure that their Town and Country, Two Flags IPA and Sunsplit IPA are available year-round, but after that it's time to get creative. Some beers are aged in bourbon or chardonnay barrels for up to a year, while the majority, like the recently released Paper Salesman, dedicated to Josh's father, are made in a month and have undertones of mango and hops, or vanilla and chocolate in the case of a stout beer, Dark Night of the Soul.
Brewery tours are offered on Sundays at 2 p.m. Tours cost $15, last about 30 minutes and include a tasting flight of four of Dominion City's freshest offerings along the way. dominioncity.ca
Small Pony Barrel Works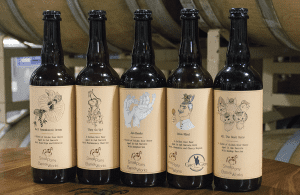 On the other side of town in Kanata, Small Pony Barrel Works makes slow, sour beer; all its beers take between one and two years to mature in oak barrels. "Really, the process is more like making wine," explains owner Sean McVeigh, "and the cost is in the time."
Sean owns 160 oak barrels from Napa, California. They line the centre of his warehouse production facility, offering an atmospheric backdrop to the tasting bar at the front of the building. This is where the magic happens, the alchemy of fermentation, yeasts and bacteria, combined with flavours such as rose hip and hibiscus, haskap berries or blackcurrants and sea salt.
Sean launched Small Pony Barrel Works because, "I'm a discerning beer drinker and the stuff I liked to drink such as Rodenbach, a Flanders Red from Belgium, would come into the LCBO only once a year and promptly sell out." So he started to do it at home and tinkered for about five years, "but then I'd find I had a giant barrel of beer and not enough friends." So in December 2017 he opened Small Pony Barrel Works.
Small Pony beer is sold in custom-made glass bottles that come from Germany. Sean has to buy a whole truckload at a time: that's about 30,000 bottles. With a growing interest in sour beers, this is about a year's supply. Currently, he sells through the LCBO and directly to restaurants such as Bar Lupulus, Bar Laurel and Craft Beer Market in Ottawa and also to restaurants in Toronto, Guelph, London, Kitchener and Hamilton. He's just sent a shipment out to B.C.
With 160 barrels, it's a complicated business. Sean, who used to work in high tech, has created a program to help him track exactly what's in which barrel. This allows him to keep tabs on what was in the barrel before, in case a batch goes wrong and he needs to trace the problem. Yeast can be temperamental.
Labels on Small Pony bottles suggest this is no ordinary beer. They're designed by a friend of Sean's in Sweden and are artistic, whimsical and unique, much like what's inside the bottles. "Education has been my biggest challenge," says Sean: "Letting people know about sour beers, because basically I opened a brewery for a market that didn't exist." But as word spreads, interest in his unique products is growing. "It's a great drink for people who are adventurous in their beer drinking, or maybe don't love conventional beer but drink wine, drink cider and want to try something else." smallponybarrelworks.com
Flora Hall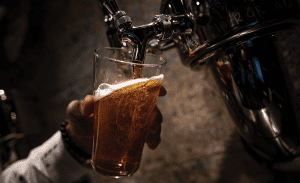 Smack in the middle of Ottawa are two microbreweries that aim to bring a true sense of place to their brewing. Flora Hall, just off Bank Street, opened in a fully restored heritage warehouse in October 2017. Formerly home to Welch and Johnson engineering in the 1920s and latterly a motorcycle repair shop, the building had stood empty and derelict for 10 years before Dave Longbottom bought it and embarked on a year-long restoration.
"It's one of those rare industrial buildings in central Ottawa," Dave points out. "I've tried to keep as much of the original structure as possible, such as the floors on the mezzanine and those windows," he adds, gesturing towards the upper windows at the front, above newly installed rolling industrial doors.
His aim is to keep a sense of history and place, "and maintain that industrial feeling with things that might have been here originally," while building a new community of beer lovers. "Here it's all about the beer and the food and the companionship," Dave says. "People hardly even pull out their cell phones."
He has also brought together a community of local artists and craftspeople at Flora Hall; Ian Manhire of Rocker Modern made the solid ash tables, trestles and benches, while artist Dom Laporte painted a mural tribute to Anthony Bourdain that's high up on a brick wall looking over the brewery tanks; a sculpture of a Northern Atlantic right whale by artist Christopher Griffin hangs above the bar.
After a career in technology as an engineer, "I knew I wanted to be in retail; brewing brought a more creative component to it," Dave explains. "I didn't like the homogenization of beer. And I've travelled widely and lived in the U.K. and found beer is just better there. You can find very local brews." So, undaunted by the scale of the project, he restored the property to create a 140-seat beer hall that serves sophisticated snacks and a menu of elevated comfort food, all priced under $20. Chef Tim O'Connor, formerly of Sutherlands, Maxwells, Fairouz and Sweetgrass, harvests herbs and leaves from the Hall's rooftop garden during the summer months.
Once the building began to take shape he recruited a brew master. Rod Hughes, originally from the east coast, earned his credentials by way of brew school in California and a later stint in Vancouver; he arrived for his interview with a suitcase of samples he'd brewed. Dave liked his style and Rod now brews two to three times weekly, producing about 150,00 litres of beer annually. There are four to six beers on offer at all times, and English Ordinary Bitter is a stalwart. Rod has made over 55 different beers since Flora Hall opened and his brews can be found in about 20 bars and restaurants across Ottawa.
At 37 Flora Street, though, the unique setting and sophisticated bites definitely add to the craft brew experience. Duck Confit, Cured Salmon Ceviche, Jerk Chicken and Jambalaya are a few of the globally inspired treats on the menu. florahallbrewing.ca
Tooth and Nail Brewing Company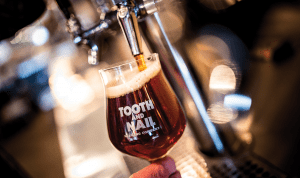 Tooth and Nail Brewing Company opened at 3 Irving Avenue in Hintonburg in September of 2015. Known for its distinctive silver and red cans and wildly popular pilsner, this little brewery is owned by Matt Tweedy and his wife Dana and produces about 170,000 litres annually. Housed in a former printing factory, it boasts an original 1920s wooden ceiling, rusting RSJs, an antique industrial chic vibe set aglow by Edison lights and chunky tables and benches built by Matt's brother, Andrew.
The name gives a nod to the pioneers of the craft brewing industry in the U.S. of the 1980s, "who had to fight tooth and nail to get their beers on the shelf," Matt explains. At Tooth and Nail, however, about 85 per cent of sales are direct to consumer in the pub, or through the small retail store at the front of the space.
"Our aim is to offer always fresh beer," says Matt. "Early on we decided that our focus would be on quality and to offer that neighbourhood brewery experience of the type you find in Europe, with a regional flavour to it, without trying to tap into trends."
Hoppy Hour at Tooth and Nail is Monday to Friday from 4 to 6 p.m. That's when all draught is $2 off. There's also Wednesday Vinyl Night at the brewing company.
Matt routinely keeps more than 10 beers available, "which means there's something for everyone," he says. Over the years he has met many customers who are tired of the same-old commercial lagers and who have turned to their local breweries for diversity. He's also noticed an increase in the number of women drinking beer.
For Flora Hall's Dave Longbottom, the on-going growth of the craft beer scene is an easy one to explain: "In Ottawa—and frankly the world over—there is an ever increasing appetite for high quality, hand crafted, locally produced food and drink," he explains. "Ottawans are ever more focused on what they consume and are looking for unique and distinctive experiences and flavour profiles. They love to meet and interact with the producers and quite literally watch the beers being made as they are drinking them. Plus, Ottawa water is great for making beer!"