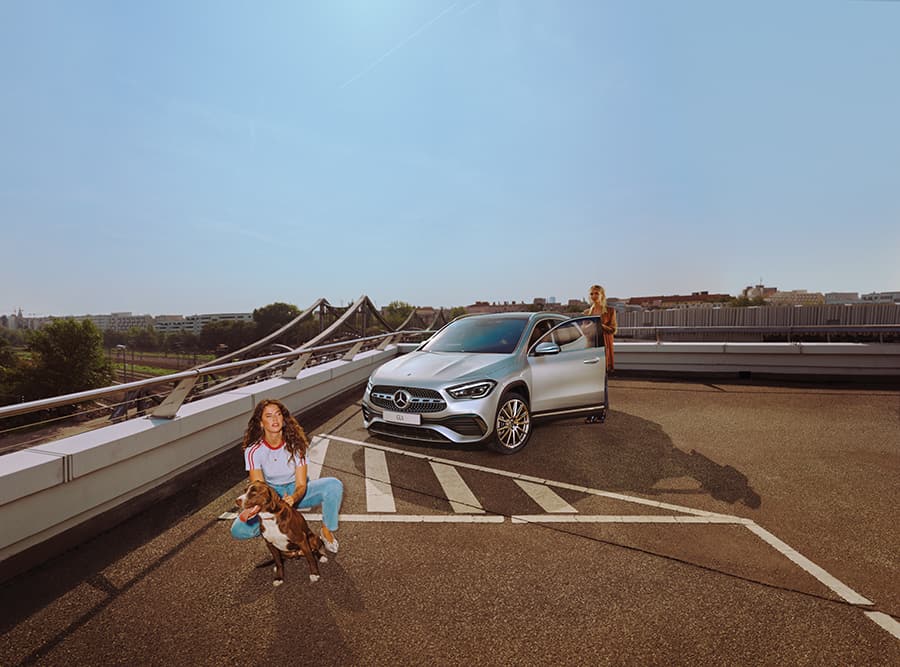 Mercedes-Benz's new second-generation GLA has first-rate appeal.
Not everyone's fond of a behemoth on wheels. While legroom and storage space are certainly covetable, too often they come in a cumbersome machine that's not only unwieldy when rounding corners, it's a struggle to park in snug spaces.
No wonder the 2021 Mercedes-Benz GLA, a compact luxury crossover SUV, has been greeted with such fanfare. This clean-lined, newly right-sized beauty offers it all: a comfortable ride, deluxe amenities and room to store what matters, plus the kind of nimble maneuverability that makes driving pleasurable, and parking carefree.
What's new about the second generation Mercedes-Benz GLA?
Everything from the ground up is new, including a more powerful and efficient drivetrain. There's also a bigger and more spacious cabin, plus a more advanced and user-friendly infotainment system. Along with that, an all-new digital cockpit comes as a standard feature.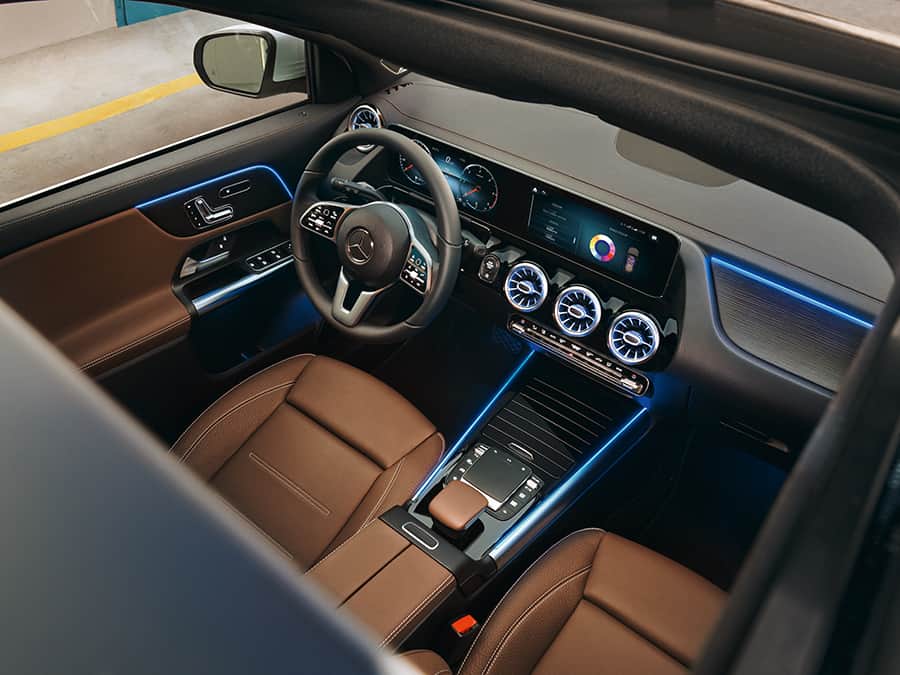 What are the other standard features?
New standard features include:
-a remote start with the help of Mercedes-Me
-a panoramic roof
-a seven-inch digital cluster with media display
-40/20/40 split folding rear seats
-and a standard LED lighting system.
Can you tell us about the performance and technical specs?
The new 2021 GLA 250 comes with a two-litre, four-cylinder turbocharged engine coupled with an eight-speed transmission. It also comes with standard 4MATIC all-wheel drive. The 2L turbo-charged engine has 221hp and 258 lb-ft of torque.
What luxuries will drivers appreciate?
Drivers will welcome the instant power of the 2L turbo charged engine, and the new GLA's overall refinement.
How is it an improvement over the first generation?
There's a much larger interior space, and a state-of-the-art infotainment system, MBUX, that is very user friendly. In fact, drivers call the MBUX (Mercedes-Benz User Experience) infotainment system a game changer. Its award-winning technology allows you to interact with the car by voice, touch or traditional buttons. Employing artificial intelligence, it learns your patterns and language and responds to requests when you say, "Hey Mercedes."
It can tell you a joke, help you find coffee, warm up the cabin if you're cold, and, overall, it makes your life a lot easier.
Why has the GLA become so popular? What do drivers like about it?
Drivers love the ground clearance and the practicality of the GLA.
What makes it a smart choice for people looking for a new luxury vehicle?
It really is the complete package, with a good balance of performance and practicality, that comes in at an attractive price point with a base price of $42,400.
It is suitable for families?
The GLA is very suitable for families. It offers great luggage capacity and plenty of room in the back seats. Also, the placement of the ISOFIX anchor points makes it super easy to install and remove a booster seat and or baby seat.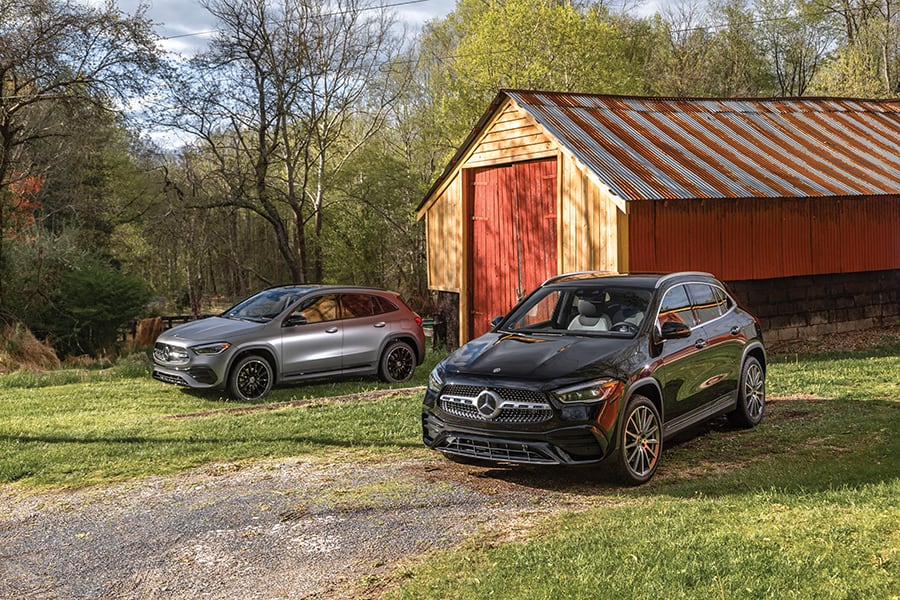 What customization options are available?
There are nine exterior colour choices, eight interior choices and four different trim types. You can really design your very own, unique GLA 250. That doesn't include the 64 different ambient lights you can change on the fly.
How has the 2021 GLA been received to date? What's the buzz?
The new 2021 GLA has been extremely well received by our customers and automotive journalists. They love the new look and size difference between the two generations, and they praise the new MBUX infotainment system.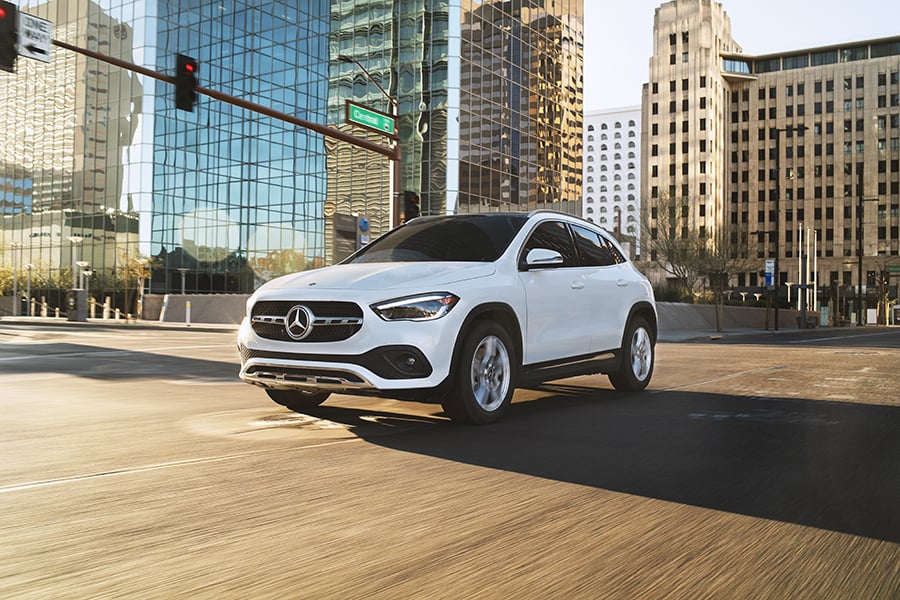 In fact, automotive reviews have been uniformly positive. At Car and Driver, Jens Meiners calls the reimagined compact Mercedes SUV "a shower and a grower," noting, "the GLA has grown up and looks far more contemporary and purposeful." At Edmunds.com, Mark Takahashi lauds the "significantly improved" cabin, technology features, increased headroom and better views. He also points out this new model offers "more passenger and cargo space" than the first generation GLA introduced in 2015. Robert Duffer at The Car Connection describes the compact Benz as "well-equipped and flush with options." In his words, "It's taller, wider, roomier, with a more comfy ride and better technology" than its predecessor.Finally, at motortrend.com, Alex Leanse notes the GLA 250's dimensional changes and interior resizing, including a higher seating position. "Its new proportions, plus design factors like tight overhangs and a compact greenhouse, make this GLA look more substantial."Mentioning this car is "predictable and confident on a curvy road," he also lauds the improved comfort and ride. "It's now more of an SUV than ever, and it's better for it. You're only reminded of the truth when you see how much space it leaves in a parking spot."