Substance and the best soirées—Blackbook Lifestyle
By Pam Dillon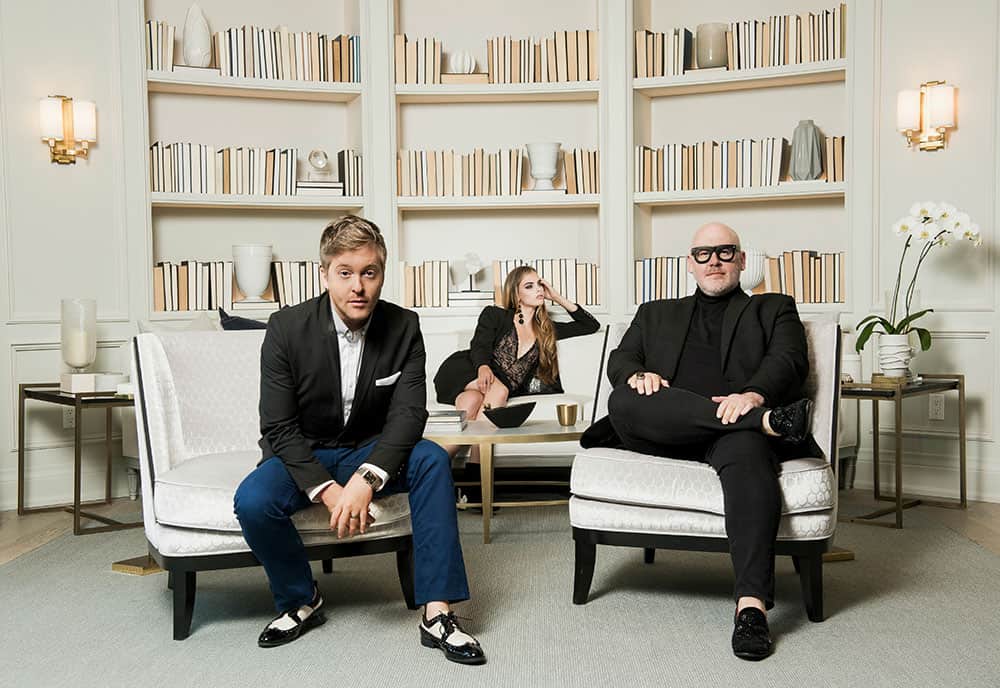 Stepping from the bright late-afternoon bustle of downtown Ottawa into the calm cool opulence of Zoé's Lounge at the Chateau Laurier is an unmistakable step up.
A glance around reveals the gleam of chandeliers, the purr and clink of a bartender mixing libations behind a marble bar, and James Jefferson at a sleek round table sipping something pleasurable. When his smartly dressed business partner, Daniel Mackinnon, arrives minutes later, it is evident the co-owners of Blackbook Lifestyle are in their element. As the social influencers behind the city's top lifestyle marketing and events agency, these two are not just at home in upscale milieus; they also create them. Well connected and well versed in generating buzz, they have set themselves apart – along with their principal web and graphic designer, Stanley Ounarom – as a fashion-forward boutique firm that can masterfully manage everything clients put out publicly. Brand development, design, product launches, press releases, social media, events – they do it all with flair.
"We get to meet a lot of fun people," James says modestly. "We get to throw parties. Generally, we throw all the best parties. And if we're not throwing the party we're invited to it, which is nice."
Don't let the pizzazz and polish fool you, though. While the parties are fantastic, "they're only about 20 percent of what we do," James continues. Substance more than matches the soirées. "We pride ourselves on being a full-suite agency," Daniel notes. "We oversee all facets of a project from A to Z. We're hands on with everything."
The client list runs the gamut from the Juno Awards and Gusto TV to Bayshore Shopping Centre and Otto's Ottawa. "I like that it's always different," James notes. "And that we're seeing something through
from concept to execution." That something may encompass the introduction of a chic boutique hotel or a state-of-the-art car dealership; it also might involve refreshing the brand of a longtime retailer or organizing a gathering for 3,000 people.
To launch their own brand, Daniel and James reinvented themselves. Prior to Blackbook Lifestyle, they had separate successful careers. Daniel was a lifestyle magazine editor. Born in Toronto, he graduated from Carleton University's journalism program and went on to helm such publications as Spade Magazine and Preston Catalogue. James was a fashion designer. Born in Ottawa, he graduated from the Richard Robinson Academy of Fashion Design and stayed on as a designer and Robinson's assistant. From there he went to work for Marlen Cowpland. Remember the socialite with her dyed dog, jet-setting lifestyle and famously show-stopping outfits? James was her personal designer. Later he opened a couture boutique.
In those days James and Daniel knew each other socially. James' fashions appeared on Daniel's magazine pages, and then one "boozy" afternoon they hatched the Blackbook concept. Pretty soon there was a major launch celebration full of celebs, notables and memorable style. It was October 18, 2010. Blackbook Lifestyle had arrived.
In the eight years since, there have been many launches and opportunities. Celebrities too. James mentions meeting Oprah, Naomi Campbell, Carly Rae Jepsen and others. "It's fun," says Daniel. "You're able to be a big fish in a medium pond." And as ponds go, he adds, Ottawa has a lot to recommend it. Mentioning the culinary, hotel and fashion scenes, the history, the walkability and the vibe, he advises this: "Love it for what it is: a nice, medium-sized city with a lot more stuff than people give it credit for." Including wonderful parties. blackbooklifestyle.com