The 2018 Mercedes-AMG GT C Roadster takes open-top motoring to a higher plateau
By Derek McNaughton
Scottsdale, Arizona
Convertibles always require compromises. When a car company takes one of its coupes and shears off the structural support of a roof, the engineering challenges mount. There's also the matter of how to fold and house the roof, how to keep the wind down so conversations don't elevate into shouting matches, all while trying not to add more weight or ruin the car's good looks.
Mercedes, however, has just introduced a roadster that makes zero concessions in the pursuit of driving with the sun in your face. The 2018 Mercedes-AMG GT C Roadster, which arrives in dealerships this summer with a price tag close to $180,000 CDN, takes all that was great about the AMG GT S Coupe and somehow polishes it into a finer piece of mechanical movement. Only 15 kilograms heavier than the S coupe, the roadster is faster, more powerful and far better looking than its hardtop sibling. That almost never happens.
Indeed, this may be one of the first cars that looks better topless than as a coupe. And, oh, does it ever look good, with that long vented hood, a low and menacing front Panamericana grille (to honour Mercedes racing rally cars of the 1950s) flanked by large air intakes, LED headlamps, and a seductive rear end as wide as the AMG GT R. Both modern and historic, the roadster is as elegant as it is gorgeous. Thankfully, the rear deck isn't topped with a huge rear wing to spoil the view, only a small spoiler that pops up automatically at speeds over 110 km/h. There's even some trunk space, about the size of the overhead bin in a small regional jet. It might accept a medium golf bag.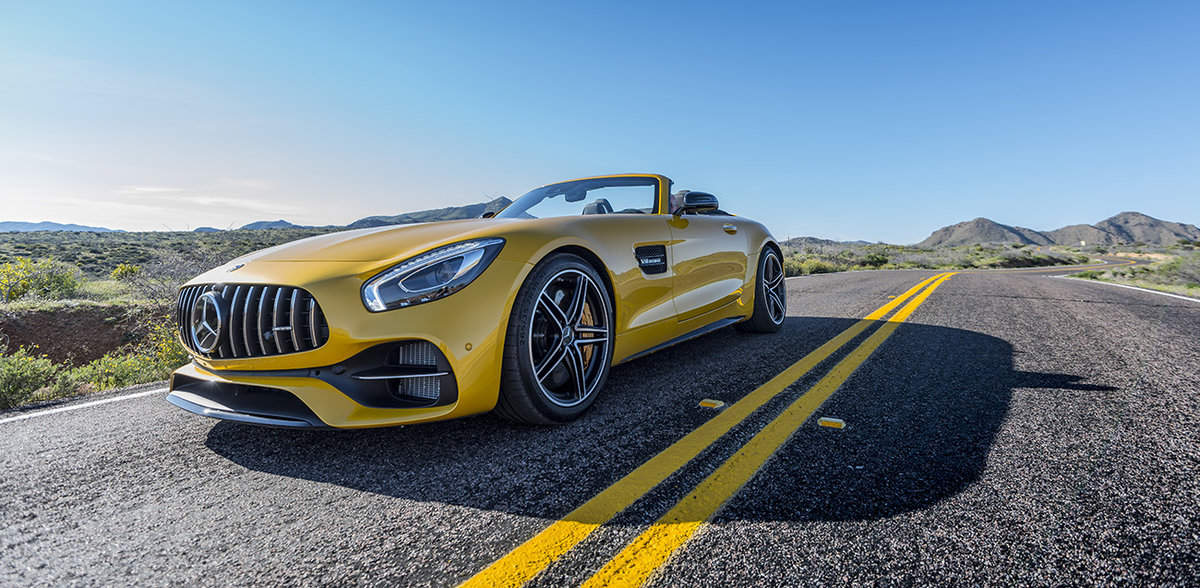 Few will want to swing clubs, however, once they settle into the comfortable standard sport seats of the GT C Roadster, which also get Mercedes' "airscarf" system that blows warm air to the neck and shoulders. After igniting the hand-built 4.0-litre twin turbo V8, and pressing the button on the console that activates the sport exhaust, most mere mortals will be texting friends to say they've made "other plans." Of course, not while behind the wheel.
Those will include summoning all 550 horsepower and 502 lb.-ft. of torque to the rear wheels through a tight-shifting, seven-speed dual clutch automatic — and experiencing zero to 100 km/h in 3.7 seconds. Suddenly, all openings in the datebook will be scheduled for
"GT time," since this is car that loves to be driven hard and fast, rewarding the driver with a feel few other cars can replicate. Precise steering, immense power, prodigious brakes and tremendous road-holding power all come together to make for one of the most exciting sports cars of our age. Good luck not getting tickets.
But even in calmer moments, when the three-piece fabric top can be opened or closed in 11 seconds at speeds of up to 50 km/h, the GT C accommodates its occupants, with selectable drive modes that range from comfort to race. In comfort, the roadster is extremely compliant, quite capable of handling Ottawa's pockmarked asphalt in stride. With the top down and the side windows up, there's so little wind in the cabin that conversations are easy and natural, and better to hear the deep, barking beast of the exhaust.
Equally clear is that the GT C Roadster is not just a topless version of the coupe: it is a better all-round AMG GT, with superior looks and performance, perhaps even better handling, braking and driveability, not to mention the added dimension of open-top motoring. It really is a convertible without compromises.