Allison Fisher has turned Wabano Centre for Aboriginal Health into a beacon of hope
By Janet Wilson
Photo by Michelle Valberg Imaging
Trailblazer, community builder, storyteller. These are just some of the words used to describe Allison Fisher, the much-lauded executive director of Wabano Centre for Aboriginal Health.
Just as elders are the stewards of story-telling and tradition, it isn't hard to see why Fisher is revered for her dedication to creating a safe space for First Nations, Inuit and Métis in the nation's capital.
Joining Wabano shortly after it opened its doors on Montreal Road in 1998, Fisher is its heart and soul and biggest champion and was instrumental in leading the centre's $18-million, 25,000-square-foot expansion in 2013. Serving 15,000 Indigenous clients a year, Wabano's holistic approach to health care emphasizes the importance of nurturing the mind, body and spirit through its medical, dental, chiropractic, mental health and maternal wellness clinics and cultural, social enterprise and teen programs.
It is much more than an urban health centre, though, and promotes pride in ancestry, peace, social justice, the wisdom of elders and traditional ceremonies.
Through her tenacity and charm, Fisher has transformed the tiny grassroots organization into an award-winning cultural, spiritual and health care centre that is more than just bricks and mortar. With 90 full-time staff and over 400 active volunteers, Fisher has partnered with community agencies, schools and governments on a number of initiatives to bring together Aboriginal and non-aboriginal people.
"I want people to walk through this beautiful space and feel at home when they see the faces of their communities on our walls through art and photographs. There is so much diversity at Wabano. People know that there's a big, welcoming circle of people that are always here for them."
Wabano is an Ojibwe word that means new beginnings and the dawn of a new day, which is aptly depicted in the glorious sunrise in Wabano's logo. Redesigned by architect Douglas Cardinal, the exterior of the striking building is clad in curving walls of golden sandstone and turquoise-coloured glass, which appears to move like waves of shimmering water.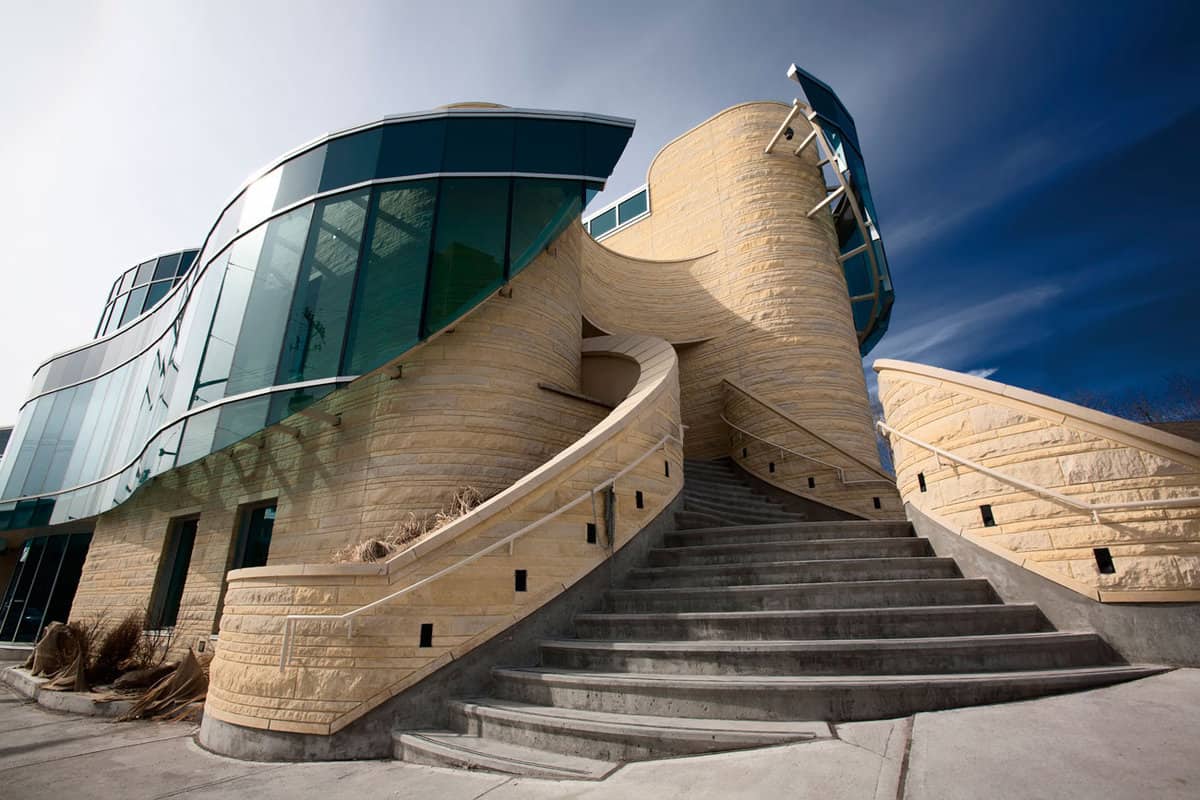 Inside the three-storey building, the floors are named for the four elements found in First Nations' culture: earth, water, fire and (air) sky. An expansive gathering area is where people come together to celebrate and share stories. A large dome is supported by 13 columns, which represent the 13 lunar cycles in a solar year. The dome ceiling is painted in red, yellow, white and black, which represents the four colours of race and the four directions. Colourful tiles in the floor directly below the dome form the shape of a traditional star blanket – the eight-pointed morning star that heralds a new beginning.
"The star chart on the floor in the centre of the room is the anchor of our creation. The sky woman falls gently to Earth and lands on the sky blanket," Fisher says. "When you stand in the centre of this space, there is an echo and people can hear their voice. This is a powerful feeling for those who lost their voice at residential schools. I wanted a feeling of gentleness here, of new beginnings."
A permanent residential school exhibit shares the powerful stories of survivors and their families, while a rooftop garden featuring traditional and healing plants offers an area for reflection.
"We are present in a most beautiful space in the poorest section of our city. I was accused by some of being opulent, but I wanted Indigenous people and our surrounding community to see and feel beauty. Our lens is no longer monochromatic."
Through events, renting the venue and hosting an annual gala and auction in June called Igniting The Spirit, Fisher and her staff have managed to pay off the bulk of the renovation with $2.8 million to go.
Ottawa Mayor Jim Watson is full of praise for Fisher and credits her for Wabano's success.
"I had the honour of presenting Allison with the Order of Ottawa for her incredible leadership. She is a role model and an inspiration to many in this city, particularly to young Indigenous women. We could not have the Wabano Centre and its wide range of programs without Allison's passion and vision," Watson says. Liberal MP Mona Fortier of Ottawa-Vanier echoes those sentiments.
"Allison is an extraordinary advocate and leader, her drive to strengthen our community and be an agent of positive change is inspiring to me and those around her. I have been so privileged to work with Allison on several initiatives in Vanier over the past year and have been continually impressed by her."
Born and raised in the First Nations community of Wikwemikong on Manitoulin Island, Fisher returns each summer for several weeks to reconnect with the land and spend quality time with five siblings and her 91-year-old father, Donald Odjig (the English translation is Fisher), a Second World War paratrooper and retired engineer. Fisher has a rich family tree: her grandfather fought at the Battle of Vimy Ridge, her aunt, the late Daphne Odjig, is one of Canada's most admired Indigenous visual artists and her uncle Paul McRae served four terms as a Liberal MP.
"I feel grounded and inspired to create when I'm on the reserve. I built a cottage by the water on Lake Huron, which is a mighty lake. Water is an important part of our world. When I grew up here, we had an outdoor toilet and no running water. Every time I have a shower or bath, I appreciate what it means to have clean water. I never forget that."
Fisher describes her late mother, Rosemary Fisher, who grew up in a time of extreme inequality for Indigenous people and women, as her inspiration. In 1959, Rosemary and three family members drove to Saskatchewan after hearing some Indigenous tribes were secretly practising and teaching traditional songs and dance, which were banned in Canada. Keen to reignite this spirit in her own community, in 1961 — one year after Indigenous people in this country received the right to vote — her mother helped bring four elders from Saskatchewan to her community and organized the first-ever public cultural gathering in Wikwemikong. Its annual powwow is now the largest and oldest in Eastern Canada.
"My mother brought back the pride of our people. She understood politics and enjoyed a strong friendship with (former prime minister) Lester B. Pearson, our member of parliament. She taught me to have big visions," she says.
Fisher, whose lawyer son works in Ottawa and has three children, studied at York University and Carleton University and spent 17 years working in various federal government departments. In her mid-40s, she returned to school and completed a master's of education in counselling psychology at the University of Western Ontario before joining Wabano.
While she has received numerous accolades and community awards, she loves to sing and formed a weekly hand-drum group at Wabano about a dozen years ago to help "sing away the stress." Encouraged to record their songs, they created a CD called Voices by the Women of Wabano, which won best new group at the Native American Music Awards in 2007.
"It was such a great honour and so much fun. We were told that we helped a whole generation by encouraging them to sing Aboriginal songs."
Fisher is busier than ever these days, but one area that remains uppermost on her mind is youth mental health and teen suicide, one of the biggest challenges for the community.
"Forty-eight per cent of our First Nation population is under the age of 25. It is extremely difficult to get funding for children under the age of 12. Our kids are committing suicide. As human beings we have the capacity to see joy. Sometimes we need so little to get so much joy."
Fisher is constantly looking at ways to educate and nurture and recently published an Aboriginal cultural parenting manual with the Wabano Parenting Society and three elders for children, teachers and caregivers. Beautifully illustrated and written by Leah Dorion, the book offers insight into Indigenous child-rearing philosophies, the role of elders, the importance of storytelling and song and dance and much more. Another teaching kit focuses on the power of water and is called Making the Water Sing, which Fisher hopes will become a resource throughout Canadian schools.
Just like her brave mother sought to "bring the songs back," Fisher has helped create a sense of belonging, pride and hope for Ottawa's Indigenous people at Wabano.
"We are raised to use our gifts for the tribe — otherwise the tribe won't thrive. We build community and create a space so that others can belong. We teach and help so that others can also give back. We are interdependent. It's this strength that leads us to give back and to create generosity."
For more information, visit wabano.com