By Beka Shane Denter and Photos by finnsquare.com
Designer Krista Norris focuses on two timeless fashion pieces, the Maverick Shawl and the Wingtip Scarf.
Ottawa-based designer Krista Norris started sewing when she was just five years old. "My Oma was a seamstress at Eaton's in Oshawa, Ontario. I spent part of my summers with her, helping her finish projects and playing with fabric boxes." Krista taught herself how to sew and remembers putting on fashion shows with her sister. "Fashion has always been something I love. It's a part of me." In fact her great grandfather was a tailor in Holland. "I recently learned that he also ran a tailoring business out of the family home in Kitchener, where he immigrated to in the 1950s."
Krista believes her early and ongoing exposure to sewing is what inspires her commitment to the craft. But while fashion is woven into her DNA, Krista's approach to design is uniquely her own. She focuses on two exceptional pieces: the Maverick Shawl and the Wingtip Scarf. These versatile essentials demonstrate both her attention to detail and her talent for reinventing classic styles.
Although she came to fashion organically, with no formal training, Krista admits, "I definitely needed help along the way." After being passed up for jobs because she had no experience, she realized that some hands-on time behind the scenes was essential. "I started volunteering at fashion weeks and industry trade shows in Ottawa, Toronto and New York." It was in these realms that she saw the clear distinction between designers who created beautiful pieces but had a limited sales and distribution platform and those who were "creative but also understood that their line was a business."
While working in various fashion circles, Krista says she was fortunate to meet "key people who taught me how to grow a brand in the industry." Her formal education has helped too. Since she majored in communications and minored in business, it's no surprise Krista has successfully implemented the theories and concepts she learned into her namesake brand. "My degree taught me about the two sides of a business I have to engage with—finance and accounting, along with public relations—specifically, how I communicate with customers and suppliers."
After graduating from Carleton University, Krista started working in sales at The Ottawa Citizen, a position she credits with preparing her for her current role as founder and creative director of Krista Norris Collection. "My experience in sales was invaluable. When in a job that's commission based, fast pace[d] and very competitive, it teaches you the value of hard work." Her time at the newspaper allowed her to develop selling and networking skills; it also equipped her to work with the media and various platforms.
"In my first season volunteering with Ottawa Fashion Week in 2012, I met a man named Vincenzo Pagliaro. When I think of mentorship, Vincenzo is the first person who comes to mind." Now retired, Pagliaro owned a tailoring shop on Bank Street back in the 1970s. "Vincenzo was kind enough to take me under his wing. He encouraged my interest in design." Pagliaro taught Krista about branding as well as looking at the fashion industry from different angles. "He pointed out to me unique brands and retailers from whom I could draw inspiration."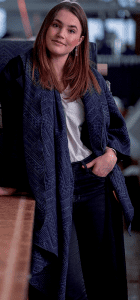 He also encouraged her to keep it simple. "Focus on one product," he said. This one product turned out to be the scarf Krista had made and was wearing when she first met him. "Vincenzo spent time with me, ensuring that the scarves were properly finished. He then introduced me to the first two Ottawa stores I sold to: Viens Avec Moi and Schad. What I learned during my time with Vincenzo is that there is value in quality over quantity; the details are everything." While she was producing her second collection, Vincenzo had a brass nameplate made for Krista in Italy. "It was a thoughtful gesture and it really made me believe in my myself and my product."
Mentorship continues to be a part of Krista's life. She recently started coordinating and teaching a business program at Elmwood School. "The experience is both rewarding and humbling." She enjoys sharing her firsthand experience and knowledge with the next generation. "I learn so much from my students; maybe more than they learn from me," she laughs. The time spent in the classroom also gives Krista an opportunity to think about what she wishes she had more access to when she was in high school. "I think a big part of that is being able to identify what we love doing (at that age) and learning about how we can make a career out of it." She advises her students to get involved with industries in which they're interested. "Don't wait."
So why scarves? "I have long been entranced with the symbol of scarves and what they represent as a concept for people that choose to wear them as an accessory," she explains. "Beyond the functionality of [a] cold-weather necessity, the ease of production combined with the absence of sizing, I saw the value in attaching myself to the design and creation of a relatively simple piece with infinite complex symbolic possibilities."
To progress meaningfully in any artistic industry, Krista believes "a designer needs to balance the reality of business with the inspiration that drives creation." She finds inspiration in texture. "I'm often drawn to multi-layer, multi-colour textured objects in nature as well as art and fashion."
The scarves are produced in one of the oldest family-owned factories left in Toronto. She met the family six years ago while on a fabric buying trip. "I was in the garment district when one of the shop owners asked me where I made my line. At that point I sewed some myself and worked with a few smaller factories. He asked if I had been to any in Toronto, and when I said no, he walked me up the street and into one of the coolest spaces." The factory had been opened by a woman who immigrated from China. "It just felt right to work with them."
There are a few new ideas in the works in addition to some updates on her Wingtip and Maverick styles. "I'm working with a beautiful Indigo textile for a new Maverick Shawl and will be launching some classic silk styles as well."
Is there a brick and mortar shop in the near future? "I love the idea of a Krista Norris boutique. However, with the reach of having such a strong digital presence, an actual shop is not necessary at the moment. One day, maybe." For now, customers can find the collection at Schad and Habitude in Ottawa as well as at boutiques in Montreal, Kingston and Vancouver. "In New York, I work with Rivet Boutique and O.N.A boutique as well as with Maison Ten Gallery and the Design Museum."
Where does she see her brand 10 years from now? "My goal is to continue to do what I love: design, travel and work with our customers to create items they enjoy and appreciate wearing on their own adventures." kristanorris.com