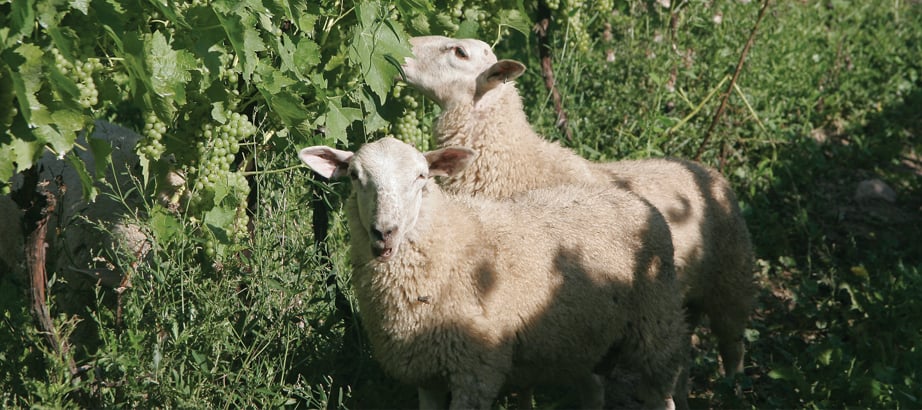 By Janet Dorozynski
What does it take to make organic wine? Or sustainable wine? Similar to what we've seen happening in farming and food production in general, there has been a conscious effort in the wine industry, in particular among small to medium sized producers, to grow grapes and make wines that have a gentler impact on the earth. A recent study of the UK wine market shows that in 2019 sales of organic wine rose 47 per cent.
But it's not only small, artisanal wineries that produce organic wines, but larger and well-known wineries such as Cono Sur from Chile, Chapoutier and Gerard Bertrand from France and Benziger from California. These and others have had a long-standing commitment to making wines without pesticides and chemical additives, which may be even more impressive due to the scale of their production. Even Fuzion, the Argentine malbec from Zuccardi that took the market by storm years back, has an organic version.
The Languedoc region is not only the largest wine producing region in France but also the largest producer of organic wines in the world. Since the 1980s, Languedoc wineries have been farming organically and focussing on sustainability, with earth-friendly practices that include harvesting rainwater, planting hedges to protect against land erosion, and utilizing insects or bats to combat vine pests.
Closer to home in Canada, a growing number of wineries and regions have made the commitment to organic viticulture or are in the process of doing so. Ontario wineries like Southbrook, Tawse and Frogpond are pioneers in organic wine growing and making. In British Columbia, the wineries owned and operated by the Iconic Wineries of British Columbia (aka Mission Hill) have been transitioning all of their vineyards to become certified organic within the next two years. This includes Cedar Creek, Mission Hill Family Estate, Road 13, Martin's Lane, Checkmate, and the soon-to-opened Red Barn whose vineyards account for over one tenth of vineyard acreage in the Okanagan Valley. This is an impressive and strong message that hopefully others in the Valley will follow.
What is Organic Wine?
Organic wine standards and certification are regulated slightly differently in every country, and it is also important to distinguish between wine "made with organically grown grapes" and "certified organic wine." As a general rule both are made from grapes grown without the use of conventional pesticides, herbicides or synthetic fertilizers and instead use natural methods to control vineyard pests or sprays such as copper to control diseases of the vine. However, since wines made from organically grown grapes can be processed using the same equipment as conventional wines and can thus contain sulphites not permitted in organic wine, they can only be labelled as wine made with organically grown grapes.
Certified organic wines go beyond grape growing and require that the entire growing and winemaking process complies with organic standards. The transition usually takes a number of years with the first vineyard phase being the switch from chemical herbicides and synthetic pesticides to organic sprays, compost fertilizer and the use of cover crops and grazing animals, such as chickens, to control insects. This can take up to three years. The next phase includes elimination of conventional products in the winemaking process. The additions of synthetic additives, enzymes and genetically modified yeasts are replaced with organic products and added sulphites are not permitted.
In general, it is easier to farm grapes organically in regions that are drier like the Languedoc, the Similkameen Valley in British Columbia or in many parts of Spain, Chile and Argentina. A warm dry growing season means the vineyard is less susceptible to the vine diseases that occur in more humid wine regions. But as it's an expensive and lengthy process to become certified organic, a number of wineries that grow organic grapes or produce organic wine forego official certification but may be organic all the same.
Sustainable Wines
While organic and biodynamic grape growing and winemaking involve regulated practices to create a lighter footprint, sustainably produced wines focus on the value chain of wine making. Attention to energy and water conservation, use of lighter weight glass and alternative packaging along with management of the land and employees are some of the factors taken into consideration. The label "sustainable" is no guarantee a wine is organic or biodynamic, but since unsustainable practices are viewed as contributing to climate change, the wine industry has become increasingly conscious of its role and the need for mitigating measures.
California has had a sustainable wine-growing program since 2001 and Ontario established the Sustainable Winemaking Ontario Certified program in 2007 to help consumers recognize wineries and growers committed to sustainable practices in their wineries and vineyards. Both are third-party audited and focus on many aspects of wine production—long-term viability of agricultural lands and vineyards, energy conservation, pesticide use, well-being of employees and support for the local community—while producing the best grapes and wine possible. At an international level, Miguel Torres of Spain's Torres Wines has created International Wineries for Climate Action, an association of wineries from around the world committed to the long-term reduction of energy use and carbon emissions.
As the demand for organic and sustainable wines continues to grow, it is exciting to see the number of wineries committed to making these wines and the increased consumer choice in terms of region, style and price point. Whether you call it green or golden, it's something we can all get behind.