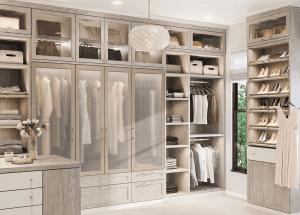 Out with the old. In with chic, edited closet space that's all about ease and pleasure.
It's time for change. As we peel off the layers that once kept us cosy, it serves us well to also pare our belongings and polish our closet space. After all, as Lianne Levy explains, we feel lighter and live better when everything's thoughtfully organized and beautifully arranged.
Lianne knows just how to bring order, style and serenity to these spaces. She's owner and chief design consultant for California Closets – Ottawa and Montreal, the leader in luxury space management. Not only does California Closets deliver custom organizational solutions for the home, its expert design consultants spend real time with people to make sure their stuff fits beautifully into their lifestyle.
In Lianne's words, "It is true what our grandmothers told us: when everything has a place, our space allows us to breathe and be easy with those we love. We have more time for what matters most to us, since we no longer waste time looking for things or trying to stay organized."
There's work to be done, though, to update closet space so it's more streamlined and serene. Whether you call a pro for help or tackle the task solo, here's a look at the To Do List.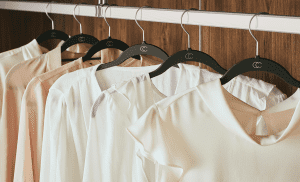 Refresh 101:
– Take everything out, including clothes, accessories and shoes.
– Sort items into three groups: one to donate or consign, one to keep in storage, and one for items worn regularly. Items that are too small, not worn or worn out should definitely go in the first group.
– Separate items you'll put back in the closest by type and occasion: for instance short sleeve shirts for casual, work and formal wear, then long sleeve shirts, skirts, pants, dresses and so on. That way they'll be easier to find.
– Make space for shoes and accessories, including purses, scarves, belts, ties and jewellery. They should be visible, accessible and neatly arranged. It's worth investing in the shelving, racks and other items that make this effortless and eye pleasing. California Closets has launched an ecommerce line of closet accessories designed for superb performance and style, Shop.californiaclosets.com.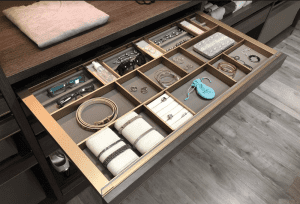 Luxe It Up
Lianne offers additional tips to elevate your closet's function and visual appeal:
– Consider a clean coat of paint to freshen and brighten the space.
– If all hangers match, your space will feel much more like a boutique space.
– You can organize your clothes by colour.
– It seems counterintuitive, but if you put your pants and skirts on top (in a double-hang closet) and your shirts and jackets on bottom, you will increase the feeling of space in your closet. Pants and skirts are less deep than tops, so by storing these above, you'll be better able to see everything.
– Place your shoes on the shelves toe first. This will enable you to more easily pick out the ones you want.
– Use matching storage boxes, covered in a beautiful fabric or leather. They can be placed on your top shelves for out-of-season clothes.
– Add something decorative above a drawer bank, just for the pleasure of seeing it. For example, a favourite photo in a beautiful frame or your grandmother's purse might inspire you each and every day.