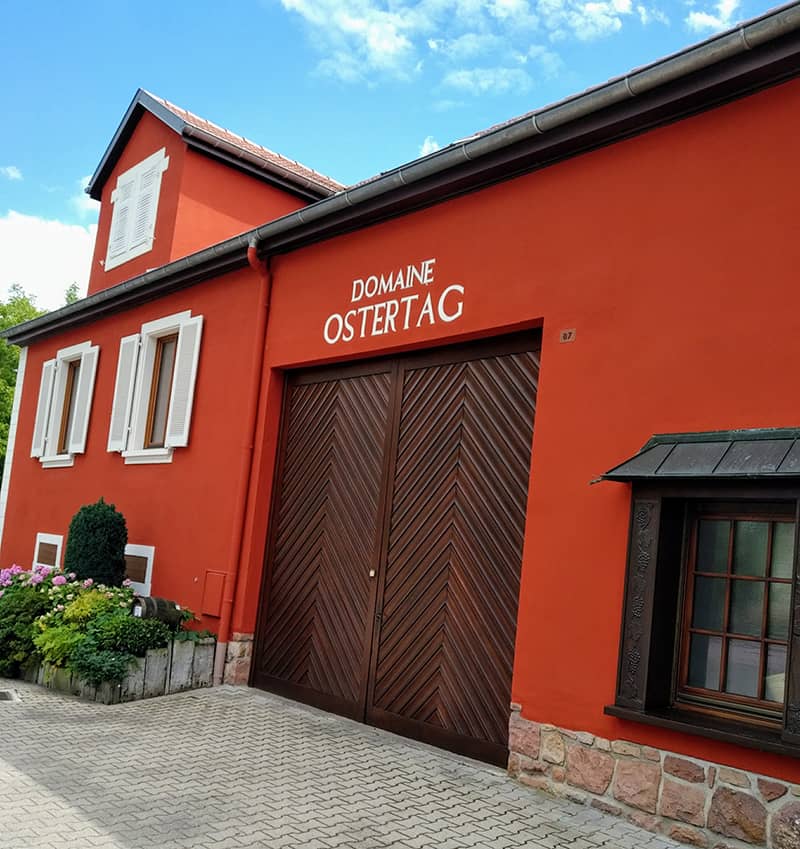 Story and Photos by Janet Dorozynski, DipWSET
Ivividly remember tasting Alsatian wine from eminent producer Marcel Deiss during my first wine course in the mid 1990s. It was an electric, steely dry riesling with pure and complex fruit aromas and flavours that seemed to linger forever. Although I was unable to fully comprehend or describe the wine at the time, it has forever imprinted an impression of Alsace and just how compelling riesling from this region can be.
I have visited Alsace a few times over the years, mostly for non-wine related tourism. My initial brief wine visit was in 2003, when my four-month-old son had his first winery tasting at Domaine Zind-Humbrecht, producer of some of the region's most voluptuous whites. We also passed through again when Max was 14, though this time he stayed in the car playing Minecraft while I expeditiously tasted at a handful of wineries.
Given that wine travel has been on hold for most of this and last year, I was delighted to receive an invitation from Vins d'Alsace to participate in its first global digital tasting. While nothing can replace the experience of visiting a wine region, there is an evocative quality to wine and for a brief period, I felt like I was in Alsace again courtesy of the wines, personalities and stories.
Time and Place
Situated in the northeast corner of France, the Alsace wine region is a sliver of land in a territory that has passed back and forth between France and Germany for centuries. The Germanic influence continues to this day as over 90 per cent of Alsace production is white wine. Alsace has seven main grape varieties: riesling, pinot blanc, pinot gris, gewürztraminer, muscat and sylvaner for whites and pinot noir for reds. Over 80 per cent of the wines are made and labelled as single varietal with most seeing no or little oak. Fifteen per cent of wineries are organic and/or biodynamic certified, with many more in conversion and/or following these methods unofficially.
The appellation system is similar to that of other French wine regions, with a tiered structure. Over 70 per cent of wines are AOC Alsace, with only three per cent coming from the top tier AOC Alsace Grand Cru. Traditional method sparkling wine constitutes 27 per cent of production (AOC Alsace Crémant d'Alsace) and there are small amounts of late harvest wine Vendanges Tardives, which varies from bone dry to medium sweet and Sélection de Grains Nobles, which is always sweet and luxuriously rich.
Negociants and cooperatives remain prominent but a growing number of small family and independent wineries are changing the landscape and making Alsace one of France's most exciting wine regions.
Virtually Tasting Alsace
Over the course of three days this summer, I tasted several dozen 3cl wine samples and spoke with winemakers and owners about their wines and where they see, or would like to see, Alsace wines in the next 25 years. Given that women continue to remain underrepresented in the wine industry, I chose to focus on wineries owned by or with women winemakers.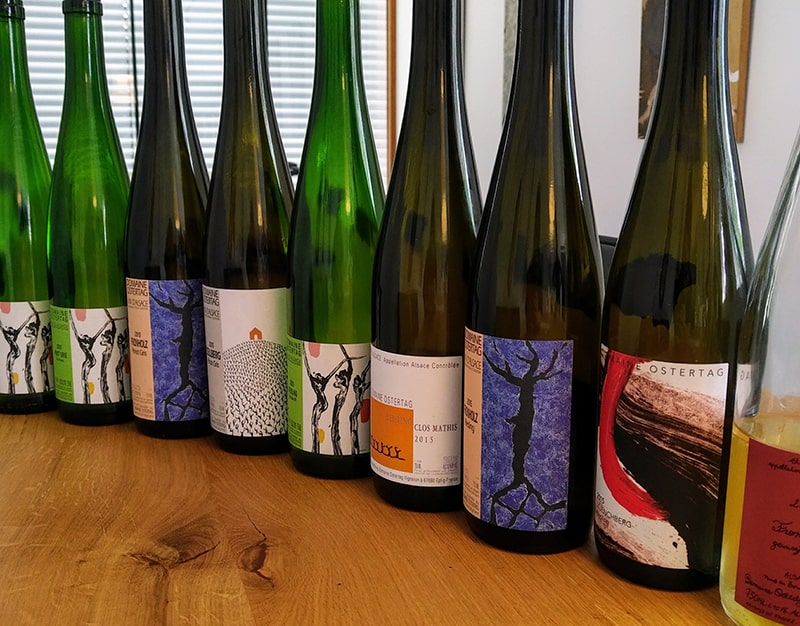 Agathe Bursin
Although Agathe Bursin's parents were not winemakers, her grandparents were and she remembers tasting wine from the age of three. Most of her classmates at school also had winemaker parents, so it is hardly surprising she ended up in the industry. Bursin took over her family's seven-hectare estate in the south of Alsace after studying in Burgundy. There are 40 separate parcels (lieux-dits as the French call them) and the vines, some dating back to the 1920s, are farmed organically. One third of Bursin's vines are located in the Grand Cru of Zinnkoepflé on Alsace's highest peak at 420 metres. The 2019 riesling Grand Cru Zinnkoepflé is a symphony of citrus and flint; it's intense, precise and the slightest bit off dry, with a long textured finish. Bursin's vision for Alsace in 25 years is for the region to have a greater prominence and identity for its wines. She believes that although the region is making many great wines, it is still not on the radar of as many wine lovers as it should be.
Domaine Gueth
Muriel Gueth is an eighth-generation winemaker who took over her family's eight-hectare domaine south of Colmar in 1996. The focus here is largely on whites, and the winery is in the process of conversion to organic production. Gueth's two rieslings grown on sandstone and limestone were quite different, with the 2017 Original'sace on sandstone drier, more textured and saline. Gueth also makes an old-vines sylvaner from vines she propagates in her vineyard. This wine has peach and herbal aromas with a lovely texture and slightly, pleasantly, bitter fresh finish. Gueth's prediction for Alsace in 25 years includes a greater proportion of red grapes planted, along with an increase in organic production that highlights more complex wine styles from organically farmed vineyards planted on higher slopes.
Domaine Mélanie Pfister
Mélanie Pfister is an eighth-generation winemaker and the first woman to head up her family estate. She produces riesling, pinot gris and noir, a pinot blanc blend, along with some crémant and orange wine from forty vineyard parcels on 10 hectares of limestone soil near Strasbourg. Pfister's wines are mainly dry, which has been the house style dating back to her grandparents' generation. Her 2017 Grand Cru Engelberg Riesling was the standout: dry, intensely fruity, aromatic and complex, with balanced acidity. Pfister hopes the trend towards drier wines continues over the next 25 years and that indicating dryness levels on wine labels becomes commonplace, so consumers know what they are getting. Pfister also cites climate change as the major challenge facing Alsace. She notes how it is becoming increasingly difficult to grow riesling in sandy soils, as the vines become dehydrated and stressed in warmer temperatures. She believes reds like pinot noir will fair better, and points out some wineries have started to plant syrah.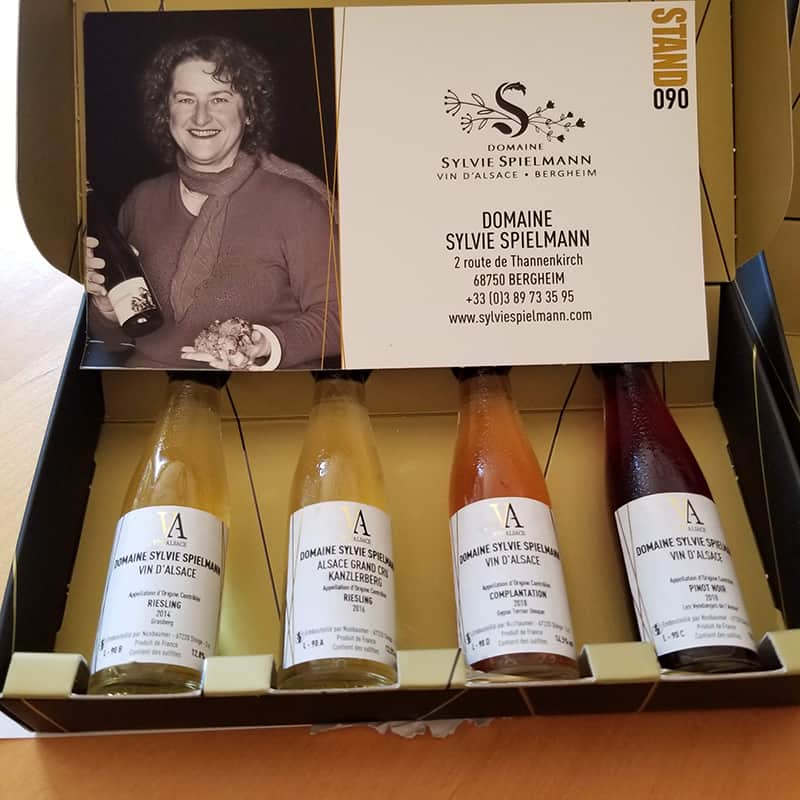 Domaine Sylvie Spielmann
Sylvie Spielmann's family owned a gypsum quarry for over a century until her grandfather decided to start making wine in 1958. Seven hectares of the nine-hectare estate are located on the former quarry, where the heavier calcareous soils result in fuller bodied wines. The estate is organic and biodynamic and Spielmann has been responsible for winemaking since 1988. She's producing mostly whites, pinot noir and a field blend, Complantation, made from pinots noir, gris, blanc and auxerrois, which is inter-planted on gypsum soils and co-fermented like many Alsatian wines of the past. Spielmann's hopes for the future are that winemakers and growers will focus more on soil and geology. She also expects they will embrace past traditions like making complantation wines, the single varietal wines that were introduced under German rule when Alsace produced special and eclectic wines that were widely exported.
If you have yet to explore the wines of Alsace, I would encourage you to seek out some of the above producers, as well as others you come across, to make some discoveries of your own. I know I plan to do more discovering the next time I am in Alsace.