Stay ahead of the style curve with inspiring trends and tips for your home
By Henrietta Southam
In honour of our country's sesquicentennial, there is no better time to shine a national spotlight on uniquely Canadian designs and artists. We break down eight trends with a focus on sustainable creations, local retailers and talented Canadian female artists.
Photo of Henrietta Southam by Alexandre Brault
---
PATTERNS AT PLAY
Mary Birtch of Elite Draperies & Home Decorating (elitedraperies.ca) is a force of nature for her encyclopedic knowledge of textiles and a godsend when working on design projects. Founded in 1963, Birtch purchased the company, now located in a bright showroom on Colonnade Road, almost
25 years ago. Working alongside her husband, Greg Birtch, a retired Ottawa firefighter, the powerhouse couple offer custom drapery, window coverings and motorized blinds, which they make from scratch on site. With a keen eye, Birtch has a knack for sourcing material, patterns and finding the ideal colour to complement any design projects. Navy and icy blues are the must-have classics this season, but paired with complementary colours in shades of orange — from persimmon to burnt sienna — rooms will vibrate with plush sophistication. With Birtch's magic touch and attention to detail,
I can turn a repurposed Queen Anne chair or an EQ3 media console into new works of art. Trends to watch out for include nature-based patterns such as ink splatters or the look of water pooling, watercolour florals and African-based prints and batik.
Another "out-of-this-world" trend is cosmic nebula designs and stardust patterns that capture the imagination with a feeling of motion and depth. Shades of purple, green, blue and white mix and collide for a galactic touch. This trend translates beautifully in upholstered statements at home or commercial spaces, like restaurants.
Stone — marble, malachite and minerals — is always in style. The "marbling look" is a growing trend popping up in haute design on cushions, upholstered chairs, ottomans, carpets and curtains, which will no doubt be a mainstay.
Villa Nova's Norrland prints combine textures and natural elements. Their Hana collection, below, captures a Japanese esthetic in its prints, weaves and embroidery with inky lines and sweeping wisteria. Batik-like fabrics, above, add warmth with their beautiful washes.
---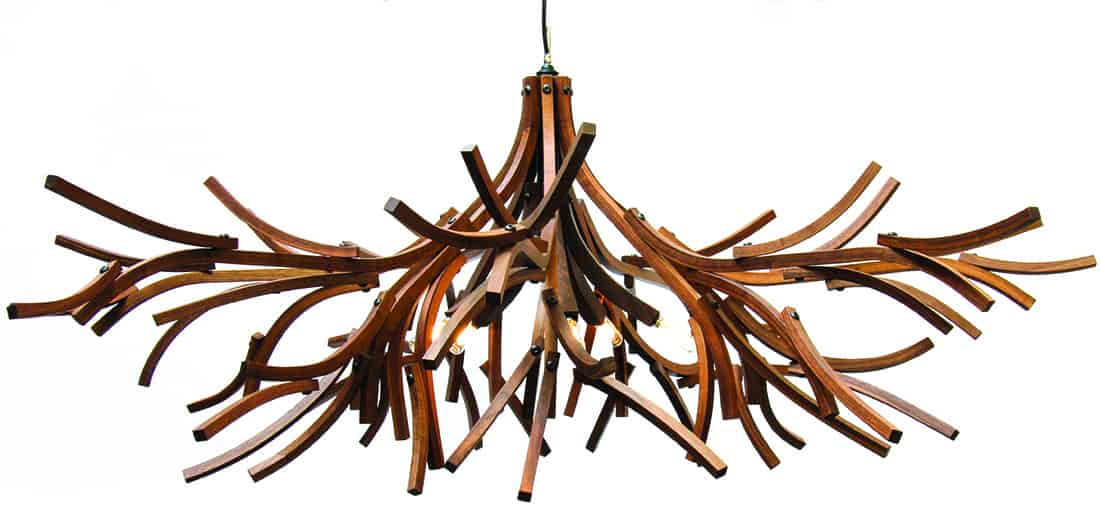 CALL TO NATURE
A few years ago, upon returning from a trip to Norway, I spoke and wrote about a feeling-based trend that was on the rise in home design. With the explosion of social-networking sites and greater transparency of global events, experts noted an increased level of anxiety and depression. Home — a person's hearth and heart — is where we turn to feel most safe.
The rise of organic design in the era of cocooning is an emerging trend, although Scandinavians, who contend with darker and longer winters than us, have long held the crown in cocooning. Their homes are beacons of intimacy, quiet repose and warm gatherings, thanks to accessories such as candles and lanterns, reindeer pelts, bright woods and rag rugs.
The furniture design world has responded to the call of a back-to-nature simpler life. Artemano (artemano.ca) and family-run companies, like Canadian Woodworks and Brothers Dressler, are shining examples of this trend with their timeless, eco-friendly wood products rooted in organic sustainable design.
Canadian Woodworks (canadianwoodworks.com) is in a league of its own with its live-edge wood creations and is building upon the legacy of the late American architect and master woodworker, George Nakashima. Based in Acton, Ont., the company pays tribute to the unique characteristics of wood with its line of hand-sculpted rocking chairs, live-edge dining tables, credenzas and more.
It is always special when a client understands the concept of investing in a piece of beauty, and Ottawa restaurateur Peter Boole, owner of some of the most elegant eateries in the ByWard Market, is no stranger to collecting art for his spaces. At Sidedoor, for example, there are two breathtaking custom Brothers Dressler chandeliers made of ash branches with Swarovski crystals dripping down like dew drops.
Based in Toronto, this innovative furniture design and manufacturing company (brothersdressler.com), launched in 2003 by Lars and Jason Dressler, believes in minimizing waste and employs environmentally responsible practices by using reclaimed and salvaged wood, found objects and repurposed steel.
---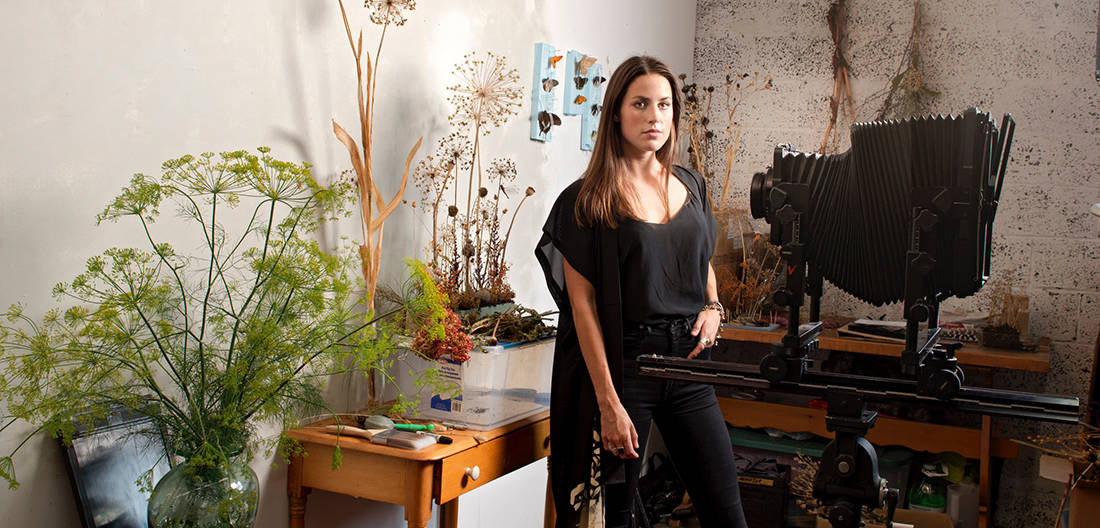 ARTIST TO WATCH
WHITNEY LEWIS-SMITH
A natural beauty, Ottawa artist and photographer, Whitney Lewis-Smith, is as arresting in person as her Old-World talent and artistic abilities. Represented by Galerie St-Laurent + Hill (galeriestlaurentplushill.com) in the ByWard Market and Subject Gallery, an online gallery based in New York City, Lewis-Smith, 32, uses a vintage camera and relies on a mix of modern and antiquated, time-consuming darkroom methods to give her large-format creations an antique look. A former assistant and photographer with Marc Fowler of Metropolis Studios, Lewis-Smith is a full-time college instructor at School of Photographic Arts: Ottawa (SPAO).
Fascinated by mortality, the afterlife and humanity's impact on the environment, her black-and-white pieces are modern odes to 17th-century Flemish "Natures Mortes," filled with cut flowers, vintage vases and teeming with recomposed insect life. Her photographs are darkly captivating and entrance the viewer with their intricate life force that seems to reveal itself in new ways each time you look at them. One of Lewis-Smith's most extraordinary works came from a dream and is aptly called Monster and features a darkly orgasmic explosion of flowers past their prime, on their way to decay, cloying to the last vestiges of grandeur inch by inch, petal by wing, pistil by tentacle. Her works can be found in private residences around the world, as well as in Justin Trudeau and Sophie Grégoire Trudeau's personal collection. Remember the name Whitney Lewis-Smith (whitneylewissmith.com), she is one to watch.
---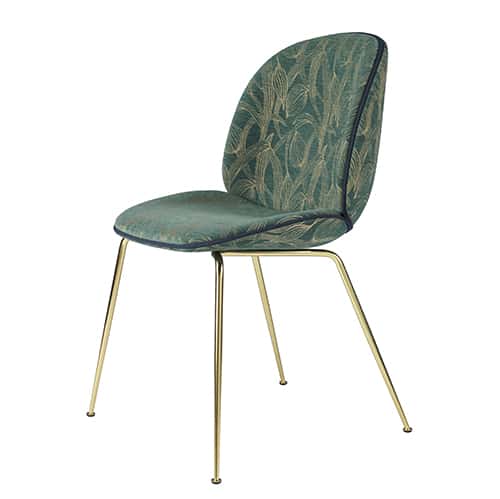 MIXING HI/LOW
Whether designing or decorating your home, knowing how to spend your money wisely takes work. Enter the hi-low mix — every designer's salvo. It takes innate taste and informed acumen to choose where to spend and where to pull back. In Ottawa, we are blessed with retailers that cover the gamut: Zone Maison, IKEA, EQ3, The Modern Shop, Luxe Home Interiors, Alteriors and Cadieux Interiors, to name a few. All have their own strengths, while many offer an interesting selection of locally sourced design elements. The Winnipeg-based EQ3, for example, carries an ingenuous mix of hip, affordable accessories to downright luxurious products ranging from their inimitable Swedish Marimekko Veljekset dinnerware to the two-tone Chiara lounge chair in ash and Coachella cognac leather.
When designing a home, you need to select furniture that will stand the test of time, both visually and physically. Cadieux Interiors is always my starting point when working on a project with statement pieces, like a Chambery Japanese dining table, upholstered Bennison cocktail ottoman, tufted velvet Bernhardt salon bed and a silk Tibetan impressionist rug. Cadieux's in-house designers are unbelievably knowledgeable and share an eye for quiet luxury, understated elegance and quirky eclectic pieces to shake things up.
---
WHEN INSTAGRAM BECOMES A PUBLIC SERVICE
If Joy Charbonneau isn't in your Instagram feed, she should be. A Toronto-based artist, architect and designer, Charbonneau has been posting a little Canadian design gem each day this year in honour of Canada's 150th under the handle: @marianadesigncanada.
By sheer luck, I stumbled upon her world as a dare at first (I thought I knew Canadian design and was looking forward to playing Design Jeopardy), but very quickly came to kneel at her IG altar for her uncanny eye and knowledge of Canadian design that far eclipses mine.
In her feed, she showcases eye-catching, thoughtful designs and artists, including a Martha Sturdy low-back chair, the Luna ceramic pitcher set by Oscar Kwong, soft-seating/softwall partitions by Molo Studio and a Laura Langford lounge chair for Magnolia LLC1.
Charbonneau's own work (joycharbonneau.com) has been featured in numerous publications, including Wallpaper and Azure and exhibited in Toronto galleries.
---
LUXE LIGHTING
When I was in Paris this spring, I picked up a copy of Marie Claire Maison, a monthly interior magazine, based on its cover of a stunning chandelier called Atomium, by Montreal's Lambert & Fils. Founded in 2010 by Samuel Lambert, a former video editor and visual artist, the collaborative lighting design studio (lambertetfils.com) is garnering plenty of praise and awards for its unique contemporary creations that offer a vintage, nostalgic vibe. For the past two years, I've purchased several statement pieces from Lambert & Fils for clients' homes and commercial businesses. When designing the recent expansion of Ottawa's Social restaurant, I used L&F's Atomium chandelier for wow appeal and to make a visual statement. One of the great difficulties in designing a home or retail space is to keep the language homogeneous, be it in colour, texture, or form, without making it look redundant. Superbly crafted and distinctly unique, L&F offers slick pendants, sexy floor and desk lamps, modern-muse sconces and break-the-mould chandeliers. In my opinion, this Canadian company will continue to enjoy success on an international scale.
---
PILES OF TILES
Ottawa is blessed with an impressive array of quality tiling and stone companies. Euro Tile & Stone (eurotilestone.com) is celebrating its 30th year in business and boasts a well-curated collection of tiles at its Hawthorne Road showroom. Owned and operated by Sandra and Ben Colasanti, the couple is extremely knowledgeable at unearthing the latest trends and scour the world to bring back gems from places, like Portugal, Spain and Italy. Daughter Mattia Colasanti is also a fountain of information when it comes to fine ceramic products and is currently singing the praises of Mosaïque Surface, a winning design company from Montreal. Founded in 1992, the firm recently implemented a Waterjet cutting technology enabling the production of very complex shapes that were previously difficult to achieve with traditional stone-cutting tools.
In 2016, they collaborated with Montreal-based interior designers, BlazysGérard (blazysgerard.com), on a tile collection and the result is breathtaking and sumptuously timeless. With a nod to the fashion industry and its' muses, the tiles have only one name befitting the fashion legends iconic status. My favourites include Lanvin, Gianni, Kenzo, and Lang amongst the clothing designers, the Valetta and Nadja amongst the models, and Sorrenti as the photographer. Black-and-white bold geometric and oversized graphics mixed with metals are trending in tiles and Mosaïque Surface's new collection embodies this with their Venetian glass, marble and metallic inserts that wow with their bold designs, the purity of their Art Deco lines, playful sense of form, timeless quality and the modernity of blended materials.
Euro Tile & Stone offers a well-curated collection of tiles, including Montreal's Mosaïque Surface and BlazysGérard, who have collaborated on a breathtaking tile collection that includes black-and-white bold geometric and oversized graphics mixed with metals, glass, marble and metallic inserts.
---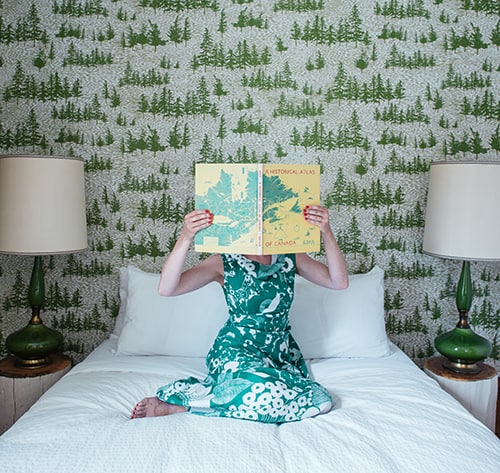 STUCK ON WALLPAPER
Wallpaper designs can tell a lot about the tastes and personalities of the homeowner. Like a fine piece of art, wallpaper — be it classic, modern, bold or neutral — adds character to a space and is one of the easiest ways to set a tone, a stage or a backdrop in your home. Note: Quality wallpaper should feel heavier and there should be
no pixels unless it is part of the design.
I was delighted to discover that a rising star in the wallpaper industry lives in our very own backyard. Kate Golding of Prince Edward County is inspired by nostalgic prints and textile patterns from her childhood in England and has recently collaborated with Montreal-based Wall You Need Is Love to produce finely handpainted patterns based on nature walks or road trips. Her collection is a portrait of Eastern Ontario: from sweet juicy strawberries and lilacs to restless coyotes, fluffy alpacas, turkey vultures, honking Canadian geese and solitary water towers.
Golding (kategolding.ca) has distilled and disseminated the essence of her surroundings with such innocent elegance and touching purity, it takes my breath away. She will soon be launching her second series called the Great Lakes Collection, which features blue jays, slithering garter snakes, beaver dams and the Canadian Shield.