Ottawa is full of innovative originals and design talent. Take a look at five creative forces that are upping the style factor in the city.
Written, styled and photographed by Henrietta Southam
I would like to believe I had a small part to play in Ottawa's latest coup: the move of Canada's most under-the-radar famous milliner from Toronto's Distillery District to Ottawa's ByWard Market.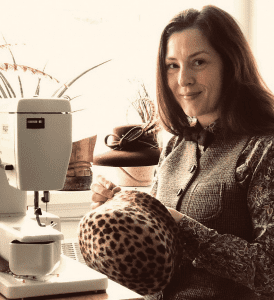 When I joined uber talented Kelly Dunlap in scouting for the perfect place to produce and sell her hats, we stumbled upon the unaffordable gem of a location that once housed Richard Robinson's couture. There was room to negotiate, as the NCC property had sat empty on the kitty corner of the National Art Gallery for too long. The NCC's mandate was to find small artisanal boutique owners and Kelly was the perfect fit to anchor the high-end commercial strip on Sussex. I proposed for the NCC to halve the space and it relented.
Kelly has become a dear friend and not entirely because her quirky personality is a perfect match for my eccentric character. Her passion for her craft is undisputed, but it is her mastery of it that brought me to her in the first place. Sophie Gregoire Trudeau, a champion herself of Canadian designers, wore The Saucy Milliner first, which vexes me to no end. Kelly made our prime minister's wife a plum coloured "Ingrid." The 1940s percher-style fedora is reminiscent of the one worn by Bergman in Casablanca, and Sophie wore it for her first royal encounter with Prince William and Kate Middleton on their official trip to Canada in 2016.
Kelly flies to New York and London to supplement her stock with rare leather and ribbons, and mainly works with couture millinery felt made of European rabbit fur. My absolute favorite is the plush, come-hither "beaver" finish, a longer haired felt that has echoes of Bianca Jagger's Studio 54 disco days.
One of my better claims to fame is that I owned six custom Saucys before Blake Lively took one home. Costume designers and actors often use accessories to convey character, and in Blake's first scene in A Simple Favor this is evident: in memorable slow motion, she steps into the frame wearing a dominatrix lambskin leather-strapped Bondage fedora with Kelly's signature high crown and structured brim. The hat alone foreshadows the drama to come from Blake's dark, sultry character.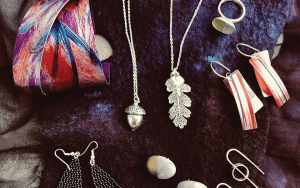 One of the secret weapons that sets Kelly apart from the fray is on discreet display high on the shelves in her shop. She has a boundless appetite and hound-like ability to unearth blocks: the hand-carved wooden hat-shaped heads on which milliners steam and sew a hat. These blocks are all historical moulds. It's worth a visit to behold the collection alone and to discover how Kelly found the different moulds. Behind each great milliner is a greater raconteur. Buyer beware, though: if you go in hungry for one hat you may leave with three, and a big "I just ate the canary" Cheshire grin on your face.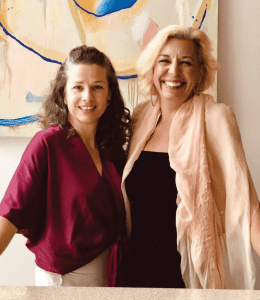 Not coincidently, Twiss and Weber moved across town to settle in next door to The Saucy Milliner. Kelly's pop-up jaunts to Ottawa were always held at Twiss and Weber, helmed by Laura Twiss and Tonia Weber who are no strangers to championing local and national artistry. Kelly told T & W of her smart move and glorious location and presto! They took over the newly shaped space next door.
I cannot impart strongly enough how rare and special it is to have artists dream, design, and create in the very location they sell their products. It is as seed-to-sausage as you can get in the fashion design world and a rarity we should all wholeheartedly support. As with most visionaries, these women saw the importance of a sustainable ethos over a decade ago when they first joined forces. They believe in buying responsibly, they encourage investing locally, and they concentrate on producing with home-grown new or recycled materials. This is their brand of luxury and the kind worth embracing in the name of our children's future.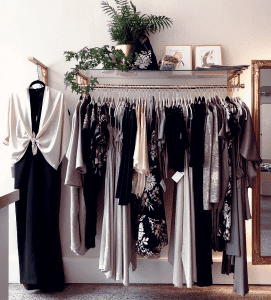 The designers say their surnames—Twiss and Weber—have been prophetic: "You twist a fibre to make yarn, you weave a yarn to make fabric. Our names make so much sense to us; we are meant to be working together in this industry." Knitting, felting and dyeing originally brought the pair together to collaborate, but it is their earnest yearning to do well by their kinfolk that has guaranteed their success.
Laura and Tonia are champions of women's bodies in all shapes and sizes and make custom pieces that are as relaxed and functional as they are chic and affordable. When I asked for a fall-and-winter version of their wide-legged, high-waisted trousers made in linen, Laura went straight to the back, rummaged around and brought me a retro ochre, soft, three-dimensional corduroy. Though they label themselves "slow makers," their turn-around is incredibly fast on commissioned pieces.
These ladies are more than successful designers: they are bona fide fashion gurus. They will make a pattern for a client after a consult on what the client's vision is of the piece, execute it and gift the client the rights to that pattern. They will also visit your closet and help you divest yourself of elements that make you feel less than happy, identify what you need to keep and which pieces you need to invest in.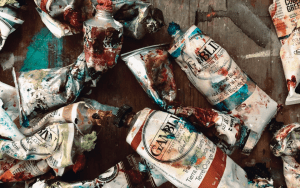 Heidi has held my art heart for quite a while. As any great art has the ability to do, her work can be the starting point for a décor concept, such as the one I did for a Shopify executive entitled Beachside Candy Shop, or the finishing flourish of the Libertine Librarian design I created for a ByWard Market eatery. Intriguingly, her newest work can be seen through different lenses: A dark heart will see darkness and a light heart will see lightness. The dichotomous nature of her vignettes is owed to the juxtaposition of optimistic colors in joyous swirls and splashes with scenes that provoke viewers to question their own past stories.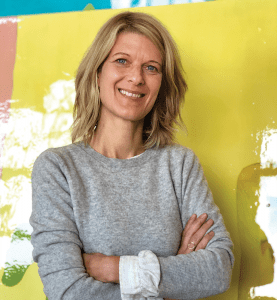 Heidi's new exploration of mixed media is spellbinding and has not gone unnoticed. A major part of the rise in Canadian voices at the cutting-edge Ottawa Art Gallery, her pieces are immediately recognizable, relevant and revelatory. Heidi's truest gift, though, is her affinity with color. Sparingly used, her thrusts of color sing and sting with pure radiance. Her vintage collection series, Magic Mirrors, speaks to our lost innocence and family while craftily drawing us in with images faded by use and history that trigger memories of playful, painful, magically meaningful moments in our lives.
Artists often crack their pigment-scarred knuckles and open their bleeding hearts to expand their craft, and in this work Heidi was not content until she layered on a sculptural dimension via deeply offset plexiglass painted on both sides. In this way, her pieces change in content as you walk past, slowly taking in the shifting shadows cast onto the main canvas by the strokes, drops and rivulets on the floating glass in front. If you love her work, snap it up now. I would say you can thank me later, but this may be as soon as tomorrow.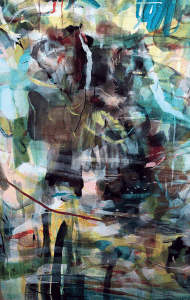 Number one: the name. Number two: the hashtag. I could leave it at that, mic drop and walk away. The Stalk Market is all about #flowertothepeople and if someone has to change our floral way of life I would like to propose the funny, ferocious and fabulous duo behind it: Caity and Krista. Their motto and mantra come in a proudly and loudly self-described "sassy and tattooed" envelope. These are women who know two women is twice as nice and ten times the power. Between both of them they have decades of experience growing, pruning, cultivating, cutting and curating flora.
Subjectively and mostly privately, I love grown women who fearlessly call themselves girls. These girls are well scented disruptors who are bringing an edge to their craft that Ottawa has not yet seen. Their difference is being different. An arrangement for the Queen of England? No problem. A class for floral hacks? Bring it on. Like every woman knows in her blood, it takes a village and Caity and Krista are all over that. One of the simplest and more genuine give-backs I have seen is their "art wall" on one side of their greenhouse-to-the-gills shop. It's a metallic, psychedelic, rainbow-clad wall that lies in wait for local artists to exhibit their work. Any artist. Any work. For free.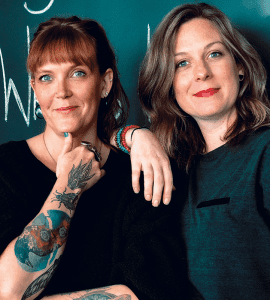 On a recent visit to their shop I learned the artist Whitney Lewis Smith, who lives a few steps away, often pops in to see anomalous floral specimens whenever one arrives. Anomalous and original would be the Stalk Market's signature. These girls thrive on dissonance in composition and color: they are more jazz than classic FM. They riff on shapes and contrasting materials. Sprays of orange orchids may find their place next to branches of snow-white cotton balls, rare black parrot tulips may emerge from a lonely piece of driftwood, their high-low combination an out-of-the-ordinary visual and olfactory experience. In this vein, Caity and Krista dare you, the client, to come up with your wildest dreams for them to translate and execute with a profoundly personal twist. Their art is current and their time is now: Join the movement.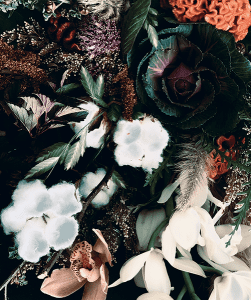 Bobbi Jo's boutique is everything you would expect from an evolved antique store: sunlight sweeps through factory-size glass windows, caresses the high wood battened ceilings before cascading down to a garden-like gypset dream. Gypset is design vernacular for "gypsy jet set," an haute bohemian style with roots in the roaming English aristocracy. If I had to distil gypset and Bobbi Jo's style to a few catchwords they would be: intelligent romanticism, patina with a pulse, joyous patterns, and textured history.
Bobbi Jo opened her boutique antique store last year and has already made editorial waves for her wares. Amongst her larger pieces, gleaned from fairs in remote pastoral fields all over North America, she has cleverly peppered pieces to suit all our chic and cozy needs: unique hand-painted vases, vibrant tea towels, pastel-hued wood bowls, animal spirit totem cards, plus endless perfect gifts befitting all occasions. Lot 7 is the Ali Baba Cave of Hygge.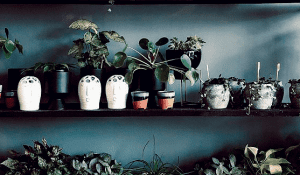 As a mother of three, Bobbi Jo also showcases crafty artistic knick-knacks with children in mind. The jaw-dropping one is Dinos for Pyros: super cool dinosaur-shaped candles that, when melted, reveal a metal skeleton for keeps. If you want Cool Parent cred, get your hands on these colorful prehistorical wax creatures and you'll be able to take a bow.