Les Fougères, 783 Route 105, Chelsea fougeres.com
There are many reasons to plan a meal at Les Fougères in Chelsea. For one thing, dinner at the celebrated eatery is a fitting way to end a day spent hiking in Gatineau Park or skiing at Camp Fortune. For another, you can practically walk there from Nordik Spa-Nature, so capping a spa session with a bite at the fine-dining spot makes perfect sense.
Certainly if you've heard through the grapevine that Chelsea has become a gastro hub, and you want to investigate, you can't go wrong in making a reservation at the place that put it on the culinary map.
After all, Les Fougères has a history of memorable food and hospitality. Of late, though, it's making history. The restaurant has bragging rights as home to reigning Canadian Culinary Champion Yannick LaSalle. He was named Canada's top chef at the prestigious national cook-off held in Kelowna, B.C. in February.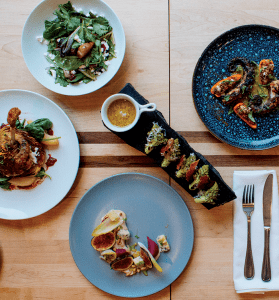 It's also worth noting Yannick's mentor, Charles Part, who owns Les Fougères with Jennifer Warren-Part, earned a spot in the Canadian Culinary Championships in 2008. Now the protégé has brought home gold, and the sheen of this hardware complements a setting that's also notable for beautiful light and unpretentious charm.
As regulars know, the dining room, menu and vibe have been refreshed in recent years. Formerly a rustic, traditional restaurant that was a go-to place for special occasions, today it has a more chic, relaxed ambience that welcomes all comers. A striking curved bar beckons people to take a seat, nosh on something delicious, have a drink and watch the action in the kitchen. Guests are as apt to arrive in hiking boots or ski jackets as they are to be gussied up for a date night or celebration.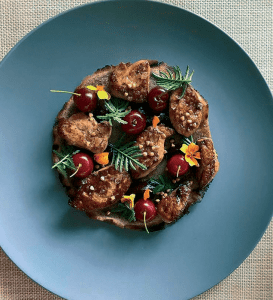 In any case, the experience here is one to please the senses. Huge windows offer arresting views of a scenic wooded property with extensive gardens. "It's a lovely landscape," chef Yannick notes. "Every day [in season] we're able to pick all our edible herbs and flowers before service." Vegetables are grown on the property too, and there are some hives for making honey. In fact farm-to-table cuisine has been dished up at Les Fougères since the Parts opened the restaurant in 1993, back when today's locavores were still eating pablum. Three mainstays on the menu are the Parts' signature dishes: Salade Fougères is a toothsome mélange of greens, fresh Papineauville chèvre and house smoked bacon lardons dressed with a vinaigrette; the popular Confit of Québec Duck is served with roesti, goat cheese, pear, fresh spinach and berry compote; Mouth of the St. Lawrence is an award-winning seafood treat featuring salt cod ravioli, scallops, shrimp and mussels.
"The rest of the menu," Yannick says, "I can play around with." He plays and Les Fougères guests win, tucking into the likes of seared foie gras, duck prosciutto, roasted quail, cod cheeks or grilled bison. Both small and large plates are available, and options also include charcuterie and cheese, pizza baked in the hearth oven and a table d'hôte menu.
As for the elements that make up these dishes, the chef notes, "I try to work as seasonally as possible and we work with farmers, gardeners, foragers, fishers, honey makers and artisans to showcase the freshest ingredients." Other highlights include weekend brunch, take-home meals and an on-site store featuring goodies prepared in-house and products sourced locally.