By Pam Dillon
Photos: Justin Van Leeuwen
In 2019, Jess Gosbee started working with a local couple to transform their living space. The clients, busy with careers and three young boys, were the first people to ever approach Jess for design help. "We have been levelling-up the style of their home, room by room, ever since," she explains.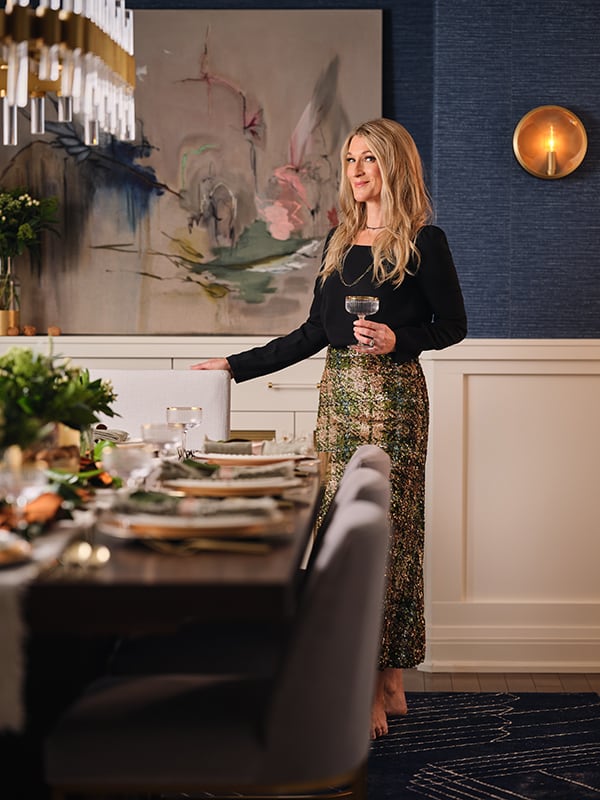 In this formal dining room, that "levelling-up" has meant achieving a more adult vibe for entertaining friends and family. As the space is one of the first rooms visible when entering the home, Jess says the homeowners also wanted it to make an impression and be somewhat of a departure from the "light and bright" air of the rest of the main level.
Mission accomplished. The elegant, ultra-touchable space incorporates both traditional and modern elements, with "a few details that border on Deco thrown in for good measure." And while colours and textures from surrounding, more casual spaces have been woven into that mix, "the look here is much more saturated, structured and chic."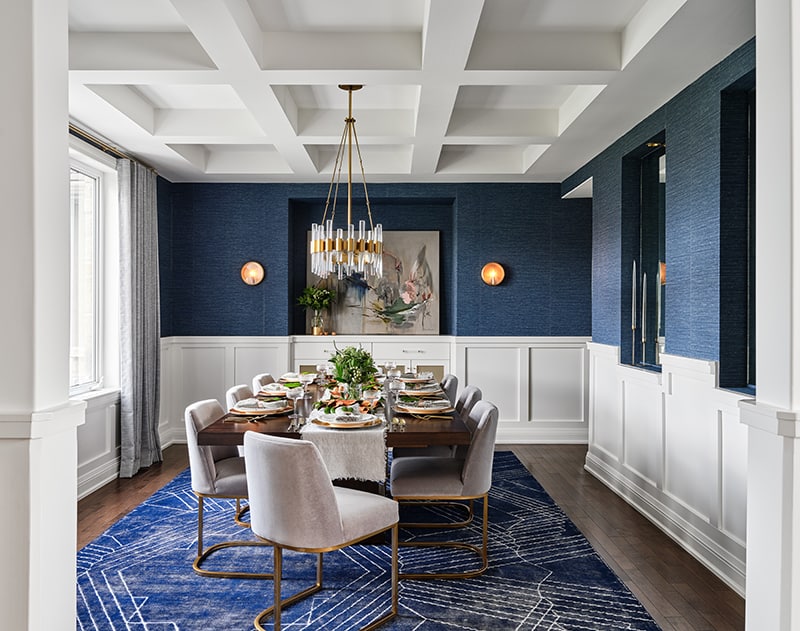 "You can picture guests enjoying a long, slow meal here: Beautiful, dimmed lighting; soft, comfortable chairs; candlelight reflected in the mirrors; a great playlist coming through the hidden cabinetry speakers; a gorgeous original work of art that starts a conversation; layers of warmth and comfort and interest to settle in for a long night."
Designer Jess Gosbee
Jess calls the materiality of the dining room "bananas," thanks to its wealth of tactile components, from the velvet chairs to the dramatic chandelier. The key colours, deep blue and gold, have helped guide other choices, while items such as the distinctive rug, antiqued niche mirrors and round, crystal and brass sconces work together to achieve the desired ambience. "We also worked directly with Quebec artist Melanie Arcand to commission a piece specific to this room, bringing in more colour, adding contrast and drawing the eye through to the very end of the room."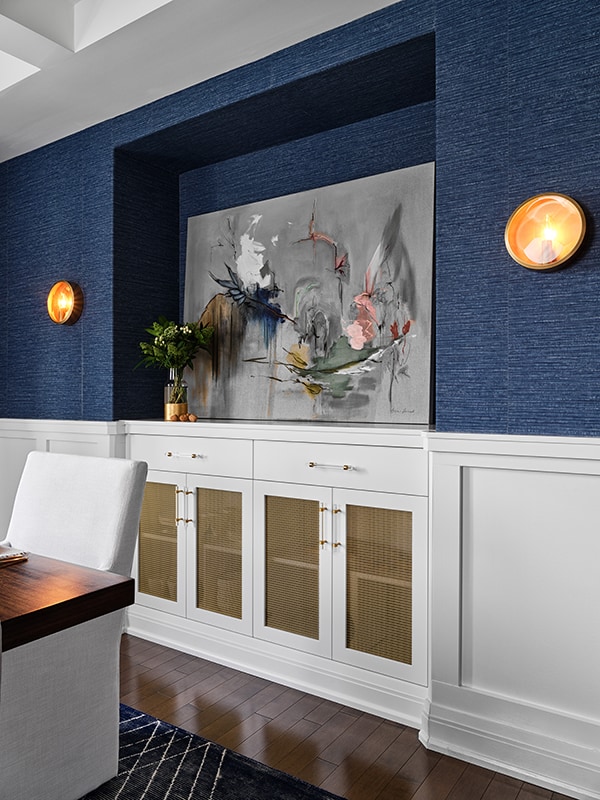 Not surprisingly, people have been increasingly drawn to Jess Gosbee's work. Since she began documenting the building of her own family's custom home on Instagram in 2018, she's been getting requests for services. In July, she left her day job to pursue this business, Jessica Gosbee Design, full time.
"I think my approach to design is really embedded in communication, engagement and the relationships I build with my clients," she notes. "While I appreciate that clients come to me because they may appreciate an aesthetic I've demonstrated in projects so far, in the end, my role is not to create a space that I'd love to live in. I'm there to guide the way and ensure the final design meets all of their needs and feels good, cohesive and, of course, beautiful, to them." Follow Jess Gosbee on Instagram @gosbeeshomesweethome.