By Beka Shane Denter
Photos by Richard Tardiff
It's all about the clothes for designer Frank Sukhoo. 
Frank Sukhoo is one of Ottawa's best-kept secrets. His discreet showroom is located on the corner of Dalhousie and Cathcart, just a few blocks from the Byward Market, and stepping into Sukhoo Sukhoo Khooture is reminiscent of simpler times when fashion focused on the client and the creative process. There's no social media coordinator on staff or coffee bar located on the premises. It's all about the clothes for Frank, who has been designing stunning and unique pieces for local women under his own label for 13 years. He's been making an impact in the city in other ways too, though, via an enthusiastic commitment to local charitable organizations.
You're noticeably "absent" on social media. When beginning research for this piece I googled your name, only to realize social media is perhaps not a priority for you. Is this a conscious decision? How do people hear about Sukhoo Sukhoo Khooture?
There's no shortage of fashion chatter out there. I consider myself a social-shy visionary. I want people to get hooked on Sukhoo Sukhoo Khooture by shining the spotlight on my designs rather than on myself. People hear about me through word-of-mouth. When a new client comes in and tells me they asked one of my clients, "Where did you get that outfit?" — that for me is the best form of advertising.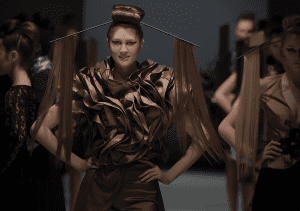 When did you realize fashion was your passion? Was there a specific moment or was it something that developed over time?
I was always interested in fashion and followed trends from season to season. However, I never really thought about pursuing a career in it. The summer after my last year at university I was visiting family in London, England. They took me to some of the high-end boutiques on Bond Street. We also visited the Victoria and Albert Museum and I remember being completely blown away by what I experienced and saw there.
Can you recall your first favourite outfit? How old were you?
It wasn't an outfit but a pair of shoes. I was 11 years old and I saw a pair of men's platform shoes with a rounded toe. The shoe was colour-blocked with black, beige and red. I can still see them.
Who were your fashion and style role models while growing up? And now?
I loved Christian Lacroix's use of colour and texture; Thierry Mugler for his futuristic avant-garde designs; Betsey Johnson for her craziness. Now, my favourites change from season to season.
You completed the Richard Robinson couturier program. How did this prepare you? What other experiences shaped you before starting your own label?
It was a comprehensive hands-on experience at Richard Robinson. The year I graduated I was asked to teach in the full-time program. I taught pattern making and couture sewing. Later, I worked as a head designer for a company called Silkwear where we did in-house and overseas production of loungewear.
You are teaching again at your alma mater, Richard Robinson. What's it like to return to where it all started? Which classes do you teach? Is today's design student different from when you attended?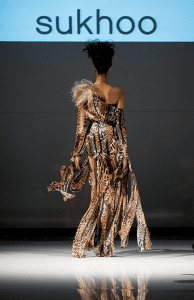 I now teach men's tailoring and advanced pattern making. It was strange to return at first, as I had to get my brain back into teaching mode. Design students are different today in that they're more confident, and that's a good thing. When I was a student, we didn't have internet or social media. And thus, we had little reference to go by when attempting to design meaningful pieces. We had to draw from our own imaginations. Looking around the studio, I see an assortment of fabrics in various textures and rich hues that span the colour spectrum.
Where do you source most of your material? Do you have a few favourites?
I like to keep an open mind with fabric. My wool and cashmere are from Italy; the laces are from France and the silks from India. I have suppliers that send me new samples of fabric each season. Fabrics are more easily accessible today than 10 years ago. I love working with all-natural fibers such as silk and wool but am always happy to add a little sparkle.
You're known for your gala gowns. However, there appears to be another side of Sukhoo Sukhoo Khooture. What other pieces do you create for clients?
Gala pieces are what I get noticed for and they make up 40 percent of my business. However, the bulk of my designs are daywear and business attire that's edgy. We are after all in a government town.
We've talked about building a wardrobe based on a single piece. Is this something you often do with new clients? Does this approach help to form trust between client and designer?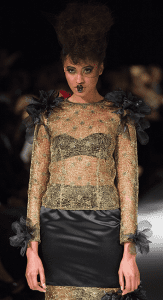 It's wonderful when a client can (and wants to) build on the basics. For example, we start with a skirt and jacket. They then come back and want to add a dress and pants that pair with the other items we designed. With custom, it's easy to add onto an already existing base of staples. Clients are involved in every step of the process with custom design. This is where the trust develops between client and designer.
You speak with heart about your work with Cornerstone Housing for Women. How are you involved with this charitable organization?
More than 900 women become homeless in Ottawa every year. I've been working with Cornerstone for the past 11 years. We do a fashion show/garden party at different embassies in Ottawa every year to raise funds. I'm also involved in the Ottawa Symphony gala and Salus supportive housing for adults with mental illness. It's about giving back to the community.
How is being a designer in Ottawa different than anywhere else?
I don't think it's different from anywhere else other than the fact that there are not a lot of us (designers) in Ottawa compared to larger cities such as Toronto or Montreal. Wherever you are, you need to adapt to the needs of your market clientele. It comes down to producing a high-quality garment that meets their needs.
How has the fashion scene evolved in Ottawa since you started working in the industry?
I'm starting to see more people thinking outside the box and claiming their own sense of style. They're not afraid to dress differently. This shift is likely inspired by the new small and unique boutiques opening up around the capital. As well, there's a growing number of local designers trying to establish a name for themselves. This is a very good thing for Ottawa as it encourages customers to shop local while also discovering unique pieces. sukhoosukhoo.com