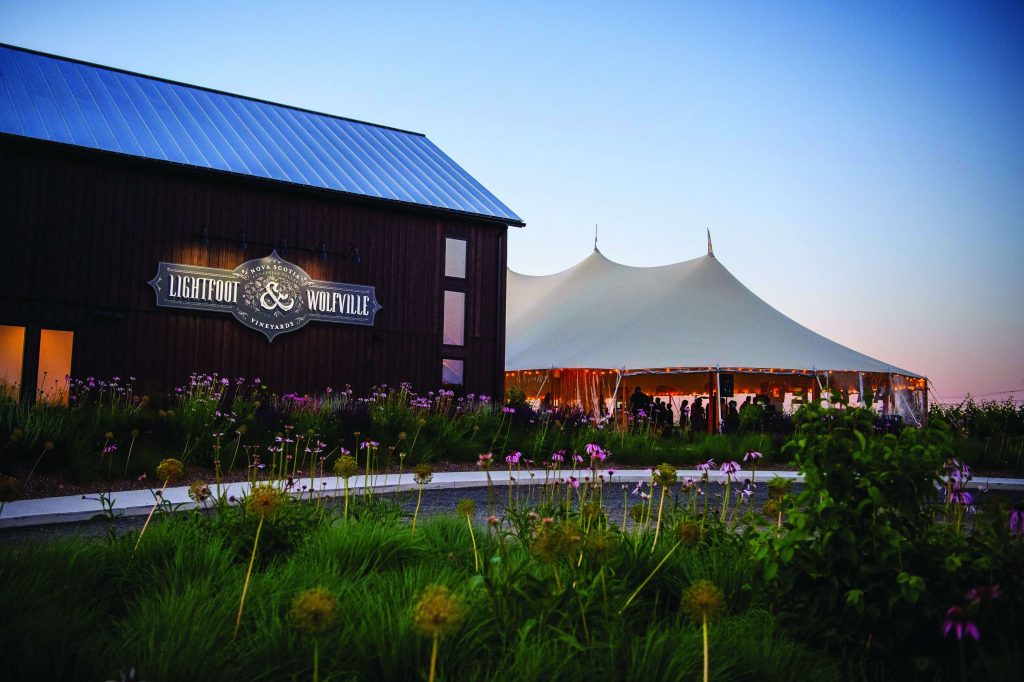 Best Paired with Ocean Views and Food
By Janet Dorozynski
Uniquely Nova Scotia
There is a saying that goes what grows together goes together and nothing could be more fitting to describe how the wines of Nova Scotia have evolved to become the natural and perfect partners for the region's seafood. While the province is widely recognized both within and outside of Canada for its bounty from the sea, it is less known outside the province for its burgeoning wine, beer and craft spirits scene.
The History
The modern wine industry in Nova Scotia dates back to the 1980s though there are historical records from 1611 when a small vineyard was planted in Bear River by a French settler named Louis Hébert. While it is hard to imagine how this wine would have tasted (probably not great), the present day range and quality of wines coming out of Canada's smallest wine region has improved dramatically over the past several decades. Roger Dial released Nova Scotia's first commercial wine at Grand Pré winery in the Annapolis Valley in 1980 which was followed by the opening of Jost Vineyards in Malagash in 1985. Since then, the industry has expanded and now boasts 22 wineries and 90 grape growers with 1000 acres of grapes planted in seven regions.
Very Cool White and Sparkling Wines
Nova Scotia is a quintessentially cool-climate growing region that is surrounded by bodies of water that have a moderating effect on winter temperatures and extend the growing season for grapes well into late fall. In fact, no vineyard in Nova Scotia is more than 20 kilo-metres from the ocean, influenced either by the warm Gulf Stream of the Atlantic Ocean or by the Bay of Fundy, which has the largest dai-ly tidal shifts in the world. The effect of the water means that it is not uncommon for wineries to be harvesting grapes for both table and sparkling wines well into late October and November.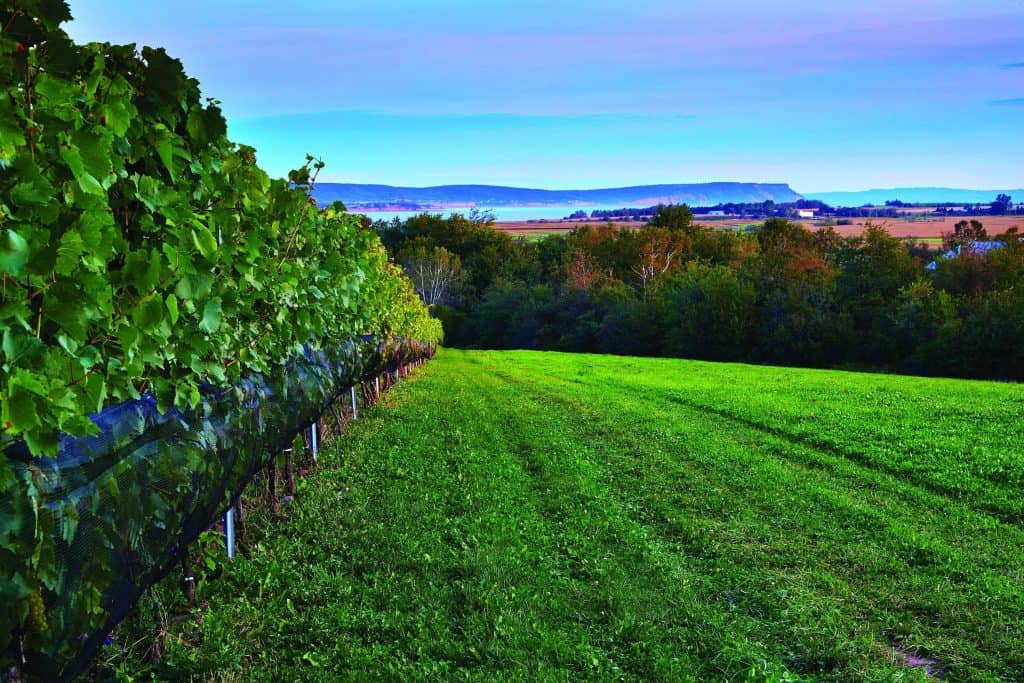 All types of wine are made in the province, but it is the crisp and lively white wines and elegant sparkling wines that really stand out. Together they account for sixty per cent of total wine production. The main white grapes for table wine such as L'Acadie Blanc, Seyval Blanc, Vidal Blanc and the exotically named Geisenheim 318 are hybrid varieties which are a crossing between two or more grape varieties. They ripen earlier and are well-suited to cooler climate regions like Nova Scotia. There are also significant and increasing plantings of white grape varieties such as Chardonnay, Riesling and Sauvignon Blanc, which are used in both table and sparkling wine.
A Crisp Nova Scotia White Wine
To celebrate a crisp aromatic white wine style that reflects the coastal breezes and cooler climate of the region, Nova Scotia wineries got together several years back to create Tidal Bay, the first appellation white wine for Nova Scotia and the first of its kind in Canada. The name Tidal Bay draws its inspiration from the sea and was created to pair with the incredible seafood for which Nova Scotia is known.
Tidal Bay white wines must be made from a list of twenty designated grape varieties, with L'Acadie Blanc, Seyval, Vidal and/or Geisenheim 318 making up the majority of the final blend. All grapes must be 100 per cent Nova Scotia grown and follow specific viticulture standards and practices. The wines must also contain no more than 11 per cent alcohol and be approved by an independent blind tasting panel. Although each wine is slightly different from one another, depending on the winery making it, overall they can be described as the very essence of Nova Scotia in a glass – crisp and aromatic with lively acidity and perfect for everything from scallops to shrimp to lobster. Planter's Ridge, Avondale Sky and Domaine de Grand Pre are among those worth checking out.
Nova Scotia Sparkling – The Future is Fizzy
Perhaps even more exciting than the Tidal Bay wines are Nova Scotia's sparkling wines. Half of all wineries in the province produce sparkling wine with seven making traditional (Champagne) method sparkling wine where secondary fermentation takes place in the bottle to create fine bubbles and complex, delicate aromas and flavours. Many wineries have been experimenting with long aging on the lees, sometimes over five years, which adds complexity wines and makes for wines of great finesse.
Most traditional method sparkling is made from the well-known Champagne grape varieties of Chardonnay, Pinot Noir and Pinot Meunier. Standout examples that can rival the best of grower Champagne include the Lightfoot and Wolfville 2013 Blanc de Blanc Extra Brut Late Disgorged, Benjamin Brut Reserve 2011 and the Blomidon Estate Blanc de Blanc 2010 and Blanc de Noirs 2014. In addition to traditional grape varieties, wineries like L'Acadie Vineyards, which was the first to release a traditional method sparkling wine in Nova Scotia, uses L'Acadie Blanc, a grape variety originally from Ontario, to craft sparkling wines with great flavour intensity and vibrant acidity. The 2010 Prestige Brut Estate, which is organic, is a perfect match for Nova Scotia oysters.
Best Paired with Ocean Views and Food
For a province of its size, Nova Scotia punches above its weight in term of food and wine experiences. The best way to experience both is to visit and follow one or all three culinary trails that enable you to savour the gustatory bounty from Cape Breton to Yarmouth and everywhere in between.
The Good Cheer Trail is Canada's first and only trail for wine, beer, spirits and cider featuring 44 craft breweries, 17 wineries, 11 distilleries, eight cideries and three historical experiences. The trail has a "passport," either paper or digital, which allows you to collect stamps when you visit a winery, sample ciders, try a craft beer tasting or take a distillery tour. The more stamps you collect, the more prizes you are eligible to win (t-shirts and grand prize certificates for tours and dinners).
If food is more your focus, you can also journey along the Lobster or Chowder Trails which feature seafood shops and restaurants dotted throughout the province. And if oysters are your thing, be sure to check out the annual Halifax Oyster Festival held each fall, which is Canada's biggest oyster celebration with dozens of Nova Scotia and East Coast oyster farms along with plenty of Nova Scotia wine, beer, cider and spirits on offer.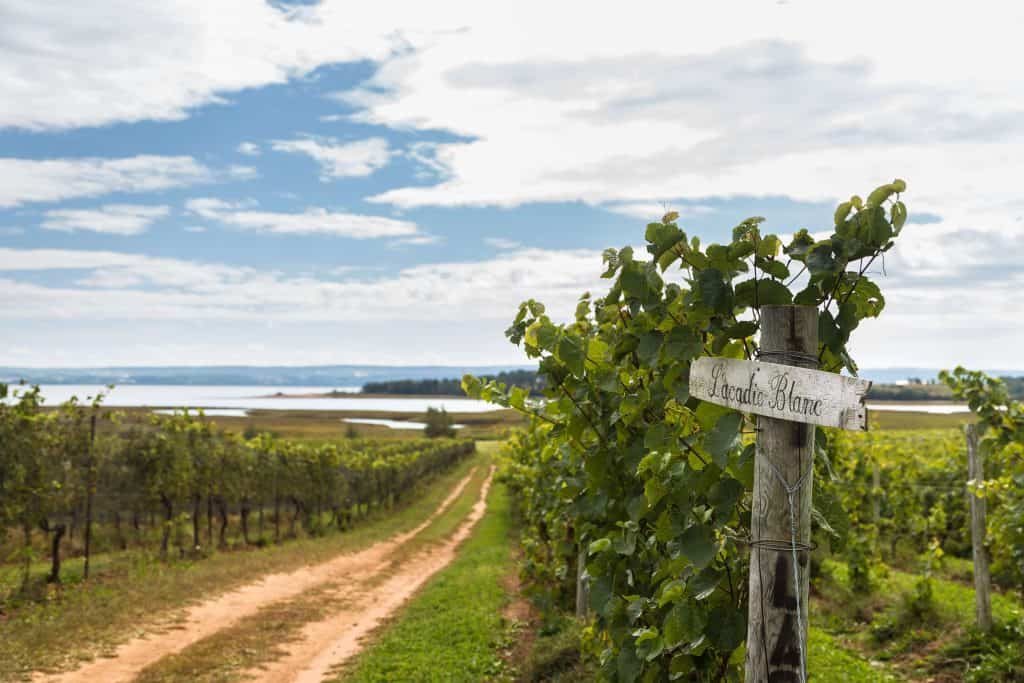 To discover more of Nova Scotia and plan your next wine and food experience:
WinesofNovaScotia.ca
Plantersridge.ca
Avondalesky.com
Grandprewines.com
Benjaminbridge.com
Blomidonwine.ca
Lacadievineyards.ca
Tasteofnovascotia.com
Goodcheertrail.com
Novascotiachowdertrail.com
Novascotialobstertrail.com
Oysterfest.ca