By Janet Wilson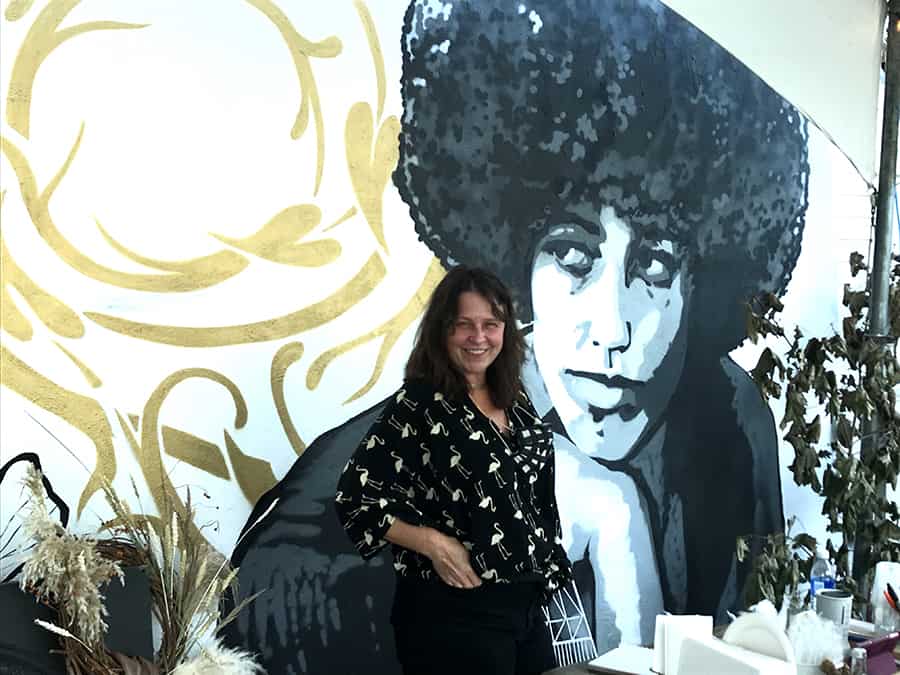 After 35 years in the food and beverage industry, Erin Clatney finally has a place she can call her own. The well-known and popular founder of Dish Catering and Events is behind Parlour, a fabulous event space rich in history that's located in the heart of Wellington West. Built in 1922, the near century-old address was a private residence, funeral parlour, community centre, church and part of the venerable Ottawa Bagelshop and Deli over the years.
"I spent a long time searching for the right venue. Ottawa really needed a mid-market-sized, transformable space, which wasn't attached to a hotel or gallery. With 5,000 square feet, we have an occupancy for 250 people for private and corporate events. The space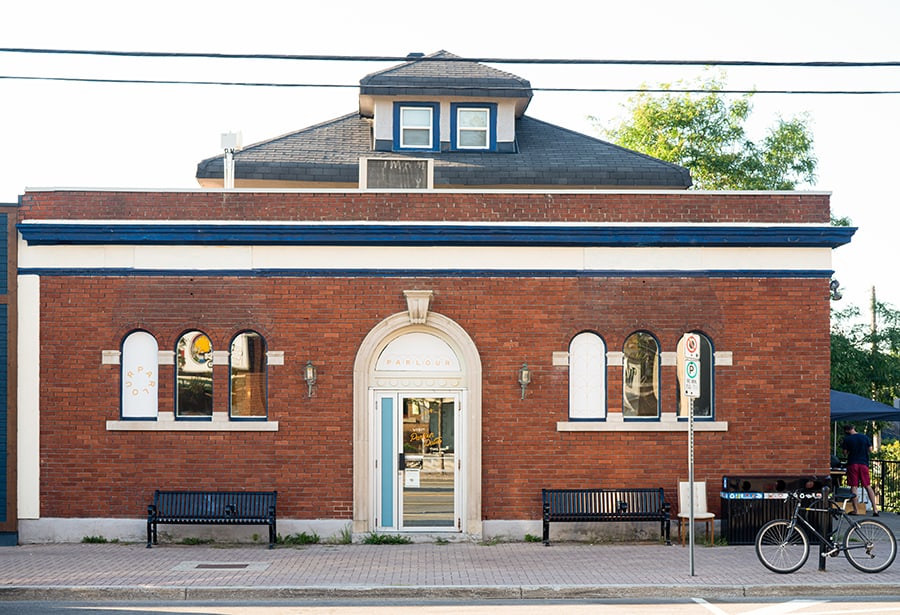 can also be separated so you can hold smaller events at the same time," says Erin, a mother of four who lives in the neighbourhood.
With a nod to its 45-year stretch as the Radmore Stewart Funeral Home, which opened in 1930, Erin says the name Parlour was the perfect choice for her brand.
"Parlour is a place to gather with friends and family. When you walk into the building off of Wellington Street, you see a big, open, blank canvas. When we took it over, we brought it back to its original architectural roots. The art deco space features arched windows and an arched front entranceway. The chapel and kitchen were at the back of the building where Radmore Stewart would hold the wakes. It's where everyone gathered," says Erin, who aims to hold a Scandinavian-type marketplace inside with rotating vendors selling flowers, cheeses, wines, handicrafts and more.
During 10 months of renovations, the venue was outfitted with new plumbing and electrical and now boasts eight washrooms. The company's office and Dish catering kitchen is located along the back of the building on Grange Avenue, which recently housed the bakery, Strawberry Blonde. You can't miss the striking mural painted on an outside wall. By artist Kalkidan Assefa (@drippin_soul), it's of Angela Davis, an American activist and scholar.
When COVID-19 hit, Erin say she had the time to fine-tune the venue, but also make a shift in what her company was serving customers. With a high-end kitchen and expansive freezer area, Dish has successfully pivoted to offering an impressive takeout menu, including classic comfort foods, like flank steak, fish and chips, smoked beef brisket, seared tuna niçoise salad, spatchcocked charcoal chicken, duck confit, fries, soups and salads. A full Thanksgiving turkey meal sold out in a matter of days with about 100 happy customers served.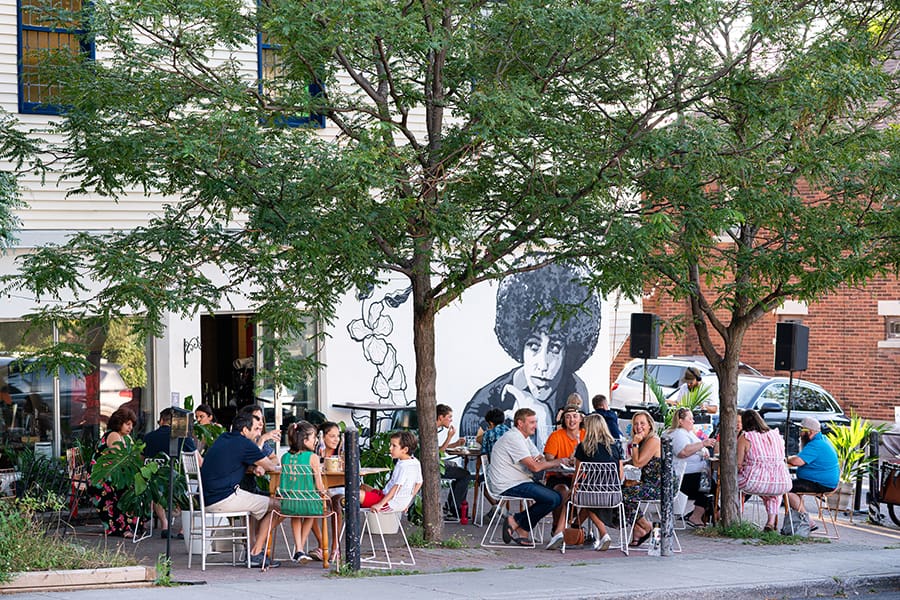 "We've had tremendous support from the community. There are some customers who order from us three times a week, who helped keep us in business at the beginning of the pandemic."
While 2020 has been an incredibly difficult time for anyone working in the food and beverage industry, Erin is trying to cover all the bases to weather the storm. A large patio area on Grange was created this summer and is now topped with a tent and heaters. Mike Beck, a chef with Dish for 13 years who lives behind Parlour in what was once the "undertaker's home," previously operated a food truck for years and is now a partner in the operation. Rebranded as Dish's "electric kitchen," the food truck has a daily menu and customers can order a buttermilk fried chicken sandwich, tasty fries, soups, salads and more.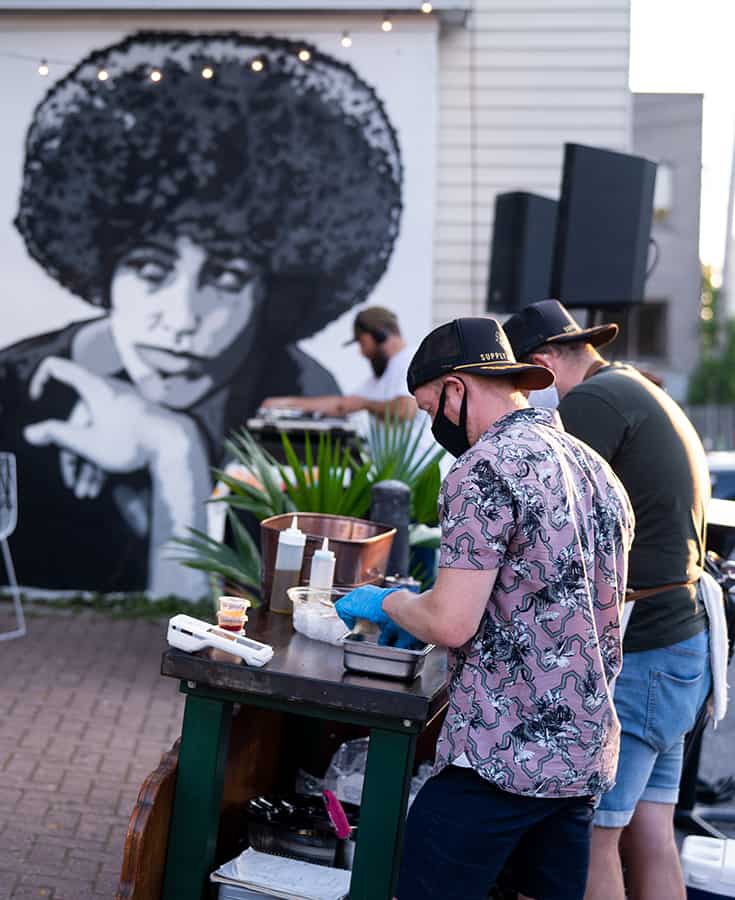 "Since we can't do much programming inside right now, we began offering takeout and built the patio where guests can enjoy their meal or sip on a glass of wine while waiting for their takeout. We've hired DJs to come and spin tunes and collaborate with other
local restaurateurs, like Supply and Demand. We also have a bottle shop with a wonderful selection of local beers and carefully-chosen natural, biodynamic, unfiltered wines we order direct from small agencies [and] which aren't readily available."
Like many in the business, Erin and her staff are big on giving back to the community, helping numerous charities throughout the region
by donating time and services. Erin is a founding member of Tunes & Spoons, a food and music event that provides locally grown food to the Parkdale Food Centre and to the Rideau-Rockcliffe Community Resource Centre for its food cupboard clients. "Helping to improve the lives of others is something we all must do. We have a responsibility to address the issue of food insecurity in our community."
Erin also feels an enormous responsibility toward her employees, many of whom have been with her throughout Dish's 18 years in business. "It's all about my team. I was able to bring back lots of legacy staff, including 16 employees: seven in the kitchen and nine who are getting mostly full-time hours. One of the main reasons I do this is for them."
Erin clearly loves her profession and feels motivated by and proud of what her team has accomplished over the past year; she says she's in it for the long haul.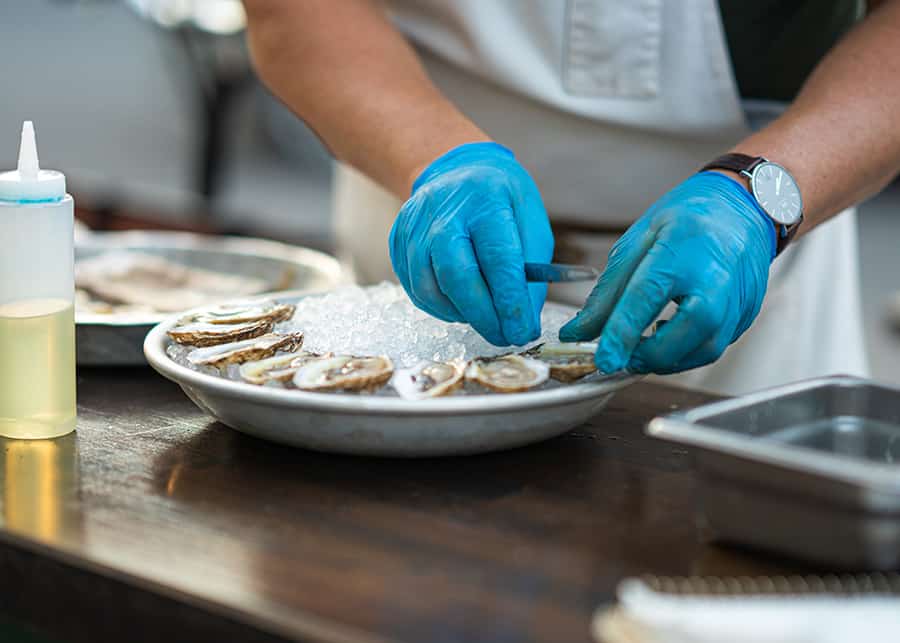 "We're a food-focused catering company, but we also create the energy and theme for our clients at every event we do. There are so many moving parts to catering, including organizing the staff, layout, all the rental equipment and design. But now I get to do this in my own house."
Parlour is located at 1319 Wellington St. West.
For more information, visit parlourxdish.ca.