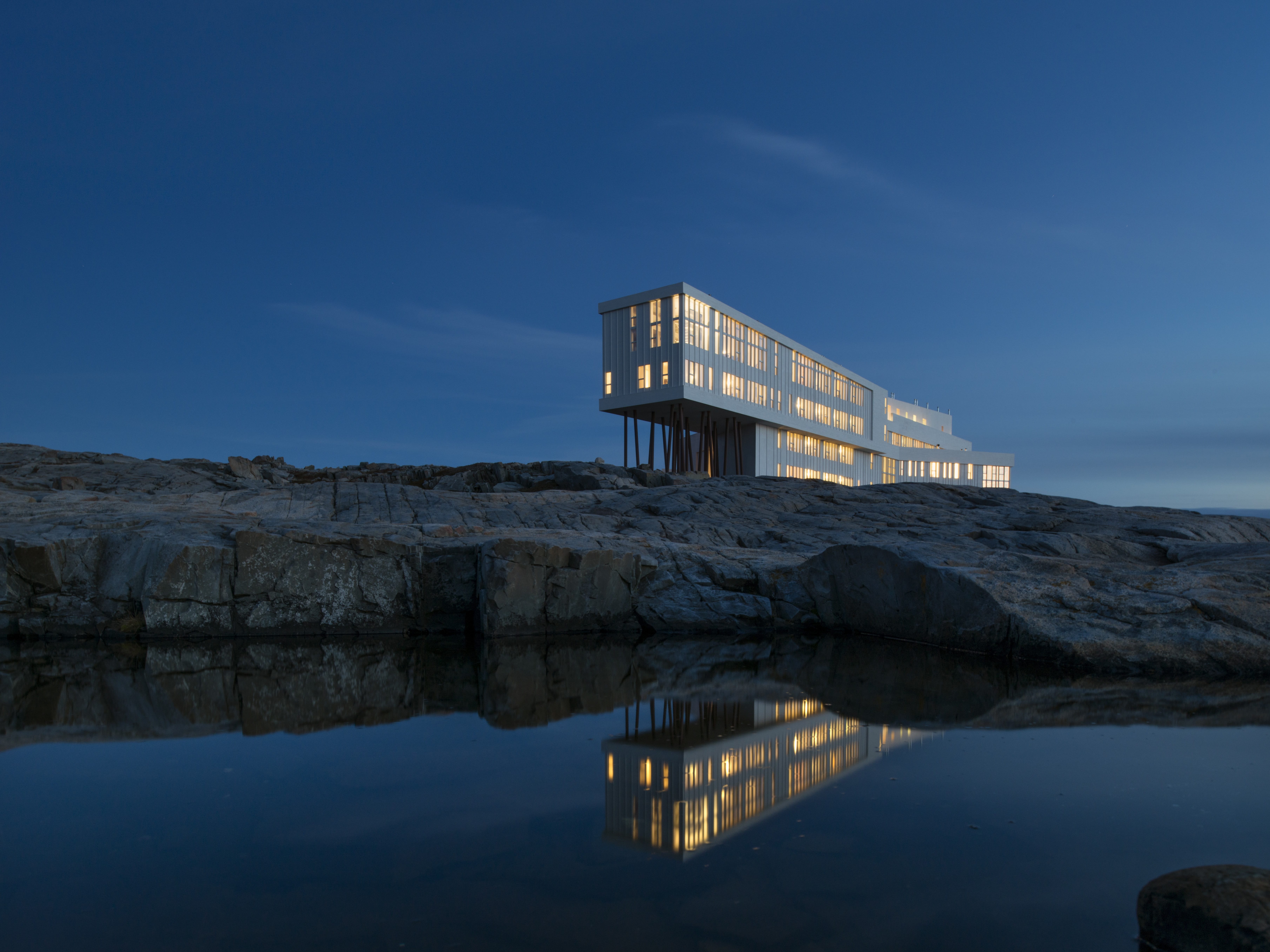 Fogo Island offers the luxury traveller some of the best reasons to visit Canada's windiest corner.
By Hattie Klotz
When the Fogo Island Inn opened in 2013, it immediately garnered glowing reviews from travel magazines worldwide, and shot to the top of my bucket list. Here was a wild and windy corner of Canada with a good and comfortable reason to visit—a place founded with purpose and packed with inspiring ideas.
However, when my husband announced last fall that we were on our way there to celebrate our 20th wedding anniversary, I was less than delighted. Our wedding anniversary falls on the Labour Day weekend. Of course, when you plan your wedding, more often than not you don't have school-aged children, so Labour Day means little more than the end of summer. But now it means school supplies, clothes, shoes that match, packed lunches and reams and reams of forms to sign—which arrive home daily during the first week of school. It's a really bad time to go away.
Coupled with the fact that it takes a whole day to get there, compounded by a really early start, I set out for Fogo Island in black humour. But as we put the miles between Ottawa and the island, my outlook began to lift. By the time we missed the boat from Farewell to Fogo and were forced to wait a couple of hours on the windy shoreline, there didn't seem to be a reason to be grumpy. We had no place to go, jellyfish floated off the dock in the clear green water and it was breezy and fresh, the perfect weather for blowing out the cobwebs from our busy lives.
We arrived on the Island in the early evening of Labour Day Monday and for our first night on the island, headed to a really cute house in Fogo, called Cabin by the Canal. We didn't see a soul, but in the island way, the door was unlocked so we simply made ourselves at home. With a large window overlooking a bay, screeching seagulls, pounding waves, alternating rain squalls and sunny breaks, the cabin was a great place to acclimatize. But it didn't offer any food. And since we hadn't spied another person, nor done any research to find a place offering food on Labour Day Monday, we risked a hungry night. But the Fogo Island Inn was happy to welcome us and we arrived at dusk to the towering monolithic structure that dominates the rocky shoreline.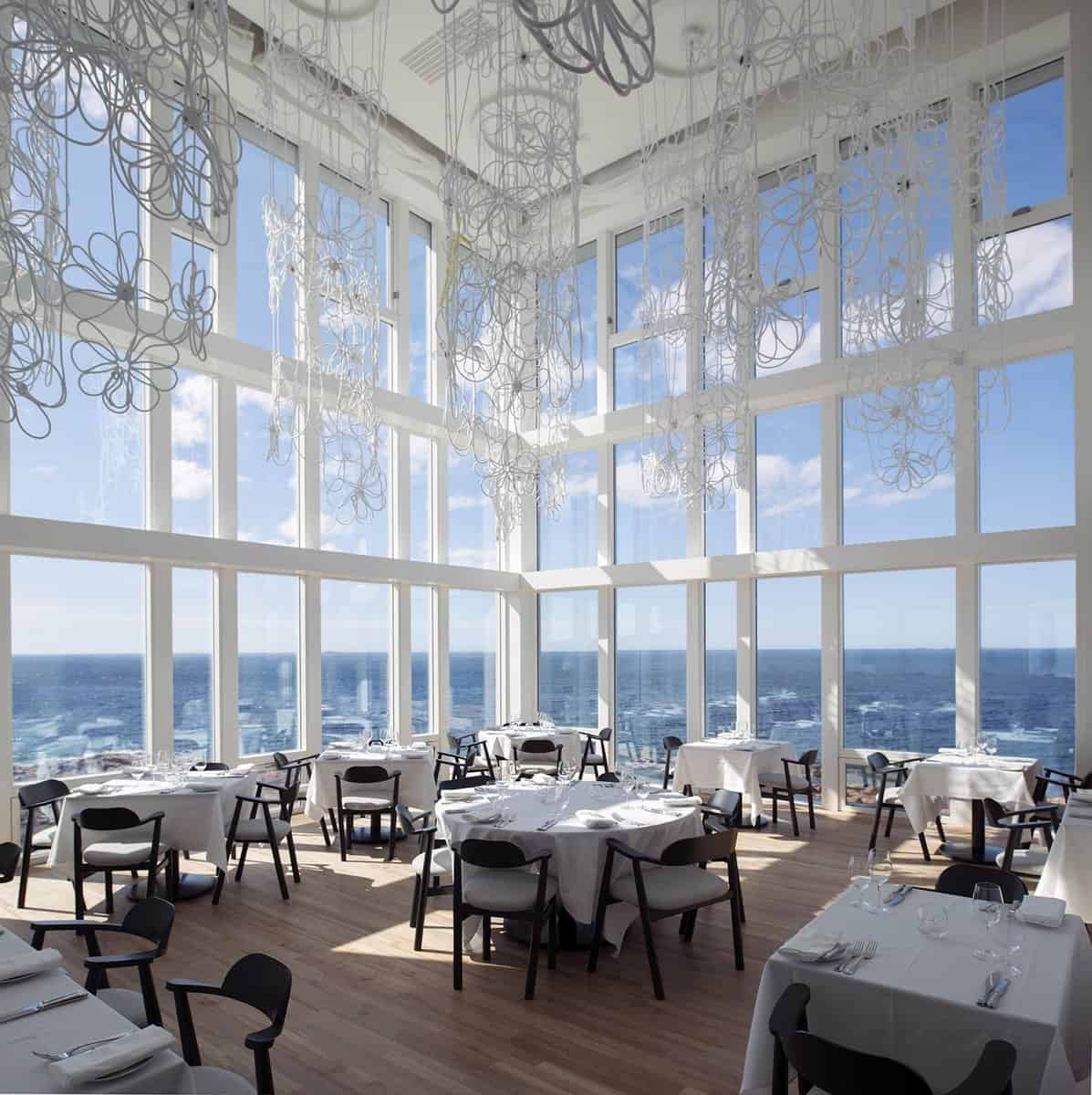 Much ink from accomplished architectural writers has been spilled discussing the design merits of the Inn. All I can add is that upon arrival, it's an extremely intimidating structure that resembles a high security prison from the exterior. But as soon as you walk through the front door, the warmth and hospitality, the textures and colours, the friendliness and smiles, all make you feel immediately welcome. It was the most extraordinary experience; I shed layers of stress and worry, the weight of heavy clothing sliding from my shoulders, as I stepped over the threshold.
Our first meal was as exceptional as our last. Loosely divided into four smallish-plate courses, we were encouraged to eat exactly how and as much as we pleased. A visual and gustatory feast appeared on the table. If food can sing, here was a whole choir. Sweet sugar snap peas were finely julienned for a crisp, green crunch, accompanied by smoky roasted baby tomatoes, a creamy aioli and seaweed; a fat flake of slow cooked cod appeared on top of a pile of creamy mashed potatoes, garnished with the salty tang of caviar and slivers of spring onion for the ultimate comfort food; salt water lamb was so tender it melted in my mouth. I ate lobster for breakfast, cod and more cod for lunch, pastries and endless cups of tea whenever I fancied them. A tray of tea and the most delicious fluffy scones followed us to our room upon check-in the following day.
Everything about Fogo Island says welcome: from the exceptionally friendly people (but you may need an interpreter as some of the island language is very colloquial), to the Inn itself, which offers an all-enveloping hug with simple but luxurious rooms offering stunning floor-to-ceiling window views over the pounding sea, blissful beds, sumptuous bathrooms and wood burning stoves. Hospitality is in the bones of islanders and with the tourists that the Fogo Island Inn has brought to this place, they're keen to share their history, their knowledge, their pride and their stories. While we were just two nights at the Inn and three days on the island, we felt like old friends.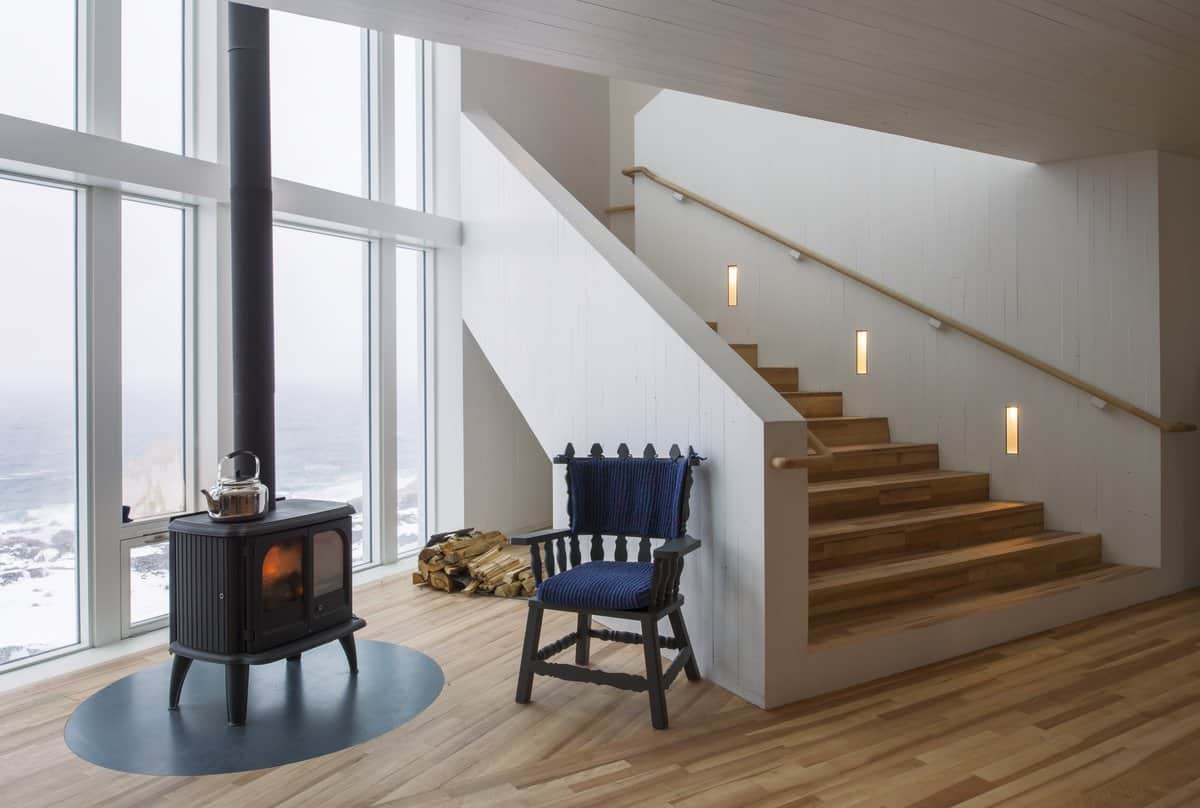 Founder and visionary Zita Cobb, who lives part-time in Ottawa, has been vocal about her purpose with her projects on the island. It's all about the place. The driving force behind it all has been a celebration of a sense of place. While this might no longer be a new idea, when Cobb floated the idea for a luxury inn and tourist industry on the island, many people thought she was utterly crazy. Who on earth would want to travel to the end of the earth, to visit a rocky patch of an island with a moribund cod fishery and a climate that can offer all four seasons in one day? Plenty of people, apparently.
The Fogo Island Inn has given the whole island a lift. For not only has Cobb created a luxury inn that offers unprecedented comfort in its simplest form (no televisions and minimal top spin), but she has rejuvenated industries that had all-but died out on the island, such as furniture making and boat building; she has brought art and artists to the island to foster a dialogue between international communities on the subject of place; she has made activities such as foraging for plants and berries, hiking on wonderful wild trails, storm, seal and iceberg watching, cod jigging, rowing punts, stargazing and enjoying a simple bonfire on the shore, wondrous again. These are activities that Fogo Island has to offer and they should be treasured.
On the back of the menus at the Inn, Cobb and her team dive deeper into this idea. "The food on your plate embodies a commitment to place—a commitment to Fogo Island. This Inn was built to hold on to what we know—to carry forward our culture, history and traditions. But it is not a museum. We want to find 'new ways with old things."
The whole experience is surprisingly contemporary, but at the same time traditional. Design is clean-lined and unfussy, but comfort is key. The Inn and artist studios dotted around the island convey the character of the place in a resolutely modern vernacular and have been widely celebrated in worldwide design magazines. Hospitality vibrates with old-world charm, but there's wifi everywhere. You can choose to disconnect or not, but it's most likely that you'll leave your responsibilities far, far behind when you board that boat from the mainland.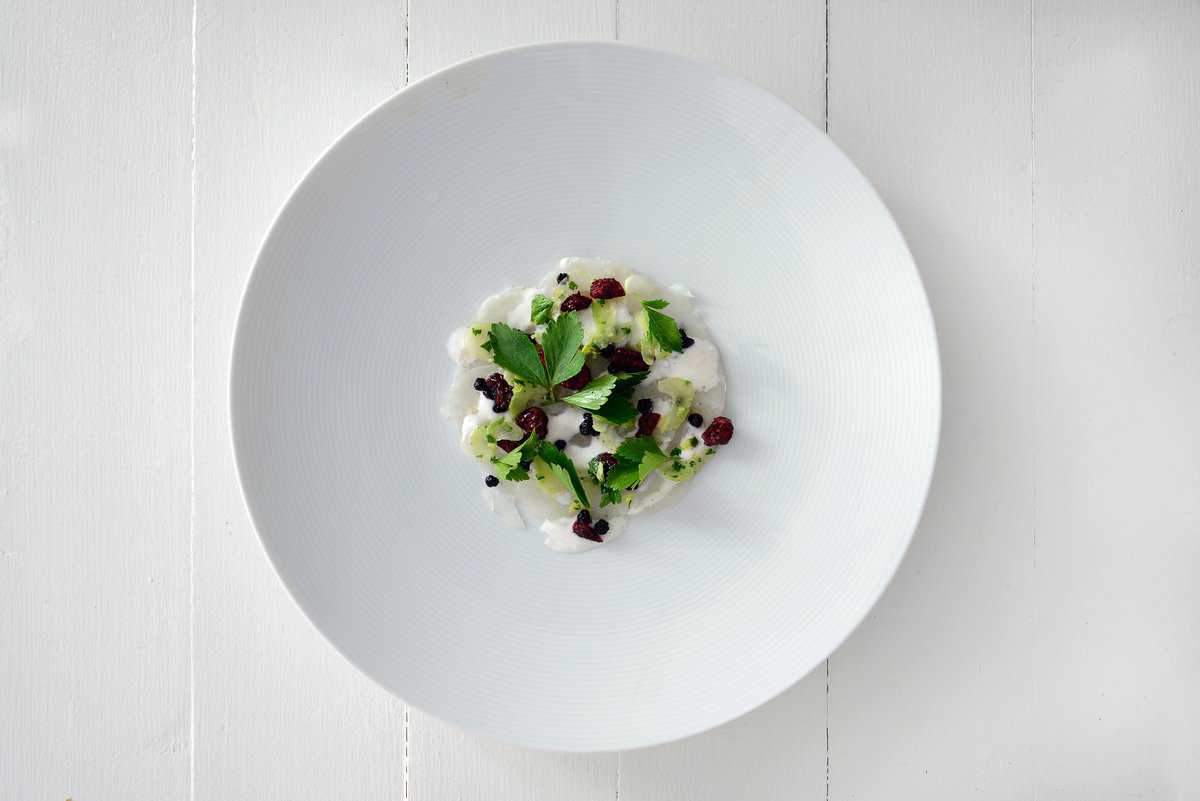 Back to the menu; "This is more than an Inn; it is a place with a social purpose," it says. And this is the important thing to remember. To stay at the Fogo Island Inn is breathtakingly expensive. But as soon as you understand that this is an act of philanthropy, that your stay at the Inn goes in small part to support a whole economy in one way or another, it doesn't seem expensive at all. In fact, the whole experience is such an utter joy you should stay for a week.
How to Get There
Fly to Gander, Newfoundland. Rent a car and drive one-hour 15 minutes to Farewell, where you can load your car onto the ferry. Schedules to be found at: tw.gov.nl.ca/ferryservices/schedules/c_fogo.html
Cabin by the Canal
Fogo, Newfoundland
cabinbythecanal.com
Fogo Island Inn
210 Main Road
Joe Batt's Arm, Newfoundland
fogoislandinn.ca