The islands of Tahiti offer an enchanting mix of adventure and high-style luxury
By Michele Peterson
A manta ray traces a lazy route beneath the glass-bottomed floor of my overwater bungalow, its silhouette dark against sapphire waters. I sprinkle a handful of fish food, watching as baby black-tipped sharks dart in a feeding frenzy inches from my fingers.
This is nightfall on the islet of Le Taha'a in French Polynesia. Wild, raw and untouched, these far-flung islands in the South Pacific have long been a lure for adventurous travelers. Yet, despite their legendary appeal, the 118 islands of this coral archipelago remain remarkably unspoiled. Many are still uninhabited. Here's where to experience the best of French Polynesia's pristine beauty and laid-back luxury.
Touchdown in Tahiti
In French Polynesia, high season runs from May to October. The dry season's sunny skies and low humidity make it an ideal time for exploring. With few rain showers, the crystal-clear waters are perfect for experiencing the thrill of snorkelling or diving with black-tip reef sharks, stingrays and tropical fish.
Most French Polynesian adventures begin on the island of Tahiti, an eight-hour direct flight from Los Angeles.
A top spot to launch explorations is the InterContinental Tahiti Resort & Spa, located just 10 minutes from Faa'a International Airport but a world away in atmosphere. Surrounded by lush gardens, it features 245 guest rooms including a collection of overwater bungalows, a freshwater infinity pool overlooking Tahiti's sister island of Moorea and a freeform pool complete with cascading waterfall.
Kept fresh by water circulating from the ocean, the property's lagoon serves as a natural aquarium — its protected waters ideal for even novice swimmers to snorkel with tropical fish of all sizes. The floral-scented island breezes are a warm invitation to further explorations of French Polynesia.
Wild isle of Huahine
Play castaway on Huahine, a small volcanic island located between Moorea and Bora Bora, that's a scenic 40-minute Air Tahiti flight away. Known as the "Garden of Eden" island due to its fertile soil and sacred mountain resembling a reclining pregnant woman, a stay here is reputed to rejuvenate body, mind and soul. Huahine's most luxurious stay is the Hotel Le Mahana where staff holding leis of fragrant gardenias, bougainvillea and ti-leaves, a plant revered for its magical properties, welcome guests to their beach bungalows.
Adventures include snorkelling, kayaking and paddle-boarding amid a vast coral garden set within the waters of the resort's magnificent white sand beach. Don't miss an excursion with Island Eco Tours to visit Huahine's marae (ancient stone temples). The tour also includes a stop at a vanilla plantation, an opportunity to watch fishermen tend their stone traps within Fa'Una Nui saltwater lake and a pilgrimage to see the island's sacred blue-eyed eels, rare marine animals that feed on fish tossed into the water as offerings by villagers.
Few things are as vital to Polynesians as music and Huahine offers many opportunities to experience this living art. Within the village of Fare, you may happen across locals playing ukulele and drum music while shoppers browse the open-air market. Or, wrap up your evening with dinner at Hotel Le Mahana where folk dancers tell the stories of the islands through Ori Tahiti, a swaying dance movement similar to hula.
Le Taha'a the vanilla island
While overwater bungalows first made their debut in French Polynesia in 1967, fifty years later they're more popular than ever. Just a 20-minute flight from Huahine is the secluded island of Le Taha'a — accessed via boat from the larger island of Raiatea. Here you'll find Le Taha'a Island Resort & Spa, a luxury hideaway featuring 57 posh suites and villas including 45 iconic overwater bungalows with 360-degree views.
A member of the prestigious Relais & Chateaux collection, this private resort set on its own islet features all the amenities of a five-star resort. Guests enjoy a free-form infinity pool, three restaurants and a wealth of non-motorized water sports including snorkel gear for exploring the on-site coral garden. Other diversions include a full-service spa, tennis and a Tahitian pearl shop, all built in harmony with the natural setting of graceful bamboo, palm trees and floral gardens.
You can also find your own personal paradise by boat. The island of Raiatea is a port for Tahiti Yacht Charter, a specialist in luxury catamaran sailing offering private cruises in durations from four to seven days with itineraries that include Huahine, Raiatea and Bora Bora. The fleet of 30 spacious catamarans come fully provisioned and staffed with experienced skippers, chefs and guides, leaving you to relax and discover the secrets of Polynesia while effortlessly gliding through azure waters. Adventurous travellers should opt for the private scuba-diving option with instructor and equipment aboard.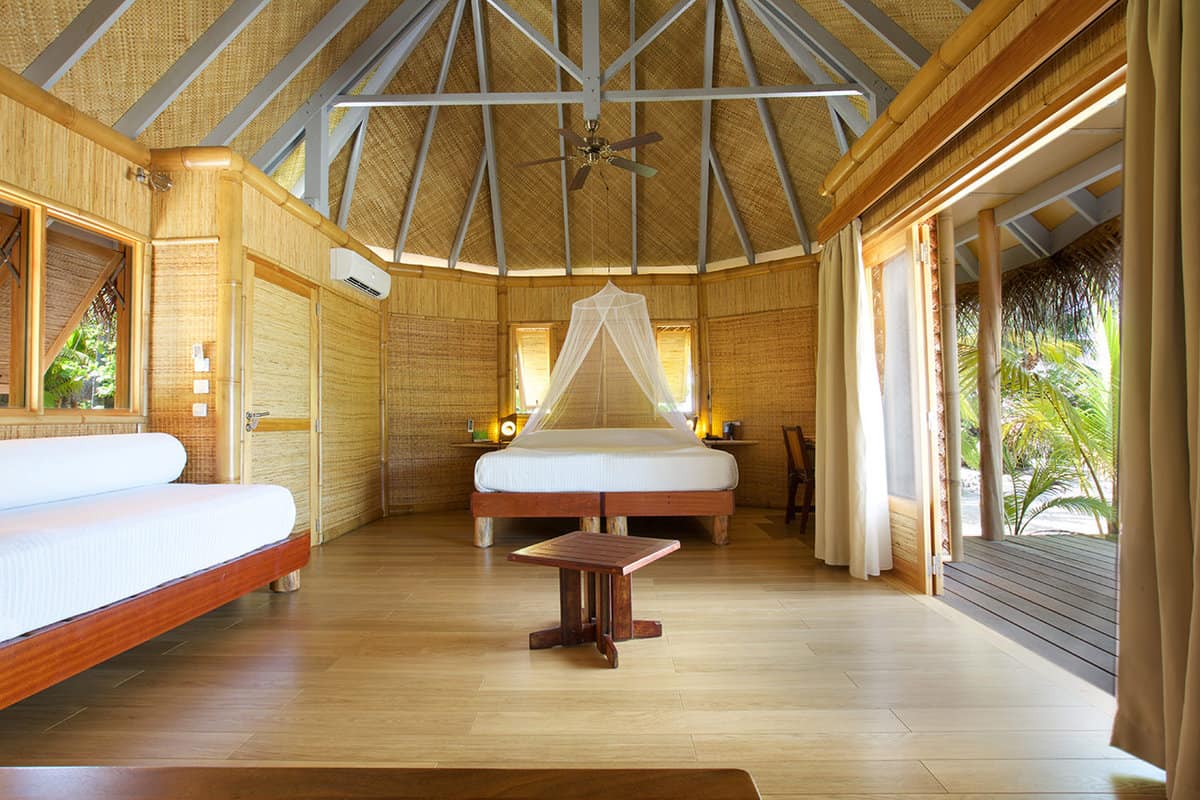 Tantalizing Tikehau
For the ultimate in laid-back luxury, head to the even more remote, tiny coral ring of Tikehau. Located northwest of Tahiti just a 55-minute flight away, it's home to the enchanting Tikehau Pearl Beach Resort. Your best option here is to opt for one of the 12 luxurious bungalows tucked within a wild coconut grove and set directly on a pink sand beach. Topped with a thatched roof made from coconut palms, these spacious teak-lined cottages feature AC, private decks and indoor/outdoor washrooms overlooking a tropical garden. Guests can also enjoy the resort's infinity pool, open-air restaurant and full-service Manea spa featuring natural products sourced in Polynesia such as pineapple from Moorea, vanilla from Taha'a and flower essences from the Marquesas.
The lagoon surrounding this island is one of the richest in marine life, so it's an ideal location to book a dive excursion or go snorkelling among coral gardens dotted with fluttering sea fans. Step into the crystalline waters and within minutes you'll be welcomed by schools of sergeant majors, bright blue parrotfish and even titan fish.
Culinary fans looking for an unforgettable experience should register for the resort's private cooking class on a remote motu (small islet). You'll travel across a seemingly endless expanse of Pacific to a speck of sand ringed by coral and dotted with spiky Pandanus shrubs. There, chef Bachou Raufau will grill red snapper and demonstrate how to make poisson cru, Tahiti's national dish featuring raw tuna marinated in lime juice and mixed with a delicious blend of diced vegetables and coconut milk.
These evocative experiences are why people continue to be drawn to French Polynesia. More than just a slideshow of beautiful scenery, a journey to the South Pacific is the sum of ancient cultural rhythms layered with boundless opportunities to explore.
Travel Planner
Official Tahiti Tourism: tahiti-tourisme.com
Hotel Intercontinental: tahiti.intercontinental.com
Le Mahana Hotel Huahine: lemahanahotel.com
Le Taha'a Resort & Spa: letahaa.com
Tikehau Pearl Beach Resort: tikehaupearlbeachresort.com
Tahiti Yacht Charter: tahitiyachtcharter.com
Air Tahiti: Air Tahiti Nui flies direct from Los Angeles International Airport (LAX) to Faa'a International Airport in Papeete, Tahiti. The flight takes eight hours and departs in the late evening. airtahitinui.com
Hilton LAX: A great option for travellers who want to unwind during their LAX layover, is to purchase a day-pass to the upscale Hilton Los Angeles Airport Hotel, near the airport. Enjoy complimentary shuttle service, a heated outdoor pool, 24-hour fitness centre, four dining options and more. Call 310 410-4000 or losangelesairport.hilton.com
Michele Peterson is an award-winning travel writer who specializes in writing about food, drink and sun destinations. Her work has appeared in Conde Nast, Fodor's, Lonely Planet, the Globe and Mail and more than 100 publications. She can be reached at www.michelepeterson.com.