By Marg Russett
Far from the madding crowd, St. Lucia is about as close to tropical bliss as you can get.
Nestled amongst the 7000 Caribbean islands, St. Lucia is a rare gem.

When you think of the Caribbean, St. Lucia does not spring instantly to mind. That's part of what makes a getaway to this idyllic destination so attractive. Prized by discerning globetrotters, this little island delivers enormous pleasure, extravagant beauty and an abundance of topnotch attractions. At just 14 miles wide and 27 miles long, it's a gem.
As a Windward island in the Lesser Antilles chain, it's well off the regular tourism track, and as one of the most exclusive islands in the Caribbean, it's at the heart of the West Indies' tropical mystique. With the Atlantic to the east and the Caribbean Sea to the west, its shores are lapped by waters in mesmerizing shades of blue and turquoise. Home to lush rainforests, fabled mountain peaks, picturesque waterfalls and glorious beaches, the island is also steeped in enough history, culture, amenities and leisure opportunities to captivate even the worldliest of wanderers. The most "Instagrammable" site in St. Lucia is the legendary Pitons: two ethereal volcanic mountains—the Gros Piton and the Petit Piton—that soar skyward from the deep blue sea and that are linked by the Piton Mitan ridge. Not only are the Pitons a world heritage site, they're an irresistible magnet for climbers and hikers. Castries is the island's capital city and it's notable for its dining scene, lively markets and cultural landmarks, from the Cathedral of the Immaculate Conception to Sir Derek Walcott Square.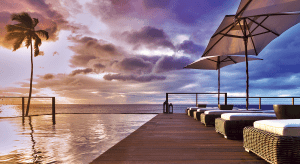 Across the island, English is the predominant spoken language, and the average temperature is a balmy 27 C in the winter. Wherever you go in St. Lucia, from the Rodney Bay area and Reduit Beach in the north to scenic Marigot Bay and Soufrière on the west coast, there are loads of opportunities to explore, sightsee, sample cuisine, hit the waves, lounge on the sand and embrace new adventures. For instance, you can zipline in the rainforest, ride a horse on a beach, and play in the mud—in the best possible ways— at the Sulphur Springs, the world's only drive-in volcano. Located in Soufrière, this unique attraction offers tours of the dormant volcano, where you'll see boiling mud, and then skin-soothing mud baths followed by a natural rainforest shower at the waterfalls.
Check out the Mamiku botanical gardens, on the site of a long-ago plantation, explore historic Pigeon Island, and discover the exotic blooms and birds at Diamond Falls Botanical Gardens and Mineral Baths. If you're a history lover, you'll be fascinated by the yesteryears of this palm-fringed paradise. The first known settlers were the Arawaks, who arrived around 200 AD. They were usurped by the Caribs in 800 AD and it wasn't until the 1600s that the Europeans showed up to stake their claim. After that there were clashes aplenty for command of the "treasured" island, particularly between the French and the English. Over time large plantations were established to grow crops and it was the French who, in 1746, named St. Lucia's first permanent settlement, the legendary Soufrière.
Today, picturesque Soufrière is a popular destination thanks to its many sightseeing spots, from world famous Anse Chastenet Beach to Morne Coubaril Estate. Accommodation choices are second to none.
UNFORGETTABLE SUGAR BEACH
That's instantly apparent when you arrive at Sugar Beach. Spanning more than 100 acres of lush rainforest at the base of the Pitons near Soufrière, this celebrated resort boasts a setting that's absolutely gorgeous. Once upon a time it was a sugar planation, and even now it retains some 18th-century charm to complement its dazzling white sand beach and surroundings. The hospitality is also impressive, encompassing everything from butler service to a private plunge pool for each guest room.
On-site lodgings include luxury guest rooms, beachfront bungalows and villas, plus the amazing new Beachfront Collection homes. These five ultra-luxe residences are spectacular, and a tour reveals all the many reasons why. For instance, their architectural design highlights the allure of the natural environment, and delivers glorious, unrestricted views of the water and the Pitons. Seamless indoor-outdoor living space, maximum privacy, access to Glenconnor Beach, outdoor showers, full-height sliding glass doors and infinity pools are just a few of their other perks.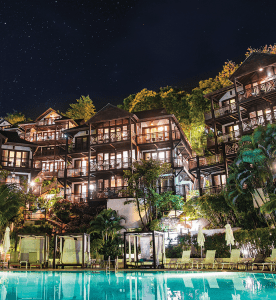 Truly, there are tons of perks at Sugar Beach. Wherever you stay on the property, you'll wake up to views that are arresting and to possibilities for enjoyment you may never have imagined. Certainly you'll want to spend time in the Rainforest Spa. Its treatment rooms are tree houses nestled high above the forest floor. The resort's dining and drinks offerings are also appealing, with options ranging from English tea and casual Caribbean fare to fine international cuisine and inspired cocktails. On the beach, Bayside Restaurant serves up casual a la carte fare for lunch and dinner, with everything from gourmet pizzas to seafood. The Terrace dishes breakfast favourites along with family-style dinner, and its breakfast spread includes a smoothie bar. For dinner, you'll want to experience The Great Room. Imagine candlelight, chic ambience and colonial charm combined with superb Caribbean-influenced gourmet fare. When it's cocktail time, you can sip on a passion fruit mojito or Sugar Beach punch at the Bayside Bar, right on the shoreline. At the Cane Bar, a specialty rum bar, a professional rummelier is on hand to guide you in sampling the best rum from around the world. In this lounge there's an Asian-inspired menu to complement your libations. Finally, the Palm Court Lounge is the place to go for traditional English tea, with all the trimmings, in the afternoon. Later in the day, it's a lovely spot for cocktails or a glass of wine and some nightlife.
As for activities, there's no shortage of choices; they include tennis, beach volleyball, windsurfing, sailing, kayaking, snorkeling scuba diving, tubing and waterskiing. viceroyhotelsandresorts.com/en/sugarbeach.
MARIGOT BAY RESORT AND MARINA
Another island treasure is Marigot Bay Resort and Marina, a privately owned five-star hillside resort at heavenly Marigot Bay. Dubbed "the most beautiful bay in the Caribbean" by novelist James Michener, this legendary island destination is beloved by luxury vacationers and yacht owners. You'll see why. It's right on the marina, with 200-foot yachts, and steps from Marina Village, with its high-end shopping, restaurants and other attractions.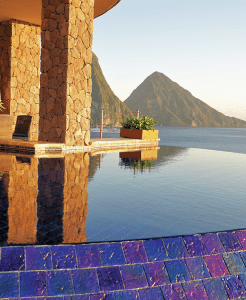 We were welcomed for a private rum tasting and lunch at the resort's Rum Cave. Fashioned after a rum distillery from bygone days on the island, this intimate enclave is a heady spot to soak up an authentic Caribbean experience. The food is great too.
Welcoming guest suites, two infinity pools, and upscale island dining at The Grill at 14⁰61⁰, the resort's signature restaurant, are other highlights here. There are all sorts of experiences on offer too, from cocoa tea making and a signature cocktail class to spa time, snorkeling and a body scrub workshop. And when you want a little beach time, there's a complimentary scheduled ferry that whisks you, in just a couple of minutes, to a picturesque slice of sand that extends into the bay. marigotbayresort.com
MYSTIC MAN TOURS
In St. Lucia, you'll want to spend time on the water. Mystic Man Tours makes it easy. Based in Soufrière, this company has a fleet of eight vessels and offers a wide variety of ocean adventures, including whale and dolphin watching, sailing, deep-sea sport fishing, and sunset cruising. We did a full-day catamaran cruise and it was a lot of fun. The sunset cruise, offered twice each week, covers the inner bay of the Pitons in high style, with drinks, hors d'oeuvres and dancing. And if you want to see St. Lucia's coral reefs and marine life, there are snorkeling excursions and glass-bottom boat tours. mysticmantours.com.
JADE MOUNTAIN
Named one of the world's top 100 hotels and the number one resort in Saint Lucia, at Travel and Leisure's 2019 World's Best Awards, Jade Mountain is another extraordinary enclave on the island. We enjoyed champagne at sunset followed by dinner at this acclaimed locale, and the experience is not to be missed.
There are fewer than 30 suites here and they're designed so that guests have a sense of being aloft in the sky and at one with the mountains.
Individual bridges lead to private sanctuaries, all with an open fourth wall to offer views of the Pitons and the sea. Most suites have their own infinity pools. Major-domo butlers are assigned to each guest, and the food is sublime. Jade Mountain has its own organic farm, Emerald Estate, and chocolate is handcrafted from the estate's own cocoa trees. The signature restaurant, Jade Mountain Club, dishes up feasts for the senses, plus special culinary events. jademountain.com.