Story and Photos by Janet Dorozynski, DipWSET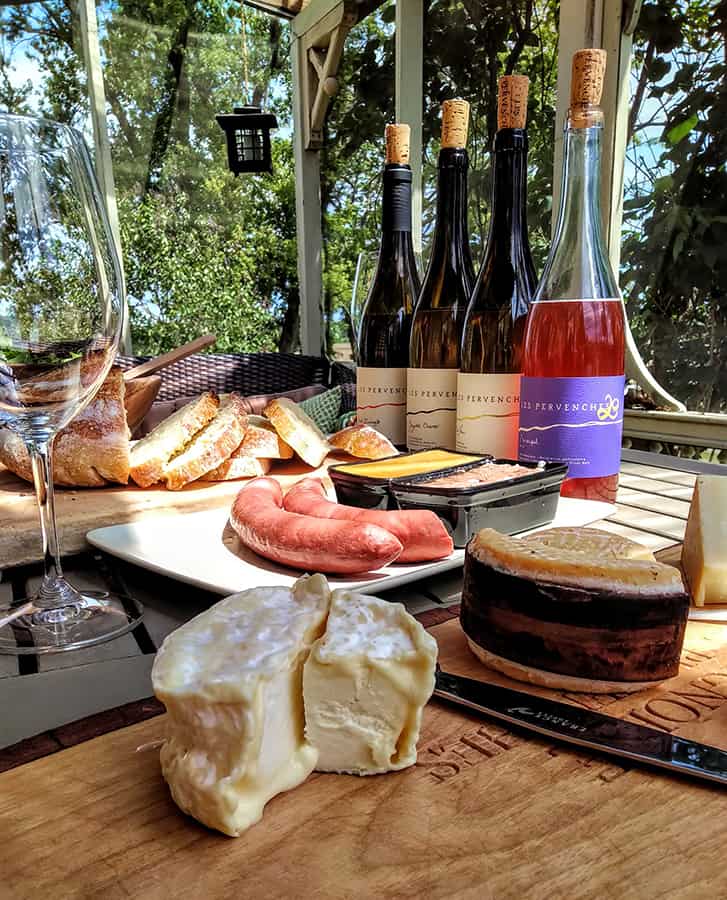 There has been a quiet revolution underway in the Quebec wine industry but if you have yet to taste or hear much about Quebec wine, you are not alone. Although Jacques Cartier saw native North American vines vitis riparia growing wild on the l'île d'Orléans near Quebec City, and Samuel de Champlain unsuccessfully tried to grow vitis vinifera almost 500 years ago, the modern Quebec industry is just over 40 years old. Most of today's vineyards were planted in the 1980s with the Domaine des Côtes d'Ardoise opening in 1979 and Quebec's oldest vineyard still in operation. It is only in the last decade or two that we have seen an evolution in terms of both quality and innovation that has brought about a critical mass of wineries and quality wines.
Wine Growing Regions

Production levels and plantings are still small in comparison to Ontario and British Columbia, with approximately 800 hectares under vine. Nonetheless, this represents a 30 per cent increase since 2016. There are over 150 wineries, compared to Nova Scotia's 18, with total Quebec production still tiny by global standards at just over three million bottles per year.
Quebec has seven growing regions mapped out according to climate, soil and topography, the latter resulting from the inland seas of the last glacial period that created the majority of Quebec's agricultural lands and terraces along the St. Lawrence Valley. While summers are warm and sunny, winters can be difficult for grape growing. The Quebec industry has risen to the challenge with many wineries either burying their vines or, now more commonly, blanketing their vineyards in geothermal textile coverings to protect them from the cold.
Numerous wineries are concentrated in the Richelieu River Valley, Appalachian Foothills and Monteregian Hills that span from the southeast of Montreal to Sherbrooke. There are also wineries in regions to the north of Montreal and south of Quebec City, where Vignoble Ste-Pétronille has been making wine in the microclimate of the Ile d'Orleans since 1988. There is even a winery on the Iles–de-la-Madeleine and a clutch of wineries across the river in the Outaouais, one of the province's emerging regions.
Vin du Quebec = 100 per cent Quebec Wine

As of 2018, Quebec wines also have their own appellation of origin system, similar to VQA in Ontario and British Columbia. The Protected Geographical Indication (PGI) Vin du Quebec symbol guarantees a wine is made from 100 per cent Quebec grapes from the defined growing region, and has passed a tasting panel to ensure it is typical of the grape variety and free from defects.
Some would argue this has contributed to boosting the quality of Quebec wine; I believe many of the quality advances have resulted from wineries better understanding how to best grow and vinify their grapes. It shows in the glass.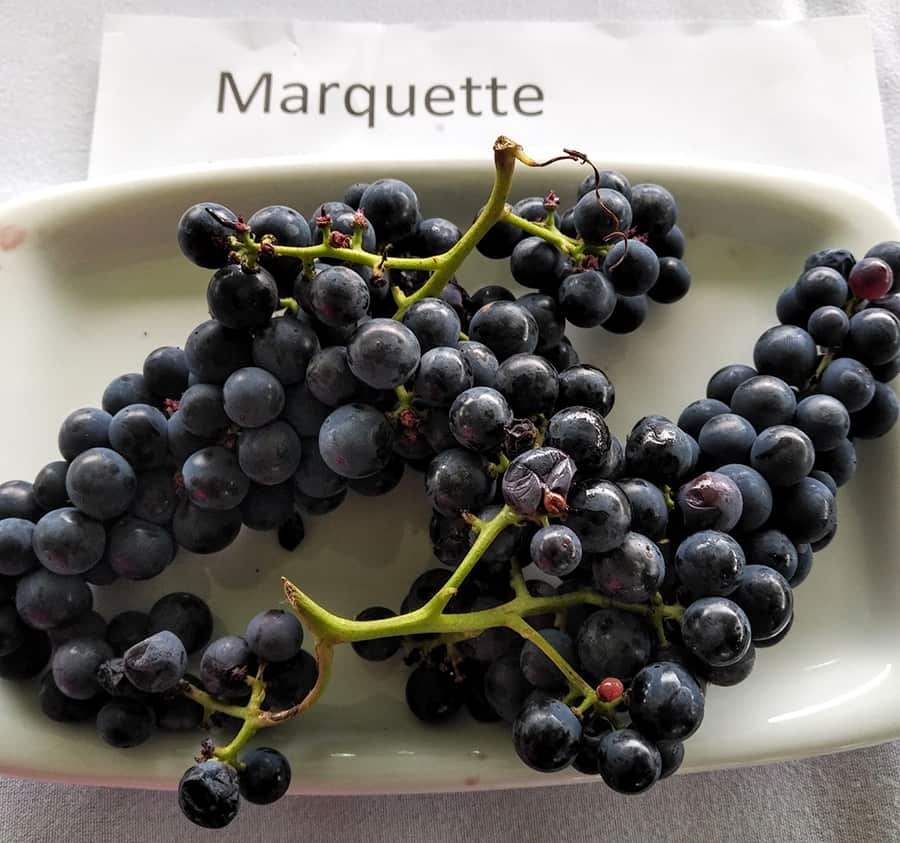 Get to Know the Grapes

Just as Quebec is distinct from the rest of Canada in terms of language, culture and joie de vivre, so too is the array of grape varieties grown there. While we are starting to see increased plantings of vitis vinifera varieties such as chardonnay, pinot noir and riesling, along with curiosities like the Swiss variety gamaret and a few others, they represent less than 10 per cent of the total acreage.
More common are the cold-hardy hybrid grape varieties from the University of Minnesota Horticultural Research Center, where, since the mid 1980s, vines have been researched and bred to survive winter temperatures as low as -40C. The varieties have names that are unknown to the average wine drinker, with frontenac noir (and gris and blanc), marquette, St. Croix, Vandal-Cliché, St. Pepin and sabrevois commonly found in Quebec vineyards. There are also French hybrid varieties like vidal, seyval blanc and maréchal Foch.
While the taste profile of some of these varieties is unfamiliar to many wine drinkers, there is none of the foxiness historically associated with hybrid varieties. What's more, a good number of Quebec wineries have started to identify which varieties are well suited not only to their specific sites but to the types of wine they want to make.
Wine Styles and Scarcity

All styles of wine are made in Quebec: white, rose, red, fortified, sweet and sparkling, including traditional method and pet nat. That being said, many of the whites outshine the reds, and sparkling wine is proving to be a real winner. Last summer I co-hosted an Instagram Live two-part series on Quebec sparkling wine and can say both the quality and range of sparking wine coming out of the province is something to celebrate. There is also a small but growing number of producers making orange or skin-contact wines, with some also making very interesting natural or low-intervention wines.
Like most in Canada, Quebec wineries are small in size and scale; that means it is not always easy to find the wines. Though L'Orpailleur is the largest and one of the oldest wineries in the province, dating back to 1982, it has less than 40 hectares under vine.
Many Quebec wineries produce so little they cannot satisfy demand, and sell their stock long before the next vintage arrives. Devotees sign up to winery-run wine clubs to ensure they snag a limited yearly allocation. There is also a growing number of Quebec wines on offer at the SAQ. It recently named the lovely L'Effervescent sparkling wine from organic and biodynamic Domaine Bergeville as its 100th year anniversary feature wine.
Not only are more Quebec restaurants carrying Quebec wines, some have made their way further afield. The wines of Les Pervenches, Domaine du Nival and Pinard et Filles are listed at Racines in New York City, where sommelier-owner Pascaline LePeletier is keen to shine a light on natural wines and those from hybrid grape varieties that abound in Quebec. Closer to home, Soif Bar à vin in Gatineau has been featuring wines, ciders and spirits of Quebec since it first opened.
In addition to Quebec wines, the ciders are not to be missed; they include still, sparking and of course ice cider, that unique and delightful invention by Christian Barthomeuf of Clos Saragnat. The same goes for mead, in particular the delicious still and sparkling meads from Hydromel Desrochers that are among the finest I have ever tasted.
So when we can travel again, be sure to check on Quebec's burgeoning wine routes or head over to your "local," near or far, for a taste of La Belle Province.
A Mixed Case of Quebec Wineries Worth Tasting:

Domaine Bergeville
Domaine du Nival
Domaine St-Jacques
Léon Courville's Domaine Les Brome
Négondos (Quebec's first organic vineyard)
Vignoble de la Bauge
Vignoble Camy
Vignoble La Cantina
Vignoble et cidrerie Coteau Rougemont
Vignoble du Marathonien
Vignoble Les Pervenches
Vignoble Pigeon Hill