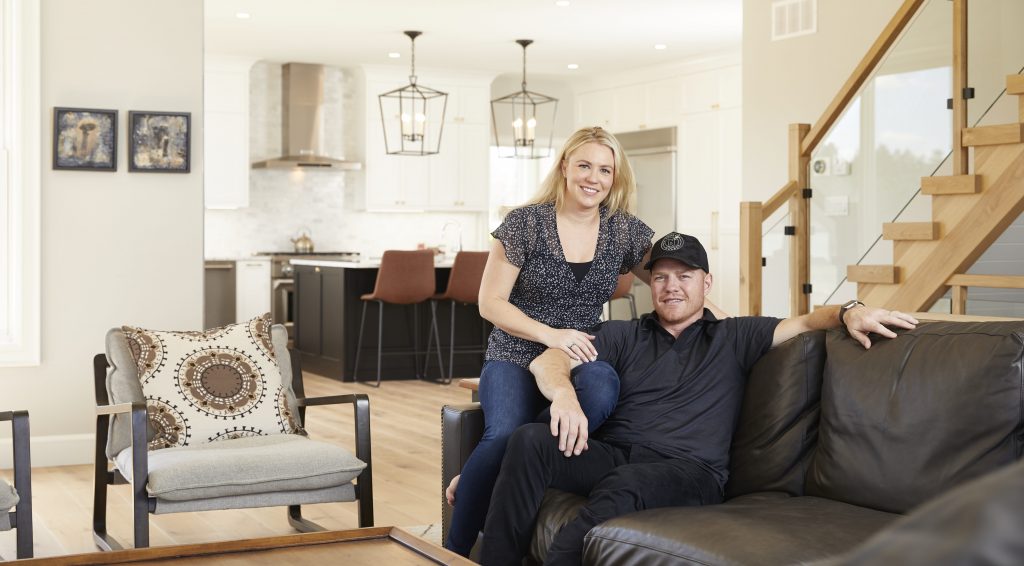 Former Ottawa Senators right winger Chris Neil and his wife Caitlin have stickhandled the construction of their new luxury home.
Story by Pam Dillon, Photos by Miv Fournier
Most people don't have the know-how, nerve, contacts or time to build their own home without using an architect and designers. Chris and Caitlin Neil aren't most people. In a few short months, the former Ottawa Senators right winger and his lovely wife constructed a 3,800 square-foot, two-storey residence in an affluent rural Ottawa enclave. Not only did they stickhandle the project while ferrying their three kids to hockey practices, they designed a house to make the very best of busy family life.
A look around the place confirms Chris and Caitlin are anything but rookies at this. After building a cottage at Calabogie Lake and then building their former home in this same neighbourhood, they knew exactly what they wanted and where they wanted it. For instance, since their kids are growing—Hailey is 12, Cole is 10 in September, and Finn is seven—mom and dad wanted more storage and functionality, along with less home maintenance. Their priority list also included lots of windows, a backyard-facing screened-in porch with a fireplace, an upstairs laundry room and, for Caitlin, a closet the size of a bedroom. For Chris, a big detached garage was a 'must' because he likes to tinker.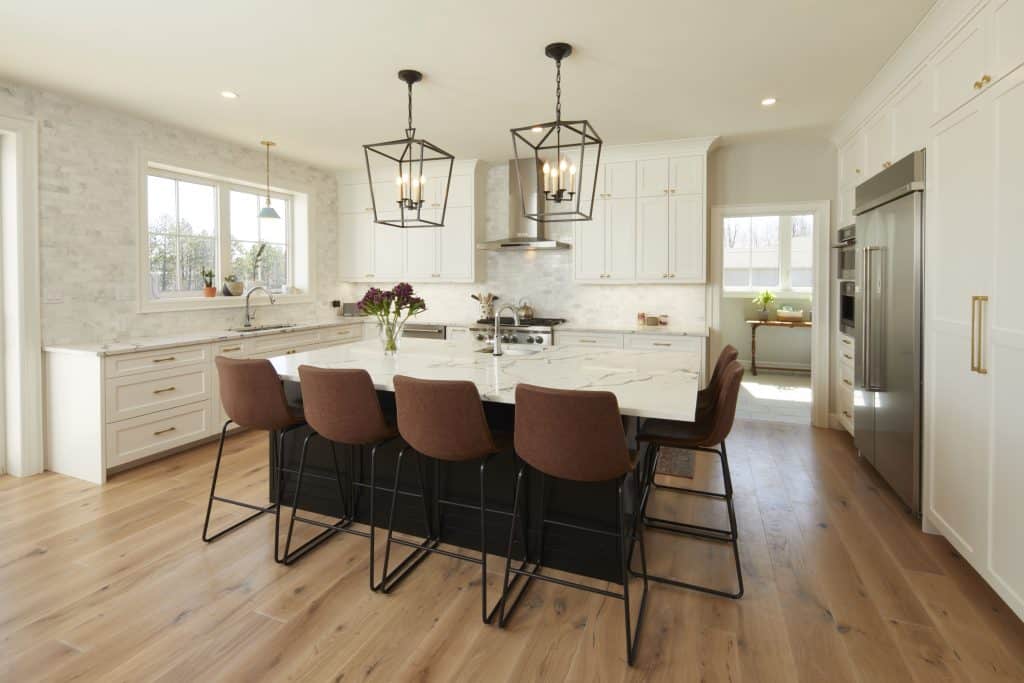 Now comfortably settled at the new address, they are happy with how their plans and teamwork have played out. On a gloomy weekday morning, they're seated at the striking quartz-topped island in the beautiful, light-filled kitchen. "It's so much brighter," Chris says of this inviting space at the heart of their home. Big windows, marble subway tile and statement lighting shine in a layout that lends itself to socializing and easy indoor-outdoor living. Beside the three-season screened porch, there's also a sizeable deck area off the kitchen.
As the adults chat, they can see Finn, the youngest, make his way down the custom wood and glass stairway to the kitchen. He's home from school, sick, but he's hungry so he scampers over to the island and takes a seat. While his mom makes toast, she talks about the striking staircase at the centre of the household. Created and installed by a local company, Aleika Stairs and Rails, it's a focal point and she says, "I just love it."
As a design element, it also complements the European white oak flooring that flows through the living areas. The hardwood is from Logs End and its contemporary beach finish lends the main floor a chic, casual elegance.
It's the home's functionality, though, that really pleases the Neils. There's little wasted space, they agree. "It feels like we used every square inch," Caitlin comments. How they've used space is another matter entirely. If you have kids and any plans to build or renovate, it's worth taking notes. The mudroom is a wonder to behold, especially for those who involuntarily shudder at the words "open hockey bag" or "airing out equipment."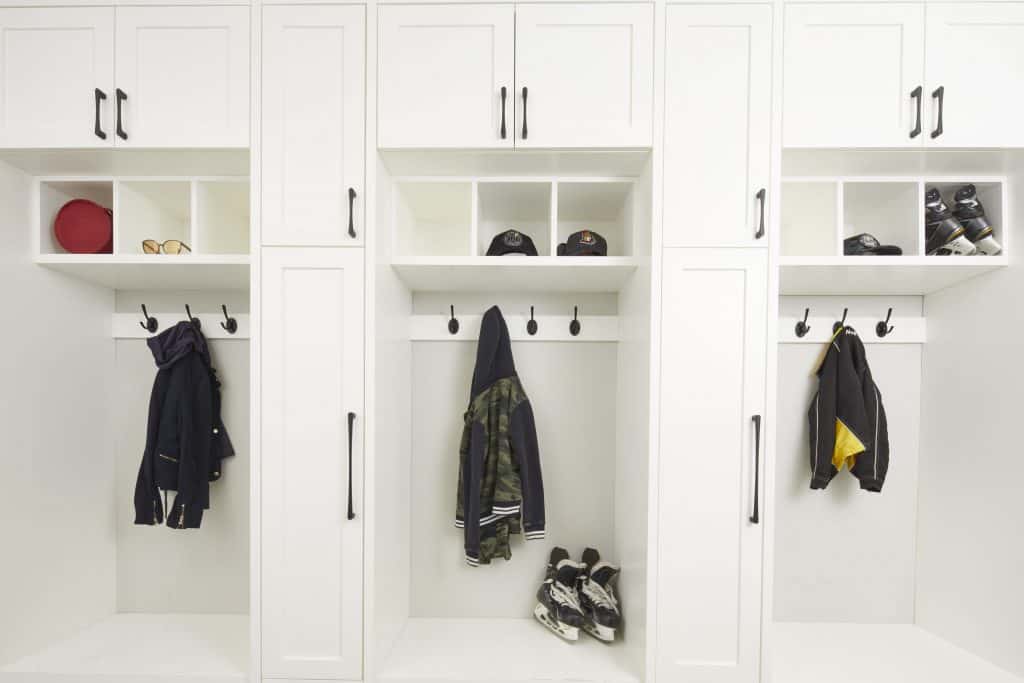 Situated behind the kitchen, with a big feature window in view, this inspired set-up spans the full depth of the house and has exit doors at both front and back. There is built-in storage galore, including roomy spots for each family member to dress for the outdoors and to put away belongings. Better yet, a washer and dryer are concealed behind doors so that incoming sports equipment can be effortlessly cleaned. "The functionality is unbelievable," Chris notes. Since an outdoor rink is planned for the backyard, the mudroom's conveniences will come in handy.
BUILT FOR EASY LIVING AND ENTERTAINING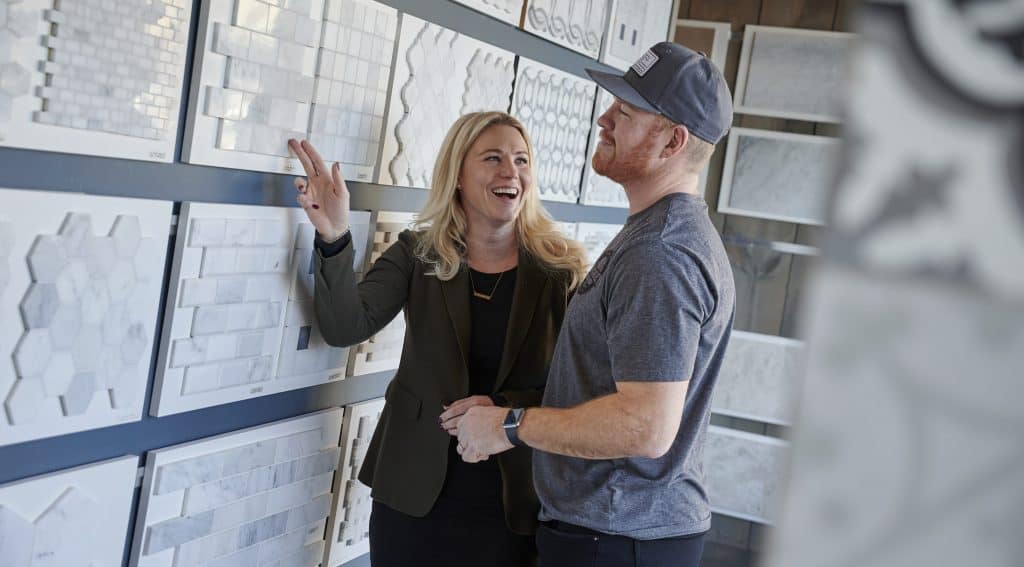 Upstairs, another laundry room makes life easy. In the dining room, there's a bar area (and a wine feature in the works) to make entertaining a snap. And at the back of the oversized detached garage, a change room ensures it's effortless to get skates on and off. When the project was still at the framing stage, the couple said they put a lot of thought into the layout, and the needs of their family. Now that consideration is paying off. As general contractors for the build, they hired the trades, picked the materials, organized the timelines and made the decisions. "We regularly had morning meetings to review the budget and materials and what was next," Caitlin says. "We were organized," Chris adds, "and that's half the battle—to have everything lined-up to keep things rolling and your project moving when there are hiccups."
Chris's brother Dan, of D Neil and Sons Excavating and Landscape Construction, was part of the project and he'll be back again when exterior plans kick into gear. In fact, Chris and Cait have high praise for many of the suppliers and trades involved in the construction, including Justin Chambers of JC Contracting. "He was such an amazing resource and super hard-working," says Cait, adding, "We seemed to employ quite a few young guys who were awesome, awesome workers."
Chris set the example. Back in his NHL days, he was famous for his work ethic and leadership, and while building this house he was onsite every day, often putting in 10-hour days.
The upshot of all this, is that the Neils managed to build and move into a new house they love in six months. "That's unheard of," Chris remarks, with a grin. Until now.
PRODUCT AND SERVICE SUPPLIERS
D NEIL AND SONS EXCAVATING AND LANDSCAPE CONSTRUCTION · BECK ELECTRICAL CONTRACTING · SALTILLO TILE AND STONE · LOGS END · BOWEN WINDOWS · CORBEIL APPLIANCES · HOME HARDWARE STITTSVILLE · JC CONTRACTING · KEN ZEGGIL CONSTRUCTION INC. · BOONE PLUMBING AND HEATING SUPPLY INC. · SJ PLUMBING · TOWN MECHANICAL · ALEIKA STAIRS AND RAILS · MERKLEY SUPPLY · ZANUTTA PAINTING · WEST END FORMING