Hurst Marina is a one-stop destination for all your boating needs
By Patrick Langston
Do you know what "coving" means? If so, you're likely a veteran boater. If not, it's the trending practice of boats tying up closely together in a cove so that everyone can swim, socialize and carry on in the fraternal way that boating enthusiasts so often do.
Onboard life brims with such simple pleasures, and those pleasures
are more important than ever, say those who cruise our waterways.
"We all live high-pressure lives. The river is the escape," says Randy MacDonald, who's been piloting his ever-larger boats out of Hurst Marina on the Rideau River in Manotick for the past decade. He says that unlike your home, which requires endless work to maintain,
"there are only so many things you can do to a boat, and then you relax. It's a family time and brings you together; your focus is on them."
MacDonald, a senior executive with a large building materials company, has vaulted up the boat ownership ladder from his original 20-footer to "The Bickersons," which is what he's named his current 44-foot Meridian 441 Flybridge sport yacht. It has all the luxuries of home, including air conditioning and multiple televisions.
"It's never about the size of the toy; it's what you do with it. I'm all about how many people I can put on the boat and entertain." His three children, teens when he bought his first boat, are now adults, but still show up to share water time.
MacDonald and his wife, Lisa MacDonald, enjoy summer weekend getaways on their boat, as well as annual, 18-day vacations on the water. A favourite route takes them on the watery triangle connecting Ottawa, Kingston, Cornwall and Montreal. The Rideau Canal is a treasured part of their sojourns because they drive the boat more slowly and just relax, "relax" being a word that bubbles up frequently among boating enthusiasts.
Adds MacDonald in heartfelt fashion, "We're so fortunate to have such a beautiful water system."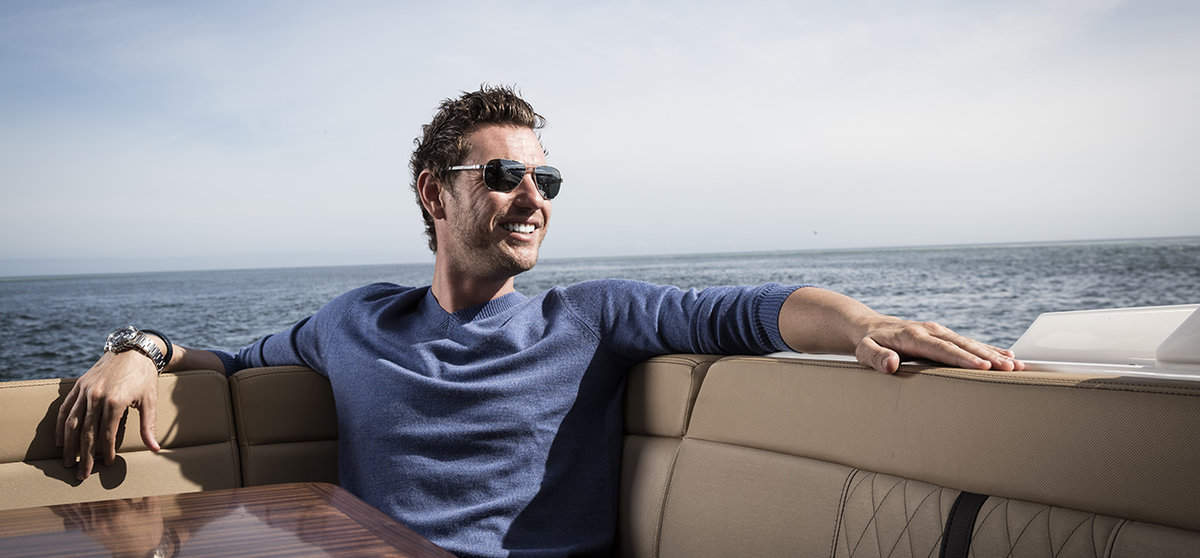 Peter Hurst, who owns Hurst Marina, including the showroom that's chock-a-block with gleaming boat hulls and sleek touchscreen navigation systems, takes regular advantage of those waterways himself. He owns a 53-footer, but leaves it docked in The Thousand Islands. "I don't boat out of my own marina because then I'd always be working," says the affable native of Bedford, England, who's held onto his accent despite immigrating here more than 40 years ago.
He, too, relishes life on the water. "It's a togetherness time with your family, especially with your wife."
Hurst does think, though, that Canadians pack in the boating season too early. "We want it to be hot, hot, but there's a lot of nice weather in September and October."
Hurst plunged into the marina world after making his mark by opening, with brother Chris Hurst, the successful, Ottawa-based Hurst Yamaha motorcycle business (at 70, Peter continues to race motorcycles and this year is being inducted into the Canadian Motorcycle Hall of Fame). Hurst got into the boat world by selling outboard motors in his motorcycle shops. He then converted a couple of stores so he could add boats. Of course, he then needed a spot to launch and service what he was selling so, in 1986, he snapped up and rebuilt an old riverside site, which is now Hurst Marina.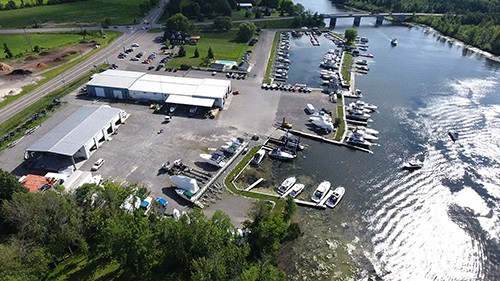 In developing the marina, Hurst wanted something that would be inclusive, offering not only docking facilities and boat sales and service, the latter now
run by Chris, but extra amenities as well. Those now include a swimming pool, hot tub, clubhouse, barbecues, pro shop and more.
"I wanted it to be a destination, so you didn't have to go far (for those amenities) because you've already come so far," he says.
The marina also runs wakeboarding and other summer camps. Hurst's son Mark Hurst takes
care of the camps and pro shop.
If you want a taste of just how elegant life on the water can be, the commanding Sea Ray 400 Sundancer is on display in the marina showroom.
The 40-foot sport yacht ($999,999) sleeps five and boasts everything from an open-concept floor plan with kitchen, living area and an outdoor grilling area to a master stateroom with handscraped, engineered wood flooring, a skylight above the bed and a glass vessel sink in the ensuite. Like a well-appointed condo, not an inch of space is wasted, not an opportunity for comfort missed.
Hurst Marina's managing partner Chris Wert, noting that something like the Sundancer is usually for "the veteran boater," says that life on a beauty like this is so satisfying that many folks never even bother powering up their cellphones.
And being aboard a boat invariably has a bit of adventure about it, Hurst says. Looking down a river, he's often thought to himself, "God, I could just go anywhere from here. It's a bit like motorbiking in a way — you've got this chance
of freedom."