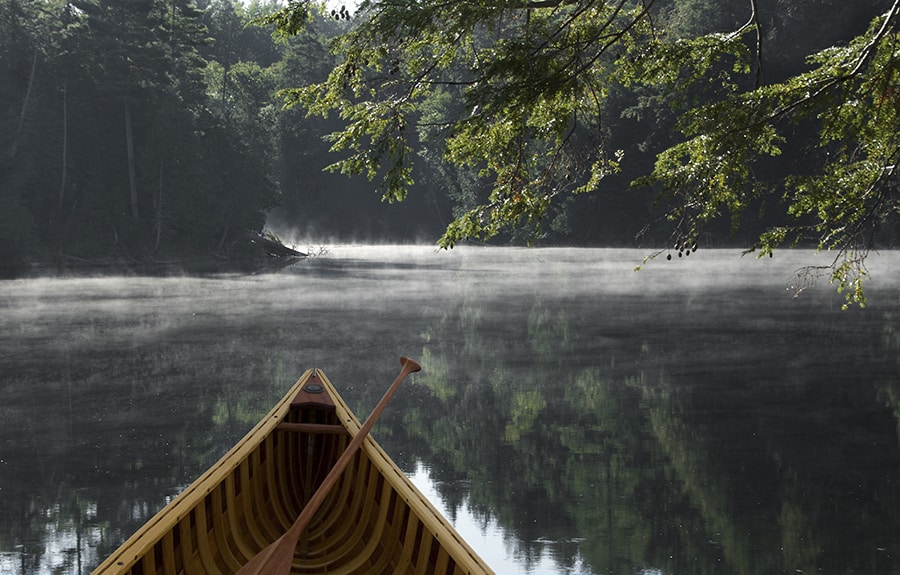 Lush, exclusive cottage community offering all the bells and paddles for the ultimate in outdoor family living
Jaime Trick and her husband, David Markin, have always enjoyed the outdoors. "We spend the vast majority of our days outside hiking, running, cycling, swimming and skiing," she says. As an orthopedic physiotherapist, she works with Olympic athletes and was part of the Canadian medical team at the 2016 Summer Olympics in Rio de Janeiro. As an athlete herself, she has completed an Ironman. David has finished nine of the long-distance triathlons and raced at the World Ironman Championships in Hawaii.
They are passionate about outdoor sports.
Even their five-year-old, Everett, is an avid cyclist and hiker, and when Kate, 3, gets a little older, she'll undoubtedly embrace those pursuits. They'll have ample opportunity, since this Ottawa family now owns a place that seems custom-carved by Mother Nature for hiking, swimming, running, cycling and enjoying the very best of outdoor living.
Trails are plentiful, the lush terrain is naturally spectacular, and the lakes? Yes, there are two of them, and they are clean, deep and gloriously serene at Clos (pronounced Clo) de Sixte, an exclusive, four-season, gated cottage community between Ottawa and Tremblant.
"We heard about Clos de Sixte about three years ago from a neighbour who had visited the cottage community and said it would be simply perfect for us," Jaime explains. Then last summer, with COVID-19 restrictions in effect, "We found ourselves increasingly drawn to quality family time in nature." Finally, in mid-October, they booked a tour of Clos de Sixte. "We instantly fell in love with the lakes, the trails and the expansive, untouched lots."
It happens.
That's why people are snapping up the estate-size lots at this 450-acre enclave bordering Lac St-Sixte and Lac BronRob. Despite the vast acreage, there's a limited number of spots available, including a few remaining lots on Lac BronRob. This spring, six mountain lots—with access to both lakes and all amenities—are being released. If you're interested, don't doddle. They won't last.
For instance, after Jaime Trick and her family purchased their lot in December of 2020, they shared the news with friends living overseas. "Much to our surprise, they told us they've been looking for a cottage in the Ottawa area for when they return," Jaime recalls. "They loved the idea of the active and secluded lifestyle Clos de Sixte offered, with the sense of community for the adults and children alike."
Pretty soon, Jaime, David and the kids were back at Clos de Sixte, in search of the ideal spot for their friends to build a cottage. "We sent videos, pictures, GPS data of elevation of each of the remaining lots. We filmed endless footage of the tennis [pavilion area], the common access points at Lac BronRob and Lac St-Sixte, and several kilometers of the trail network so they could truly get a feel of the land. This process made us fall in love with Clos de Sixte even more, as we embraced our new community."
Their friends felt the same way; they purchased a lot on Lac BronRob.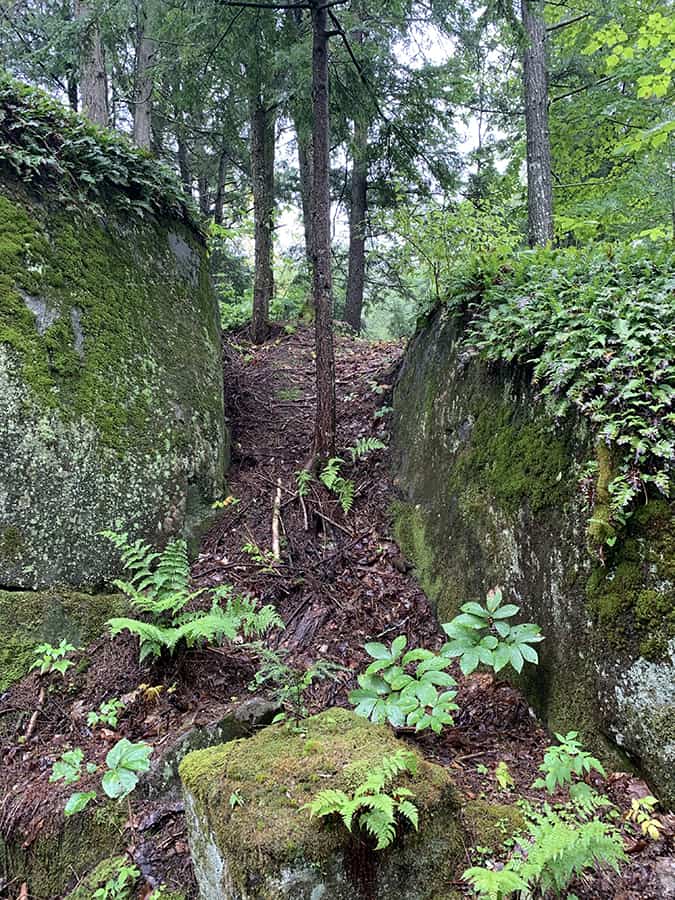 Six mountain lots have just been released. Interested? Don't doddle.
Bob McElligott chuckles when he says the sight-unseen purchase—from the other side of the Atlantic—was a first at Clos de Sixte. "It's really kind of unique, but very exciting," he adds. It's not surprising, though.
Bob, a long-time developer, and his wife Micheline own Brickland Timberlay, the company behind this private paradise. It has the sort of unspoiled majesty that captivated the Group of Seven's painters. It also has that tennis pavilion, along with plans for additional family-friendly amenities including bocce ball, pickleball, lawn chess and ping-pong. (Bob wants to call it a racquet garden.) An arts and crafts tent and a country-style athletic centre are also in the works. And at the ends of the nature trails going down to both lakes, there are stands with canoes, kayaks and paddleboards available for all residents to enjoy.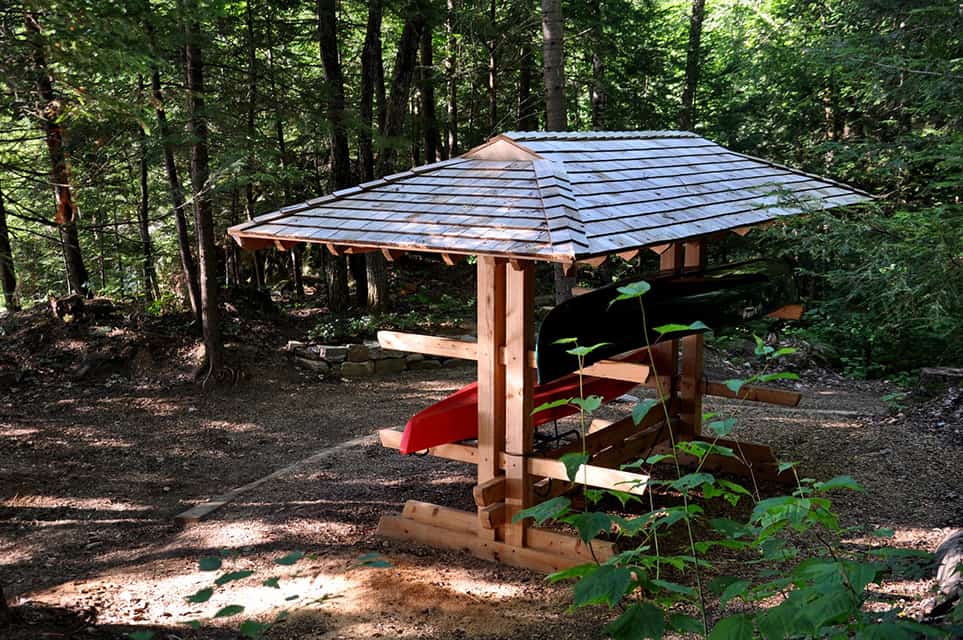 Outstanding family-friendly amenities
"Clos de Sixte is a very active place," notes Bob, adding the community has attracted quite a number of triathletes. "It's perfect for them." There's room to roam on land and water, a dynamic social community and, most importantly, a reverence for nature.
The mountain lots, a minimum of three acres each, are "extraordinarily large and fully treed," he points out. "Many trees are over 120 years old. They're huge. There's an abundance of hemlock, yellow birch, beech, red oak and white pine trees in our Canadian Shield haven, and the wildlife is phenomenal."
There's also access to both lakes within a five-minute walk, and close proximity to the 20-kilometre network of nature trails. Bob's been shaping the region's landscape since the late 1960s, as a builder, developer and dealmaker, and for him Clos de Sixte is a legacy project. Families will gather for generations to come at these cottages. Additional trails will be blazed, traditions forged, and sun-drenched memories will be cherished.
For now, "Everybody's got a smile on their face."
The newly released mountain lots are definitely something to smile about. Bob talks with enthusiasm about "truly nifty" preliminary designs for 600- to 900-square-foot cottages, with all the bells and whistles, that will allow young professional families to afford an idyllic retreat in this sought-after cottage community.
You can choose from contemporary or traditional New England models, and once a deck and porch are added, there is quite generous room for outdoor/indoor family living. Better yet, plans have been configured in such a way that living space can be expanded at a later date. In the years to come, you can add a rec room, a bunkie for guests, or a wing for the younger set. "It's really fun for the kids to have their own space," Bob mentions. As the children get bigger, so too can your place at Clos de Sixte.