By Hattie Klotz
FROM LOCAL KID WHO DIDN'T MAKE THE TEAM TO MAJOR LEAGUE ENTERTAINER, CAMERON HUGHES HAS GOT GAME.
For Ottawa native Cameron Hughes, an audience of thousands is all in a day's work. Hughes, who grew up in New Edinburgh and Manor Park, and went to Rockcliffe Park Public School before heading to Lisgar, has regularly performed to arenas packed with sports fans. At least he did, before COVID.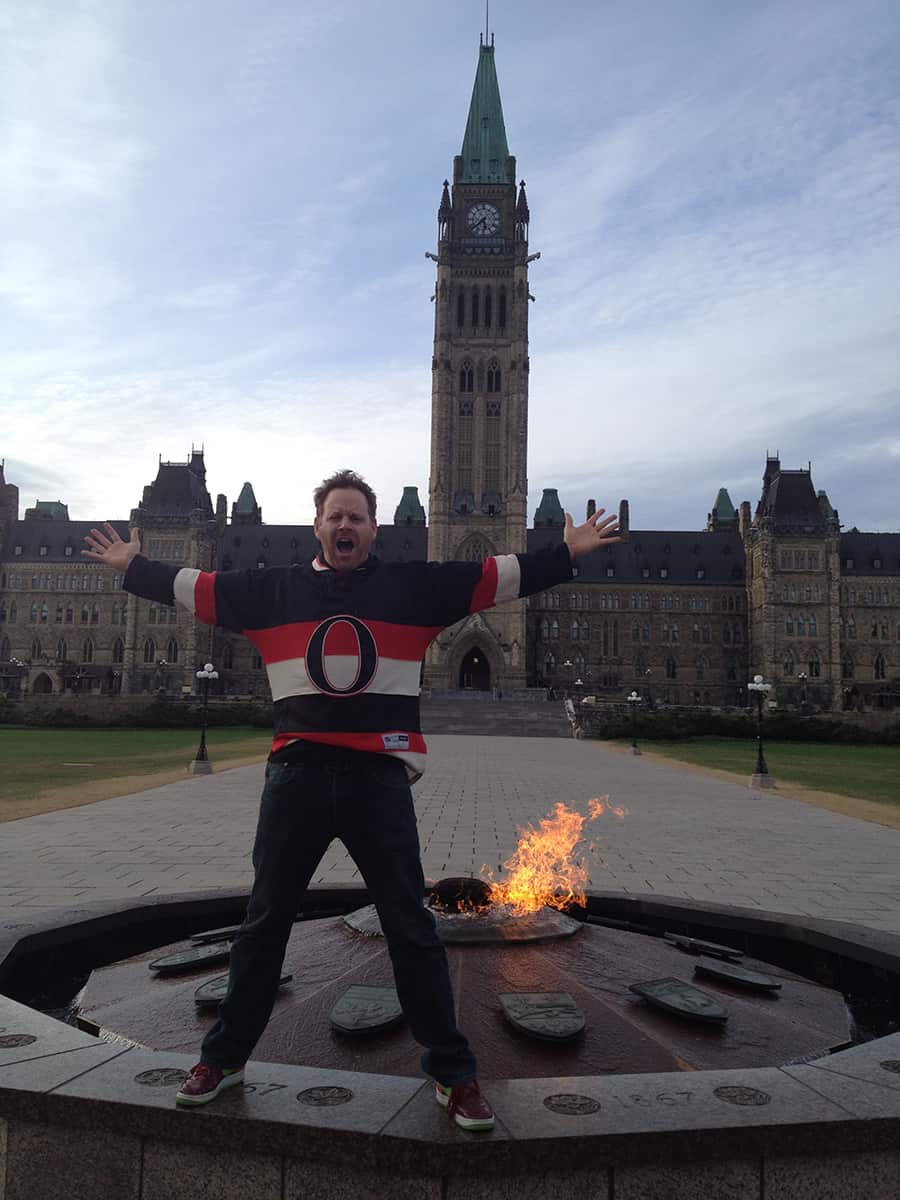 Now, as followers of professional sports teams return to the stands, Cameron is chomping at the bit to get back to what he loves most: igniting crowds to have the time of their lives.
Cameron is a professional superfan. He's a cheerleader who reached the major leagues. As he says in the publicity for his new book, King of Cheer, "I was always last pick at hockey as a kid, but I made it to the NHL; all I ever won in tennis was the sportsmanship award, but I made it to the U.S. Open; I came last in my Grade 8 cross country race, but I made it to the Olympics; I was cut from my high school basketball team, but I made it to the NBA."
When I first interviewed Cameron for an article for the Ottawa Citizen over 20 years ago, his journey was just beginning. He was a novelty and it was hard to capture exactly what he did. I called him an "idiot" in print, and meant it in the kindest, most British sense of the word: slightly goofy, certainly crazy and very zany. Who's the idiot now, I wonder? Cameron has forged a thriving career from an unlikely beginning.
He's danced on centre court in New York with Novak Djokovic, and rubbed shoulders with Roger Federer and Rafal Nadal. He's performed in the Dominican Republic at a baseball game, and in London and Singapore for rugby fans. He's performed at that most genteel of sports, cricket, in Barbados. And, he's performed at countless football, hockey, baseball and basketball games, from the minor leagues to the big time, such as the 2010 Vancouver Olympics, the Stanley Cup and NBA finals, the 2008 Grey Cup in Montreal, the 2016 NBA All-Star Game in Toronto, the New York Knicks at Madison Square Gardens, and the Ottawa Senators, of course. Cameron reckons he's entertained more than 20 million people in his 25-year career.
It all began at a Lisgar basketball game in 1988. His school team squeaked out a win at an away game and Cameron leapt cheering from his seat. Alone in a sea of opposing team fans, he knew he'd found his groove. "Not making the team didn't seem so bad anymore. Suddenly, that shy kid who could barely pose for a family photo was now on a mission to take school spirit to new levels. I'd finally found my way of contributing to the team," he notes.
School spirit grew into wearing a melon on his head and a purple cape, leading the cheer for the varsity football team at Bishop's University. But it was the Ottawa Senators that turned Cameron from an enthusiastic amateur with a bundle of energy into a professional. They paid him.
On January 8, 1994, Cameron was suffering through a game he describes as "dull as watching paint dry. In the third period I found myself not only bored to tears but agitated. The energy in the arena was nonexistent. This isn't why you go to a sporting event."
By game's end he had the stadium rocking, and the Senators came knocking. They offered him a 14-game contract and $250 per game. He'd dance in the crowd, running up and down the aisles, leading cheers and getting creative, performing a PG-rated striptease as he removed t-shirt after t-shirt, twirling close to a hundred of them over his head before tossing them to the crowds.
As the basis for a career, it was a start. And it's led him in the most interesting directions. Cameron has hosted his own sports comedy show called Game Face on The Comedy Network with Ottawa native Matt Hopkins; he's worked with legendary ad-man Terry O'Reilly on a radio campaign called Out of the Blue for Labatt Blue; he's opened at the Just for Laughs comedy festival in Montreal; and he's turned his sport cheering success into public speaking and corporate engagement gigs. He is regularly invited to address business leaders at conferences and events, to show them the importance and motivational benefits of human interaction. "Guess what?" he asks, "Businesses are teams and I love teams."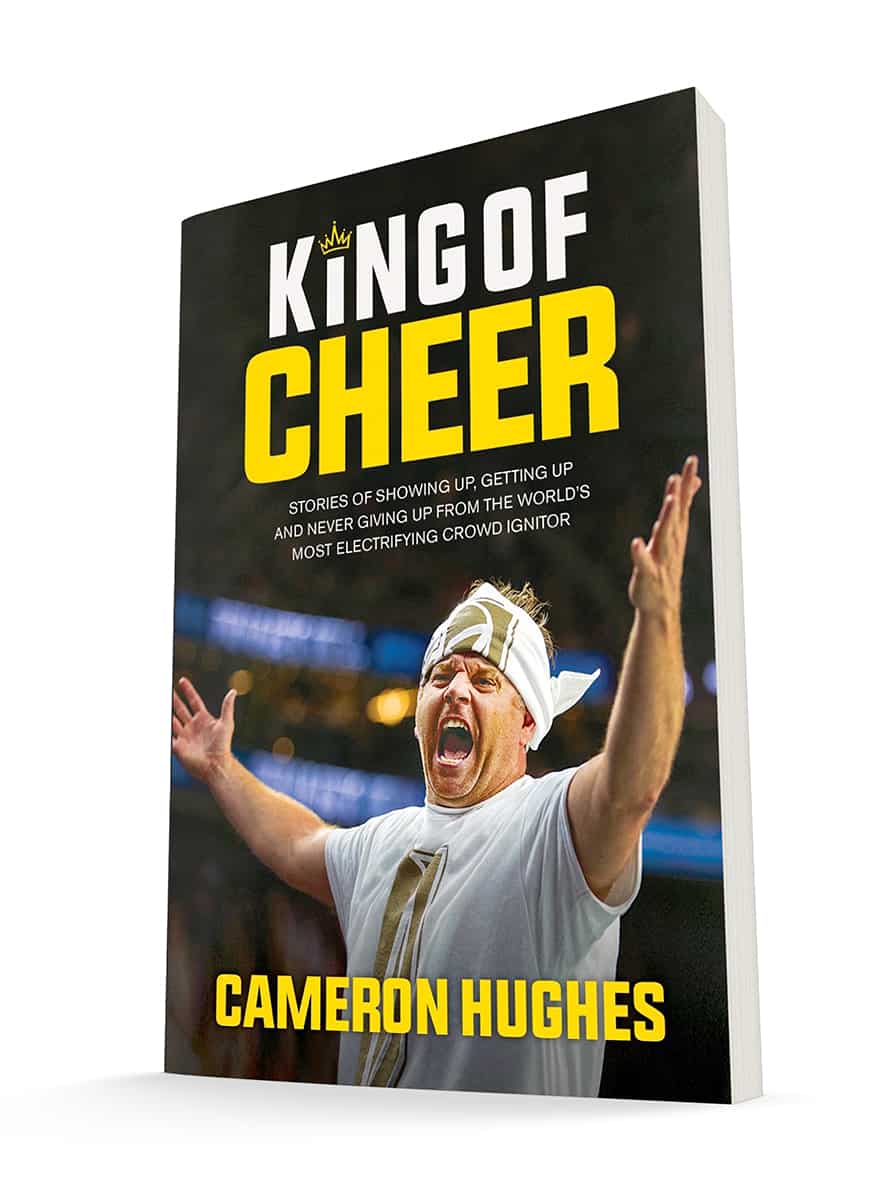 He's also spoken at numerous high schools, where his script sometimes becomes more personal. Inspired by his mother, who died from breast cancer when Cameron was just 17, he uses his story to show that out of plenty of adversity can come good things. As the subtitle to his book says, he shares stories of "showing up, getting up and never giving up." He also shows that a somewhat patchy academic career need not stop you from chasing your dreams and reaching your goals. "I'd encourage students to get in the door at all the things that excite them," he says. "Show up and prove what you can offer."
He's given a couple of graduation commencement speeches. "Make a difference. At the end of the day, the greatest thing I've learned is this: share your spirit and joy for life and it will come back to you."
This cheerleader is a huge—he's six feet, three inches tall—bundle of energy. When he blasts into a room with his red hair and giant smile, he lights the place up. That energy is hard to translate in video calls and televised sport. But he's still finding a way to connect with audiences. "We all know it's not the same and so does the person watching," he says, "so I have to turn it up a notch. But I found a switch and worked hard to energize people, no matter the screen. Every meeting still starts with the jerseys and my ultimate aim is to get everyone laughing, smiling and to change the energy, to offer an authentic engagement experience."
Like so many industries, the virtual experience is here to stay, even while we get back to in-person events. "The virtual world will allow us to hold special meetings, and find ways to never miss events," he says. "I'm doing a talk in a few weeks for 700 people, across five time zones – this wouldn't happen normally, so it's a good example of making it work."
Since June, Cameron has already performed live in Las Vegas for the NHL playoffs, for the Brandon Wheat Kings, the Winnipeg Jets and here in Ottawa for the Senators. Since he's currently living in Victoria, B.C., he hopes to be back. He returned to perform here for the Senator's 20th anniversary celebrations, his own 1,000th game and his 25th anniversary in the business. It sounds like a romance. "Ottawa will always be my home," he says, "and there is nowhere I'd rather be for my 2,000th game. Ottawa's where I got my start and it's a great city."
King of Cheer is a collection of anecdotes chronicling Hughes adventures in life, in sport and in Los Angeles. It's available at
www.cameronhughes.tv