By George Coyle
Deep beneath the earth in Épernay, France, ancient walls house millions of bottles of Moët & Chandon Champagne. If these magnificent chalk walls could talk they would undoubtedly say, "Cheers! Life is for toasting." For centuries, this champagne has been synonymous with the best of everything and has added liquid dazzle to special occasions, milestones and times worth savouring across the globe. Moët & Chandon is always something to celebrate.
The choice of aristocrats
The drink of choice for the aristocracy and high society in early times, Moët & Chandon dates to 1743 when wine merchant Claude Moët established the House of Moët. It didn't take long for his luxurious champagne to become a hit with European nobility. Marquise de Pompadour, patron of the arts and chief mistress of King Louis XV, adored Moët Champagne and ensured the French court was always well-supplied. When Claude Moet's grandson Jean-Rémy assumed control of the Champagne House in 1792, he took his family's business to the next level and elite patrons from far and wide clamoured for the champagne.
Erudite, cosmopolitan and well-travelled, Jean-Rémy acquired vineyards and cultivated social contacts, welcoming royals and rulers to Épernay. In fact, one such connection — forged, no doubt, over glasses of bubbly — earned Moët & Chandon an illustrious role in French history.
Napoleon raised many glasses of Moët champagne
Jean-Rémy and Napoleon Bonaparte became fast friends after meeting in 1782 at a military academy when the former was filling orders for his family's champagne business. The great military general and first emperor of France became a frequent guest at the Moët Champagne House in Épernay and was smitten with the champagne, ordering it by the case to take along on military campaigns.
He was also known to extol Moët's merits. "In victory you deserve champagne; in defeat you need it," he declared. To formalize his appreciation, Napoleon awarded Jean-Rémy the Officer's Cross of the Legion of Honour in recognition of his service to the country in developing its international reputation for wine. Their enduring friendship lasted throughout their lives and brought Moët worldwide prestige.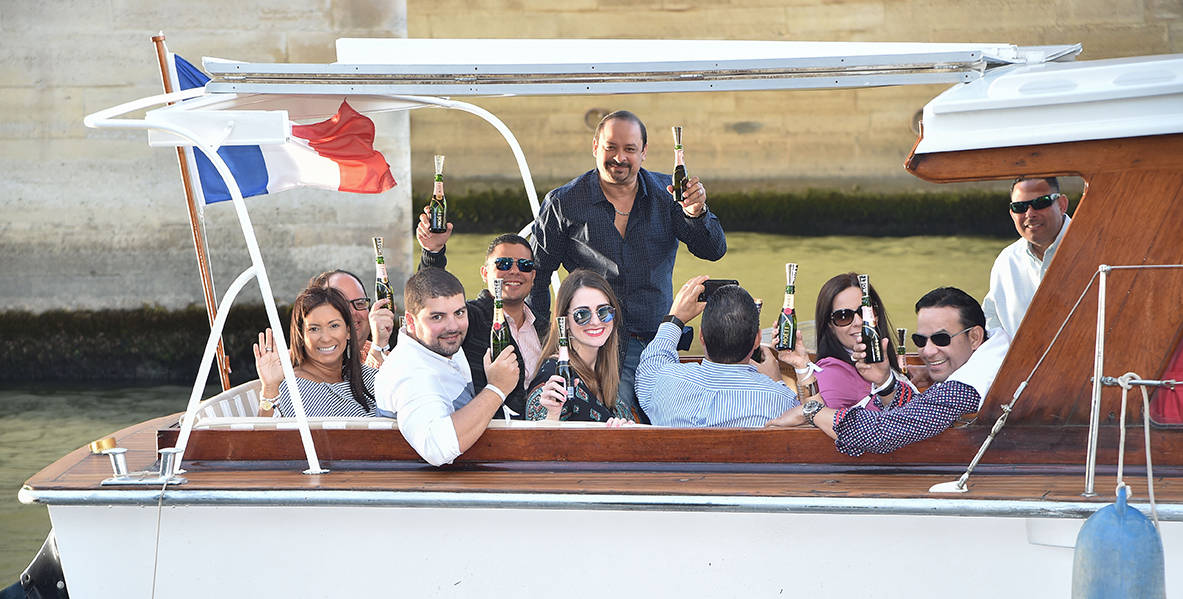 Moët Champagne House in Épernay
A recent guest at Épernay, considered the champagne capital of the world, Luxe Ottawa magazine publisher George Coyle experienced all the wonders of this illustrious Champagne House in person.
Situated about 130 kilometres northeast of Paris, at the very heart of the lush, verdant Champagne wine region, Épernay is a picturesque town steeped in history and surrounded by vineyards. Its majestic Avenue de Champagne is touted as the world's most expensive street.
Listed among the 100 Remarkable Sites of Taste in France, the famous avenue is lined with splendid mansions and the great Champagne Houses for which the destination is famous. But what's underneath this street is truly spectacular.
"It's staggering that there are 28 kilometres of underground tunnels and wine cellars," George says. "Every bottle of champagne in the world starts here. It was breathtaking to visit these cellars."
Below the paving stones and opulent buildings, the labyrinthian maze of tunnels and caves have been hollowed out over the centuries. The most extensive and remarkable of these are the cellars of Moët & Chandon.
"It was magnificent to see millions of bottles of champagne resting and maturing in the cellars the same way they did back in the 1800s," George says.
It was also incredible, he adds, to walk in the footsteps of Napoleon, one of the world's most famous historical leaders, knowing that he, too, had a taste for wonderful things, especially Moët Champagne.
"Although it's an iconic, heritage brand, dating back to Napoleon and the emperors, it's also a thoroughly modern emblem of success and luxury," George says.
Class, wealth, celebration
Jean-Rémy Moët would be pleased. As a key figure in the history of champagne, it was his abiding mission "to share the magic of champagne with the world." What's more, it was his unwavering dedication to excellence, in both grape growing and winemaking, that helped Champagne achieve its venerable international status of today.
Thanks to the sparkle of his own personality and intellect, he imbued Moët & Chandon with distinction, joie de vivre and style that are as fresh and captivating now as they were back in the days when the European aristocracy had an insatiable thirst for his bubbles.
Eventually, Jean-Rémy Moët retired, and in 1833 he passed on the business to his son, Victor, and his son-in-law, Pierre-Gabriel Chandon. From that time, the esteemed Champagne House has been known as Moët & Chandon.
In the late 19th century, Moët's Raoul Chandon de Briailles created the first viniculture research laboratory to eliminate phylloxera, a tiny insect that threatened to destroy all the grapevines. His efforts saved the vineyards of Champagne.
As wine enthusiasts know, you don't call sparkling wine champagne unless it comes from the Champagne region and it's produced under the region's stringent rules. This exclusivity and quality control are part of the appeal.
Region's leading vintner
Within the renowned Champagne region, Moët & Chandon is the leading vintner. Its estate covers more than 1,000 hectares, and its grapes — Chardonnay, Pinot Noir and Pinot Meunier — come from vineyards in the five wine-producing districts: Montagne de Reims, Côte des Blancs, Vallée de la Marne, Sézanne and Aube. Here, the riches of nature are carefully nurtured and meticulously harvested.
Once in the Moët & Chandon cellars — the most extensive in all of Champagne — carefully selected grapes are transformed into luxurious, elegant champagne. There is no rush here. Instead, there is appreciation for the grapes, the workings of nature and the time it takes to produce the very best.
Nonetheless, every effort is made to continuously refine the sophisticated winemaking process, with all its intricate steps and variables.
Much like the wondrous yet precise alchemy that goes into creating all Moët & Chandon Champagne, over time advanced oenological research, environmentally responsible viticulture and cutting-edge technology have been combined with its core winemaking values — respect, simplicity and progress. This thoughtful blending, in the pursuit of excellence, ensures the champagne magic is as real at 21st-century red-carpet events and sporting victories as it was at masked balls in 18th-century Versailles.
Épernay to Paris
Luxury is timeless and the joy of opening a bottle of Moët & Chandon is always in vogue. Those elegant, creamy bubbles, at the heart of countless celebrations, typify gracious living, discriminating taste and the most modern of pleasures. George Coyle can attest to that. In Épernay, he notes,
"We visited glorious vineyards, toured the phenomenal cellars and had a private lunch in the back gardens." Next, it was on to Paris for Moët parties in the city. From the history and grandeur of the centuries-old cellars to the glamour and sparkle of the City of Light, he noted: "Moët & Chandon Champagne is Luxe. It's a lifestyle."
Symbol of triumph & success
From triumphant racing legends drinking straight from the bottle after crossing the finish line to jubilant champions shaking the bottle and popping the cork to let the magic fly, Moët & Chandon —
in all its bubbling glory — is the image of achievement and success. There's a Moët & Chandon ritual for new beginnings, too. Whether it's the christening of a ship, a baby, a new home or a new chapter in life, the milestone is marked with bottles of Moët & Chandon.
There are always new ways to experience the magic. Mini bottles that transform into champagne flutes, personalized bottles for elite festivities and shimmering Moët Bubbles are some of the latest Moët & Chandon creations to add panache and glamour to special occasions.
There's really no excuse needed to crack a bottle of Moët & Chandon and express joy, share the moment and celebrate life.
George Coyle is the publisher of Luxe magazine.
Visit his website at luxemagazineottawa.com.