Celebrated concert pianist, recording artist and educator John Kofi Dapaah bridges the gap between the classical and jazz worlds.
By Paul Gessell
Photos by Kathi Robertson & Michael Lucy
Muroran, on Japan's Hokkaido Island, is an industrial city famous for its spectacular cliffs and ocean views. Tourist brochures do not even mention a life-altering piano. But for John Kofi Dapaah, Muroran is the city of such a piano. Dapaah moved from his native Ghana at age six to Muroran, where his father was doing graduate studies in chemistry. Music was already in young John's genes, his father being a guitar player and his mother a singer. But hearing live piano music in Muroran was like a summons to a whole new life.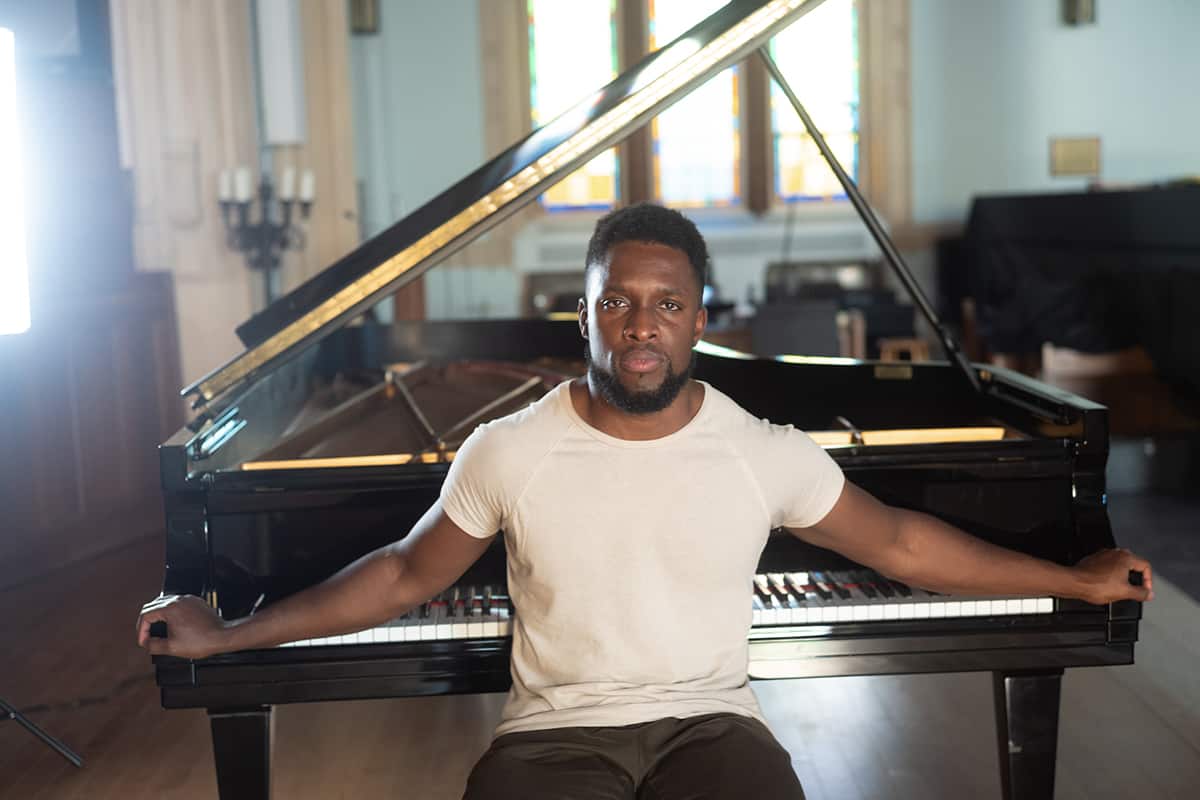 "We started attending a church in Japan, and the pastor's wife was a pianist and a piano teacher," Dapaah recalls many years later. "At the first service we went to, I just couldn't look away from the piano. My parents got me into lessons a couple of months after that."
Even as a child, Dapaah could envisage "the endless possibilities" of the piano. "It's like you have a paintbrush in front of your eyes. You can play anything. It's so vast. It's almost like having a symphony in your hand. I think that makes it quite different from the other instruments available in the mainstream. That drew me as a young child and it does today."
These days, Dapaah is an Ottawa institution, performing both classical and jazz numbers. His résumé includes appearances at Ottawa's annual summer Chamberfest, live concerts abroad from Austria to Japan, and online performances, solo or with a trio. The boy who had difficulties communicating because of a stutter found a different way to connect with the world. The stutter has largely disappeared. Joy and laughter mark his speech now.
Dapaah also teaches piano at his studio, Piano Place, for four dozen students "aged three to 65 plus," and works at Carleton University grading piano students' performances. As well, he is music director for his church, Kingdom Culture. The church is "an integral part" of the lives of Dapaah, his wife Kristina and their two young daughters. The family home is in Russell, just east of Ottawa.
While at the piano, Dapaah loves to improvise. You are never sure what you will get. At a classical performance, Dapaah may begin with a familiar Beethoven composition and then slide into jazz. Popular Christmas songs such as Jingle Bells or a Frank Sinatra favourite such as Fly Me to the Moon can also morph into jazz territory.
"One of my favourite things when playing live is people's reaction after something like that. It's always fun to see their reaction."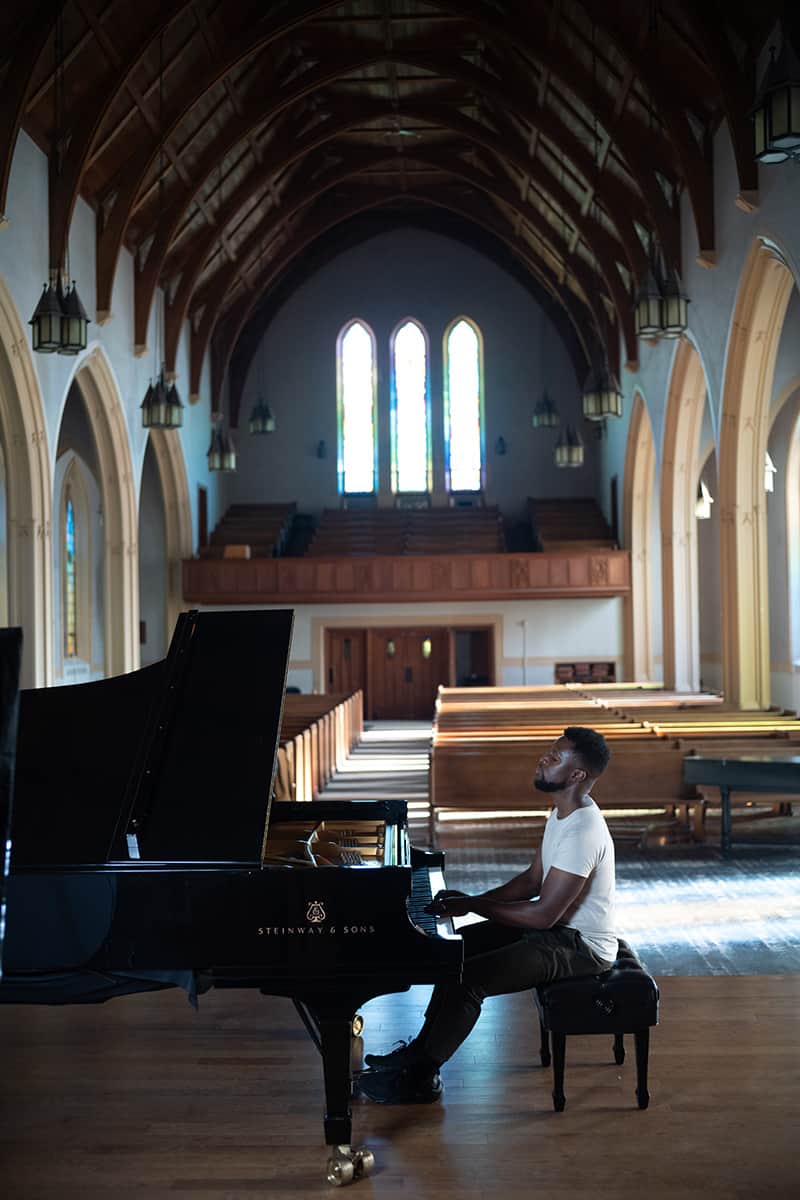 In some of Dapaah's live performances, he plays keyboard as part of a trio, which includes Jamie Holmes on drums and J.P. Lapensée on bass, along with singers Roxanne Goodman and Michael Curtis Hanna. He has considerable experience on keyboard, having played it every Sunday from age 12 to 25 as part of an ensemble at The Church of Pentecost Ottawa.
Dapaah has produced two albums so far. First was Reflections, an offering of classical music, including Schubert, Schumann, Chopin and Bach. Then came Have Yourself A Jazzy Little Christmas, Yuletide favourites with the special Dapaah twist. O Holy Night, for example, features bass and vocals to create a bluesy sound. Other familiar numbers, presented with Dapaah's reworking, include The First Noel and Joy to the World.
Dapaah's versatility impresses Marina Mdivani, a former globe-trotting Soviet pianist who became a professor at McGill University in Montreal where Dapaah studied almost a decade ago.
"He can teach classical music students and he can teach jazz and he can perform both of them," says Mdivani. "This is really what is special about him."
Mdivani describes Dapaah as disciplined, hardworking and very friendly: "a beautiful person." Kudos also come from Carissa Klopoushak, artistic director of Ottawa Chamberfest, where Dapaah has performed.
"John is unique in that he keeps one foot firmly planted in the classical world, the other in the jazz world—and he bridges the gaps beautifully. He is a go-getter and community builder, and sheds light on underrepresented composers. He's a dedicated and generous collaborator. I appreciate his warmth and musicality, and we're excited to present him at Chamberfest."
Dapaah wears many hats, including that of role model to Black children who do not ordinarily see many Black concert pianists. Certainly, Dapaah did not have Black role models when he was young.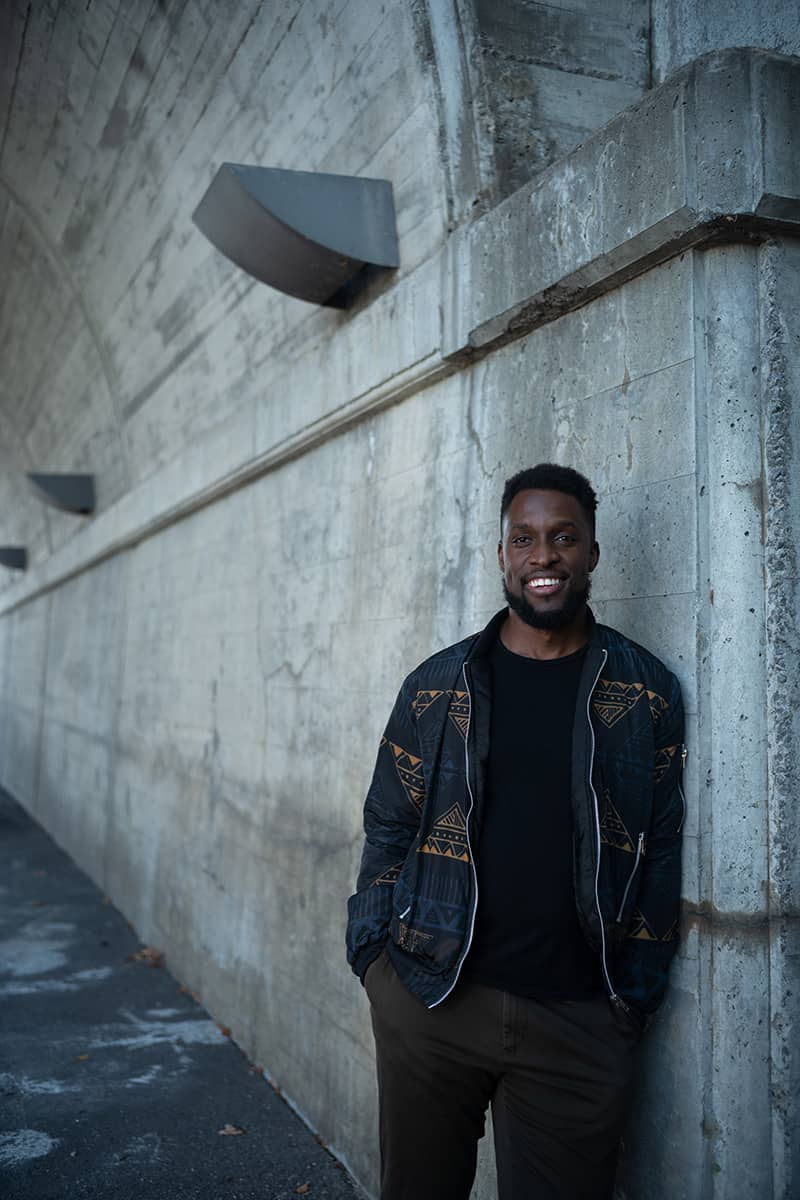 "That started to become apparent as I started university in classical music. I had great experiences in general but I started to notice that there aren't people who look like me giving concerts. So, I wanted to be a role model for children who do not see others like them."
About a third of Dapaah's piano students are Black. That percentage has grown as Dapaah has become better known.
Dapaah started to teach piano to his oldest daughter Hannah Rae at age three. But will Hannah Rae switch to playing drums? Dapaah has already talked to his wife about buying a set of drums for their firstborn. Turning a young child loose on a set of drums would ordinarily be any parent's worst nightmare.
"I've told her (my wife) I want to get a drum kit for our daughter but it's actually for me," Dapaah confesses. "We'll see how that goes."
Dapaah fans should not be worried. Even a longstanding secret desire to play drums is unlikely ever to separate Dapaah from the piano. All one has to do is to remind him of that fateful day many years ago in Japan, when he heard a piano being played in a Baptist church and he was wed forever to the black and white keys. Remember: That bust in the Dapaah home is of Ludwig van Beethoven, not Beatles drummer Ringo Starr.
Don't miss John Kofi Dapaah's Christmas concert. It's at 7:30 p.m. Friday, December 10, at Southminster United Church, 15 Alymer Avenue. Tickets are available at Eventbrite and www.johndapaah.com.
Follow Dapaah online:
Instagram.com/Johnkofidapaah;
Facebook.com/JohnKofiDapaah;
YouTube.com/JohnKofiDapaah