Gemstone Construction took on a complex, multidimensional reno assignment during COVID.
The results are jaw-dropping.
By Pam Dillon
Photos by Miv Fournier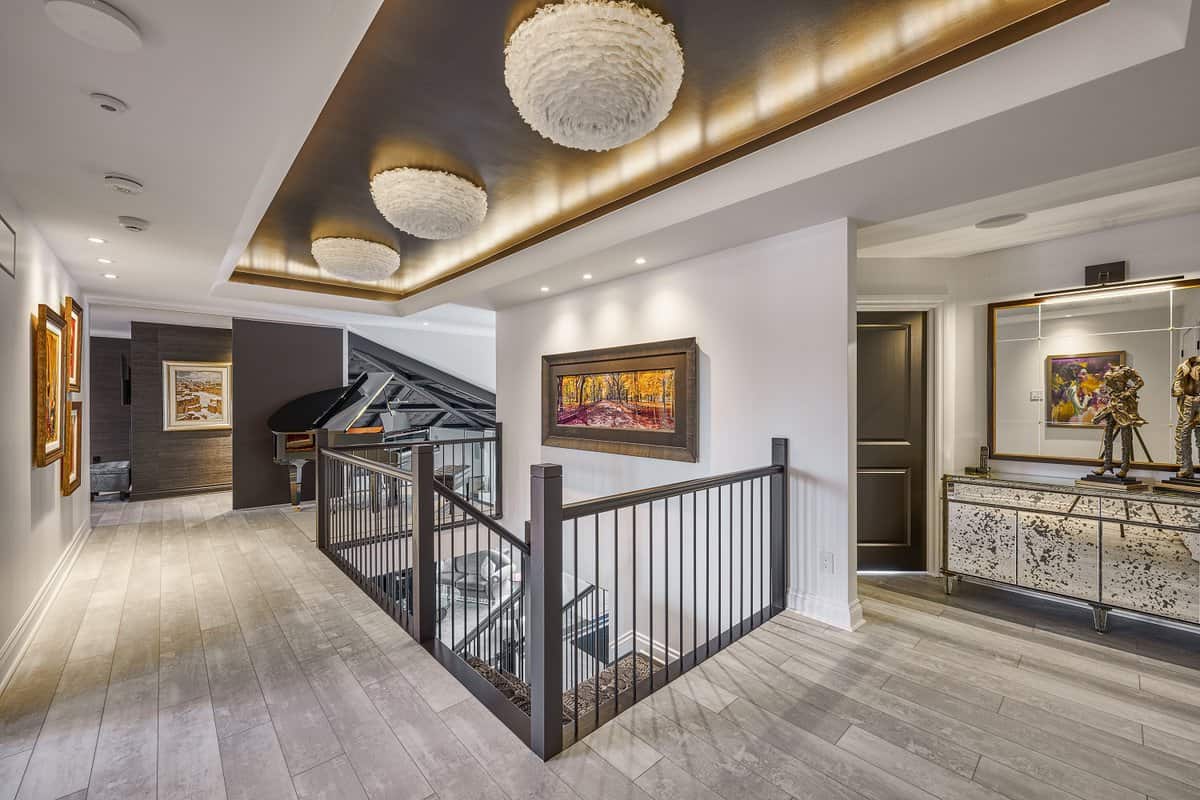 From the street, the luxury home fits elegantly into its upscale neighbourhood along the Rideau River. Albeit stately, the modern exterior is much like the beautiful wrapping on a gift. It does not reveal there's someplace extraordinary within.
Walk through the door, though, and you've gained entry to a one-of-a-kind, glamorous realm that seems to waltz through time and space. From the sparkle of exquisite chandeliers through the luster of art deco accents, statement antiques and dazzling marble floors to the sound of a grand piano above and the view of the river beyond, this address transcends expectations.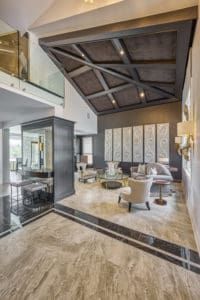 It is no surprise Gemstone Construction won a 2022 GOHBA Housing Design Award in the Renovation $750,001 and Over category for the project, called Unapologetically Opulent. You have to see it, though, to fully appreciate that this achievement is in a category all of its own.
COVID gets some of the credit. When the pandemic hit, an empty-nest couple who love to entertain found themselves constrained in their downtown penthouse. There was nowhere to go, since travel was banned, while the building had a wealth of facilities and services they couldn't use.
"We never thought we'd go back to a house," notes the vivacious client. But she and her husband wanted lifestyle amenities they could enjoy and share—no matter what.
So a builder home on a waterfront lot was purchased. "A blank canvas," the clients called it. Knowing the couple were looking to make a change, Gemstone president Josh Zaret reached out, offering to help with the project. "We connected," says Josh.
Then this new client sent him an email. It was July of 2020. "What I want is a home that tells our story," she explained in a heartfelt, personal message. "Our story is the story of our heritage," she added, describing the remarkable lives of family elders, now deceased, including her mother-in-law, who miraculously—and courageously—survived the Holocaust.
The clients wanted each element of the home design to have meaning, purpose and connection to family history. "It was this incredibly intimate document that started the process," says Josh. "It was a mutually trusting, principled relationship and that's what we love to build on."
Serving as both project manager and builder, Gemstone was tasked with a complex, multidimensional assignment, all while the coronavirus played havoc with supplies and plans. Along with seeking out different interior designers, suppliers and proposals, Josh says, "We steered everything from ordering the kitchen and the plumbing fixtures and doing all the labour and finishes to making sure the budget incorporated the new hand towels. We were their true, trusted right hand."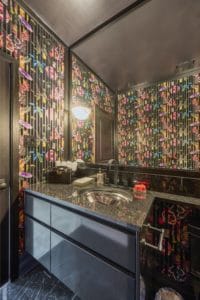 "We had the vision, but Gemstone brought it to life," the clients respond. "We couldn't have done it with anyone else."
What they created, together, is pretty special. Josh calls it "boutique hotel living, wrapped in a bow." The existing dwelling was taken back to the studs and everything was conceived anew, including the exterior and landscaping. 2H Interior Design was enlisted to orchestrate the interior. Floors were taken up, walls disappeared, space was reoriented, fireplaces were repositioned and replaced and the main kitchen was relocated.
On the lower level, a deluxe glass-fronted gym was installed, along with a massage room, plus a full catering kitchen that is ideal for this couple who frequently have guests and special gatherings.
Inside and out, the residence is now impeccably outfitted for hospitality, including a new pool, outdoor kitchen and waterfront dock in back.
The main floor, though, has next-level appeal. It brings to mind the best time you ever had at a five-star destination. Off the main entry, what was once the home's office is now a sumptuous reception area where guests can remove their coats and sit. A plush red velvet borne settee beckons, while an antique Murano glass chandelier illuminates the space.
Next to dazzle is the chic black powder room with its gleaming surfaces and custom, textured wallcovering that are—to borrow a superlative from Josh Zaret—"jaw-dropping." Small towels are artfully tucked into a 1940s field phone.
"Everything has a story," notes the client, nodding to the 1898 Singer sewing machine and antique steam iron strikingly displayed beside the grand staircase. To the right, a lounge features an expansive metal artwork, imported from Europe, that pays tribute to family involvement in the metal industry.
Just beyond, in a space once occupied by a run-of-the-mill dining room, there's a bar that, in Josh's words, "rivals the bar at a world-class hotel." The client was inspired by a couple of her favourite spots in Buenos Aires, Argentina: the Four Seasons and Faena, designed by Philippe Starck. However, her made-in-Ottawa version is as distinctive as it is inviting. For instance, the solid brass cash register honours her father-in-law, who once had a grocery store.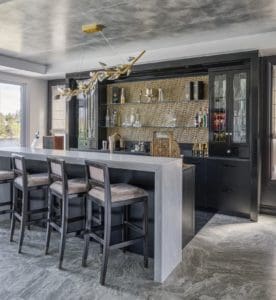 Mentioning that cash register and other rare treasures, Josh notes, "These aren't just material things. These are meaningful things that we thoughtfully integrated into the overall design."
Of course the dreamy main kitchen is a showstopper, too, with its gorgeous stone backsplash, sleek cabinetry, feature lighting, array of high-end appliances, water views and 10-foot island. But it's the unwavering attention to this project's details and fundamentals—purpose, function, flow, meaning—that ensure ease whether the table is set for two or a crowd is arriving for Hanukkah.
Upstairs, the landing is where the grand piano has pride of place. There's also a study, two spacious bedrooms and a principal bedroom that has been turned into an inviting retreat. The ensuite, expanded and recreated as his-and-hers spaces that connect via a walk-through shower, earned Gemstone Construction another Housing Design Award, this one for Custom Bathroom (101 sq. ft. or more) – Traditional.
Top to bottom, Josh says, the project has been about "curating this incredibly bespoke residence for these people, their family members and friends to enjoy. Through the design and the materials and the thoughtfulness, it perfectly reflects what they set out to create." Gemstone was able to pull it off both because of and despite COVID.
"Were things hard to come by? Yes, they were hard to come by. Did it go longer than intended? Yes it did. Was it a challenge to marry heritage elements with modern amenities to tell a personal story by design? It was an honour to be entrusted with it.
"Is the result way more spectacular than any of us would have imagined? One thousand per cent."