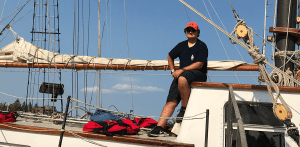 By Marg Russett
It's a pleasure to meet you, says Daniel Bersyniow. Dressed in a navy suit, he is poised and gracious when suggesting an informal chat to facilitate a more genuine, productive exchange. There would be nothing remarkable about this if Daniel were a CEO or a manager conducting an interview. He's 16, though. Barely old enough to drive, this Ottawa youth is well on his way to changing the world.
Sure, he may have homework, and probably a curfew, but he has already accomplished more than some people do in a lifetime. Daniel's passion is helping others. "It's in my bones," he says. At preschool when it was time to play make-believe, he'd pretend he was an ambulance and come to the rescue. Today, his rescue efforts are both diverse and impactful.
As a Grade 11 honor roll student at Sir Robert Borden High School, he is involved in all parts of school life and has a talent for advocacy. Daniel represents students at his school as a member of the Ottawa-Carleton District School Board's Student Senate, and he represents the Student Senate on the board's Special Education Advisory Committee. At an age when many are struggling to fit in, he's standing out and speaking up to ensure youth have a voice.
At school, he's an active member of the Link Crew and the Kiwanis Empowering Youth Club, he plays saxophone in the concert band and he also enjoys playing on the rugby team. Outside school he's an avid sailor, an accomplished pianist and works as a math and reading instructor for students with disabilities; in 2018 he launched a program called Education For All Tutoring.
Then last year, he rounded up school volunteers to teach piano and other instruments to students with autism; that effort has shifted to involve a range of inclusive social activities for these students at Sir Robert Borden. Daniel's face lights up as he talks about "seeing the smiles" when they get to be involved in Board Game Day or other fun happenings. "There's a feeling that you're really making a difference. It's the driving force to do good." It's also a value system that has been instilled by his mom, Bernadett.
He doesn't have to look far for further inspiration.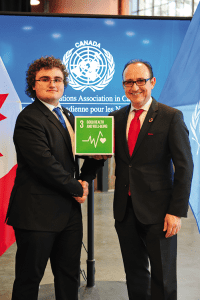 At the end of a school day, Daniel's at ease in the sophisticated, Wellington Street location of Engel & Völkers, the international company that specializes in the brokerage of premium real estate. In a sleek, glass-walled office with white leather and chrome chairs, he's sitting across from his mentor, Richard Rutkowski. A well-known community leader, Richard is an award-winning, global advisor with Engel & Völkers who has been widely recognized for his philanthropic work. Not only has he served as a city councillor over the years, he was named Business Person of the Year in Kanata.
On this afternoon, the two change-makers are discussing one of Daniel's latest initiatives: The Star of Life Project. Its mission is "to create a world where no child is left without proper access to health care."
Daniel feels strongly about health care. Not only does he want to study medicine some day, he hopes to do some foreign aid work abroad. But he's not waiting for later to make a difference. As the young catalyst launches into details of this new project—"We aim to empower youth to take action, and support transformative social change."—the other leader in a suit can't help but smile. "I'm so proud of him," Richard says, pointing out the young leader exemplifies Engel & Völkers' guiding values: He's innovative, driven, serious, reliable, independent, stylish, professional, networked, authentic, elegant, and undeniably a high-quality individual. "He's a good kid too," Richard quips. "He's not afraid to effect change."
Since Daniel founded The Star of Life Project in November, there's been a fundraising drive to support Unicef's immunization programs, a week of mental health events at the high school to support teens at exam period, and a team fielded for the annual bed race for Kiwanis. As the teen-powered organization has taken shape, Richard has been "key," offering his time, feedback and support, Daniel says. "Having someone who believes in us has really been essential to our success and continues to be invaluable."
In February, Daniel gave an eloquent speech about the project during a youth leadership summit at the United Nations Association in Canada. "You have to see it," Richard says, pressing the start icon on a video of the presentation. "He's unbelievable."
Richard also doesn't believe his protégé is the only teen making big things happen. He intends to recognize and support other young change-makers in our community. "I want people to know about these youth who are going to be the leaders of tomorrow," he explains.