Curated by Michele Peterson
This season's fresh finds, luxury experiences and must-haves are key ingredients to a stylish spring whether you're at home or on the go.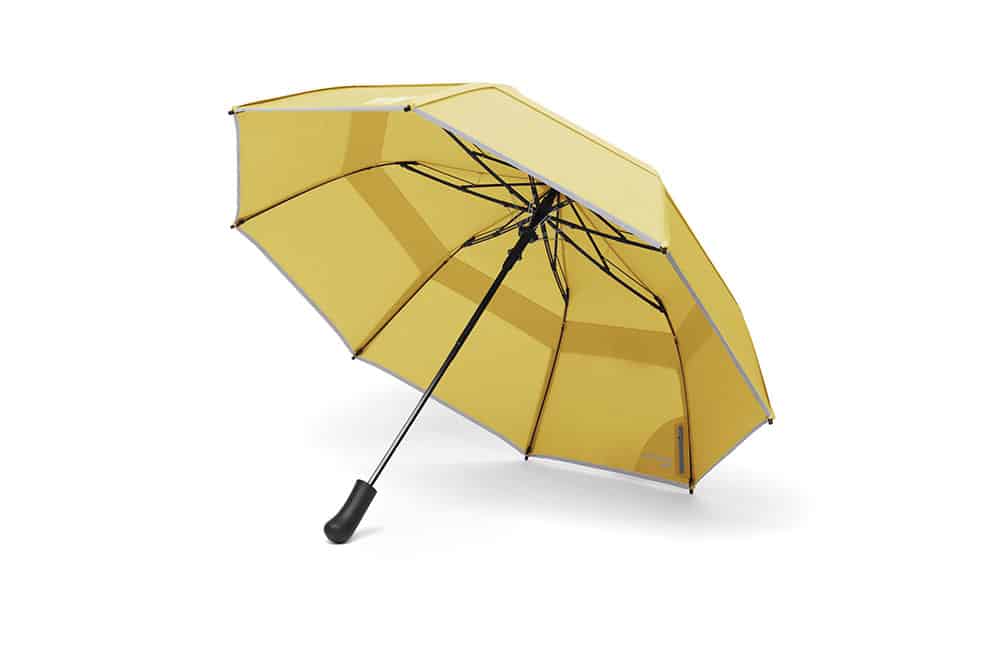 World's most unforgettable umbrella
Wind, hail or rain? You'll be ready for anything with the Weatherman umbrella. Designed by a meteorologist and boasting a lifetime guarantee, the Weatherman is built to endure severe weather. Wind resistant for up to 88 kph winds, it features industrial-strength fibreglass ribs and shaft to prevent breaking and inverting. Its Teflon-coated fabric delivers the highest water repellency possible, ensuring you'll stay dry in tough spring storms. You'll also never leave it behind. Equipped with Bluetooth technology, this Smart umbrella will contact you if you lose or misplace it. It will even send an alert to remind you to take it with you, if the weather forecast predicts rain. Choose from a range of styles and colours, including the official LPGA golf umbrella. weathermanumbrella.com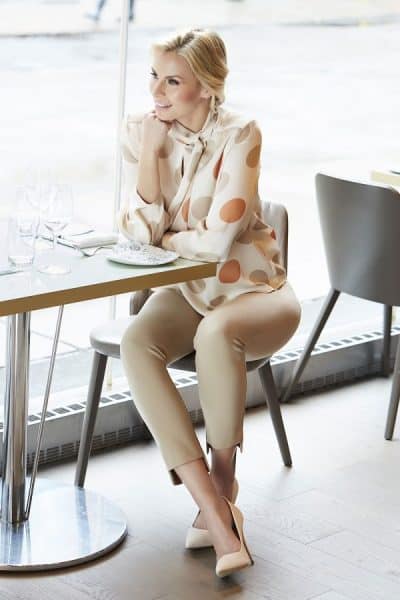 Bring on the weekend with UP! Pants
Whether you're enjoying a casual weekend at home, a night out with friends or a warm weather getaway, sleek pants from this upscale Canadian clothing line will step up your spring look. The UP! Pants brand of high fashion, skinny legwear is designed to empower women of all ages, making them feel confident, comfortable and chic. Featuring impeccable workmanship and a "Thincredible Fit" technology using materials that stretch perfectly with just the right amount of hold to conceal any imperfections, these pants are a magical blend of form, fit and function. With 80 smart styles that brilliantly mix seasonal colours and trends with classic and modern patterns, UP! Pants offers a range of spring wardrobe options to make every woman feel fabulous. Available at Vincent, Shepherd's Fashions and other fine stores in Ottawa. uppants.com

Beer on tap
A new season promises relaxed weekends indoors and out. Ready to party is the Keg Fridge, part of the Northstar line of luxury retro appliances from Elmira Stove Works, featuring a factory-installed BrewMaster draft system for cold beer on tap. Just add a keg of your favourite craft brew, pull the tap, sit back and chill. Why not take a cue from nature and bring on some bold patterns and colours? Northstar appliances also come in cheery colours such as Candy Red, Mint Green, Bisque, Robin's Egg Blue and Buttercup Yellow. Based in Ontario, by Elmira Stove Works, is a company that offers a selection of modern appliances including ranges, refrigerators, microwaves, wall ovens, range hoods, dishwashers and wood-burning cook stoves. Available at specialty appliance dealers in Canada and the U.S. elmirastoveworks.com

Small wonders
These sweet treats are good for you and the planet. Handmade in Ontario using plant-based fat, cashews and coconut milk instead of fondant, replicating the ganache typically used in chocolate confections, The Aura Collection is CXBO Chocolates' first assortment of vegan chocolates. Crafted by chocolatier Brandon Olsen and inspired by artist and CXBO co-owner Sarah Keenlyside's design of The Aura Room at Toronto's Gladstone Hotel, these premium, jewel-toned treats are made with dairy-free customers in mind but are intended for all to enjoy. The Aura Collection includes nine artisanal flavours inspired by the energy and colours of the aura colour wheel, including Orange/Bay Leaf/Olive Oil, Cinnamon/Rose/Chili and Blackcurrant/Violet. Available at Jacobson's Gourmet Concepts in Ottawa. cxbo.ca

Heli yoga in Vegas
Keep your feet on the ground while doing sun salutations in the sky with Heli Yoga. Maverick Helicopters, in partnership with Silent Savasana, has launched an exclusive yoga session in Las Vegas, Nevada. This amazing 2.5-hour experience includes a 45-minute round-trip private flight to the top of the Valley of Fire, accessible only by helicopter. Participants will enjoy a 75-minute private yoga session (adaptable for all levels), featuring a custom playlist and instruction transmitted through wireless headphones as they take in the natural beauty and brilliance of the unique landscape. The experience wraps up with a breathtaking flight over the Las Vegas Strip in a luxury helicopter. $3,499 US for up to six passengers. maverickhelicopter.com/heliyoga.aspx

Spring flowers with sparkle
Add some sparkle to your spring style with a Lorelei Floral Diamond Bangle from Hearts on Fire. This luxury jewellery designer creates beautiful, perfectly cut diamonds guaranteed conflict-free, from point of origin to final piece. Sourced responsibly and ethically from South Africa, Botswana, Namibia, Angola, Russia, and Canada, these diamonds are in 100 per cent compliance with the Kimberley Process, a certification program verifying compliance with resolutions established by the United Nations. Bold, feminine and fun, Lorelei Diamond Bangles are available in 18K yellow gold, 18K rose gold and 18K white gold, so mix it up and stack a few bracelets on your wrist to create a radiant floral bouquet. $7,260 and up. Available at Howard Fine Jewellers in Ottawa. heartsonfire.com

Get rolling
Get out of town or around town with a Riese & Müller e-bike. Whether you're looking for an e-bike for city errands, a weekend at the cottage, touring or fun family commuting, a high-performance e-bike is the ultimate option for those wanting enjoyable and eco-friendly transportation. The Riese & Müller product line of eBikes, eCargo Bikes and folding bikes is a triumph of German engineering skill. Perfected to the tiniest detail and featuring state-of-the-art technology, including the industry-leading Bosch drive system, these bikes offer reliable performance and pioneering design. The European-inspired Riese & Müller Load cargo eBike is a must for spring road trips. Adjustable to various rider heights, the Load cargo eBike is very flexible and ideal for sharing. $9,609 and up. Available at Scooteretti in Ottawa. r-m.de/en-ca/

Spa at home
Now you can enjoy a spa-like experience at home with the new Cirrus Shower system. Featuring a water-atomizing CloudMaker technology, which creates a luxurious rain shower effect while reducing water usage by 75 per cent, the Cirrus water purifier delivers natural spring water for cleaner, more hydrated skin. A specially designed aromatherapy infuser holds biodegradable aromatherapy pods crafted in France to dispense bio-sourced minerals, natural essential oils and mineral salts. The six aromatherapy scents available include blends of lavender, bergamot, ylang ylang, peppermint, blackcurrant, spearmint, lime and other botanicals for the ultimate shower experience. Easy to install, the Cirrus shower system features standard dimensions to fit all types of showers. cirrus-shower.com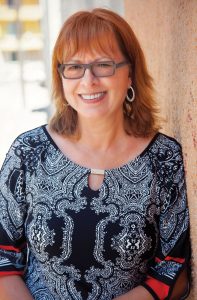 Michele Peterson is a Cobourg-based travel, food and lifestyle journalist. She can be reached via www.michelepeterson.com.