Designer Pamela Pryce had carte blanche to make the interior soar in this custom Cantley home. She nailed it.
By Pam Dillon
Photos by LeRoyal + St-Arnaud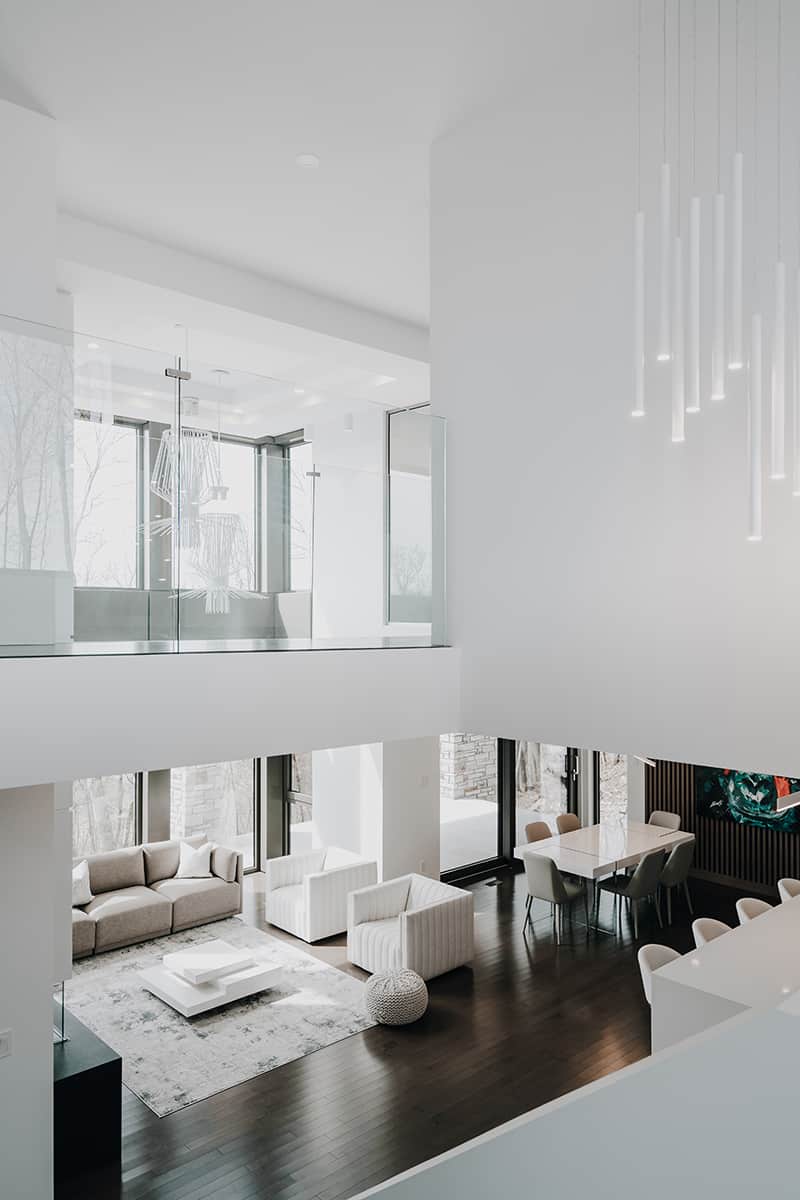 The name Mario Adornetto is renowned in Quebec design circles. The architectural designer and principal of Montreal-based architect/design firm Adornetto has earned kudos and fans for creating unique, luxury dream homes. So when a young professional couple from the Ottawa/Gatineau area wanted a standout, one-of-a-kind custom home, they looked to Adornetto to make it happen.
Happily for local interior designer Pamela Pryce, the famous Mario Adornetto then looked to her and her company, pured.co, to make this stunning home soar inside.
It does.
"Everyone who walks in says, 'Wow!'" notes Pamela, who serves a clientele in the Ottawa/Gatineau region. Located in Cantley, the 4208-square-foot home sits at the top of a secluded hill, surrounded by trees and amazing vistas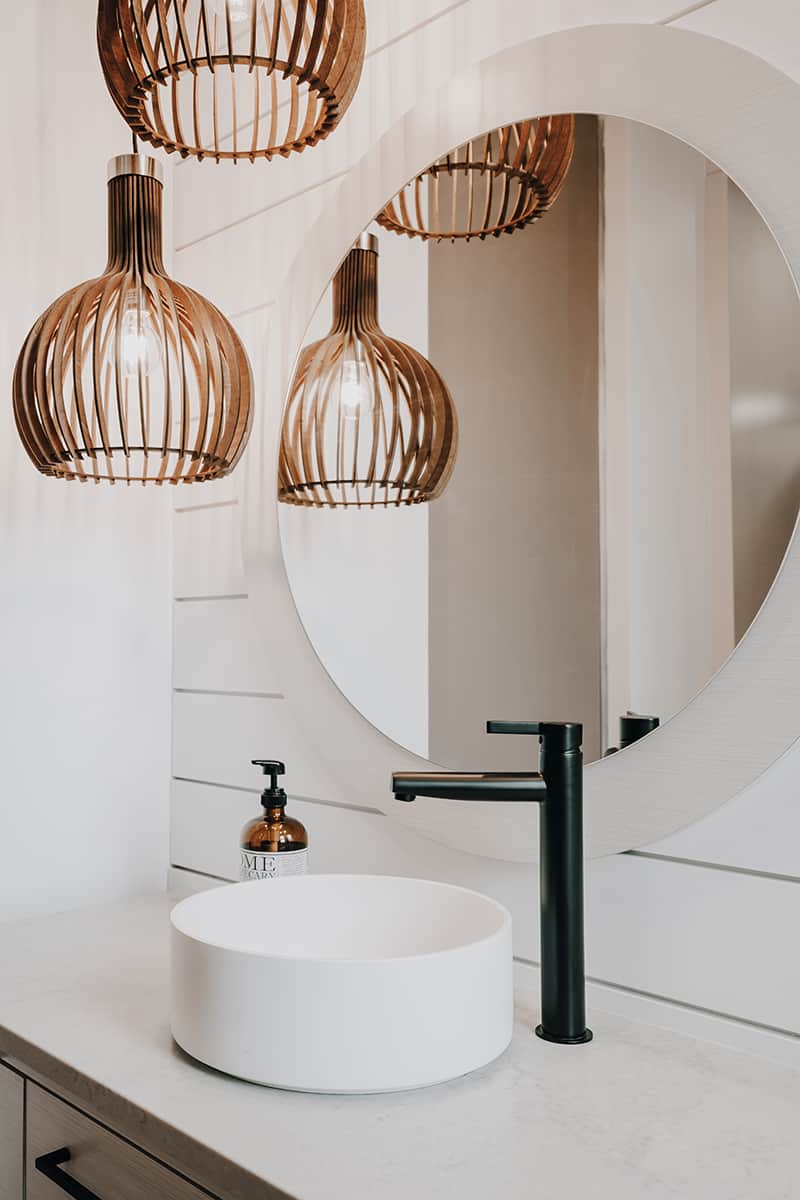 of the Gatineau River and the town of Chelsea on the other side.
Thanks to Pamela, the inside view is just as arresting. Twenty-foot coffered ceilings with beautiful pendant lights, a floor-to-ceiling fireplace with granite surround, and a sleek modern staircase with a glass half-wall and a LED insert are just some of the striking elements.
Other eye-catchers are the luxury master bathroom with its quartz surfaces and custom hanging towel racks, the glass wall in the office, and the custom floor-to-ceiling interior doors with no trim.
"This house has a very simple, uncluttered design with beautiful clean, modern lines," she explains. "The white interior is very bright and fresh. I have added some classic elements that will be timeless. It is important to think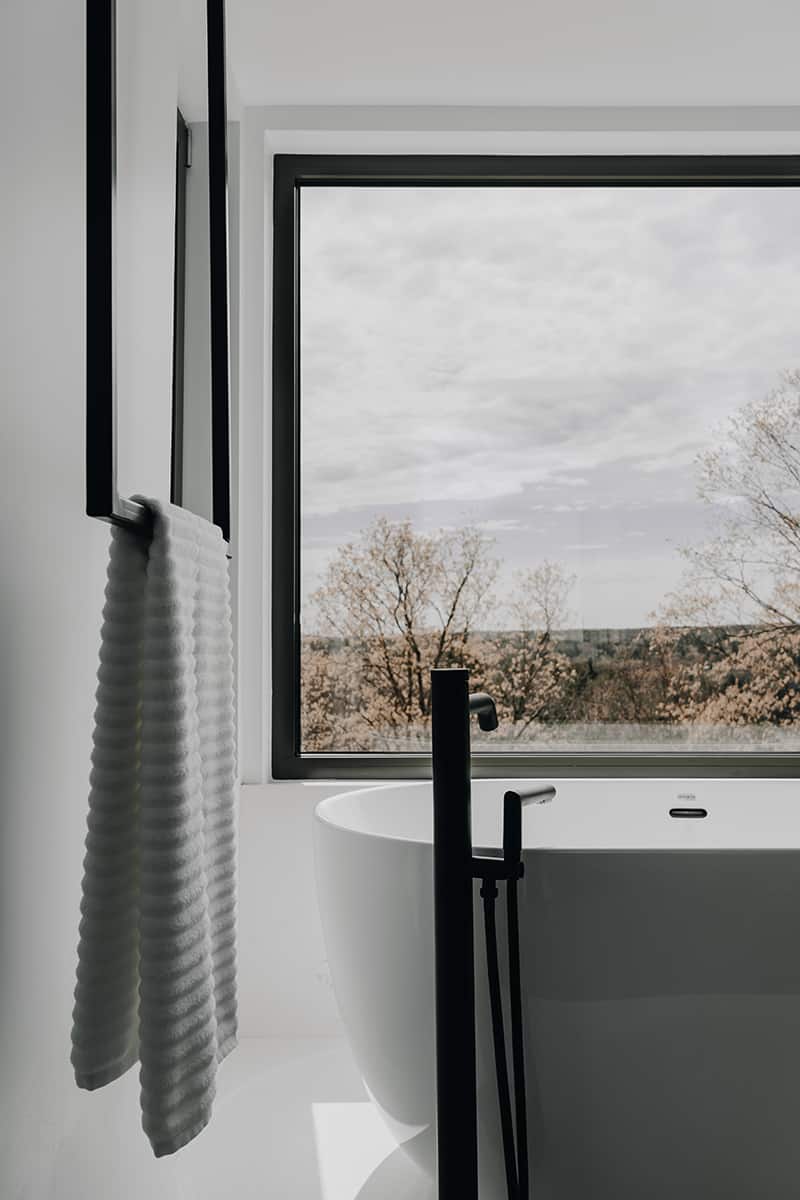 ahead when designing a home. Trends fade quickly but a timeless decor will last for a very long time."
That's unmistakable in the kitchen. With its welcoming, unfussy ambience, natural hues and intimate scale, it's both serenely modern and warmly appealing. From the FENIX drawer fronts and linear lighting to the island's white Caesarstone quartz waterfall countertop, the style is distinctive and seamlessly in keeping with surrounding space.
It all flows. Rich hardwood floors run through most of the home, with porcelain tiles in the entryway, powder room, bathrooms and lower level. The basement and guest bedroom shower walls are tiled in ceramic.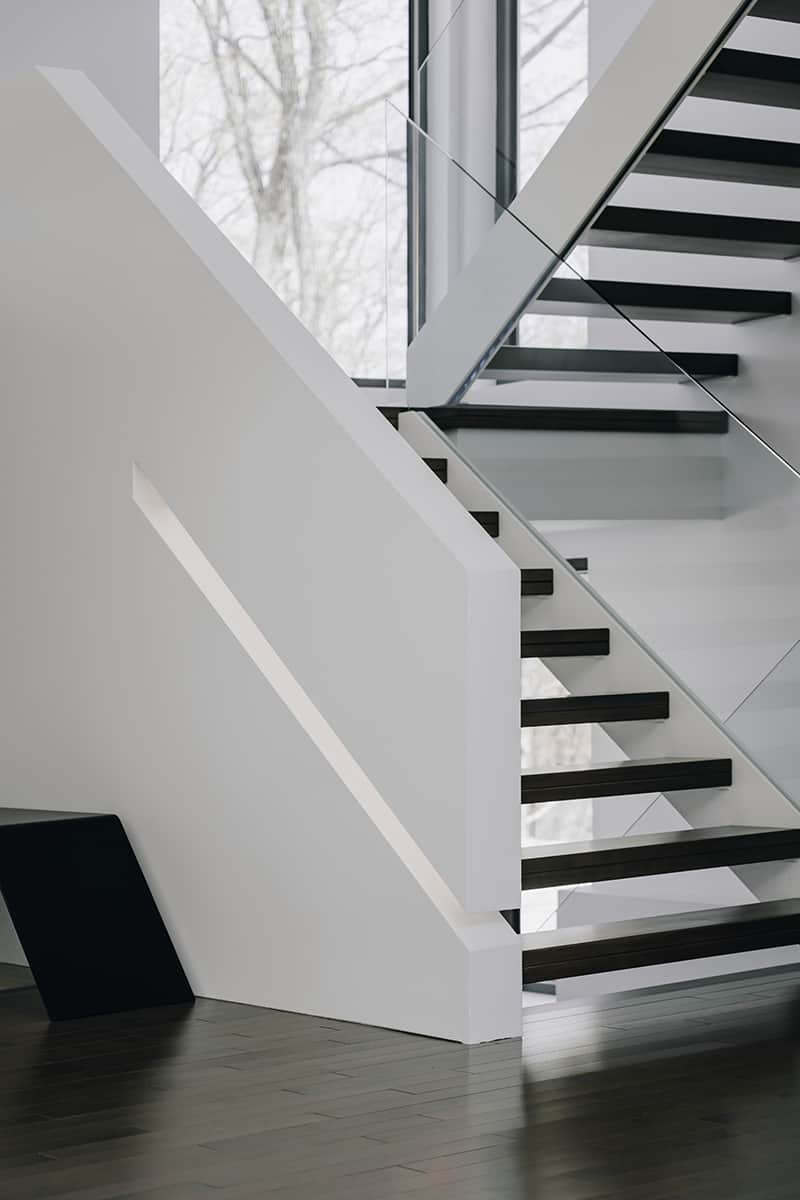 Top to bottom, Pamela mentions, "It was very important for us to bring the outdoors into the house. I wanted the overall feel and palette to blend and reflect the outside of the house. Harmony is key when you design and I think we have succeeded to do just that."
The homeowners undoubtedly agree. They're in their early 30s, and Pamela describes them as "down to earth, simple and very pleasant people. I absolutely loved working for them." After all, she adds, "This was their first home and they gave me carte blanche from day one. What I most enjoyed was the trust they put in me, from start to finish."
That trust has been well earned. Born and raised in Sherbrooke, Pamela worked as a hair stylist for many years, until a severe car accident in 2007 compelled her to pursue a new career. She enrolled in the two-year interior decorating program at Ottawa's La Cité Collégiale, and once school was done she started her own company.
Since then the single mother of two, Emma-rose, 8, and Tristan, 12, has been living her dream. "I have learned a lot, met many wonderful people and my company is constantly growing. I have worked hard and I am very happy and proud of my accomplishments." Pamela credits co-worker and close friend Alex Légaré, in particular, with supporting her along the way. She's also pretty delighted with the referral from a design master. "I've been a great admirer of Mario's work for many years," she admits, adding, "My biggest challenge was the day I found out Mario Adornetto from the famous architect/design company had referred his clients to me."
For her, it was a priority to represent his vision through the work she did. "It was very demanding, but putting myself out there, putting my comfort zone aside, made me grow so much. I just went for it." Since the Cantley project, she's gone on to design other new-construction luxury homes and says she loves the challenge.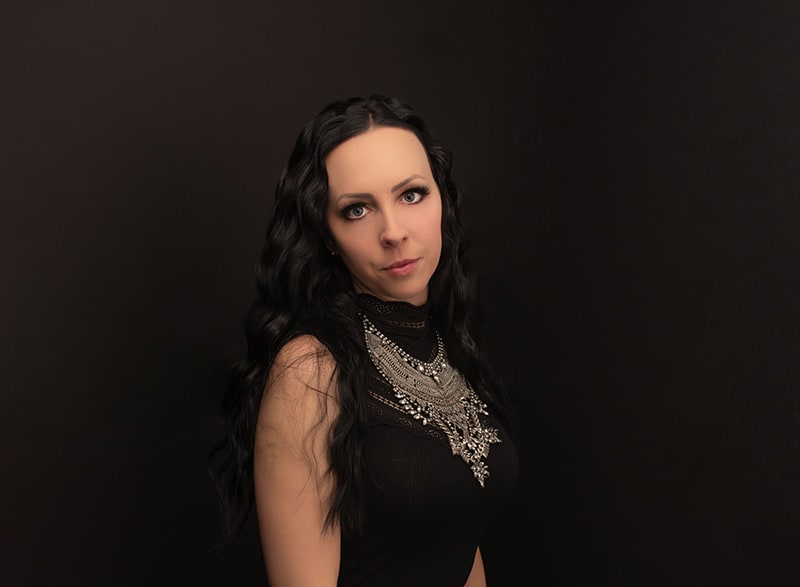 As for the happy occupants of that idyllic home on the hill? "They have a spectacular view along with plenty of intimacy." Find out more about Pamela's work and services at pured.co.