By: Loukia Zigoumis
Breezy beachside lifestyle, check. Spacious, modern, oceanfront hotel rooms, check. Infinty and lagoon-style pools, check. 24-hour fitness centre, check. World-class spa, check. Dining, recreation, and entertainment all in one place, check, check, check! For this year's winter escape, check-in to the Diplomat Beach Resort and enjoy soaking up the sun south Florida style.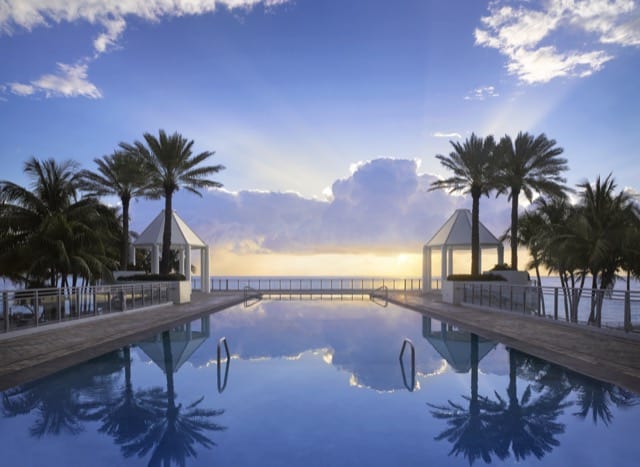 Travel is back in a big way, and people are craving warm winter getaways like never before… or like before, reminiscing the years prior to 2020. South Florida is always a popular spot for vacationing Canadians and the perfect destination if you're planning a trip with the family, with friends, as a couple, or even if you're on a solo adventure for some rest and relaxation. South Florida offers a little bit of everything for every traveller, like those looking to soak up the sun beachside, or for those looking to shop and dine, or take in a professional sports game or museum visits.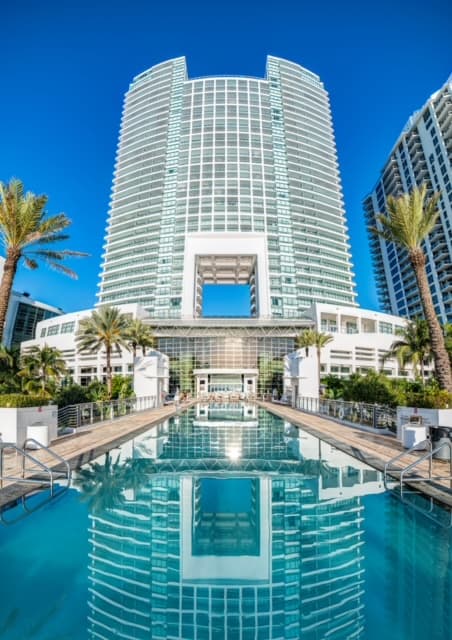 If you're looking for somewhere to stay that's great for the entire family while you're in south Florida, the Diplomat Beach Resort is the perfect spot, located between Miami and Fort Lauderdale (so you could fly into either airport). It's one of the top three largest hotels in all of Florida, and it's a wonderful escape, surrounded by endless views and sounds of the Atlantic Ocean. This beachside resort has everything you need for a relaxing and fun getaway.
The Diplomat Beach Resort—also known as The Dip—has been voted one of the top 10 resorts in Florida by Conde Nast Reader's Choice, and the hotel boasts a 4 Diamond rating by AAA.
This oceanfront resort has been around since 1958 (and was often visited by legendary celebrities like Frank Sinatra, the Rat Pack, and many US Presidents) and recently underwent a $100 million renovation from the spacious lobby to the pool area. The hotel has over 1,000 guest rooms and suites, making it the largest hotel in Broward County. The rooms were designed by world leading hospitality interior design firm Hirsch Bedner Associates, and the guestrooms depict two different design themes: Sunrise (bright and vibrant, with sunrise views) and Sunset (subtle and modern, with stunning sunset views). All rooms offer unobstructed Atlantic Ocean or Intercoastal views, most with large balconies.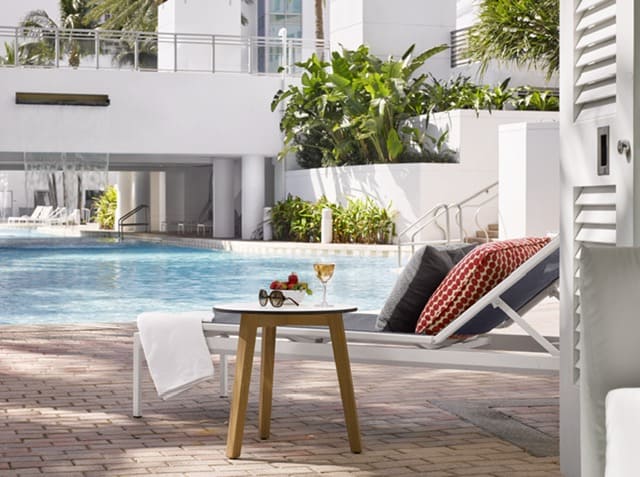 Guests at The Dip can enjoy a modern lobby with the rear opening to an oceanfront infinity pool, and below, a gorgeous, large lagoon-style pool with private cabanas that can be rented for the day. The resort is right on the beach, too, so you don't need to travel far to dip your toes in the sand! A bonus for the young ones: The Dip and Slide, a new water park attraction complete with enormous dump bucket, slides, and water cannons is open year round. (There is also a Kids Club so the adults can enjoy some fun in the sun while the kids stay happily occupied). If you're feeling adventurous, you can enjoy the hotel's jet skis, kayak's, and paddleboards, or play a game of beach volleyball. Across the hotel's sky bridge, you'll find Diplomat Landing, overlooking the Intracoastal, with dining options, entertainment, and a private marina with sailing charters.
The newly redesigned indoor-outdoor hotel bar is open from morning to night, and you can cozy up around the outdoor fire pits and patio on milder days. The Dip is also home to a 24-hour fitness centre, a 15,000 square foot award winning spa and hair salon, and has six delicious dining options that will take you on a culinary journey from Diplomat's signature steakhouse, Diplomat Prime, or enjoy Point Royal for American cuisine from celebrity chef, Geoffrey Zakarian.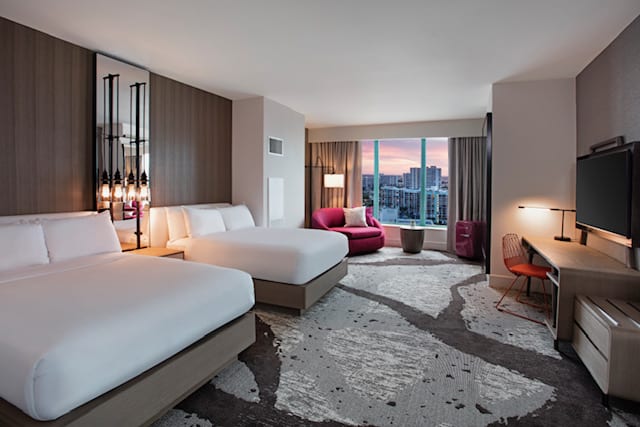 Although the Diplomat is a very large property it quickly starts to feel like your home away from home, with excellent service, and that comfort and peace of mind one hopes to find while on vacation away from home. My family and I have been vacationing here for over 17 years, both in the summer and winter months, and it's always been a memorable vacation.
If you're looking to venture off the resort's property, you can head to Hollywood's oceanfront boardwalk, and make sure to check out Aventura Mall, one of the largest shopping malls in all of America and the largest mall in Florida. This premier shopping destination is only 10 minutes from the hotel, and is anchored by Nordstrom and Bloomingdale's, with 300 luxury boutiques and hundreds of other stores, dozens of eateries, and 50 restaurants. A short drive from the hotel you'll also find Bal Harbour Shops, a truly luxurious indoor/outdoor shopping centre, with all the finest luxury boutiques you can image, and the best restaurants to people watch, from Carpaccio's to Le Zoo.
For some night time fun, head to Gulfstream Park, about ten minutes from the Diplomat. Here you'll find outdoor restaurants, shops, and a large casino, complete with an arcade the kids will love.
There are countless ways to keep your days and nights busy in south Florida, while spending hours relaxing by the beach and pools at the Diplomat Beach Resort… a vacation fit for everyone.