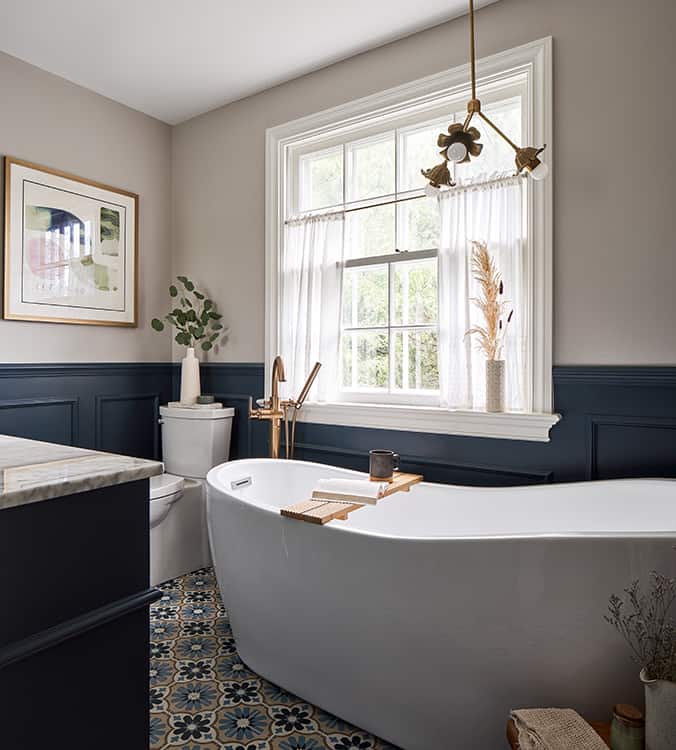 A Grassroots Design and Build project showcases eye-pleasing possibilities for a dreamy bathroom retreat.
At a time when leisurely vacations or even quick getaways aren't realistic, there is one tantalizing, ever-ready spot where you can decompress and shed your cares along with your clothes. Call it the master bath or, to be politically correct, the principal en suite. Whatever moniker you choose, that private space is prime household real estate these days, and this recent project by Emma Doucet's Grassroots Design and Build illustrates its delightful possibilities. Why not create an at-home retreat where you'll want to lather up and linger?
The local householders who called on Emma had worked with the designer before, on kitchen and bathroom upgrades, so when they wanted to reconfigure space to create a master bathroom, they looked to Grassroots.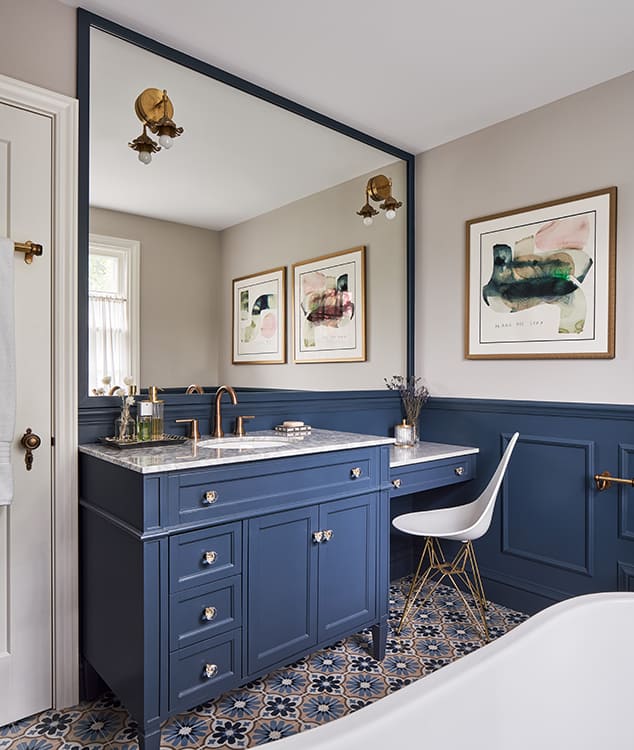 "We started off thinking we were going to do one large bathroom, with a tub, shower and vanity," Emma notes. "After going through the entire design process, including drawings and elevations, we realized there was an odd structural reality that made opening up the wall between the current bathroom and their bedroom financially prohibitive."
This was, she declares, "an opportunity to reimagine the project." Plan B involved updating the original bathroom and putting a separate, smaller bathroom off the principal bedroom. "This meant their daughters had their own bathroom with a shower, and the parents had their own bathroom with only a tub." Happily, the client loves baths. Better yet, the end result of this rethink was two fresh and lovely bathrooms for the same budget.
Design for the all-new bathroom started with the personal: tile the client admired. "She had seen similar cement tiles in an old small village hotel in the south of France and had loved the old-world look and feel," the award-winning designer explains. "I loved that she loved cement tiles as most people are too nervous to do them. I love the patina and imperfection of them."
Emma also appreciated the personal input. "I also always find it easier to start with something [clients] love. She loved that tile, and then everything flowed from that."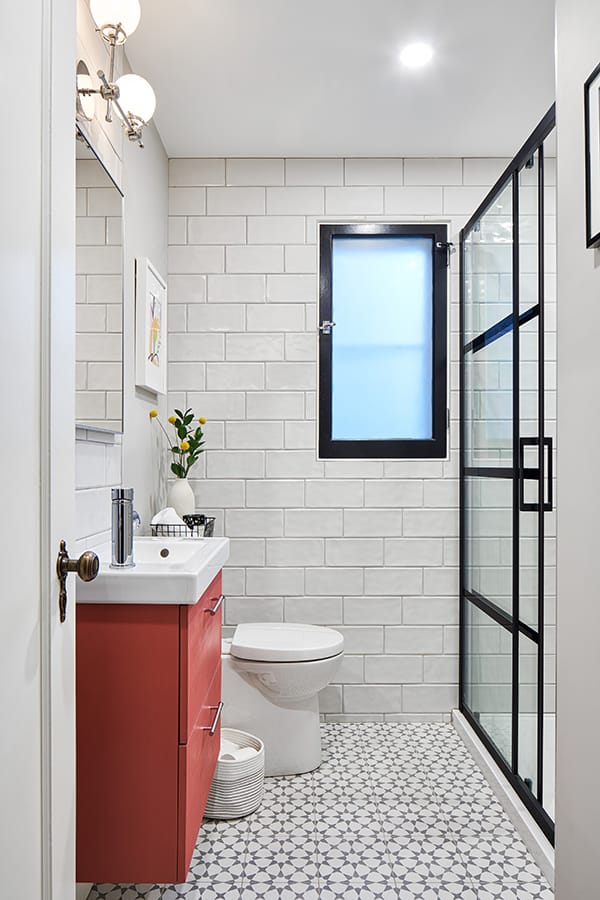 The details are beguiling. A whimsical pendant and sconces charmingly echo the floor pattern, while the tub is perfect for soaking in bubbles with a glass of wine, a candle or two, and a good novel. Even the doorknob is a gem. But as Emma revealed to fans at @grassrootsdesign on Instagram, "This wall panelling really made this space for me." Not only does it accentuate the floor tile and frame the tub, she says, it elevates the room. The client's husband custom-built it. "We drew the dimensions onto the walls and he did the work."
Since the client wanted to be able to sit down to dry her hair, a desk was custom-built (again, by her husband) to match and extend a purchased vanity. It gives the impression of being a single, custom piece.
Distinctive wall colours, brass elements and that encaustic cement tile (the Catherine design) from Saltillo Tile and Stone combine for an end result Emma describes as an "old-world-meets-new-world kind of look." It's perfect for a world-beating getaway while you stay put at home.