By Janet Wilson
Photography by FINNSQUARE.com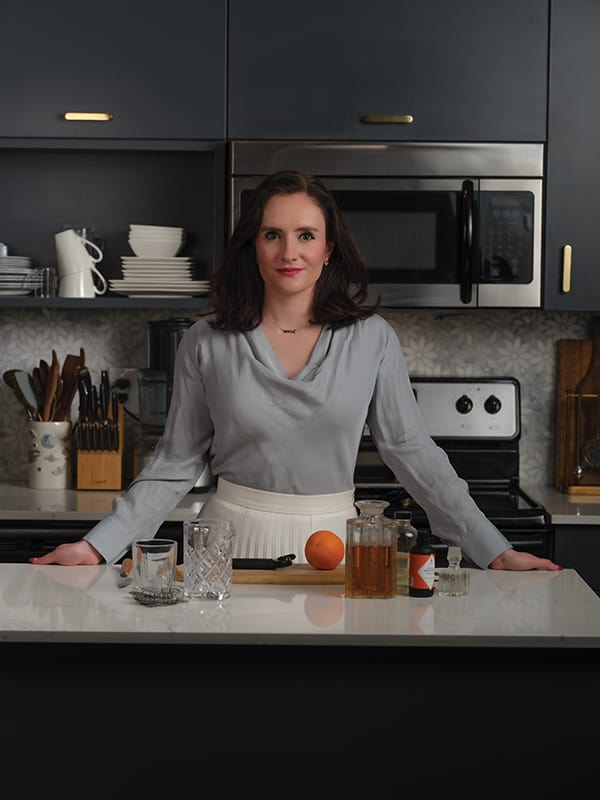 Relax, unwind and prepare to be entertained at Taste & Tipple's lively virtual happy hour
Yvonne Langen is shaking things up in Ottawa. With every colourful online post, the Taste & Tipple creator and food and cocktail enthusiast offers the pandemic-weary a respite from the gloom with her witty step-by-step recipes.
Meticulously dressed and with her sultry, cheery voice, Yvonne welcomes viewers several times a week into the contemporary kitchen of her charming 600-square-foot downtown condo. With her signature "Hello, friends" greeting, we're introduced to a mix of classic cocktails such as an Old Fashioned and Manhattan, and new creations, like the Plum, Pisco and Sage Sour, The Maneater Tiki Cocktail and a Rosemary Martini. Viewers can also learn how to make simple syrups and experiment with infusions, including Earl Grey Tea with gin.
Informative and fun, her posts are grounded in context with delicious details on the historical origins and flavour notes of a beverage or spirit and she also shares food recipes. Her humorous, approachable pieces and how-to videos are easy to follow and include handy tips on where to purchase the featured items. She also includes non-alcohol alternatives.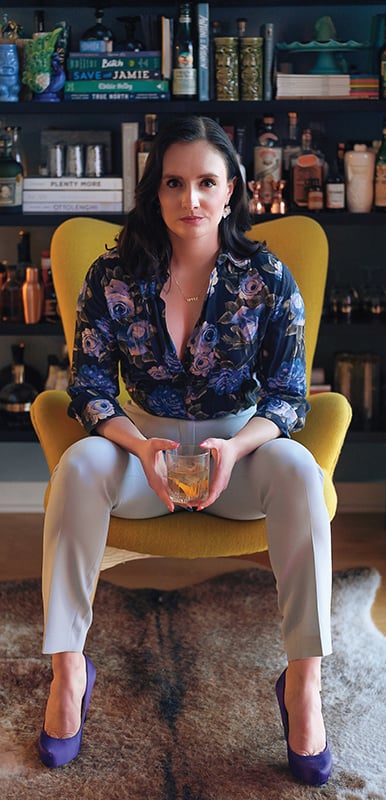 Her blog is a veritable feast for the eye with sumptuous food and drink photographs garnished to perfection for every taste imaginable. It also includes content focusing on her love of fashion, fitness and home decor, including glimpses of her ultra-funky bathroom and kitchen renos. There are restaurant reviews and local shopping and gift guide suggestions, too.
The cocktail connoisseur's most successful event to date was in December when she launched her month-long, fully sponsored Let's Get Blitzen Advent Calendar campaign where she shared a daily cocktail recipe and video. With more than 10,000 followers on Instagram, a popular YouTube channel and numerous media interviews under her belt, Yvonne is gaining clout with the bigwigs in the spirit world.
Originally reluctant to appear on camera when she launched her Taste & Tipple blog in September 2017, all that changed when the first COVID-19 restrictions were announced in Ottawa in March 2020.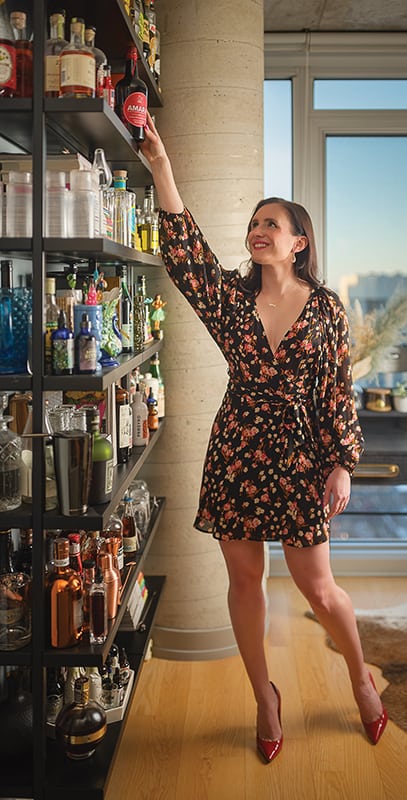 "I was honestly thinking of throwing in the towel and giving up on my passion project. I wasn't making a cent and felt like Instagram was against me. What happened next was really a comedy of errors. I launched my first virtual happy hour on March 16, 2020, by creating a three-ingredient cocktail with one hand while filming with my phone in the other hand."
Yvonne went on to post a virtual happy hour six nights a week and noticed that people were tuning in. After generating 100 episodes between March and July 2020, her feed skyrocketed, and she hasn't looked back. While she has no plans to quit her executive job as vice-president of sales and marketing at Abacus Data, a boutique market research firm, she estimates that she works anywhere from 70 and 100 hours a week. Her ultimate goal is to eventually launch a "full-blown lifestyle brand."
"I did about 50 collaborations in 2021. The goal is to increase this and to have brands commit to a retainer model where I make content for them seasonally," Yvonne says. "As a sales professional, I'm well-positioned to know what it takes in terms of outreach and outbound lead generation, so I apply those principles to my blog work. The advent calendar alone was easily eight weeks of 40-hour work weeks, which I did after my day job and on weekends."
She is also acutely aware of the rise in excess drinking over the course of the pandemic and encourages viewers to consume wisely. She has introduced things such as Sober Sundays, participates in Dry January and works with non-alcoholic brands.
The 33-year-old, who grew up in a "non-foodie" household in Cambridge, Ont., moved to Ottawa in 2006 to study journalism and women and gender studies at Carleton University, where she played varsity field hockey. After moving out of residence, her love of cooking and entertaining kicked in. She fell in love with the LCBO's Food & Drink magazine and began to capture her own meals and drinks during dinners with friends. They encouraged her to start a blog and before long, the self-professed perfectionist began taking photography and design courses at Ottawa's School of the Photographic Arts (SPAO) to up her online game. "I'm always looking to improve the quality of my work and have spent thousands of dollars on courses and equipment."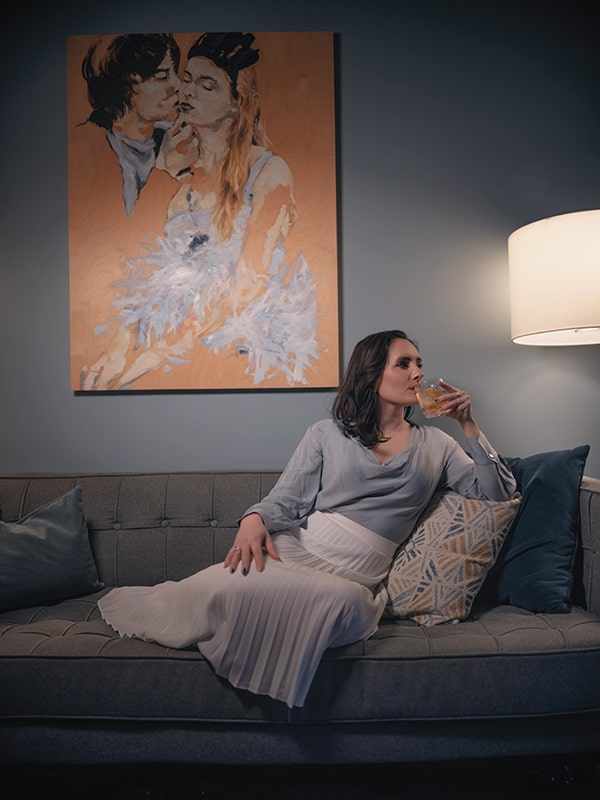 Taste & Tipple is a time-consuming labour of love for Yvonne, who writes 100 blog posts a year, creates 50 cocktail and 35 food recipes and spends countless hours on photo editing, scheduling posts, networking with agencies to introduce herself and maintaining an online shop where she sells branded clothing on tasteandtipple.ca.
As she has become more comfortable in front of the camera, Yvonne has revealed personal insights into her dating adventures and life as a single woman in Ottawa. Her posts are refreshingly honest as she navigates the highs and lows—warts and all—of searching for a partner.
"There's been a real evolution over time on my blog. I wasn't expecting this, but people connect with my vulnerability, shared experiences and challenges. It's really flattering. I don't think I would have survived the pandemic mentally if it weren't for this welcoming community."
For the record, her favourite cocktail is an Old Fashioned, which she likens to an exercise in restraint. "It's challenging to execute. It's not meant to be flabby. It's about surgical precision and must be well-crafted—even down to the quality of the ice."
For 2022, Yvonne is focusing on simplicity and creating cocktails that anyone can make with just a few ingredients.
"My catchphrase is that it's about participation not perfection. Ultimately, you need to make it accessible and flexible if you're inviting home bartenders and people who are in their discovery phase into this shared experience. This is a big part of what has allowed my channel to grow. I don't look down my nose at people or make them feel bad. People just want to feel part of the process."
COCKTAIL HOUR
Luxe Lavender Sour
Created and photographed by Yvonne Langen
Ingredients
• 1 1⁄4 ounce chamomile with lavender tea-infused rye
• 1⁄2 ounce Strega
• 1 ounce lemon juice
• 1⁄2 ounce honey syrup
• 3 dashes Peychaud's bitters
• 1⁄2 egg white
• Garnish with dried lavender sprigs
Instructions
1. Add all ingredients into a cocktail shaker. Shake without ice
for 15 seconds.
2. Add ice and shake again, until well chilled.
3. Strain into a chilled flute glass.
4. Garnish with two sprigs of dried lavender.
Chamomile with lavender tea-infused rye
• 4 ounces rye
• 1 chamomile with lavender tea bag
1. Pour 4 ounces rye into a jar. Add one chamomile with lavender tea
bag and steep for one hour.
2. Remove the tea bag and store in the fridge until ready to use.
Honey syrup
• ½ cup honey
• ½ cup boiling water
1. Add honey and boiling water to a mason jar. Stir until fully
combined. Cool to room temperature.
2. Store in the fridge for up to three weeks.