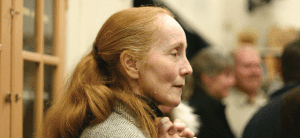 By Beka Dane Shenter
Merrilee Hodgins, co-founder and artistic director of  The School of Dance, has spun the dance arts into the social fabric of our city.
Located in the heart of New Edinburgh, The School of Dance is a multi-storey red brick building that was once Crichton Street Public School. Since the renowned arts education institution relocated here in 2000, this local landmark has become a hub of activity, drawing budding ballet dancers from far and wide, as well as community members of all ages and abilities.
Under the mindful and enthusiastic direction of co-founder and director Merrilee Hodgins, the school's population encompasses students from every ward in Ottawa, over five dozen communities across Ontario, all of Canada's provinces, and 14 different countries. Merrilee's talent for creating innovative spaces, for fostering talent, and for shaping inclusive opportunities for self-expression is grace in action.
Born in Edmonton, the dance educator made Ottawa her home after many years studying and dancing in Canada, England, Denmark, Germany and the United States. Here she shares her thoughts about dance and why Ottawa is a great place to share its lessons and pleasures.
What is your first memory of dance?
My parents took me to see a ballet performance of the Little Match Girl by Hans Christian Andersen when I was four years old. The dancing mesmerized me and to this day I can describe the sets, the lighting, the costumes, even the scene changes.
At what point did you realize dance was going to be a profession?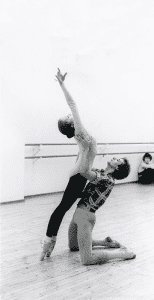 I decided that I was going to be a dancer when I was four. My first classes were creative movement, which I didn't particularly like, and when I was seven, I started ballet with an excellent teacher. My onstage experience began at age eight in a production of Brigadoon and then at 10 I danced in a cross-country tour of the Bolshoi Ballet when the company chose Canadian children for their production. I was hooked.
Does one dance performance stand out?
There are two answers. After sitting in the doorway watching their rehearsals, at age 12, I saw the legendary Margot Fonteyn and Rudolf Nureyev dance Swan Lake. Pure magic. The second is a sensory memory of the first time I danced with an orchestra. Swan Lake. The power and the passion of the music were electric and years later I still feel the shiver of excitement when the orchestra begins.
Dance has introduced you to many different places, cultures and experiences. Tell us about one.
I had the privilege of working with two great teachers from the Royal Danish Ballet: Vera Volkova, whom I studied with for the first time at the Banff School of Fine Arts, and Kirsten Ralov, whom I had worked with in Cologne, Germany. These amazing teachers taught me the value of history and how the art of ballet is passed along from one generation to the next. I often pinch myself when I stop to think about learning from these great dancers with direct links to the origins of ballet training.
What brought you to Ottawa?
A who: Celia Franca, [founder of the National Ballet of Canada and co-founder of the National Ballet School]. Miss Franca put together a company of dancers to perform at the NAC in June of 1976 in the opera Queen of Spades. We were an eclectic bunch from all over the map, and what fun we had.
What and who inspired you to open The School of Dance?
Again, a who: Miss Franca introduced me to Ottawa teacher Joyce Shietze and within a year Joyce and I opened the school. Our inspiration was the incredible talent of 12 students, all of whom became practising artists. Miss Franca had just retired from the National Ballet of Canada and she accepted our invitation to join us as a co-artistic director. Lucky us.
How has dance education changed since The School of Dance was founded in 1978?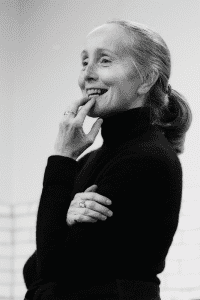 The basic vocabulary of dance has remained constant. However, our knowledge of the science of movement has vastly increased, and we take care of training minds and bodies much more effectively now. What has changed is the recognition that dancers are artistic athletes and the choreographers demand ever-more inventive expressions of the body. Over the years we have added anatomy, music studies, drama, visual art, even marketing and budgeting to our curriculum as the dancers of today must be fiercely independent. The constant availability through the internet of extraordinary dance feats is both good and bad for students. Inspiring yes, but without guidance on the meaning of the movements or help understanding the mechanics, the students risk learning only to copy and not actually experience the process. Dance requires patience, dedication, self-confidence and determination, imagination, and problem-solving skills— all qualities to be admired.
You provide a wide range of programs at the school, including professional ballet studies, the contemporary dance diploma, and children's, youth, adult and senior classes. DanceOnTour®, Connecting with Dance for Parkinson's and DragonFly® for learners with Down Syndrome are also offered. This remarkable range of options serves a wide community. What prompted it? 
I believe in the power of dance, the power to inspire, to communicate, to teach and to welcome. I grew up in a family that looked for opportunities to serve the community as volunteers, teachers, and mentors as a way of helping the world be a better place. Everyone deserves the opportunity to express themselves with whatever voice they have. It is my life's goal to provide or create opportunities for others wherever I can. I'm currently developing a dance and exercise programme for people with MS (Multiple Sclerosis).
You've received outstanding awards. Which ones hold special meaning?
The awards have always come as a surprise and an honour. My favourite is the next note I receive from a student telling me about what they're learning, or have learned, from their dance training. Last year a student told me, "You are a part of my dance DNA."