Pushing the Arts Envelope
By Pam Dillon, Photo by Rémi Thériault.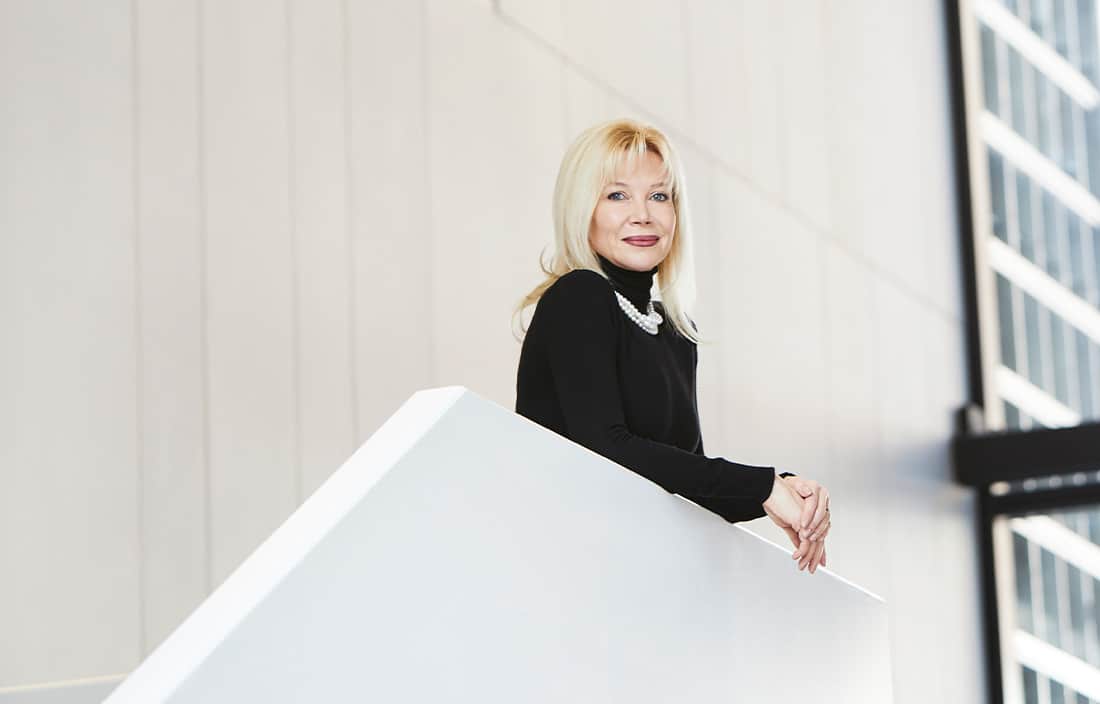 Imagine, for a moment, Shattering the Glass Ceiling as a performance-art installation. There's a force shooting upward, considerable impact, then a riveting cloudburst of reflective pieces, each
one unique. Meet Alexandra Badzak. The director and chief executive officer of the new Ottawa Art Gallery (OAG) has helped to shake up buttoned-down Ottawa with just this sort of power and
creativity, all while wearing heels, of course.
At first glance, you would be forgiven for mistaking this woman, who has breathed new life into he capital's art scene, as a socialite perhaps. She's blonde, beautiful, and vibrant as all get-out.
That's part of what makes her achievement so delightful. When you visit the city's spectacular new arts hub at 50 Mackenzie King Bridge—right at the downtown core—expect to be wowed. A
dazzling modern cube spanning five floors, with more than 55,000 square feet of programming space, it has walls of windows that allow the urban landscape itself to be part of the narrative.
Indoor features range from the Firestone Collection of Canadian Art (including works by the Group of Seven) to rooftop terraces and the Jackson café, named, fittingly, after A.Y. Jackson and
offering menus inspired by OAG exhibitions.
But, what is the best thing about the place? It has a sense of humour. Like Alexandra, it's beautiful, approachable, and vibrant as all get-out. There's no tendency here to whisper or to shuffle, single file, behind an imaginary docent. In a city of lofty national cultural institutions, the OAG is not only refreshingly engaging, it sets an important new standard for making culture attractive, accessible and open to all. For instance, admission is always free, and its operating hours, 9 a.m. to 9 p.m. daily, are such that people with busy lives will have time to visit. Besides the gender-neutral washrooms and accessible entrances, childcare is free Wednesday evenings and during vernissages. Better yet, the space, the art, the artists and the programming reflect and honour the
diversity of our region.
"We're your Ottawa art gallery," the director notes. "We are in service to our community. We take that very, very seriously."
A self-described "prairie girl," Alexandra Badzak grew up in Saskatchewan and graduated from the University of Saskatchewan with a bachelor of fine arts and a master's in adult and continuing education. "I'm trained as an artist," she mentions. "That's my first love." Following a decade at Saskatoon's Mendel Art Gallery, she headed east to become executive director of the Diefenbunker in 2007. After guiding the Cold War museum through some major changes, she took on the OAG role in 2010.
When she started, the OAG was one of the smallest municipal galleries in the country: a 12,000- square-foot space in an old county courthouse. Since the late 1980s, though, when it was founded as the Gallery at Arts Court, there had always been a dream of having a dedicated community gallery.
For eight years, Alexandra worked toward making that dream come true. Good thing she's tenacious. "It's been a bit of a roller coaster, " she admits. Naming a number of other people who
have been involved in the effort, many of them women, she adds, "It was just doggedly push, push, pushing with the belief that Ottawa deserves this. I knew we could do it."
When the new gallery finally opened its doors, "a lot of artists who fought for this space came in, saw, and cried." There was celebrating, too. The opening gala, April 27, was a major social event,
and Alexandra beams when she mentions a comment by one of the VIPs in attendance: "We think it's the best thing to happen to Ottawa in a generation," he said.
The public appears to agree. During the first month alone, there were more than 20,000 visitors, and the positive buzz has included a mention in The New York Times. Now, the woman with a big smile—and grit to match—says the task is to ensure Ottawa's new cultural hub will thrive. "It's one thing to build it, another to ensure a success. I want to ensure this is a success."