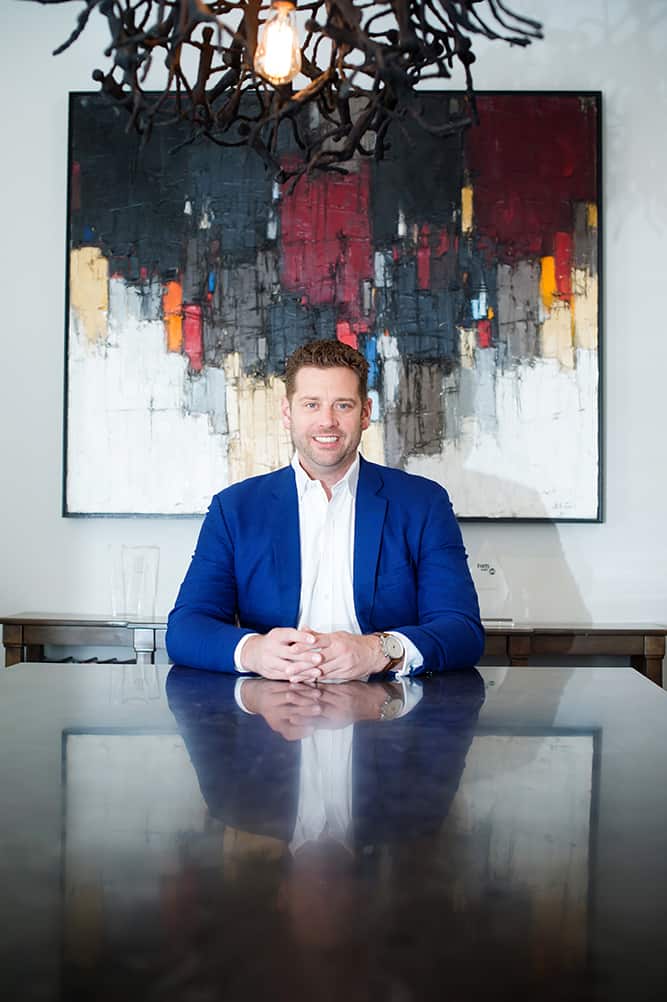 In the swim of community leadership
By Hattie Klotz
When Ottawa lawyer Hugues Boisvert graduated from both of his law schools—he studied civil law at Ottawa University and common law at Moncton University—he dreamed of becoming a business lawyer specializing in deals and investment. He also wanted to be an entrepreneur. With this background, he founded boutique law firm HazloLaw in 2011.
"I recognized that there was a place in Ottawa for a law firm offering exceptional service, one that is client-focused and capable of responding to client needs quickly." Hugues found that entrepreneurs and small business owners—people typically on the go and very driven—were indeed looking for exactly the services he wanted to provide. HazloLaw bills itself as a firm with a "strong entrepreneurial mindset."
While his wife Tegan might occasionally observe that Hugues is always on call, it's an approach to business that clients love. Send a text or an email and you'll often get a quick reply. Hugues has a certain restless energy that is primed for action.
And so, when friends and family members began having children, he came across another sector that was sorely in need of a more client-centered approach: children's swimming lessons.
In January 2020, Hugues opened the doors to the first KidsCanSwim Canada location, in Kanata, just off Terry Fox Drive. It's a 4,000-square-foot purpose-built facility that's bright and very clean, offering warm and shallow pools uniquely designed to teach kids how to swim. And the place doesn't smell of chlorine since an ultraviolet light system keeps the water sparkling, which means far fewer chemicals are used. Hugues has plans to open a further three facilities in Orleans, at the Train Yards and in Barrhaven.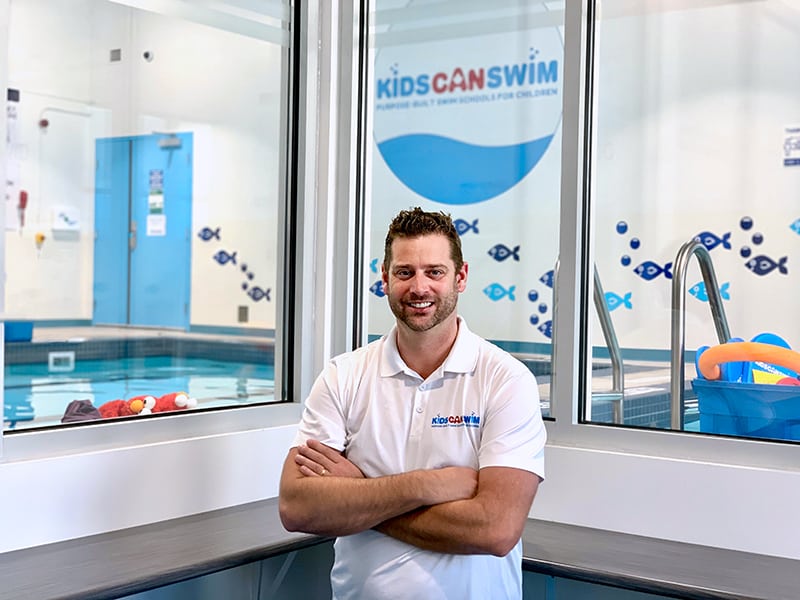 "We all have memories of dirty swimming pools and changing rooms, of lessons spent waiting your turn, shivering on the edge because the water is too cold," says Hugues. "So, we decided to offer a premium experience. Once again, it's all about putting the client first. There's just no reason why learning to swim should be an uncomfortable experience."
KidsCanSwim was founded on low-ratio, group swimming lessons with a simple, online booking system offering scheduling flexibility to families. It's run on a monthly subscription model, like the gym but without the contract.
"Offering a boutique service means exceptional service for guests delivered by team members who genuinely care," says Hugues. "Our aquatic educators are hired not just because of their qualifications, though they are all certified lifeguards and swimming instructors. They are hired because they are dedicated to teaching kids. This isn't just some summer job to them."
COVID has left nothing untouched. When KidsCanSwim was forced to close its doors shortly after opening, the swimming facility pivoted quickly to adapt to the needs of families who recognize it's important that their children continue to learn to swim. To keep swimmers and team members safe, KidsCanSwim is solely offering private, semi-private and socially distanced babies' group lessons until at least January 1, 2022. "While COVID has made things difficult for us all, our focus is still on providing a boutique swimming experience," Hugues notes.
When he's not dreaming of swimming pools and the law, Hugues is busy in the community. Recognized as a Global Shaper by the prestigious World Economic Forum and awarded a Top 40 Under 40 award in Ottawa, he was chair of the business development group for the Ottawa United Way's 2014 community campaign, currently sits on the organizing committee for the Ottawa Hospital Gala and mentors young entrepreneurs around the world. He and Tegan hope that as KidsCanSwim becomes established in communities across Ottawa, they'll be able to offer swimming lessons to children who otherwise might not get the chance. "Swimming is a life skill," says the KidsCanSwim website, and "all children have a right to learn to swim in a safe, comfortable environment uniquely designed for them." kidscanswimcanada.ca