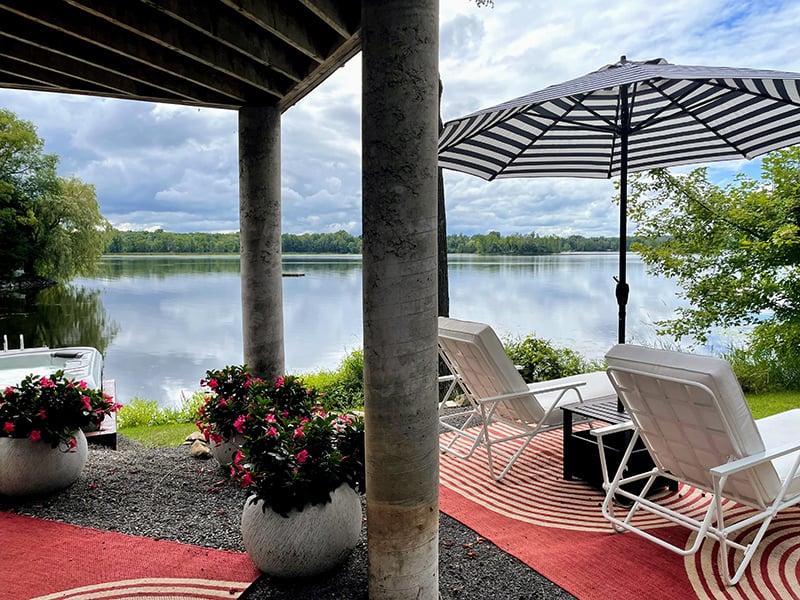 How two urbanites discovered the joy of country living
By Melissa Milakovic
A picture can convey 1000 words; a picture can also be deceiving. I told myself this last summer as I scrolled through images of a listing for an unusual lakeside property: two small, box-like buildings made of red and grey corrugated steel, situated just 30 feet from the water. This was something not commonly seen for sale, or at all. Naturally, I called our realtor to book a viewing.
Truthfully, we had no intention of buying it. My husband and I are not cottage people; we are urbanites, through and through. My ideal nature walk is one through Central Park with a cappuccino in hand and clean designer sneakers on my feet. Feeling compelled to see this atypical piece of architecture, we set out on an unexpected adventure. We would make a day of it: see the place, and try to imagine cottage life. Go for a drive, maybe a swim, grab lunch and a glass of wine in Westport. Then, of course, we would discuss how the photos were better than the real thing on the drive home, remaining urbanites forevermore.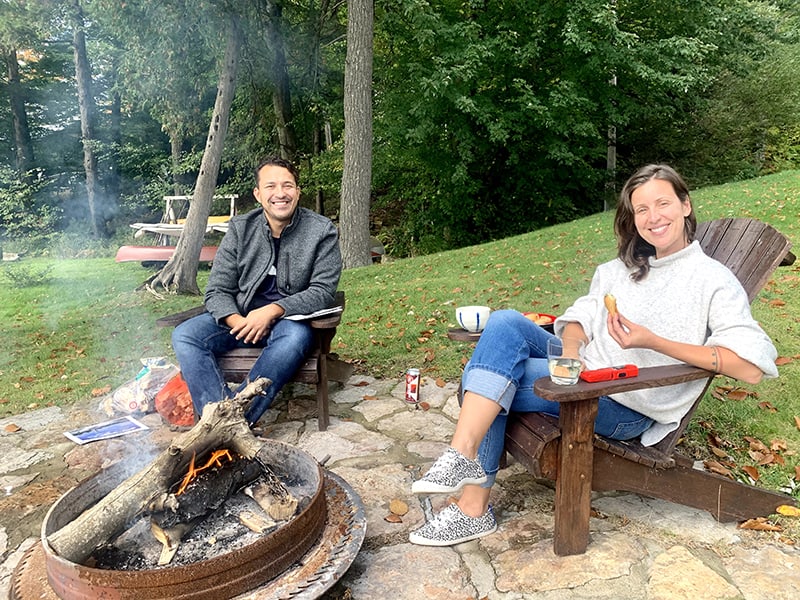 This is not what happened. The photos, it turns out, did not do the property justice. And now, we are cottage people.
Designed and built by Andris Abele in 2005, this inimitable property was his family's primary residence for 15 years. Born in Australia, of Latvian descent, Abele is an artist with an affinity for architecture and design. Self-taught and meticulously driven by details, his has been a designer/builder since 1980. His homes are nothing short of breathtaking. There are three others within walking distance of what is now our cottage—a testament to his impeccable taste.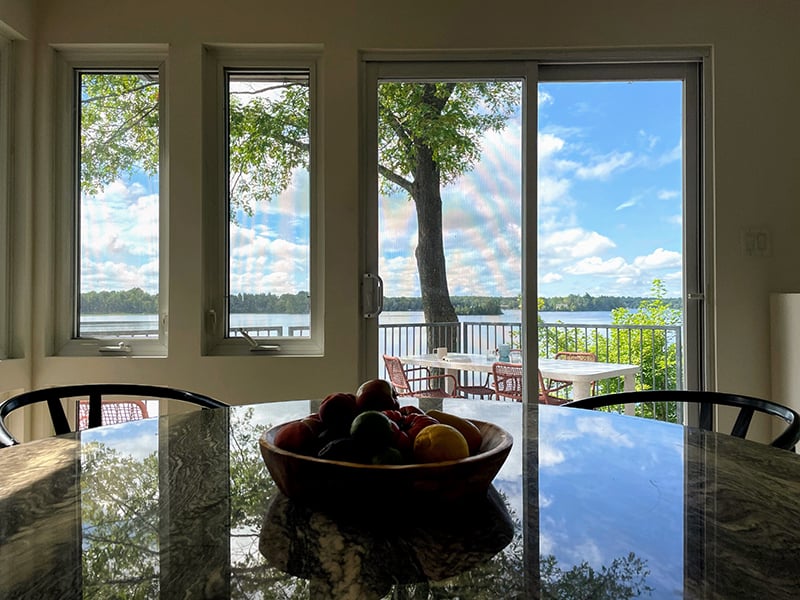 Surrounded by oak trees, a significant element in Latvian culture, our two buildings are tucked into the slope of a hill. Abele insists the land dictate the design. This is how he determines all his work: as a celebration of natural elements that surround the space, not the other way around. And you feel that the moment you step foot on the property.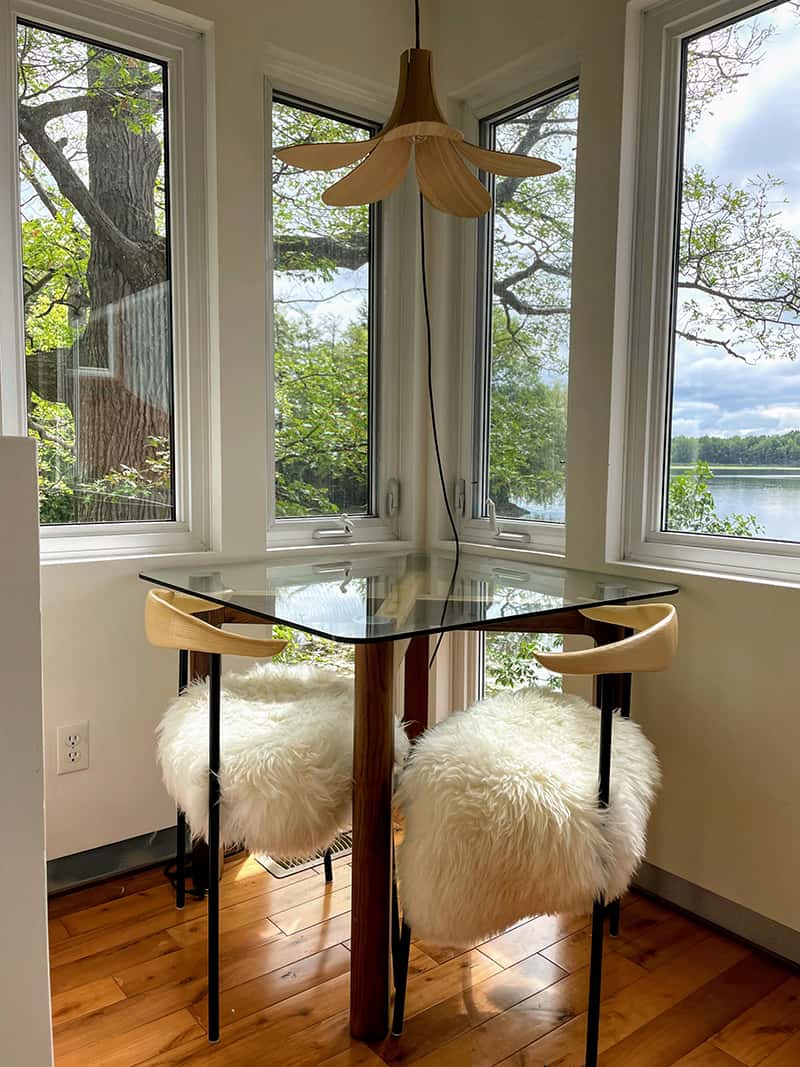 Set on a little less than an acre of land, it could not be more picturesque: aforementioned oak trees mingle with birch, chestnut, maple and fir. An actual secret garden is nestled on the edge of the property. As you saunter down the stone path you discover lilies of all colours, irises, peonies, lilac, jasmine and a multitude of greenery I cannot name but have enjoyed through the seasons. The buildings themselves are outlined with similar gardens trimmed with unrefined rocks from the region. To lure you further into this majestic property, a large expanse of manicured grass slopes down to the water's edge where tall grasses sway in the breeze and lily pads dot the surface near the shore. Off to the right, a stone pad hosts a firepit handmade by Abele using old steel saws and wheel wells; a group of mixed trees provides shade and space for a hammock.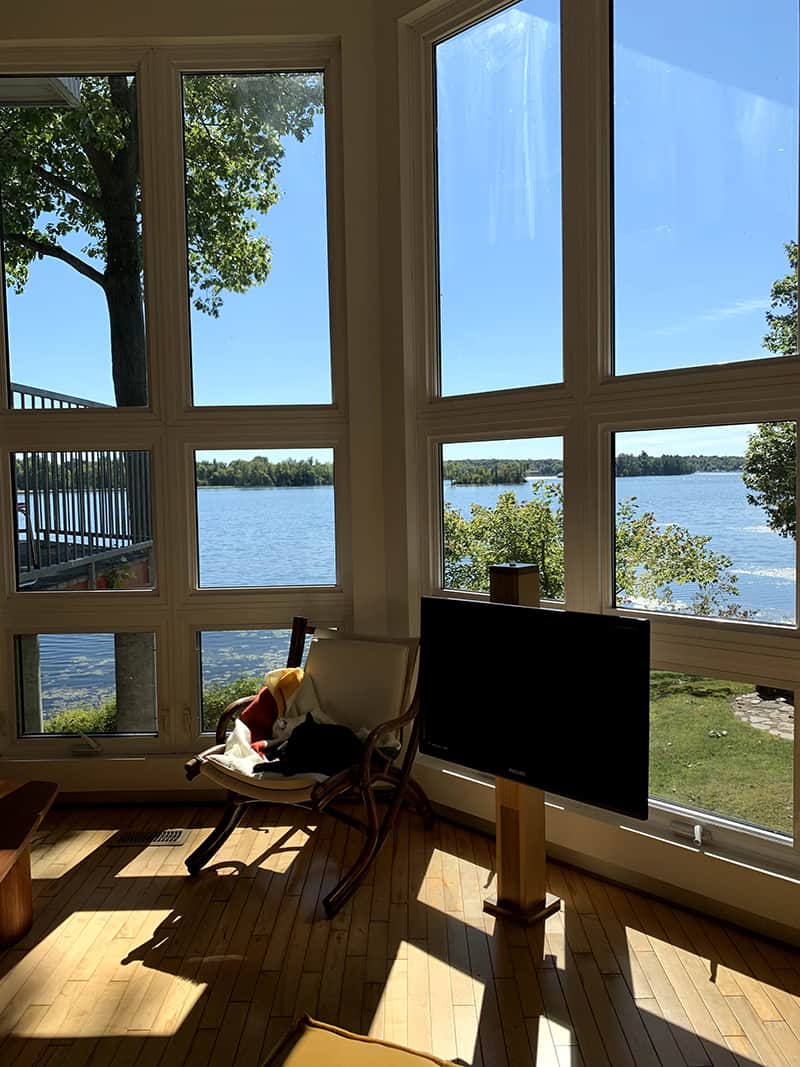 When I say this place is magical, I am not exaggerating. We felt it the moment we arrived; the feeling has never diminished.
I could tell you about the breathtaking views of the lake from both buildings; there's definitely a competition for best view. How when you're enjoying a meal at the kitchen table in the main house looking out over the water, the deck comes to a sharp point like the bow of a ship, hiding the land beneath. It truly feels like the water is moving past you. I could also describe how every inch of space has been thoughtfully considered: the placement of each window to capture heat from the sun, season to season. Or the artisanal cabinetry, stonework and use of glass and stairs to expand space. I could even talk about the oh-so-clever recycling shoot beside the kitchen sink or the cupboards and drawers that make up the entirety of the kitchen, with no wasted space. But the story here is deeper than that, more meaningful. When an architect has such deep respect for the land and for the space we occupy on it, a certain alchemy occurs. One feels more connected and therefore more at ease.
In the before times, my husband and I travelled a lot. Some of it for work, much of it for pleasure. We never would have considered a cottage because of this. Also, as has been established: we are city kids. But as the world changed in real time, so did our priorities and schedules. Some people got pandemic puppies, we got a pandemic cottage. It has truly become our place to reconnect, both to each other and to a quiet place for our hearts and minds to reflect.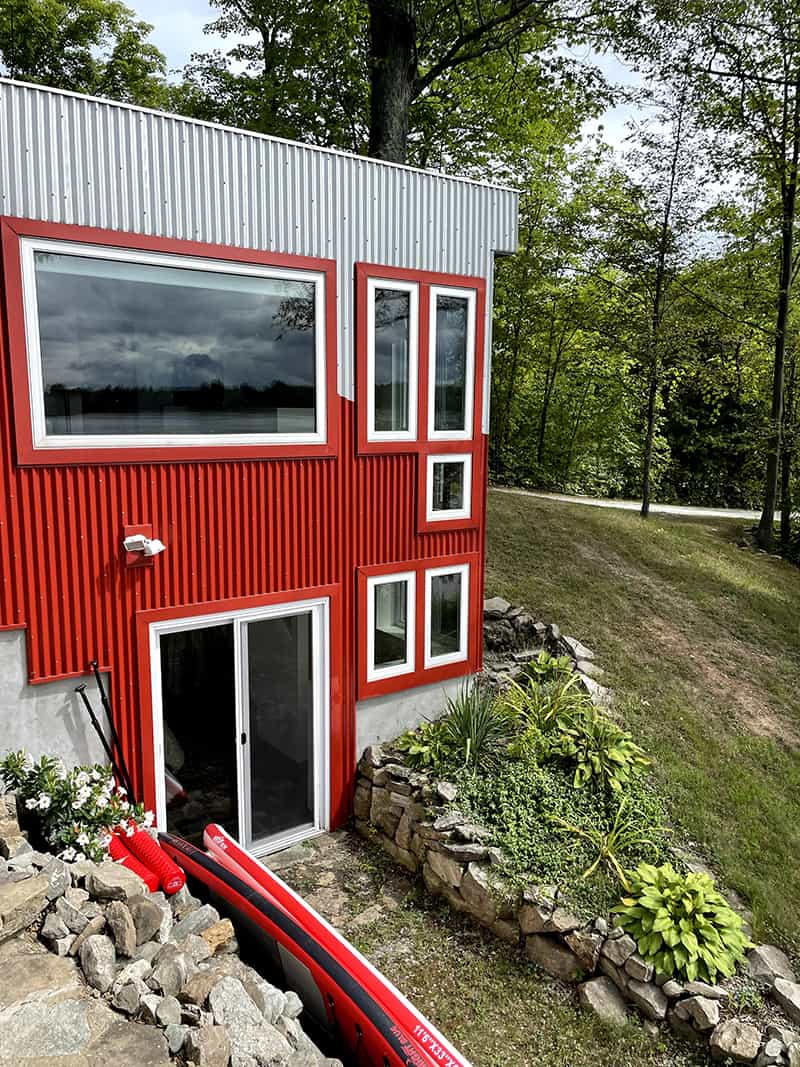 We have learned how to weed and mulch and rake and trim. We have learned about the woodland and bufflehead ducks, the herons, swans, geese and loons. We've watched muskrats swim back and forth all day long, out hunting to feed their babies. We've gotten to know a mama osprey who guarded her nest with fury whenever we got too close, and we've seen her fish with such precision it blew our minds each time. I have not, however, gotten used to the universe of bugs, the delicate well water system, or the iron that turns the water rusty orange from time to time. I will never want my feet to touch seaweed or anything like it. But I will always and forever cherish this special place we now call our second home. So perhaps this is actually a story of how two city kids found peace and pleasure in the country, mosquito bites notwithstanding.