By Beka Shane Denter
Fiona McKean hasn't just brought The Opinicon Dining & Resort back to life. While returning the Grand Old Dame of the Rideau to her glory days, this Ottawa mother of three is revitalizing the region.
As I make my way towards the tall, slim woman with the blonde pixie cut who's standing in line at the coffee shop, I realize that for the first time in a while I'm a little nervous about an interview. Then Fiona McKean turns around to face me, all smiles, and I'm instantly at ease. "Beka?" she asks. We've only seen a Facebook image of each other. "Yes," I smile back. "I'm a hugger," she says as she pulls me in for an unexpected, but much appreciated greeting. I'm immediately a fan.
Fiona McKean is the owner of The Opinicon Resort & Dining located on the banks of Opinicon Lake in the picturesque village of Chaffey's Lock. We're here to talk about this passion project Fiona embarked upon over five years ago. At the time, she was pregnant with her third child. The Opinicon was and continues to be a true labour of love for this Ottawa native who is committed to reviving the Rideau Lakes region.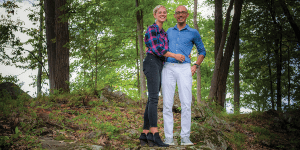 What's your first memory of the Opinicon?
I don't remember how old I was, probably around eight or nine, but I was wearing one of those oversized, puffy orange life jackets that were ubiquitous in the 80s. I'm running up the driveway of the Opinicon from the Indian Lake approach, and I'm headed straight for the ice cream shop. Ironically, I have no early memories of the main lodge at all, just the ice cream shop.
You purchased the property "as-is" back in December of 2014. How has the transformation unfolded?
It might seem dramatic, but it kind of felt like a birth: intense, exciting, painful, feels-like-forever-but-it's-not, and it's hard to remember the details when you look back. It's all a blur now. The beginning was quite terrifying. I had no idea what to do, and I was heavily pregnant. I was in a weird frantic daze, doing as much as I could, but with no clear vision in my mind. The turning point was going on CBC radio in January, with my then four-week-old son. I blearily walked in, did the best I could to explain what I had in mind for The Opinicon and asked those with memories and hopes for the place to get in touch with me. And they did. After the show aired, I received over 800 emails. (I read each one, usually during late-night feedings.) People poured their hearts out in their messages, offered me encouragement and thanks, and told me what they hoped The Opinicon would be. It helped to calm my racing thoughts, and the bigger pieces of the puzzle started sliding into place. It took about four years to get all of it together, but we're finally at a point that I can stand back and say, "This is what it's meant to be."
It sounds like a true labour of love type of project. How did you manage to multitask a major renovation and motherhood?
My partner and my parents. Tobi [Lutke, founder and CEO of Shopify] has been incredibly supportive and positive through all the ups and downs. He's not able to contribute much time himself, but he did set up our Wi-Fi. My parents are the real MVPs. They live very close to us, and my family rely on them heavily. Thankfully they seem to be up for it. From school pickups and stay-overs when we're both out of town, to sewing Halloween costumes and helping with meals. Without Dale and Bruce none of this would be possible.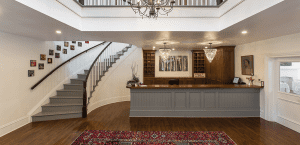 As The Opinicon has matured, my day-to-day has also changed. The first year I was dropping off the two older boys at daycare and driving the baby back and forth to the resort with me for meetings. Then it was one kid to school, two to daycare, and day trips for me to The Opinicon. And then it was two kids to school, one to daycare, and two days a week at the resort. Now we're finally at a point where all three kids are in school (what a massive difference), and I'm only driving down once a week for face-to-face meetings. Everything else is done remotely now.
You spent summers at your neighbour's cottage in the area. How was the experience different returning as a new business owner?
There's a lot you don't think about as a cottage owner: larger infrastructure questions, quality of schools and workforce skills, housing stock, rental availability for your staff and so on. The list is endless. It was like drinking from a firehose. Before all this I had worked at Global Affairs Canada on the programming side, so I had project management, budgeting, and HR experience, but while some of it is transferable it's all in a very different context. It was a lot to learn in a very short time.
Venturing into the hospitality industry must have been an interesting change. What have you learned in the process?
My only other experience in hospitality was working as a banquet server at The Westin hotel to pay for my undergrad and that was a while ago. I was incredibly fortunate to be able to lean on my dear friend Stephen Beckta. I think he saw the look of blank confusion on my face—How do I set up an industrial kitchen? What does one ask a candidate when interviewing for an executive chef?—and dove in; he was a godsend. The other huge boost for me was an introduction to Zita Cobb, who quickly became one of my favourite humans ever. She came down to The Opinicon for a day trip early on in the process and walked through the buildings and grounds with me. I haltingly tried to articulate my vision and ideas, and at the end she didn't think I was crazy. She looked at me with a straight face and told me that I had all the right instincts, that I had something special here, and that I was the right person to do it. I could have cried with relief.
What I learned was to ask for help, to really listen to the answers, and to trust my instincts when it came to the big picture.
Is The Opinicon now how you envisioned it to be?
The Opinicon has evolved a lot in the details. We've built additional cottages, it's open year-round (except for January, when we do renovations and touch-ups), we've opened up a lake-facing patio grill, built a pool, and many other things big and small. But the overarching narrative of sourcing locally, contributing generously to the community and supporting local artists has remained. The ultimate goal is to make memories that last a lifetime, and I think my team and I have achieved that.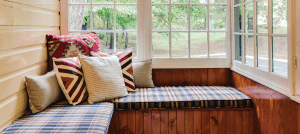 The Opinicon can accommodate groups of up to 100, and has hosted many weddings, family reunions and team-building events. Does any particular event stand out as memorable?
The first wedding was a real tearjerker. The family had a long history with The Opinicon and were thrilled that the Grand Old Dame of the Rideau was alive again. We were in our very first summer and everything was still completely topsy-turvy. For example, in order to get the required number of bathrooms for the dining room, we had to bust through walls and incorporate old guest room bathrooms, so the public washrooms had bathtubs in them. The wedding party arrived, and we did our very best for them, and the staff and I all stood at the dining room windows and watched the stunning ceremony take place on the lawns. The first of many, but that first one made me cry.
Any special events planned for the 2020 season?
We always keep things interesting. We host craft markets in spring, in August and before Christmas. We have live music every Friday night in the pub, featuring local artists, and we do a large free music festival the first weekend of July. Easter is always special, as is Halloween. (We decorate all the cottages and dinner guests can do trick-or-treating.) There are lots of other community-centered events that we either host on site or participate in off site. It's a busy year.
It's wonderful that you employ many locals. Was this important to you?
The Opinicon is a very old institution. It was originally built in the 1880s, and became a hotel in 1901. I want The Opinicon to see the next 100 years as well, and I knew that in order to do so it had to be woven back into the lives of the locals. When it had gone through a decline and closed for several years, those bonds had been broken. The revival had to include rebuilding those bonds and providing a solid future for the community, as well as the business.
The Opinicon has partnered with Bell to bring high-speed internet service to the resort and Chaffey's Lock, as of this spring.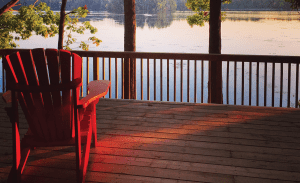 You also mentioned that most of the ingredients on the menu are sourced locally.
Part of building a solid future for the community means ensuring the benefits of the business go beyond its property lines. We knew local farmers were struggling, and we knew we could help by sourcing from them instead of purely from centralized food services. It hasn't been easy, as the yields are small, and we have a huge turnover through the summer. They also don't always have a means of getting their produce to us, so we end up spending a lot of time on the roads with our catering truck to do pickups at various stops. However, I think the benefits to the community certainly outweigh the additional cost to the business.
You spend a lot of time in the region with your three boys. You mentioned that your oldest son, Tristan, helped out last summer at the ice cream shop. How are the children involved in the resort? What do you hope they'll take away from spending summers at The Opinicon?
They are still quite young, but I try to explain things to them about the importance of the community events and why it's important to care about details. With Tristan I've started explaining the flow of service, the logistics (a topic he loves), and the basics of customer service. He likes helping with opening the Ice Cream Store in the morning, wiping down the tables, filling the napkin holders, and organizing the board games and puzzles. The younger two often run out to help the gardeners with the water hoses. Over time they'll all graduate into cutting grass, washing dishes, and scooping ice cream.