Le Domaine d'Ablon Estate
By: Brigitte Hasbron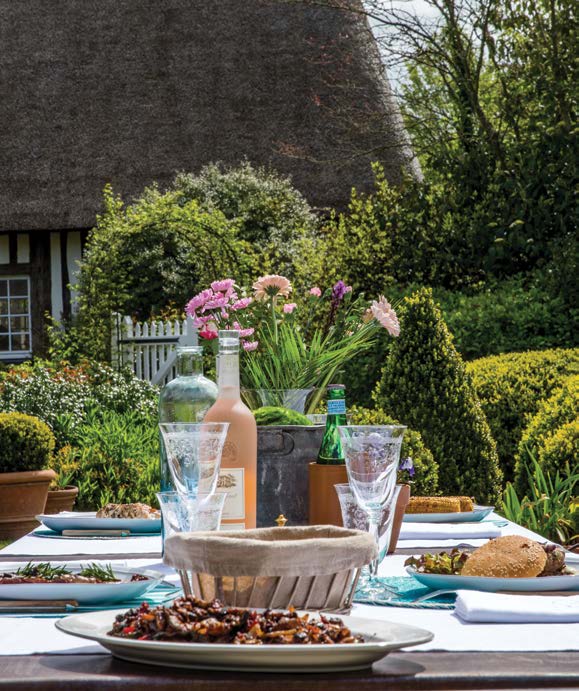 Nestled amongst the lush green pastures of Normandy there's a luxury oasis that exemplifies class, sophistication and sheer opulence. Situated in the beautiful rolling countryside of the Auge region, Le Domaine d'Ablon Estate is a short train ride from the cosmopolitan lifestyle of glamorous Paris.
Upon arrival, guests find themselves swept away by the blossoming landscape and abundant colours Normandy's fragrant flora provides. The view of the estate's five hectares is beyond breathtaking as your eyes are quickly drawn to the exceptional villas and their signature thatched roofs. It is as though you walked through an enchanted forest and stumbled upon Snow White's manor.
Inspired by a 14th century half-timbered house, owners Christophe and Véronique Delaune bought the property with the hope of building something unique and remarkable. An estate that would cater to affluent travellers who appreciate the finer things in life.
Having travelled and stayed at some of the world's most luxurious hotels in Africa, Dubai, Bali and Switzerland, they were informed by first hand exposure to superb hospitality, stylish amenities and upscale experiences. It was with this cultivated eye for detail that they ventured to create a five-star Normandy haven where travellers could immerse themselves in a bespoke adventure without ever having to leave the estate.
What they have built brings to mind an enchanting sanctuary, epitomizing grandeur, luxury, and timeless character. Rich in tradition, all buildings on the estate have their own history and all are made with the same common materials as that first inspirational house: flint, thatch, granite, bricks and the most beautiful selection of ancient wood. The property is enhanced by cobblestone pathways and an immaculately manicured English garden yields practically every known vegetable and fruit. Prized pears are encased in glass bottles as they are grown to produce Poire Williams (a colourless fruit brandy), and the ever so fragrant herb garden would make any chef envious. All of this serves to heighten the unique character and ambiance of the setting.
ACCOMMODATIONS
From a 17-century dovecote that exemplifies romance to master and junior suites with thatched roofs overlooking a cobblestone courtyard, Le Domaine d'Ablon provides families and couples with a collection of villas for an unparalleled getaway. In essence, accommodations are designed to recreate the owners' senti ment, which is "to provide a unique atmosphere typical for Normandy, where comfort and elegance are key!"
Envision plush leather furniture complementing antiques, real log-burning fireplaces and ensuites with claw foot tubs that ooze spa-like tranquility the moment you enter. It only makes sense that the estate offers guests toiletries of the highest quality: Bvlgari. It really doesn't get any better than this.
HOSPITALITY
Food and wine aficionados will be elated to know their meals are created by remarkable executive chef Jérôme Billochon. The acclaimed chef not only has a very successful pastry and chocolate boutique in the city, he also caters to guests' culinary wishes during their stay. No detail is too small, as no preference goes unnoticed.
During my stay they noticed I didn't drink coffee, so I was spoiled every morning with the richest, smoothest hot chocolate – a secret blend of three types of the finest chocolate, melted to perfection. Indulging in a thermos of this delightful beverage accompanied by warm, buttery croissants and pain chauds was the best way to start my mornings. It was a decadent start, but entirely worthwhile. At the estate, all meals are served in the luxury of your villa so tranquility and intimacy are assured. Private picnics and BBQs can also be arranged so you can bask in the property's picturesque scenery
ACTIVITIES
Always, attention to detail is what sets this luxurious estate apart. Le Domain d'Ablon takes pride in its carefully catered activities; every guest is pampered and leaves with lifetime memories. Tailor-made excursions are an integral part of the experience, as they are specifically designed to fulfill guests' expressed preferences.
One of the noteworthy activities is a private cooking lesson with executive chef Billochon. I had the pleasure of being his student and I can attest to his craft and ingenuity. With such an extensive array of produce grown on the property, it was a joy to witness the chef hand-select produce and then to see his culinary creativity unfold as ingredients were transformed into a marvellous multi -course dinner.
During my stay, I also had the opportunity to visit several famous Normandy sites. Travelling in comfort by limousine and accompanied by a seasoned bilingual guide, I was introduced to monumental sites including the mystical Abbey in the Sea, Mont Saint-Michel, and the famous Elephant Cliff in the town of Étretat. Visits can also include exploring Givry in the Bourgogne region, discovering the fishing port of Honfleur, and investigating the historical Normandy landings. If you're interested in something lighter, you can spend an afternoon shopping and give Lady Luck a try at the famed casino in the upscale town of Deauville.
Your bespoke Normandy experience starts when you step in the grand entrance at Le Domaine d'Ablon. ©Le Domaine d'Ablon Estate
Guests can enjoy a private lunch on the grounds of Le Domaine d'Ablon Estate.
Guests will enjoy walking through the vast property and smelling and tasting the amazing herbs grown in the elaborate herb garden.
A few of many intricate and delicious dishes created by Le Domaine d'Ablon's executive chef, Jerôme Billochon.
One of the tailor-made excursions at Le Domaine d'Ablon Estate is a luxurious picnic to enjoy the view of the Elephant Cliff . ©Le Domaine d'Ablon Estate
Thrill seekers can enjoy everything from horseback riding on the Deauville beach to hot air ballooning or parachuting over Normandy's picturesque countryside. For epicureans and oenophiles, the private excursions to savour ciders and cheeses from the Pays d'Auge region come highly recommended.
Le Domaine d'Ablon Estate has stayed true to its mission of "providing guests the exquisite attention to detail and refinement of a luxury hotel combined with the warmth of a family home." Without a doubt, this is a destination where distinctive experiences become treasured memories.
Brigitte Hasbron is owner of The Food Tease (www.thefoodtease.com), Ottawa's only culinary and travel blog highlighting the best that food, wine and travel have to offer.