Mind-boggling choice of pretty places to stay, savour and explore
Story and photos by Hattie Klotz
Morocco, it seems, is having a moment. Since visiting in late February, I receive at least one email, occasionally two, weekly from friends and acquaintances

who are shortly headed east. They're all asking the same questions: What did you love?

What did you dislike?

Both are easy questions to answer. There is so much to love in Morocco that 10 days is the very least time you should plan to spend there. As for dislike, well, there was nothing. Even the early morning call to prayer was melody in my ears, and that's saying something for a person whose second favourite activity after eating is sleeping.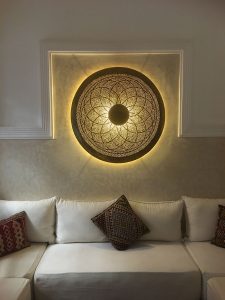 You can travel in Morocco in many ways; on a tight budget; sensibly; comfortably; and in extreme luxury at great cost. You can truly travel like a king, spending nights in a hotel commissioned by King Mohammed VI in Marrakech, and another owned by entrepreneur Richard Branson in the mountains, all at the cost of a king's ransom. Or, you can stay in historic inns, oozing charm and character, travel by private car when you need to get about, and still feel like royalty.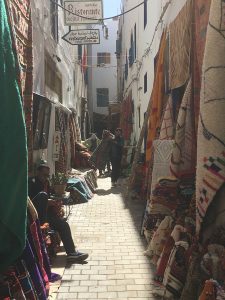 There are two exceptional hotels of worldwide renown in Marrakech. The relatively new Royal Mansour was commissioned by the King and built by the finest craftsmen in the land with unbelievable attention to detail and quality. And then there's the historic La Mamounia, a magnet for celebrity visitors to the city, a true palace and a veritable Grande Dame of hotels with expansive and peaceful gardens.
However the last 20 years have seen an influx of creative types, who have recognized the beauty in the old Riads, grand and not so grand houses built around internal courtyards within the walls of the old Medina. (The Medina is the ancient, mostly pedestrianized part of the city, within high walls.)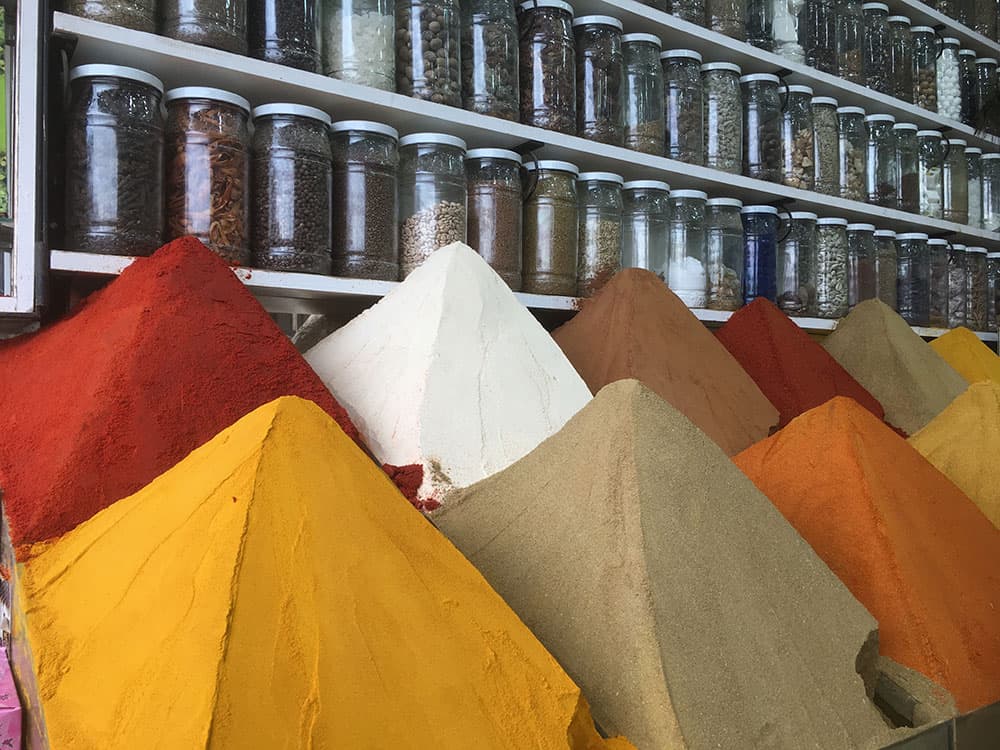 There is a mind-boggling choice of pretty places to stay. We chose Riad Le Clos des Arts at the southern end of the Medina, a stone's throw from Jemaa el-Fna, the teeming central square in old Marrakech. Owned by an Italian-Swiss couple, Massimo and Giorgina, it could not have been more perfect. Le Clos des Arts is intimate; there are only nine rooms. Each one faces onto an internal courtyard with a burbling fountain, large tree reaching skywards, songbirds and turtle doves, and each is an interior designer's heaven, comfortable, stylish and distinctly Moroccan. You won't find any elevators or room service here, but you will find exceptional, caring staff, delicious food both at breakfast and dinner, and a lovely rooftop terrace with plunge pool.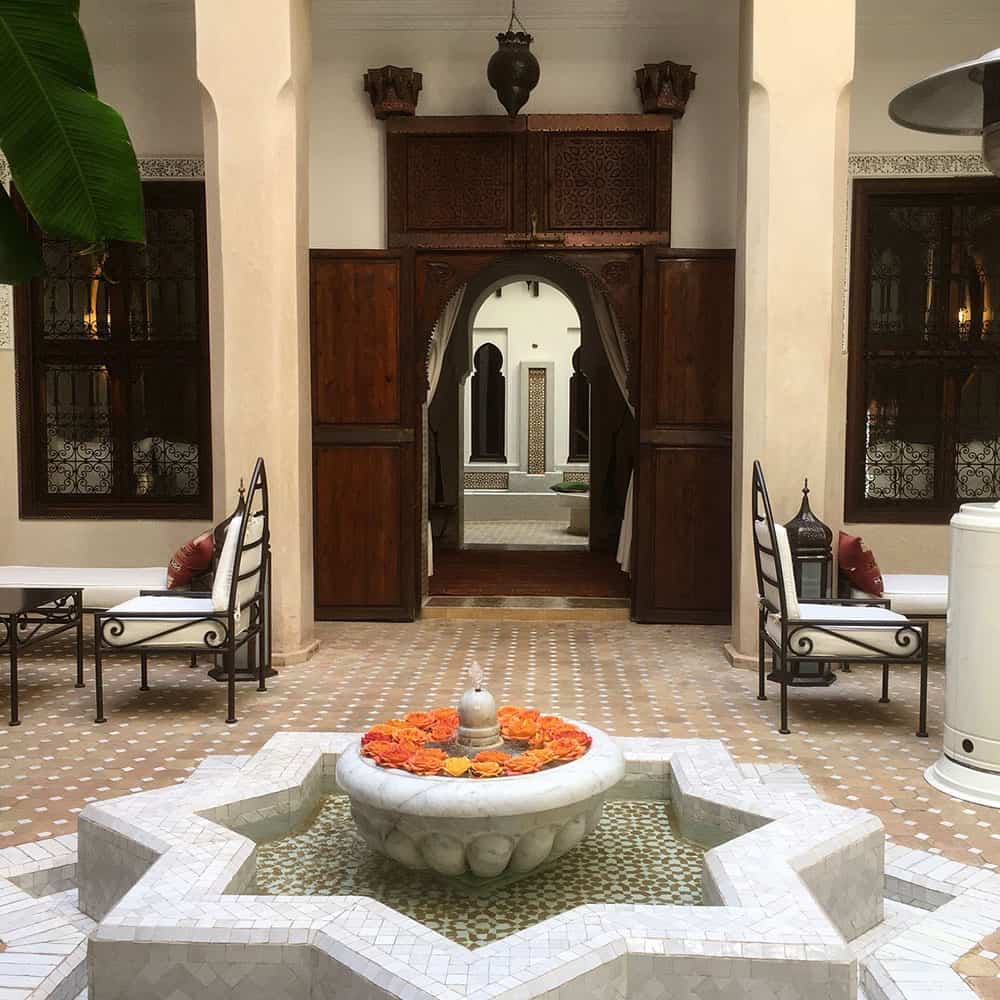 My travelling companions and I ate breakfast every morning in the sparkling sunshine on the roof, a delicious spread of eggs, breads, pastries and homemade jams. The staff even made the effort to prepare hot, homemade gluten-free bread for me daily. And the moment I sat on a sun lounger one morning, someone appeared proffering a hat. On my birthday, they gave me a beautiful pair of green leather slippers embroidered with an orange Moorish design.
Attention to detail is everything. And detail is everywhere in Marrakech, from the intricately carved doors hiding treasures within, to the wooden screens, carved marble, tadelakt plasterwork and stunning mosaic tile work. Every one of the recommendations given to us by the owners and staff at Le Clos des Arts was perfect. From the exceptional hammam and massage we enjoyed just around the corner the afternoon of our arrival, to lunch spots serving delicious food and places to visit both in and out of the city, we made no mistakes. They were also very clear about sections of the city to avoid, which kept us out of trouble.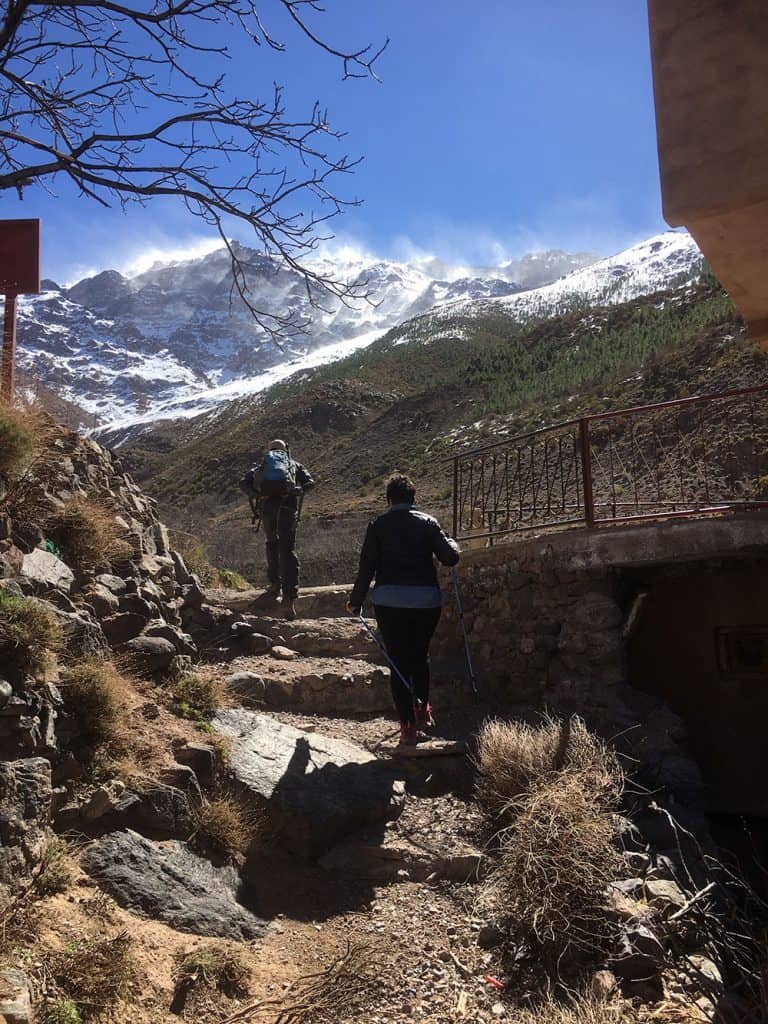 We spent four days wandering the Medina, visiting historic palaces and secret gardens, shopping until we dropped, bringing home wonderful clothes, slippers (a Moroccan tradition), beautiful leather and carpet-bags, silk tassels large and small, and yes, a carpet. Without exception we found the Moroccans to be kind, polite and honest. At least twice my friend and I handed over a 50 Euro note instead of 50 Dirhams, (same colour, same size, but about 10 times the value), and both times the shopkeeper returned the note.
Marrakech is bustling, stimulating and noisy with a crush of people in the souks. A great break is a quick trip to the Atlantic coast at Essaouira, an ancient hippie town where life passes by at a far slower pace, the Medina is small and the food is excellent, especially if you love fish.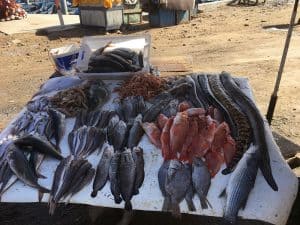 Essaouira is about a three-hour drive from Marrakech. We hired a private car and driver and thought the $80 tab each way was money well spent. Arriving to a sunny, windy afternoon, we headed directly to the blue and white striped fish stands, Les Gargottes, in the old port to settle in for a fishy feast. You choose your fish from a sumptuous display on ice; it is weighed and you negotiate your price. Then you sit at simple picnic tables and are served tomato salad, French fries, a bottle of pop or water and eventually the fish you have chosen, sizzling from the barbecue – lobster, squid, sardines, red snapper, monkfish or sole, among others.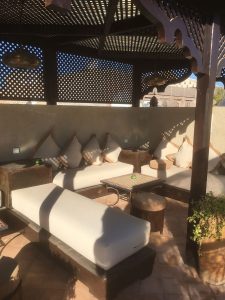 A stroll along the beach is a great way to work off lunch. You'll marvel at the derring-do of kite surfers leaping high into the air on their boards, and be charmed by the dromedaries (Arabian one humped camels) and handsome Arab horses offering rides on the sand. In Essaouira, perhaps, our choice of accommodation wasn't so luxurious. Riad al Zahia in the Medina was perfectly comfortable with a pretty, windswept roof terrace with views out over the ocean where we enjoyed breakfast, but it definitely had a backpacker vibe, although none were to be seen off-season. The staff is exceptionally welcoming, but if you are looking for more comfort and topspin, then you should look at Palais L'Heure Bleue, a Relais and Châteaux property also in the Medina.
The region surrounding Essaouira is recognized for producing argan oil. The argan tree grows in groves in the countryside close to the town and its nut is crushed to produce oil both edible and not, used in skin and hair care and a form of argan oil butter. There are numerous cooperatives along the route from Marrakech where you can stop to learn about the argan industry and buy products.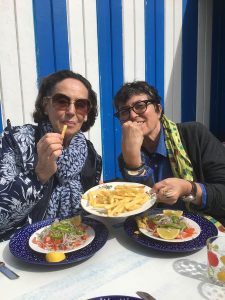 From the coast we headed to the hills, passing Richard Branson's luxury Kasbah hotel en route. Imlil is a small town in the High Atlas Mountains at the base of Toubkal, North Africa's highest peak. A mecca for trekkers, it's also a great place to go walking through the red hillsides, even if you're not heading for the summit. Over a couple of sunny early spring days, we enjoyed stunning mountain hikes and the company of Hossein, an excellent Berber guide born in the village, Hamid and his lovely mule.
It is custom not to name animals, but this patient and sensible mule deserved one and I called her Susannah. Susannah carried our jackets, lunches and camera gear and did not bolt for the boonies when we fought our way around a mountain pass against winds gusting over 75 kilometres an hour that nearly blew us off the side of the mountain and blew Susannah's saddle bags right off her back. She calmly found herself a spot sheltered from the fierce wind, and waited while our guides chased sunglasses and hats cartwheeling like butterflies down the mountain, as oranges scattered. Thankfully, they rescued my down jacket, impaled upon a thorn bush.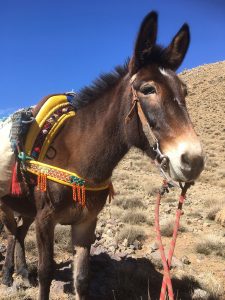 There are three good places to stay in Imlil, if Branson's castle is not your style or beyond your pocket. The Kasbah de Toukbal is high up in the foothills, on a bluff overlooking the valley. Blessed with stunning views up into the snow covered mountains, it has a lovely roof terrace, pretty gardens and a cozy, carpet-hung feel with heavy timbers and carved details. The second, Dar Imlil, is down in the village. It's an ancient authentic inn with a pretty terracotta terrace complete with daybeds and rooms with whitewashed walls hung with carpets, while Riad Atlas Prestige sits above the village which means you'll need to get your bags taken in by a mule. It too offers breathtaking views of flowing streams and pink dusty hillsides dotted with small trees and ancient almond and walnut groves.
No description of travel in Morocco would be complete without mention of the food. You can eat very well in Morocco and we enjoyed several exceptional meals. The traditional tagine — a stew served in a point topped terracotta pot — is a trustworthy stalwart of the Moroccan repertoire and you can find very good ones at La Maison Arabe in Marrakech, but we also found creative, contemporary food to rival that found in any major international city. Nomad, the Beldi Country Club and Latitude 31 were exceptional.
On this journey, we explored only a very small part of the country. The pleasures of Fez and its ancient Medina, the blue city of Chefchaouen, the Sahara desert and the north demand another trip to this beguiling place.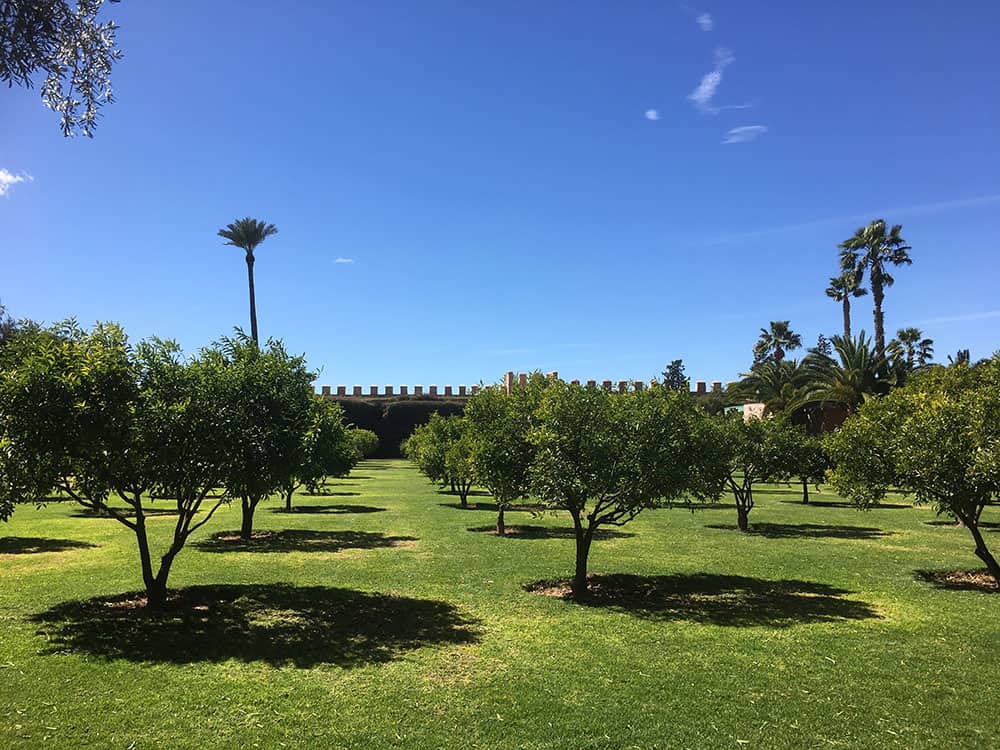 When to go:
Marrakech is busy and expensive during high season. Avoid the summer months when the heat is unbearable. Avoid European school holidays. We went in late February and early March and it was perfect.
How to get there and about:
Air Canada operates an overnight flight from Montreal to Casablanca. Onwards travel by train is easy and inexpensive, clean and efficient. It takes 3.5 hours from Casablanca to Marrakech and it's a great way to see the countryside, dotted with small farms, children returning from school several to a donkey, stunning landscapes and vivid colours.
Private driver: Miloud: milouddriver@gmail.com
Marrakech
For a luxurious hammam: Angsana Spa: Riad Dar Zaouia, N1 Riad Zitoun Jdid Derb
For a delicious rooftop lunch: Nomad: 1, Derb Aarjan, Marrakech Medina
To stay: Riad Le Clos des Arts: Riad Zitoune Jdid – Derb Tbib
To visit: Le Jardin Secret, Rue Mouassine, 121, Medina
Dar el Bacha Museum, route Sidi Abdelaziz, Morocco 4000
Bahia Palace, Rue Riad Zitoun el-Jedid
YSL Museum, rue Yves Saint Laurent, Marrakech 4000
To eat tagines: La Maison Arabe, Derb Assehbi, Marrakech 4000
For an afternoon by the pool and good food: Beldi Country Club, Km6, route du Barrage, BP210 Marrakech
For an outdoor dinner: Latitude 31, 186 rue El Gza Arset Ihiri, Bab Doukkala
Essaouira
To eat: les Gargottes, down by the port
To stay: Palais L'Heure Bleue, 2 rue Ibn Batouta
To buy: argan oil products
Imlil
Trekking contact: Rachid at Mountain Voyages.
www.mountain-voyages.com
To stay: Dar Imlil, Village Centre, 42152 Imlil
Kasbah de Toukbal, Toubkal National Park, 4000 Imlil
Riad Atlas Prestige, Imlil village, 42152 Imlil
Things to know:
Morocco is a moderate Muslim country. On a practical level, this means a couple of things: most restaurants do not serve alcohol and you should dress moderately. Both of these are good things. Rowdy groups of over-refreshed tourists are not part of the landscape and you're unlikely to bump into a group of people on a stag or hen weekend. And certainly we found that it was a great relief not to see throngs of sunburned tourists in too-tight lycra and too little clothing. It's best to wear loose fitting, flowing clothing as this will keep you cool and allow you to blend into the crowds.