By Loukia Zigoumis
St. Regis makes a grand entrance.
Travelling to Toronto? Experience a new standard of luxury. The sophisticated St. Regis hotel made its Canadian debut in Ontario's capital city late last year, and since then it has become the place to see and be seen.
Located in the downtown financial district, on the corner of Bay Street and Adelaide Street West, St. Regis Toronto is steps away from the CN Tower, Nordstrom, Saks Fifth Avenue, Rogers Centre and the Scotiabank Arena.
You'll want to stay put at this hotel, though. "The St. Regis Toronto offers guests unmatched accommodations, personalized service, and incredible amenities," notes general manager Tim Terceira.
When the first St. Regis opened in New York City in 1904, it was declared "the finest hotel in America" by The New York Times. The St. Regis continues to be one of the top hotel chains in the world, delivering a truly five-star, five-diamond experience that's evident in everything from the stunning rooms and suites to the exceptional dining options and spa treatments. Pricey? Sure. But worth it, if you want to truly indulge.
There are 48 St. Regis hotels around the world, from Abu Dhabi to Bal Harbour, Miami, and each one stays true to the brand's Live Exquisite promise. Catering to both adults and children, St. Regis Toronto is dedicated to creating exquisite moments and experiences. Its Family Traditions program offers special little touches for children, such as child-sized robes and slippers, video game consoles and games, nighttime milk and cookies, a children's club and special keepsakes children will appreciate long after the vacation is over.
Attention to detail really makes this luxurious hotel unique. The St. Regis butler service, for instance, is a signature offering that's available around the clock. Your butler caters to your every need—from unpacking your luggage and providing morning and evening beverage service to pressing your clothes and leaving little treats in your room.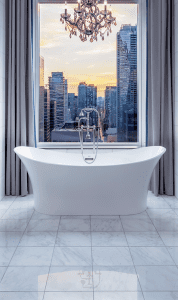 During the drive to Toronto for our stay at St. Regis, I received an email from our butler asking what he could do to enhance our experience; he wanted to know what our children were interested in so he could surprise them in some way. We arrived to a stunning platter of desserts, along with personalized presents that included beautiful Christmas ornaments complete with family photos, a build-a-bear experience for my youngest, and a charcuterie board for my oldest son.
The accommodations are also remarkable—spacious and modern, with stunning views of the city's downtown core. The hotel features 124 suites, and ours, on the 28th floor, had multiple floor-to-ceiling windows, a large dining area complete with an in-room bar and kitchenette, two bedrooms with full-sized bathrooms, a living room with fireplace, and a large marble entrance.
St. Regis Toronto also has a state-of-the-art fitness centre, a large indoor pool and hot tub, and a full-service spa. The 24-hour in-room dining service is a great option for people wanting to make the most of the time in their room, and the menu features many delicious options, from appetizers to desserts.
Towering over the city on the 31st floor, you'll find the award-winning LOUIX LOUIS, the hotel's restaurant and bar. It's designed to look like the inside of a whisky glass, and the ceiling, painted by muralist Madison van Rijn, is meant to look like a swirling libation.
LOUIX LOUIS has a "secret garden" outdoor terrace that can be enjoyed through the spring and summer months. The menu includes caviar, seafood platters, whole truffle chicken, and maple squash soup, along with specialty cocktails, and the hotel's classic dessert: the 13-layer chocolate cake.
There are three St. Regis rituals, celebrated around the world, that are an integral part of the hotel brand:
The Bloody Mary Ritual: The Bloody Mary cocktail originated at St. Regis New York. Now all St. Regis hotels create their own version of the Bloody Mary, with a local spin.
The Evening Ritual: The evening ritual at St. Regis is not to be missed. Daily at 5 p.m., the hotel presents a ceremonial champagne sabering in the lobby bar. This is when where guests can enjoy a glass of champagne before their night begins.
The Afternoon Tea Ritual: Guests at St. Regis can enjoy afternoon tea on the weekend in the lobby bar. This ritual is carefully contextualized with the hotel's location, and can be enjoyed poolside, or slope-side, depending on the site. Many tea rituals are also children-focused.
Modern and elegant, St. Regis offers a unique hotel experience, along with pure luxurious bliss. It's great to have one to call our own in Toronto, Canada.