It's a classic homeowner dilemma. You love your address, but your residence? Not so much. As time passes, even the deluxe home that was perfect in 2000 may seem awkward, frustrating and anything but ideal. After all, needs, priorities and tastes change.  If you're debating what to do—move to a new home or update your existing space—take a look at this dramatic renovation to see what's possible when you choose to stay put.
Goodbye dark, dull, cramped rooms; hello beautiful, light-filled, modern space. This local project is proof you can have what you want, right where you are. The owners found themselves in the all-too-common predicament. They were happy about where they lived, in an established Orleans neighbourhood with mature trees. They weren't happy with their dwelling itself. A tired two-storey built in 1983, it was well past its best-before date. Like many houses from that time period, this one had lots of different rooms for separate functions, along with the accompanying chopped-up, compartmentalized layout and surfeit of walls.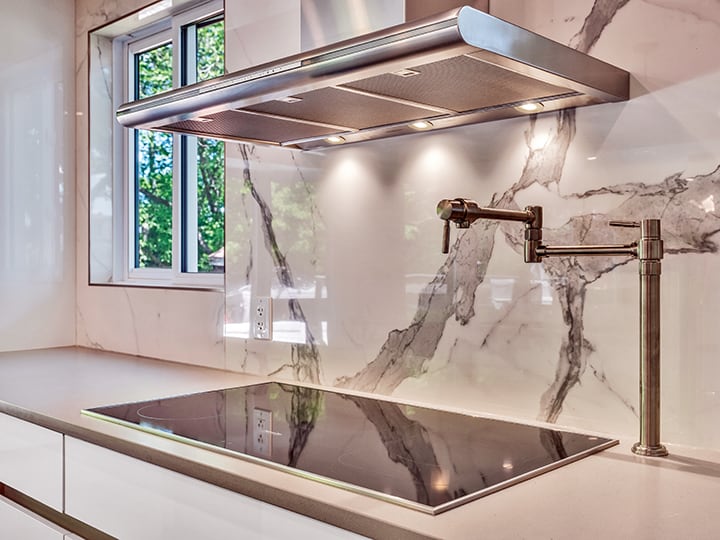 These people wanted a bright, contemporary home with more natural light and open space, so they looked to OakWood and its design team for ideas and direction. Award-winning, family-run OakWood is a design-and-build industry leader that's acclaimed for its innovative work, from custom homes to top-notch renovations. It also has a huge (over 22,700 square feet), award-winning design centre at 865 Taylor Creek Drive.
The Orleans homeowners were inspired by what they saw in the showroom. Its kitchen and bathroom displays feature a wide variety of design and material options, some of which they decided to incorporate into their own renovation design. Then, after discussing possibilities with Oakwood's experts, these clients opted to gut their main floor right down to the studs for a full redesign and transformation.
There were key priorities for the project: an open concept floor plan, natural light, a modern look, more space for the kitchen, and a much grander, open entrance. To achieve the open, airy look they sought, a stunning new staircase was introduced. Adding major dazzle as a design feature, along with much-needed light and eye-catching sight lines, this showstopper features an engineered, floor-to-ceiling glass wall, open risers and structural wood strings finished in black.
There were space shifts too. The laundry room was moved to the second floor. It now includes a high efficiency, front-load Maytag washer and dryer with metallic slate fronts to reinforce the home's modern theme. In addition, a small office on the main floor was relocated, and a wall was removed to create a larger kitchen with a hidden pantry and an island.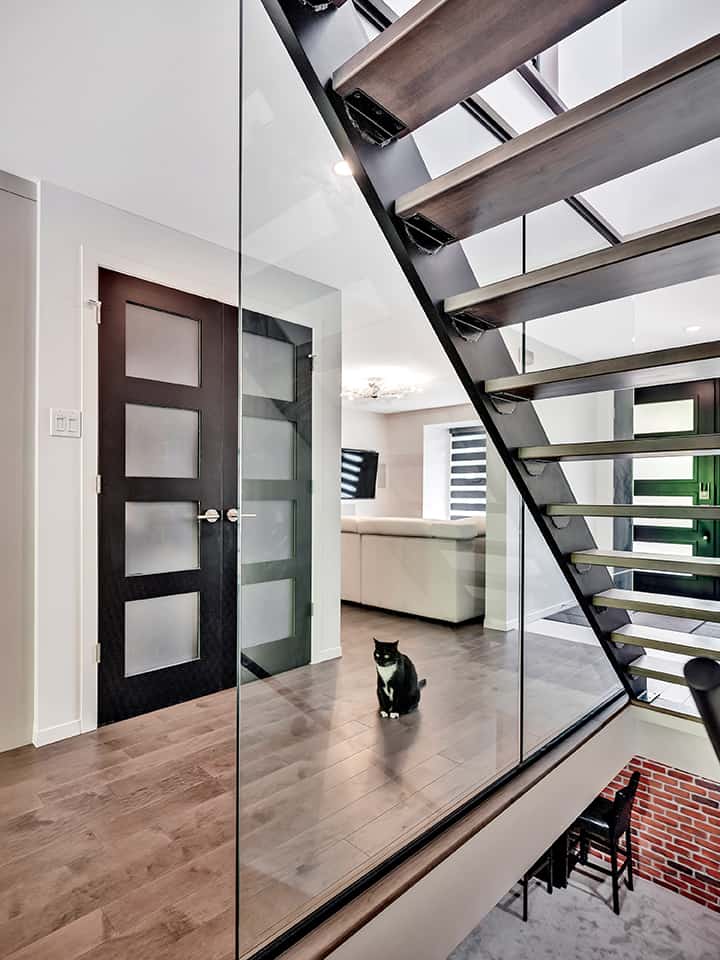 That new kitchen is another dazzler. Highlights include:
• Expanded windows for more natural light
• A hooded fan, cooktop, and dishwasher by Miele
• A Blanco granite composite sink
• Hansgrohe faucets (also used in the bathroom, powder room, and ensuite bathroom)
• A Fisher and Paykel fridge
• A Bosch double wall oven, microwave drawer, and warming drawer
• Polished porcelain Statuario slabs for the backsplash
• White MDF custom cabinetry, with a high-gloss finish, from Oakwood partner Cabico
Now that there's seating at the sleek, new island, the kitchen is a natural gathering spot.  In the reimagined living room, a wood-burning fireplace features porcelain tiles with a concrete finish to give the space an urban, modern vibe. Even the spa-like ensuite bathroom mirrors the cutting-edge panache of the main-floor makeover.
All through the updated home, pre-engineered flooring by Lauzon grounds the contemporary sophistication with approachable, practical style. Patricia Liptak-Satov, OakWood's vice president of operations, describes the overall look as "ultra modern and contemporary," with cool white, light grey, and black hues offset and warmed by earth-toned wood, porcelain and tile.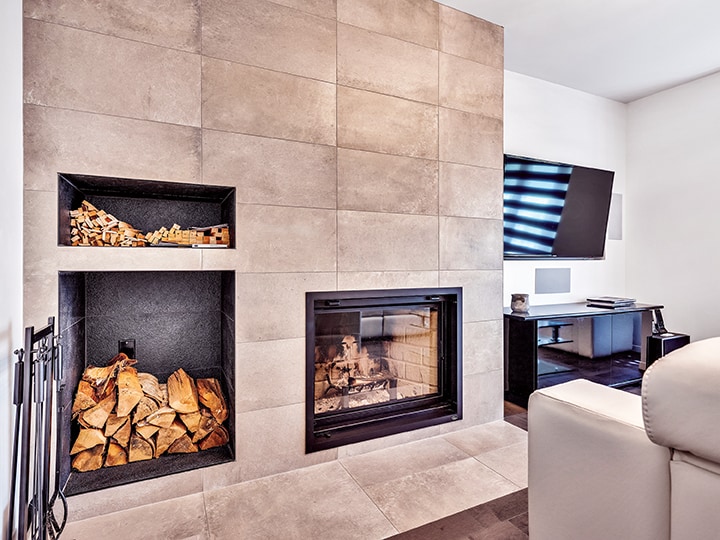 As these homeowners now know, you don't have to be stuck in the 80s for the sake of location. An expert renovation allows you to have the style, features and amenities of a brand new place without ever leaving the comforts of home.